The Greater Limpopo Carnivore Program team recently discovered three poached lion carcasses during a collaring exercise in Limpopo National Park, Mozambique.
You can help by donating funds to their carnivore protection unit by going to the GoFundMe link at the end of this post.
The following is an account of the discovery of the three poached lions:
"In mid June 2017, the Greater Limpopo Carnivore Program team headed back to Limpopo NP to continue with collaring exercises. The program has been trying to deploy satellite GPS collars on known resident prides throughout the park to compliment our large dataset pertaining to habitat and prey choices of lions in human landscapes.
All our attempts this year so far have failed, and last year in 2016 whilst trying to locate the Machampane Pride we discovered two poached lions.
Last month (June 2017) we began tracking in the sandveldt region of the park where two other resident prides have been identified since fieldwork began in 2011. We've found plentiful cheetah, leopard and even wild dog signs during our searches, but little evidence of lion in all areas that previously had regular spoor, scat and occasional sightings. This lack of activity raised our concerns.
On the 3rd July we began searching for the Shingwedzi Pride – a pride we've never failed to find sign of since 2011. Whilst searching for tracks in the riverbed our greatest worries were sadly confirmed.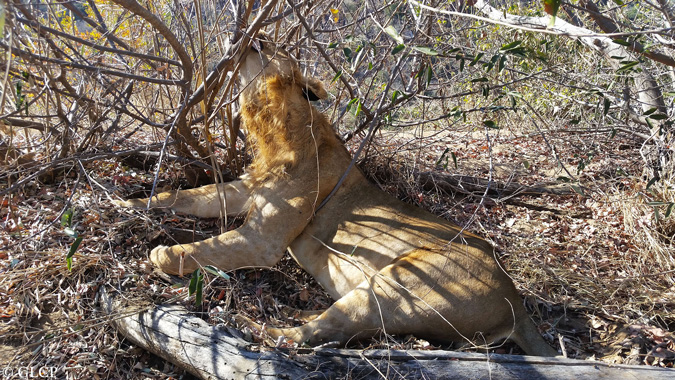 After following the tracks of three lions, and what also appeared to also be fresh poacher spoor following the lions, we located a sub-adult male lion poisoned on the embankment.
His condition suggested he had died a mere few hours before we arrived. After feeding on poisoned bait, that we later located, he climbed the embankment and appeared to have gnawed on a small bush presumably whilst suffering convulsions and incredible agony from the poison 'Temik' working through his system.
We took samples and then burnt his carcass and the poisoned bait in a joint operation with Limpopo NP rangers.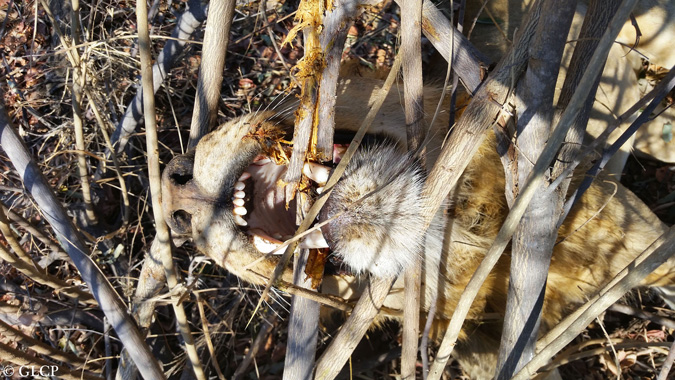 On the 4th July we continued to scout the immediate area, concerned for the well-being of the other two lions whose spoor had indicated they were also in the region. Whilst searching the tree line we located numerous poacher camps, snares, ungulate carcasses and lion traps. We then also located carcasses of another two lions from of what we believe is the Shingwedzi Pride.
Another young, sub-adult male lion had been poached, this time by a small wire snare around his neck. His face and paws had been removed.
The third lion was located close by, an adult female, who appears to have also been poisoned. Her face and paws were also removed and her flesh butchered. Her remaining skin and bones were bundled into a bush.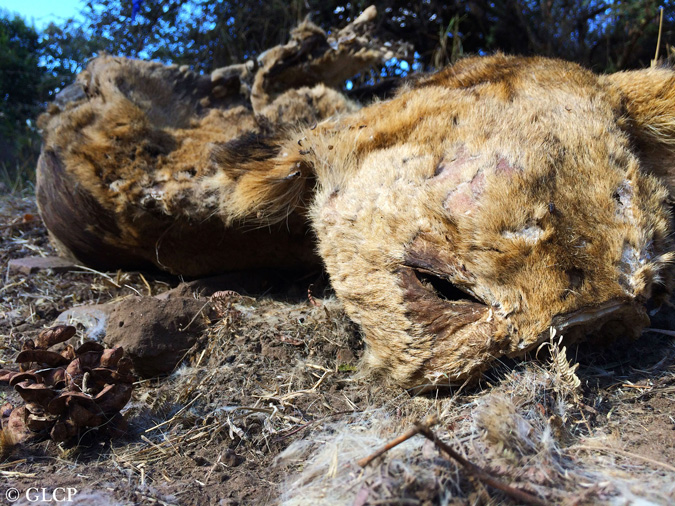 Decomposition of these two carcasses suggested they had died a few days prior to the first lion located but were part of a single concerted lion poaching effort by the same poachers.
All further carcasses and baits were promptly burnt after samples were obtained, and numerous snares in the area removed.
No bones appeared to have been taken suggesting this targeted poaching incident was for lion body parts – noses and paws. Whilst the source of this demand is debatable, other similar poaching incidents elsewhere in southern Africa suggest it is a growing one.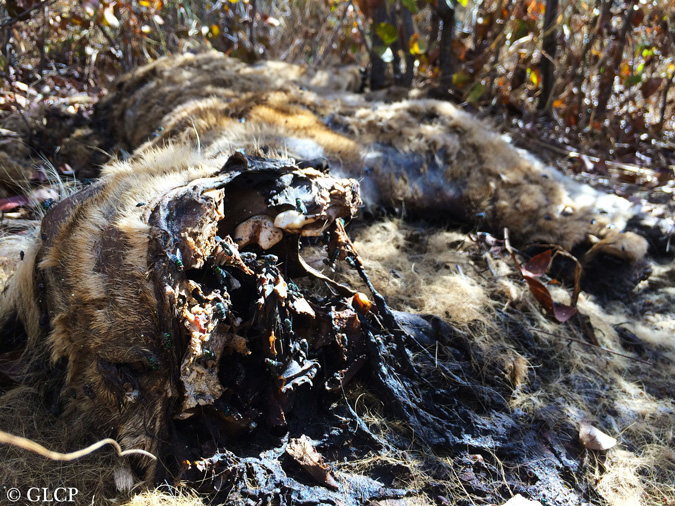 With thanks to detailed evidence we are currently working closely and collaboratively with Parque Nacional do Limpopo to support a thorough investigation.
The lions of Limpopo NP are facing a population catastrophe and we consider this to be an emergency situation for the Greater Limpopo TFCA.
Every single lion we have found over the last year has been poached. We have cremated three times as many lions as we have collared to date. Overall we have recorded 35 lion deaths attributed to poaching since 2011 with an exponential increase in incidents since 2015. This is a staggering 26% of the estimated Mozambican population of GLTFCA.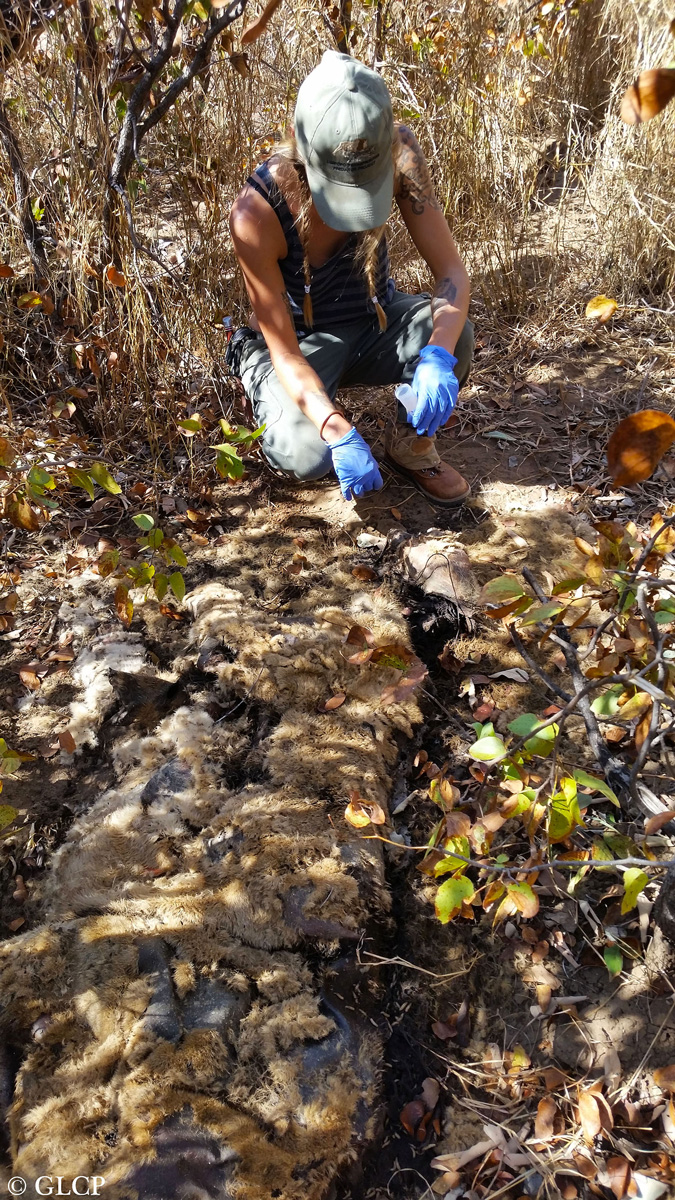 Since earlier this year we have been gathering funds to launch the GREATER LIMPOPO CARNIVORE PROTECTION UNIT – a dedicated snare and poison removal anti-poaching team working in collaboration with the wildlife authority.
Our team of four local rangers will patrol resident pride areas to secure habitat and prey, and directly remove the threats lions are facing at an ever-increasing rate.
It is now apparent this initiative needs to be implemented with immediate effect, and we sincerely hope sharing this incident will help bring much needed support.
We are fortunate to have support from National Geographic's Big Cat Initiative and PAMS Foundation for this initiative, however we are in URGENT need of further funding to ensure we can quickly begin in September 2017. PLEASE consider donating to this initiative to help us reach our target and make a direct difference now!
As disillusioned as we may feel we believe this crisis can be turned around but we need support to do so effectively and immediately."
The Greater Limpopo Carnivore Program is a conservation research initiative using scientifically sound research integrated with direct conservation action to improve the conservation prospects for large carnivores across the Mozambican component of the Greater Limpopo Transfrontier Conservation Area.
Since 2011 the program has been undertaking extensive fieldwork across the GLTFCA. Project Manager, Kris Everatt, has walked >4,000km across this landscape undertaking predator occupancy surveys to ascertain the impact of pastoralism and poaching on predator ecology, and to provide conservation management recommendations through his findings.