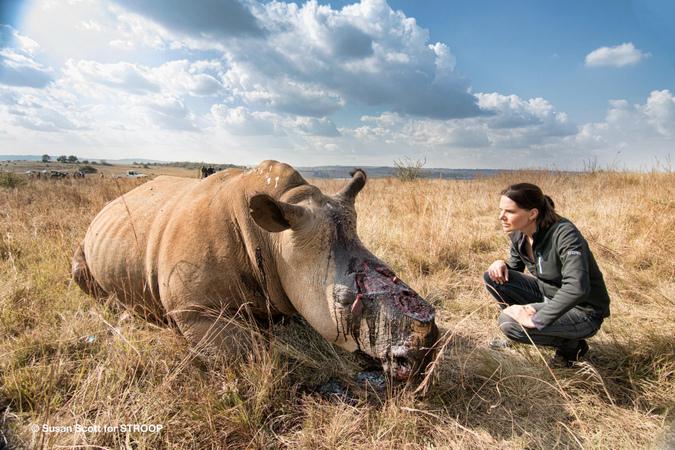 After a successful roadshow at international indie film festivals, multiple award-winning documentary 'STROOP – Journey into the rhino horn war' will be screened at two South African cinemas in the coming weeks. The screenings will include Q&A with the filmmakers. We urge that you book as soon as possible, to avoid disappointment. 
SCREENING DATES:
• Sunday 25th November at 2pm: PRETORIA – Nu Metro Menlyn. Ticket price: R110
• Sunday 2nd December at 2pm: CAPE TOWN – Nu Metro Cinema, V&A. Ticket price: R110 SOLD OUT
BUY YOUR TICKETS HERE: https://www.webtickets.co.za/event.aspx?itemid=1485267823
Susan and Bonné will be at both screenings, for Q&A afterwards.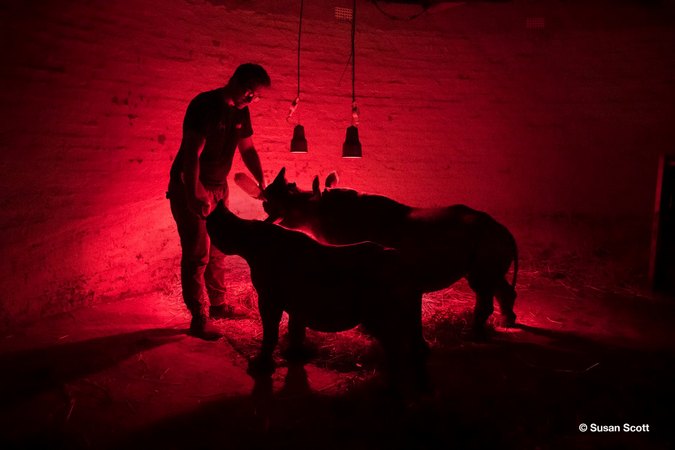 The intrepid filmmakers Susan Scott and Bonné de Bod are self-financing the local screenings for the public, after no local cinema distributor wanted the film for nationwide release! This is pretty ironic, considering the the incredible support from the South African public over the four-year period it took to make this groundbreaking documentary. And after winning 10 international awards the documentary has generated huge interest from overseas distributors and broadcasters, guaranteeing that STROOP will be popular internationally.
"We are initially only releasing the documentary for screenings in Pretoria and Cape Town, and will follow that up with further screenings if the demand is there," said Bonné de Bod.
"We are funding these screenings out of our own pockets, so we have to take things as they come," added Susan Scott.
Pre-Order of Digital Downloads:
"Many supporters purchased a pre-order of a digital download of the film which helped us so much! This was a completely independent film and without the support from the public, the rhino story would not be out there. The digital download will be available after the limited theatrical run in early December, mails will go out with a link for those who bought. All those who helped us make the film by pre-ordering digital downloads will of course have their name in the end credits of the film."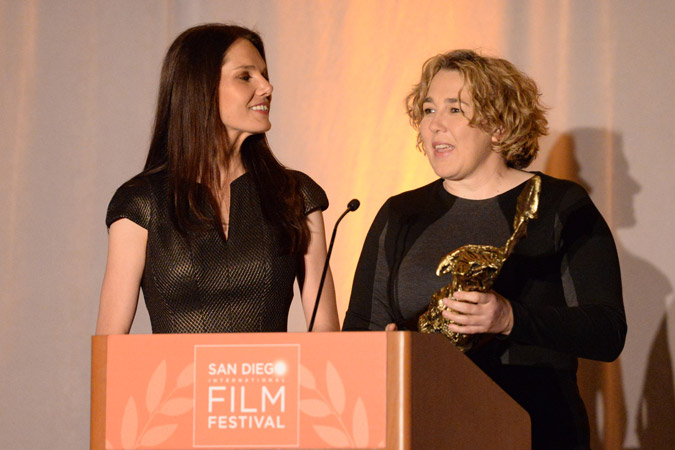 STROOP includes footage from the killing fields of Kruger National Park, where Bonné and Susan were given privileged access to sensitive scenes, to the courtrooms in bush frontier towns and dingy backrooms of Vietnamese wildlife traffickers, where the intrepid pair endured life-threatening encounters with some of this planet's most evil individuals.
"We are making this film so that no one can say they didn't know. I've had many ups and downs over this four year period investigating this 'world of greed'. The most difficult part is witnessing what we, as humans, are capable of", says Bonné.
"An interview we did with a rhino horn user in Vietnam took weeks of searching, investigating and thousands of dollars and miles to get. It was obviously one of the most important interviews we had ever done, but it was a very emotional moment. Not in that either of us was upset outwardly, but that we had to hold back so much of what we had seen on the battleground. Here we were in a beautiful house in an upmarket area of Hanoi drinking tea, waiting until the family were comfortable enough for us to do the interview. I wanted to scream with frustration at the normality of all of this. It was a crazy, surreal moment and I had to blank out all the pain, the immense suffering we had seen", says Susan.
Simon Espley, Africa Geographic CEO: "This film will change things. I have been involved as a sounding board to these two special humans from the early days, and seen them put their lives on hold during this incredible four-year journey of discovery and creation. This documentary is the most informative, most edgy, most evocative behind-the-scenes expose I have seen. Everyone who cares about the future of Africa's wildlife needs to see this ground-breaking film."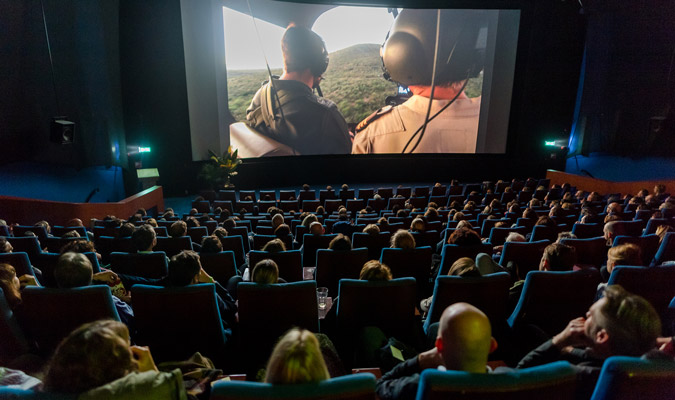 Interesting background notes from STROOP:
1. Both filmmakers, Bonné de Bod and Susan Scott, started production on the film nearly four years ago in September 2014. What they thought would be a six-month project turned into a four-year odyssey. During this, they left their jobs (Bonné as a wildlife presenter with the national broadcaster in South Africa and Susan as a natural history film editor for National Geographic Explorers-in-Residence), cashed in their investments (Susan even sold her home) and even moved in with their mothers!
2. Filming undercover in Asia was dangerous for both filmmakers. They had applied for filming permits but China, Laos and Vietnam are on Reporters Sans Frontiers "freedom of the press" black list, so Bonné and Susan joke that they are still waiting for their permits!  The reality is that if they had received their filming permits, they would've had to have had all their interviews sanctioned by the communist governments… they would've also had to have a detailed itinerary of exactly where they were filming, which is impossible to schedule in investigative filmmaking.
And of course the duo would've been assigned a "government minder" from central government to make sure they were not tarnishing the image of the country. There is a reason Vietnam is ranked 175 out of 180 countries in the world for press freedom. Journalists are routinely jailed there, which meant that Susan and Bonné had to go in undercover as tourists. If they were caught, there would be severe consequences.
Susan: "We got away with so much because we are women. I am convinced of that. I had never done anything like this before. I am a rules freak. If permits are needed, I will only film with permits. So this made me super uncomfortable, but we went to Asia after we had seen some pretty horrific stuff in South Africa. So dammit, if they weren't allowing us access to film the usage of rhino horn in Asia, I threw my standards out the window. No-one is playing by the rules in this ugly war on animals. So why should the filmmakers?"
3. The filmmakers met and interviewed many people during their course of filming. Among them, famous people and royalty. They interviewed Dr Jane Goodall, filmed Prince Harry meeting with two of their characters in the film – a brave ranger and his K9 dog and they also met Prince Albert of Monaco who awards rangers in Africa for work done in combating poaching.
Bonné: "It's not every day you get to meet one of the world's biggest environmental idols, so you can say that it was a pretty big occasion for me! I think I was a bit starstruck. Growing up, I admired what Dr Goodall was doing, but it was only when I became older that I realised that what she did was groundbreaking – believing animals have personalities during an age where science frowned upon such views. She inspired me to want to play a part in people appreciating the beauty of nature and wildlife and influence them against destroying it."
4. Were the filmmakers ever scared?
Susan: "Sure we were! We flew in countless helicopters just above tree line, accompanied the police on raids and arrests, walked with rangers patrolling in the heart of the African wilderness… but the scariest moments for me were twofold.
Firstly, I was always incredibly nervous when I knew Bonné was going to ask a difficult question from someone who might get upset and make things unpleasant. We were always on their turf, sometimes in someone's home in Vietnam or on a farm out in the middle of nowhere. And the other thing that scared me was the pollution in Hanoi. It was truly unbelievable. I had watched Chai Jing's 'Under the Dome' and so I thought I knew what air pollution was like. No, I had no idea. You cannot understand until you have been in it.
If you've ever been in a parking garage filled with exhaust fumes and you run outside holding your breath while your lungs are clawing inside to open up to breathe the fresh air outside… well… there is no fresh air outside.  Everywhere in Hanoi is that parking garage filled with exhaust fumes. Bonné and I had constant headaches and I developed a deep cough which can you believe is still with me! When I returned to South Africa I got bronchitis twice and had to be hospitalised and receive intensive physio because it was so severe. And we were only there for a few weeks, so can you imagine the fear of living in that. It was frightening."
Bonné: "And that's of course why rhino horn usage has gone up. Cancer has skyrocketed, especially lung and liver cancer from air and water pollution. We highlight that in the film of course, but 200 Vietnamese die of cancer every day and double that number get given the news they have cancer… every single day. So yes, it was surreal getting a taste of how rapid development comes at the cost of human health.
And the scariest moment for me, and I mean I could literally feel my heart in my throat, was when we got into the car of an illegal wildlife trafficker. The car itself told the story of a rich lifestyle, generated by the illegal trade in the most valuable commodity on Earth… rhino horn. Here we were, not knowing where they were taking us and who we were about to meet. I was covered in hidden cameras, with one even strapped to my body which I wouldn't be able to get off quickly. In my mind there were only two options… we were either about to capture on camera what we came thousands of miles to film, or they would search us when we arrived, and we would get chopped up and thrown into the Mekong river. I guess we all know the outcome now, thankfully!"
Watch the trailer for STROOP – Journey into the rhino horn war:
TRAILER: STROOP – journey into the rhino horn war

Two filmmakers stop their lives to make a film about the rhino poaching crisis in South Africa. Carving out six months for the project, the women quickly find themselves immersed in a world far larger and more dangerous than they had imagined, only emerging from their odyssey four years later.STROOP premiered at the San Francisco Green Film Festival where it won The Green Tenacity Award. It had its European premiere at the Wildlife Rotterdam Film Festival where it was the opening night film, opening to a sold-out 700-seat audience… STROOP has been officially selected for 30 festivals and has won 22 awards at these festivals, many of them Best Documentary which is the highest award a film can receive. To watch STROOP on Digital or DVD:https://www.stroop-film.com

Gepostet von S T R O O P – journey into the rhino horn war am Freitag, 3. August 2018