There is snow on Africa's equator. Something few believed until they first laid their eyes on the spectacular summits of Mount Kenya National Park towering over a wild land of staggering rugged beauty in north-central Kenya. To fully appreciate one of Africa's finest UNESCO World Heritage sites, you have to see it from above!
There are various ways I like to start my hiking trips, and I must say that none of them involve overheating cars, oil leaks and punctures as was the case on this trip! But in spite of these unexpected hurdles, we were soon heading up the gravel road for Old Moses Camp (3,300m a.s.l), leaving the Sirimon Gate in our wake.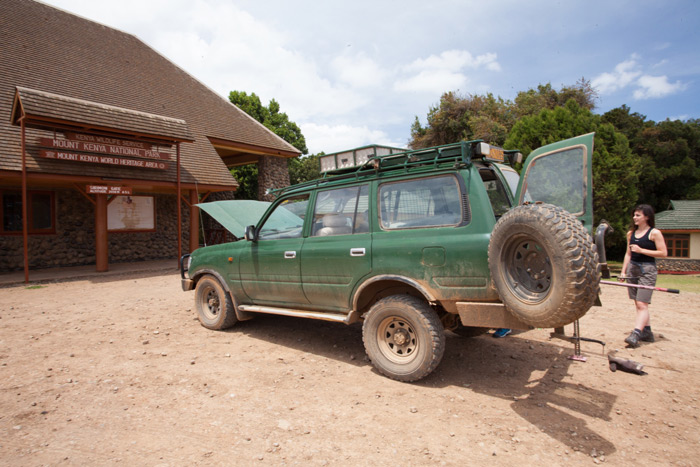 As a purist, the gravel road up to Old Moses is not a pretty sight and the walk does little to inspire the avid hiker – nor does the need to jump off the road to avoid vehicles and motorbikes. Nonetheless, you soon realise you are surrounded by wild nature, with the sound of elephants trumpeting in the forest.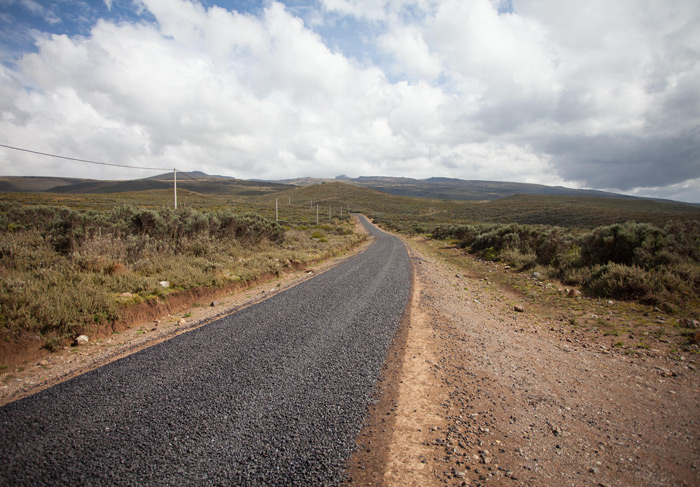 With the weather rapidly closing in around us, Old Moses Camp – located above the trees on the slopes of Mt. Kenya – was a welcoming sight. However, as we took refuge inside over a cup of steaming tea, there was still no sign of Mt. Kenya's three mighty peaks Batian, Nelion and Lenana (named in honour of Masaai Chiefs).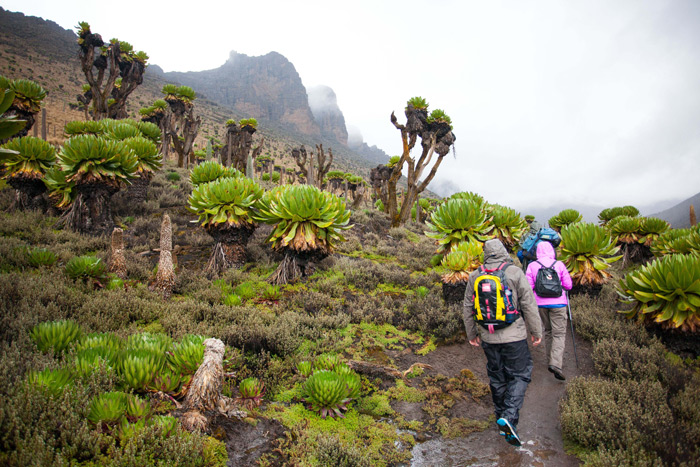 By 7:30 the next morning we were on our way to Shipton's Camp (4,200m a.s.l.), which is a seven-hour walk up the valley and the place from which climbers launch their summit attempts. While the clear blue skies we had ordered the night before must have been misplaced, the fog and rain heightened our senses. Passing through the Mackinder Valley was a humbling experience, if not spiritual; a stunning assemblage of high altitude vegetation, cross cutting rivers and misty peaks culminating at Shipton's Camp.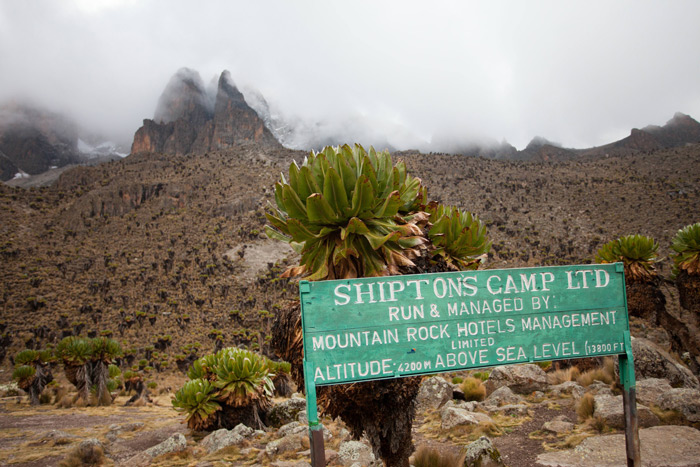 By 6:30pm we started our preparations for our early morning departure. The aim was to travel light – and in a moment of oxygen-deprived madness, I briefly considered leaving my camera behind. Instead I sacrificed a few chocolate bars since I couldn't locate my appetite anywhere anyway.
Despite our best intentions of getting a few solid hours of rest, sleep eluded us but we eventually fell into an uneasy sleep, filled with the excitement and fear of the uncertain morning that awaited us.
3am. Bitterly cold. Shipton's Camp was a bustle of activity. Our small team joined the back of the queue of about 30-40 climbers trailing the sharp little lights dancing in the darkness above. The night was bitingly cold, but falling stars overhead made up for it. This was better than magic!
As we got higher up, the snow crunched happily under our feet – an oddly reassuring sensation – and we gradually settled into our guide's pole-pole (slowly, slowly) rhythm.
"It's a little bit up". If there is anything I have learned from my time in Africa, it is that time and distance are arbitrary concepts. Before the words "how far do we still have to climb" had left my mouth, I regretted speaking them; knowing that the answer would do little to ease the lactic acid build-up in my legs. And so it was that two hours later we were finally nearing the ridge of the summit.
While Mt. Kenya may not be comparable in grandeur to Mt. Everest, the altitude is still to be taken seriously, and we saw many groups turn around prematurely and head back down with disappointment written all over their faces. Later in the day we would learn of two helicopter rescues that had taken place and of two missing climbers somewhere on the mountains flanks. Mt. Kenya is a place where the weather changes in a heartbeat. It is an unpredictable mountain and  it needs to be treated with respect.
As the sun emerged from the gloom at 5:30am, a splash of orange against the horizon, we were filled with new hope. But a final challenge awaited – the summit boulder field, which when finally illuminated against the morning sky drew a series of curses from the climbers behind us. With frozen fingers we started to negotiate the rocks.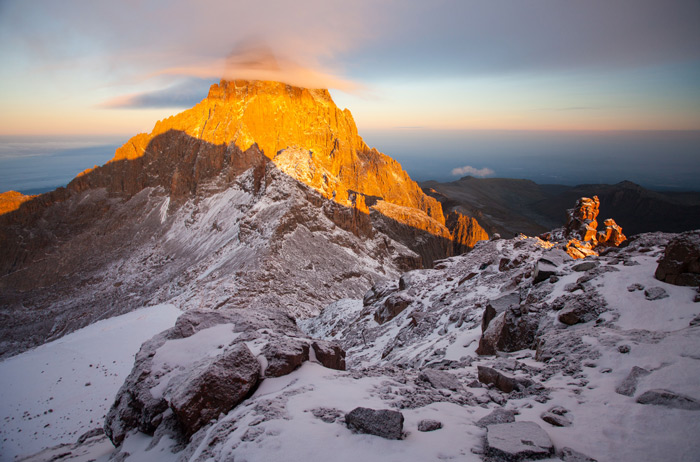 Suddenly there was no higher to climb and a  sign indicated we were at 4,985m and had climbed Mt. Kenya's third highest peak  – the only one negotiable without ropes and specialised training. North-central Kenya lay at our feet as we took in the 360-degree panoramas. It truly was a special experience. The wind-chill, however, was unforgiving and, after a brief stay to preserve some memories, we chose to retreat to warmer altitudes.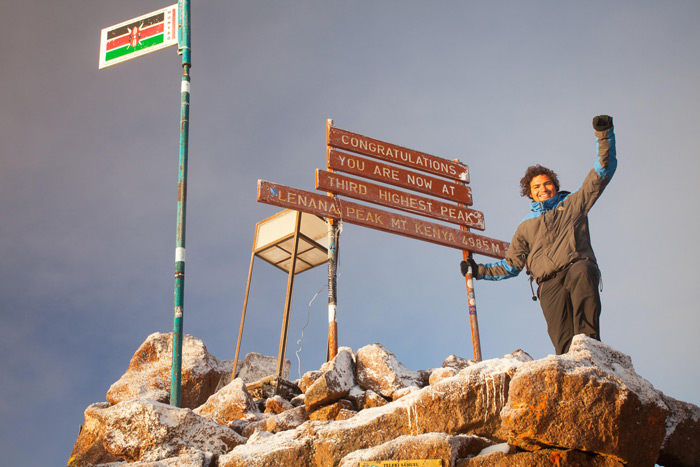 We descended from the summit ridge and down the Chogoria side of the peak – an absolutely stunning stretch of the mountain with sweeping valleys and deep gorges. The rain fell relentlessly during our 30km walk in the direction of Meru but, as we made our way off the slopes of Mt. Kenya, a smile was firmly fixed on our faces… for there is snow on the equator.