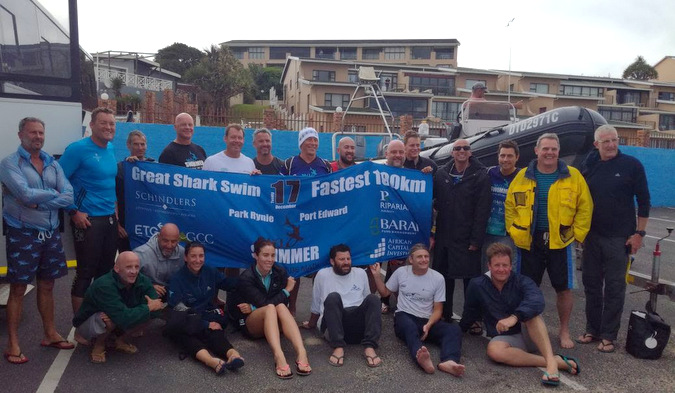 Media release by Madswimmer
At sunrise on 2nd December Madswimmer took the plunge to attempt the fastest 100km swim ever in one day. Twenty one swimmers and a 24 strong support team made their way to the mighty Agulhas Current about 20km offshore from Park Rynie in KwaZulu-Natal, South Africa – to swim to Port Edward to raise awareness for sharks being on the verge of extinction.
Over the last several months Madswimmer involved numerous experts to contribute to the meticulous planning of this swim.
Founder Jean Craven explains: "We were at the mercy of nature. Weather-wise no one could predict six months in advance the best day to swim. Above all, the current speed varies and can change overnight. We knew from the start that we would need both good weather and a fast current on the day to attempt a record like this. Meanwhile my team had to plan as if the swim was 100% certain to go ahead on the set date. We allowed a one-week window period from the 2nd to the 8th. Swimmers from as far as Israel and Spain booked out time to be available over the full period.
"At 3 am on 2nd December we got news that the speed of the sea current was 1.5 knots – we ideally were looking for a minimum of 2.2 knots to attempt the record. Although not what we hoped for a year ago when the idea of this swim was born, it was the green light to make the best of this once in a lifetime opportunity to swim in shark-infested waters, unprotected, in the fast Agulhas Current to show that we care.
"Unfortunately the swim was aborted after 9 hours 3 minutes due to a forest of blue bottles we encountered, just when we hit better current. We had covered a distance of 28.24 km.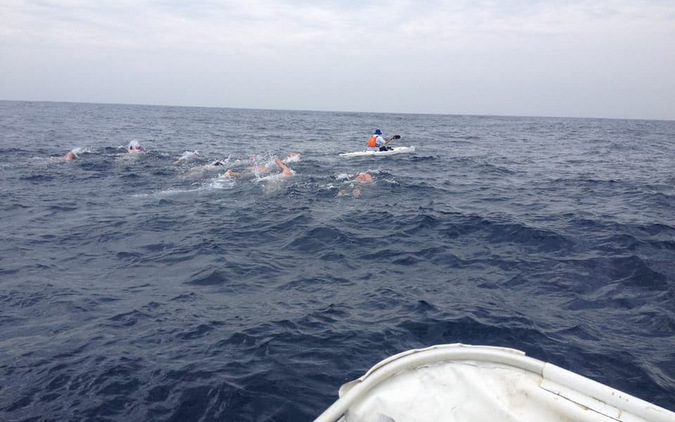 "Although we did not reach our goal I am incredibly proud of our swimmers who sacrificed their time in aid of nature. We would have loved to encounter sharks instead but were at the mercy of another sea creature – blue bottles! The swimmers are all achievers in their own right, but today they have sacrificed personal goals for a cause. I hope the swim encourages others to do their small part to make this world a better place".
Annually one-hundred million sharks are killed compared to an average of only five shark attack fatalities worldwide. Sharks are among Earth's oldest forms of life. They were recorded to have existed nearly 200-million years ago, before the first dinosaur. They are Apex animals. Loosing them will have detrimental effects on the ecological stability of the marine environment.
Madswimmer is a non-profit organisation consisting of anyone who is willing to attempt daring open water swims for charity. They have completed a number of records and world first swims and have raised over R800K for children in need. Although the Great Shark Swim has shone the light on sharks, all funds raised will benefit Madswimmer's ten registered children's charities.