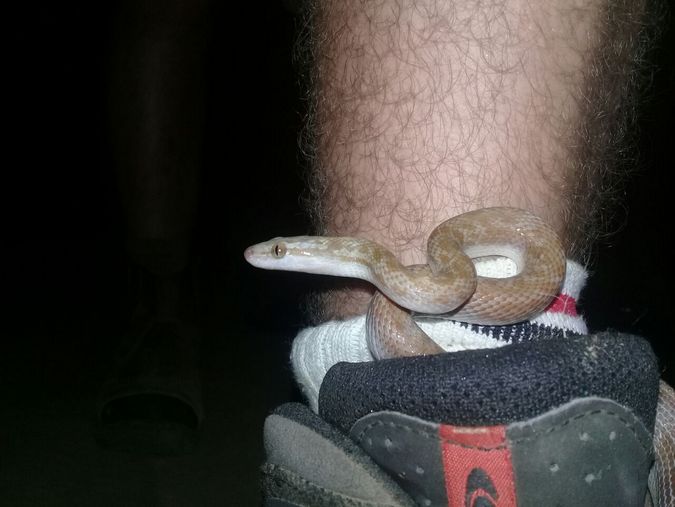 Editor's note: Often while out in the bush, creatures big and small (mostly small) can seek out warm and dark places to find refuge for the night – especially those such as spiders, scorpions and snakes. One of the more popular places is the inside of shoes – and if they are left to stand outside at night this will most likely become the ideal habitat for unwelcome guests. The folks at EcoTraining would like to stress the importance of always checking your shoes before putting them on, and below they share their encounter with a snake who also wanted to have its time with a shoe… unfortunately the shoe was already occupied for the night.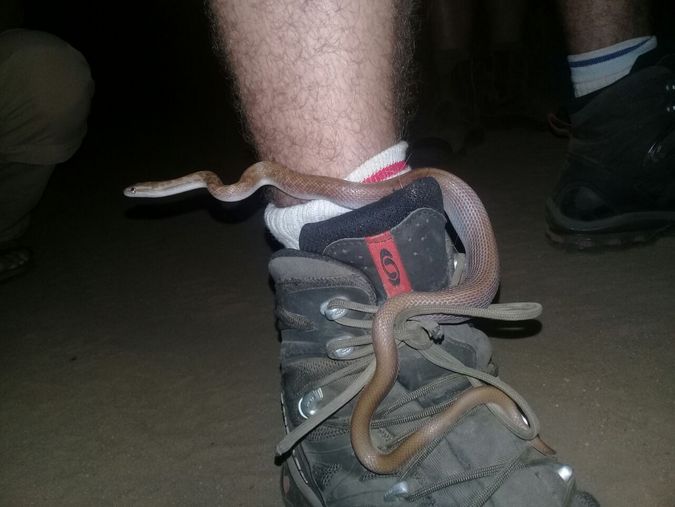 Written, and photographs, by Jasper Visser
On 16 February 2018, after an early dinner, all 14 EcoTraining students, Kobus (one of the other instructors) and myself started preparing for the upcoming night drive.
Armed with spotlights, an astronomy laser for a possible night-sky lecture, and take-away coffee, we were ready for our nocturnal adventure!
As we drove off from camp, the corner of my eye caught some movement, a snake!
"Yeah!" is the natural reaction of a guide… which possibly contradicts the natural reaction of most people out there.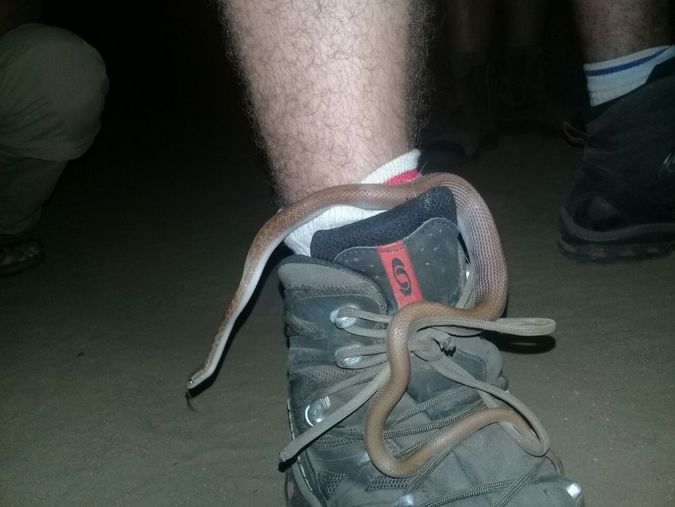 Myself and Kobus jumped out to identify the new camp visitor, and concluded that it was a harmless brown house snake (Lamprophis capensis). These guys are non-venomous and constrict their prey, which are mainly small rodents.
We asked the students to gather round to appreciate our new visitor, but as we were talking about this beautiful snake, it decided to head over to one of our students, Dylan. We told him to just stand still and allow our visitor to have 'meet and greet' session with him, and without any aggression this beautiful snake decided to curl around Dylan's ankle and hang around on his shoe for a while.
This gave us the chance to talk about their behaviour, which included the fact that snakes prefer dark, warm places due to them being ectothermic (cold-blooded) – so shoes and other warm places are obviously preferred. So kids, do us at EcoTraining and yourself a favour and always check your shoes before putting them on!