The past few days have seen a failed attempt to smuggle five rhino horns out of South Africa, a poacher sentenced to 20 years in jail, and SANParks suggesting that we pay an extra fee to visit national parks that have rhinos. 
Chinese national caught with five rhino horns (the full story: News24)
This past Friday, authorities at OR Tambo International Airport in Johannesburg caught a Chinese national attempting to smuggle five rhino horns wrapped in foil out of the country, destined for Hong Kong.
The discovery was made just two weeks after John Hume's controversial online rhino horn auction in South Africa, which was met with "disappointing results". It is feared that with the recent lifting of the eight-year domestic moratorium on the rhino horn trade, an increase in international smuggling will occur.
The Chinese national appeared in court on Monday morning, and was remanded for a formal bail application on 29th September.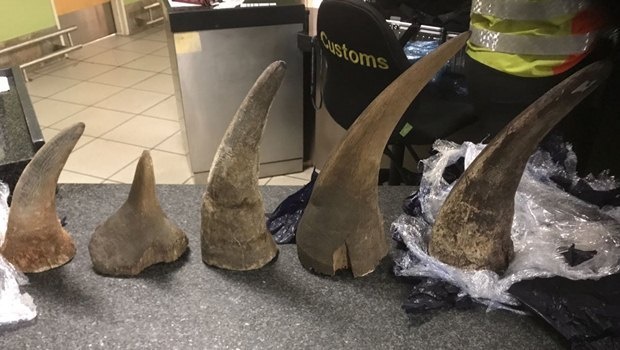 Rhino poached jailed for 20 years (the full story: News24)
A Mozambique national has been jailed for 20 years after being found guilty of rhino poaching in the Kruger National Park.
Mapoyisa Mahlauli was sentenced in a South African court on Thursday for crimes relating to rhino poaching. He was arrested last year in the national park after authorities discovered a white rhino who had been killed and dehorned. They eventually tracked Mahlauli down and found him in possession of a rifle and a pair of rhino horns.
In a statement released a police spokesperson said the sentence will "send a strong message to other potential rhino poachers about the consequences of their actions if caught."
Paying extra to see rhinos? (the full story: Traveller24)
And finally, visitors to South African national parks where rhinos can be found could possibly find themselves paying an extra fee to help support SANParks and their anti-poaching operations.
According to Ike Phaahla, spokesperson for SANParks, since 2008 the costs for maintaining such operations and protecting wildlife against poaching has risen by 334%.
"This is not sustainable, thus the tourism research unit at SANParks is currently busy conducting a survey among visitors about the possibility of such a fee."
SANParks does receive financial assistance from the government, donors, NGOs, and the Honorary Rangers. However, Phaahla says that "most of the money raised by various organisations doesn't reach the people on the ground". Money is needed for equipment used in the anti-poaching operations, and adding an anti-poaching fee on top of the conservation fee for visitors should help generate the funds needed.
Phaahla goes on to say that they "trust that charging this fee will be temporary and will be removed once crime against wildlife and the environment has come under control".
Once the results of the survey have been analysed by SANParks' board and executive management, a decision will be made and the results will be released to the public.