As the game drive was approaching the plains of Puku Ridge in South Luangwa, Zambia, on the way to find a nice sundowner spot, our safari guide spotted a number of vultures circling above the plains, which is most often than not a sign of a dead animal – most likely a lion or leopard kill. So we decided to investigate…
At first all we could see was a large family of elephants standing on the plains, and then we noticed a spotted hyena nearby that was quite agitated. On the other side of where the elephants were, we spotted a carcass in a bush.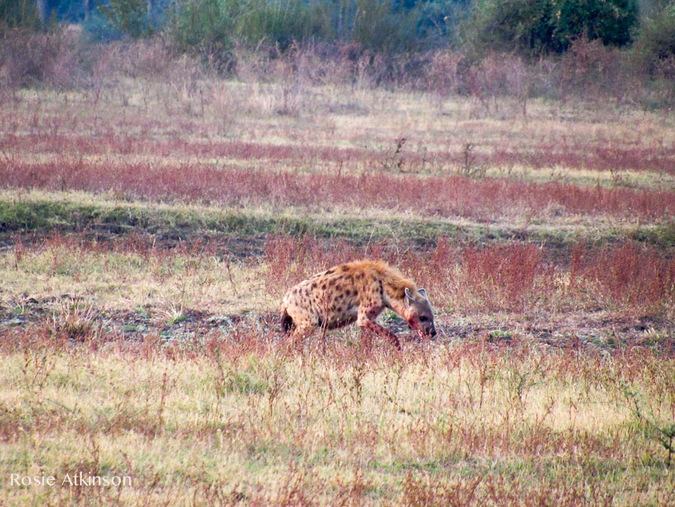 The hyena was obviously interested in the carcass, but the elephants were in the way.
We also spotted a bystander – a leopard – whose kill it most likely was, and we guessed that the hyena had stolen the kill from the leopard (they do that a lot!), but was then interrupted by the arrival of elephants.
As it was an remarkable confrontation, we decided to stay a bit longer. The hyena was trying to dodge the elephants, and in doing so annoyed one of them who starting chasing the hyena away.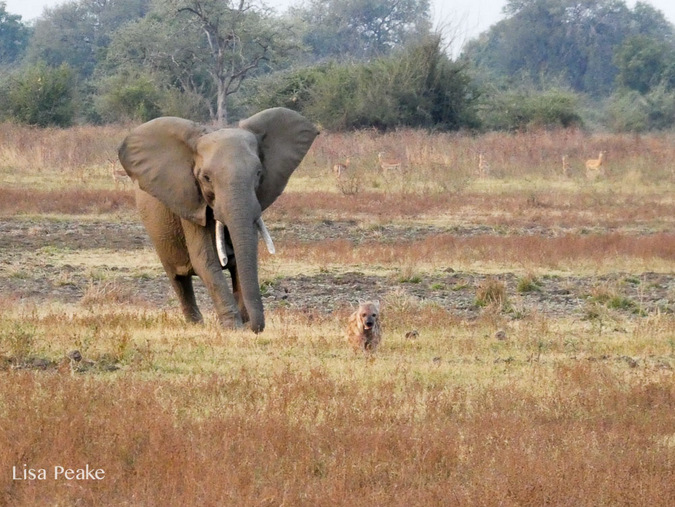 That was actually quite funny because the hyena was swerving left and right and the elephant was following it around!
Eventually the elephant gave up, and the hyena managed to grab the kill – leaving the poor leopard as an unfortunate spectator!