Living alongside wildlife is not easy and when it comes to elephants this is especially true. Human-elephant conflict (HEC) is one of the most prominent conservation challenges in Africa at the moment and Laikipia County, in central Kenya, has some of the highest levels of HEC in east Africa.
I received a call from one of my elephant researchers, Wahome, stationed in the field near a place called Mutara. He informed me about an elephant that had died during the night in community lands. I happened to be in the area so I asked him to send me directions.
I met him on his motorbike along the road and he indicated for me to follow him. We ventured deeper and deeper into community land. Croplands whizzed by my windows, mostly cabbages and maize. It was obvious why the elephants had come here.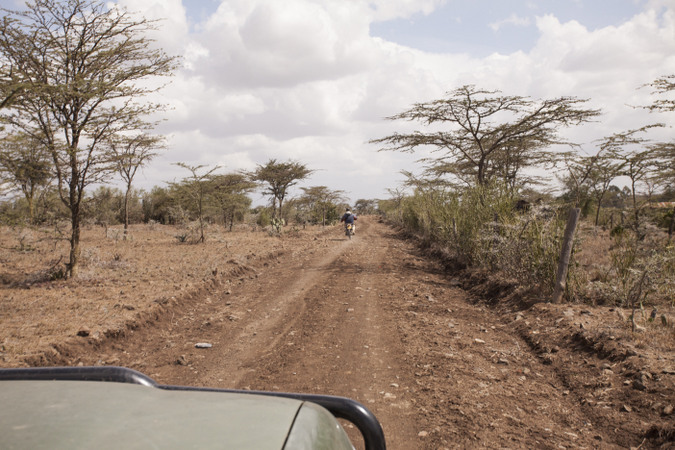 Upon arrival, Wahome introduced me to the Chief of the village, a well-spoken elderly lady called Margaret. She gave me a rough sequence of events.
Four bull elephants had been crop-raiding in the maize farm where we stood when the community had awoken to chase them away. The elephants had reluctantly retreated against a cacophony of noise, fire and flashlights borne by angry and desperate community members. Suddenly, one of the elephants had made an ear-splitting shriek of noise and collapsed where it had stood. The community, not understanding what had happened, returned to their homes and waited for daybreak.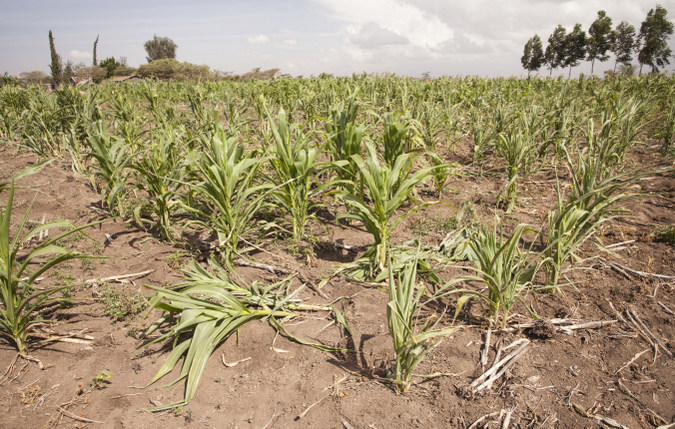 In the morning the chief found that the young bull elephant of about 30 years of age had a wire snare wrapped around its trunk. The cause of death was said to be the snare.
That was the story. The details were vague but I was in no position to question them for I had arrived too late to see the elephant as it had been found.
By the time I arrived, a small group of community members were busy cutting up the carcass for its valuable meat. Flies swarmed around the carcass. The pungent smell of meat that has been exposed to the blazing sun hit my nostrils. Celine Dion blared from somebody's phone. It was a surreal scene.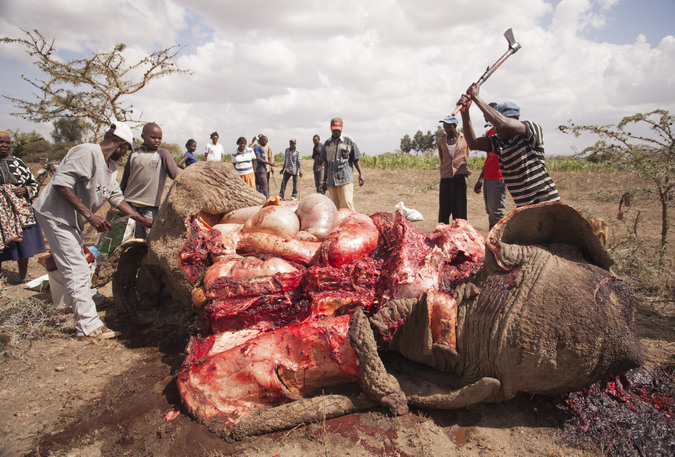 The chief turned to me, "We are thanking God today. This is like manna from heaven. We will eat this meat for a week. Today we are happy."
I nodded. I could understand her sentiments. I wandered closer to have a look at the carcass and spoke to some of the villagers expertly cutting up the meat with an array of tools.
"These elephants are in our shambas (farms) every night. They are so destructive. You cannot imagine. We suffer so much every night. We would never kill them but we are so happy it is dead. Maybe tonight my family will get some sleep", one of the men standing around the carcass said before lifting a plastic bag full of meat over his shoulder and walking towards his homestead.
I watched as two determined men continued to cut up the elephant trying to get to the heart. It was incredibly tough work.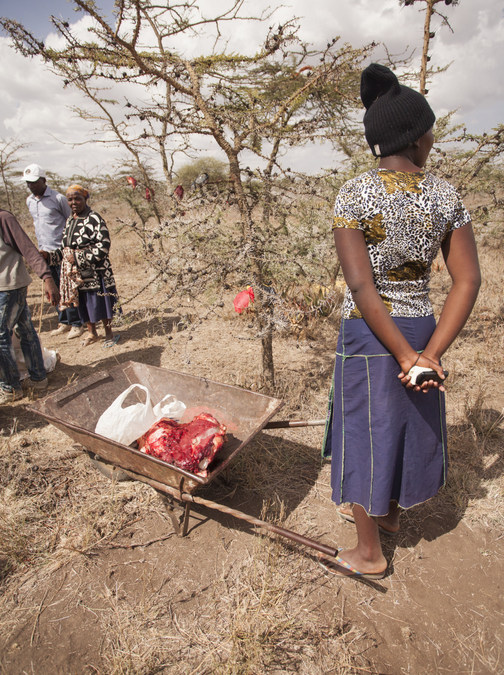 "Why are they going for the heart?" I asked no one in particular.
One of the bystanders responded with a smile, "The heart is the best. It is the sweetest meat. The people believe that if they eat it they will become strong and brave like the elephant."
As a conservationist, such a scene is hard to witness. Still, I would be the first to admit that it must be even harder for these communities living alongside wildlife and bearing the costs on a daily basis. It is critical we work towards a solution that helps to reduce the costs borne by communities and ensure that they have ownership of their wildlife resources.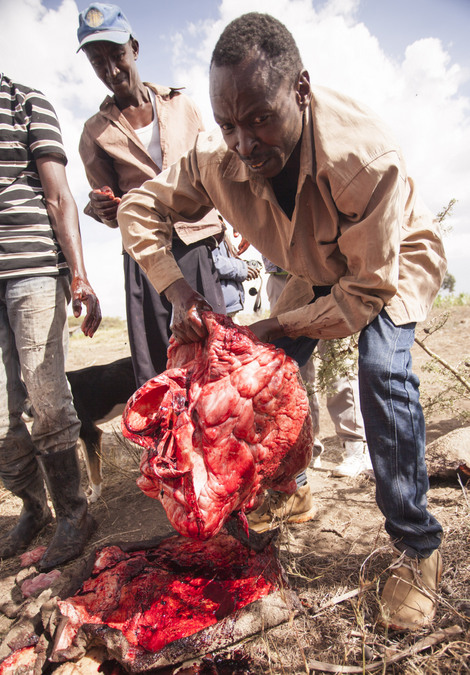 Subscribe to enjoy more stories like this – join our tribe
---
TRAVEL WITH AFRICA GEOGRAPHIC
Travel in Africa is about knowing when and where to go, and with whom. A few weeks too early / late and a few kilometres off course and you could miss the greatest show on Earth. And wouldn't that be a pity? Search for your ideal safari here, or contact an Africa Geographic safari consultant to plan your dream vacation.