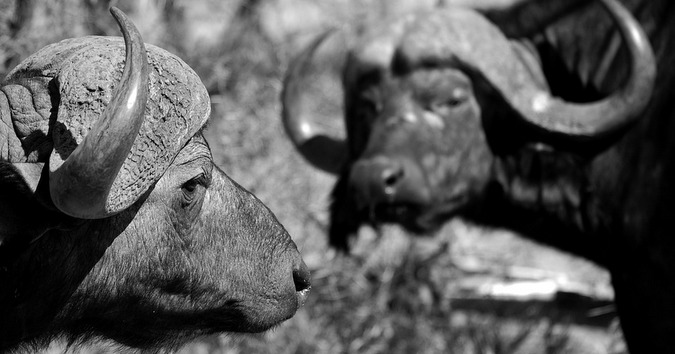 NEWS DESK POST by AG Editorial
A South African professional hunter has been attacked and gored by a Cape buffalo in the Makuya concession of the Greater Kruger in South Africa, and has since undergone two surgical operations.
The community-owned Makuya concession shares an unfenced border with the Kruger National Park (and therefore forms part of the Greater Kruger), and is in the far north – bordering the Makuleke concession.
The hunting website Africa Hunting describes how the incident occurred last week, when the professional hunter and his outfitter left their clients at a lookout spot to look for signs of elephant. According to the website the professional hunter and outfitter split up to cover more ground, each taking with him a reserve ranger and the professional hunter also had with him a tracker. It was then that a male buffalo charged at the professional hunter from thick bush. It was determined later that the buffalo was injured after being caught in a wire snare set by poachers.

The professional hunter allegedly shot at the buffalo bull from a distance of two metres, but the buffalo hit him and pinned him to the ground for two minutes, using his boss (the thick, hard bone shield in the centre of the horns). During this time the tracker was able to call the outfitter on the radio, to inform him of the incident and guide him to the scene.
The hunter sustained serious injuries and was airlifted to a waiting ambulance from where he was transported to a hospital where he remains under sedation, but in a stable condition.