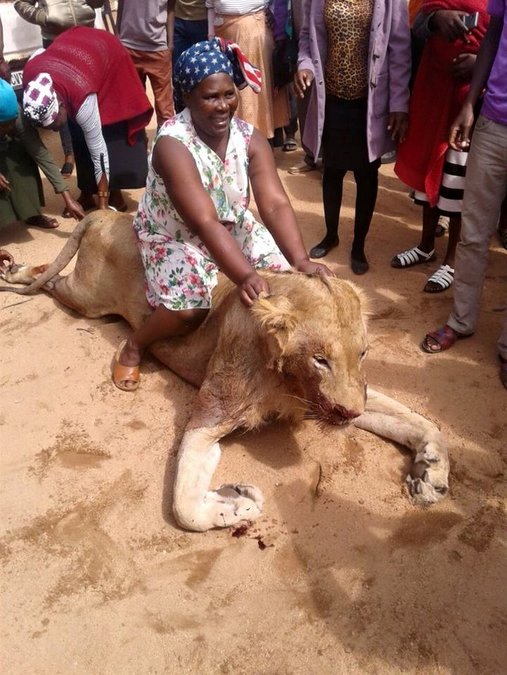 Note from our editorial team: This incident reflects the terrible price that humans and wildlife sometimes pay when they co-exist in the same area. We call on you to exercise restraint and understanding when reacting to these disturbing images. Please abide by our Comment Policy.
In a case of human-wildlife conflict, a 'problem' lion has reportedly been killed near the town of Finale, South Africa, after the local community complained that it was killing livestock. Finale is near the larger town of Hoedspruit, and the Kruger National Park. It is likely that these lions escaped from a nearby private game reserve and not from the Kruger National Park.
"The community of Finale are reportedly rejoicing after a lion, that has reportedly been 'terrorising' the community and livestock in the area, has been shot by nature conservation officials. It is reported that rogue predators have been walking in the area for some months now and have killed a number of cattle, leaving community members furious and seeking compensation." (edited from third-party site: Letaba Herald ) 
Further editorial comment
Human-wildlife conflict is a very real issue for rural communities in many parts of Africa, who have a different perspective on the matter to people who do not live amongst dangerous wild animals. Solutions are not easy to come by or implement, because of the remoteness of many of the areas, the complexity of the issues involved, and because of increasing human and livestock footprints and resultant reduction in suitable habitat for free-roaming wildlife. Drought cycles impact heavily on the number of human-wildlife conflict incidents, as do the presence of man-made watering points.
Most conservationists agree that the solution has to involve and empower the affected communities. Many government agencies and NGOs are not equipped to deal with individual incidents or even with ongoing management strategies. Help or compensation for killed livestock or destroyed crops is often not forthcoming, or takes too long to arrive. This all adds up to increasing frustration and anger amongst affected communities.
The disturbing photographs in this instance demonstrate understandable relief and resultant celebration when the 'livestock-killing culprits' are found or killed. While those of us who live in areas ruthlessly sanitised of dangerous wildlife may have a negative emotional reaction to these photographs, hopefully most will try to understand the stress of living amongst wild animals that are a threat to lives and livelihoods.