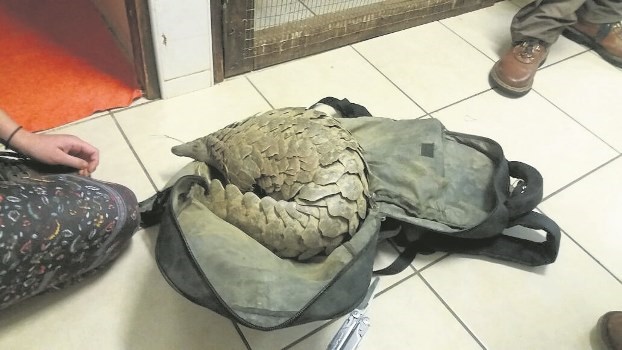 Sourced from third party site: News24, written by Kerushun Pillay, The Witness
A man was caught at a South African shopping mall with a pangolin in his backpack. He was allegedly trying to sell the pangolin, one of the world's most endangered animals.
UPDATE 26 Jan 2018: Unfortunately the pangolin died in the care of an experienced wildlife rehabilitator, due to severe malnutrition, dehydration and stress.
Well-placed police sources told The Witness that the man allegedly intended to sell the 8,9 kg adult pangolin for about R85 000 ($7,000). Pangolins are widely considered to be the most trafficked mammal in the world, and their sale is illegal. Police sources said this may be the first ever bust of its kind in KwaZulu-Natal. Working on a tip-off, members of KZN crime intelligence, the provincial rhino task team, and Pietermaritzburg's K9 unit, intercepted the alleged trafficker at a Pietermaritzburg shopping mall on Tuesday morning.
"He was searched and the pangolin was found in a backpack he had on him," a source said. The man was taken into custody, and the pangolin was stabilised by FreeMe Wildlife Rehabilitation KZN, which then arranged for it to be transferred to another care centre in Johannesburg. FreeMe's Wade Whitehead said the pangolin was under considerable strain, and was found to be dehydrated.
Sharika Regchand reports that a Zimbabwean national Isaac Mutero (42) made a brief appearance at the Pietermaritzburg Magistrate's Court on Wednesday facing a charge of being in possession of a protected species.
Requiring a Shona translator, he told the court that he plans to apply for bail, and that he wishes to hire a private attorney.
State prosecutor Rene Padayachee said bail is opposed because of the seriousness of the alleged offence. He was remanded in custody until January 30.
The Witness understands that when taken to the vet the pangolin was covered in ticks and parasites and found to be dehydrated and weak. It will be monitored daily and may be released back into the wild at a safe location once caregivers are satisfied with its recovery and foraging abilities. It will be monitored for a while once back in the wild.
Rampant poaching of pangolins
Executive director of the African Pangolin Working Group (APWG), Nicci Wright, was not surprised at the condition of the pangolin after its ordeal.
Wright, who is also part of the Johannesburg Wildlife Hospital and a local branch of the Humane Society International, said: "They [pangolins] are often transported for about 10 days [by traffickers] and are not given anything to eat or drink. They only eat certain kinds of ants and termites."
She said pangolins were endangered because of huge markets in Africa and Asia where people use them for traditional medicine, meat and as status symbols.
Wright said pangolins are no longer found in KZN because of rampant poaching. "In the course of the last 10 days, we've heard of six  operations like this across South Africa, so it's a huge racket."
She said the poaching of pangolins was far worse than rhino poaching. "Last year, 36 tons of [pangolin] scales were recovered in Hong Kong. That's 300 000 to 400 000 pangolins. And those are just the ones that get recovered — what about those ones not recovered?
"We are watching a species slip through our hands. People go to [game reserves] and never see pangolins for years — they're a fascinating animal that not much is known about."