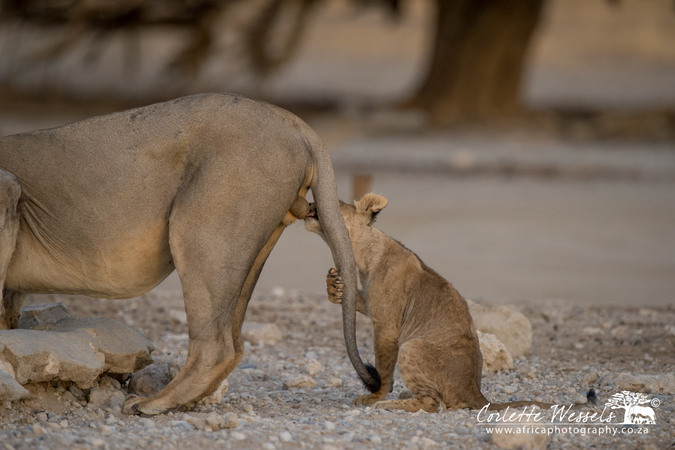 Written, and photographs, by Corlette Wessels 
During December 2017 we visited the Kgalagadi Transfrontier Park in Botswana as we normally do over the holidays, camping at Polentswa for eight nights. We were told by people who stayed at the camp site before us about a lioness who had lost her two cubs – she had been walking around the area for about three days calling for them.
By the time we found the lioness she was already looking for the cubs and was continually calling – this made us very sad. At one point we drove up and down the area to see if we could see any sign of them. Nothing.
The next day we found the entire lion pride at the waterhole, who were all calling and calling, it was amazing! They drank water and went to rest on the far side of the river when suddenly the lioness got up and started to run across the river towards us and straight past our cars!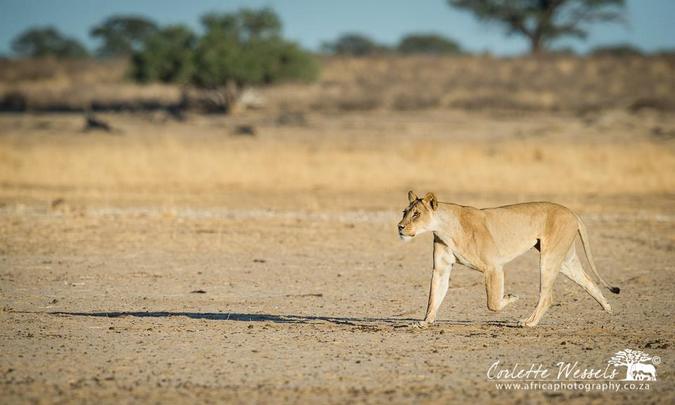 We realised something was happening and drove to the road to see where she went. And it was then that we saw the most amazing sighting ever, something that will stay for us for ever, a super special moment in nature.
She had found one of her cubs!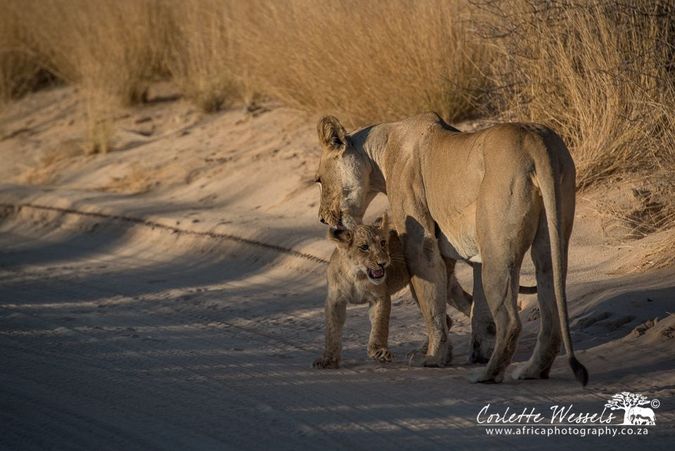 My word, the noises that both mother lioness and the cub made, touching one another, licking each other… I cried so much that I could hardly take photos (there were so many tears that I couldn't see what was in focus and what not!).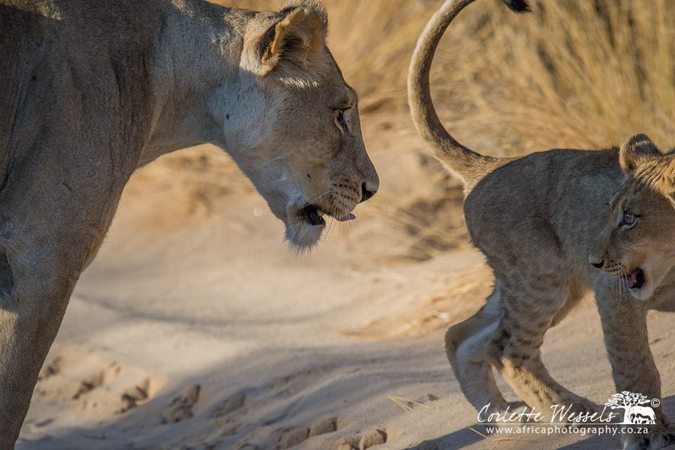 Later a male lion (presumably the father) arrived to come and investigate and he was clearly relieved that the family was at last whole again (for the most part, unfortunately the supposed second lost cub was nowhere to be seen). We named this little one 'Klein sus' ('small sister') as there was another larger cub in the pride also but clearly older.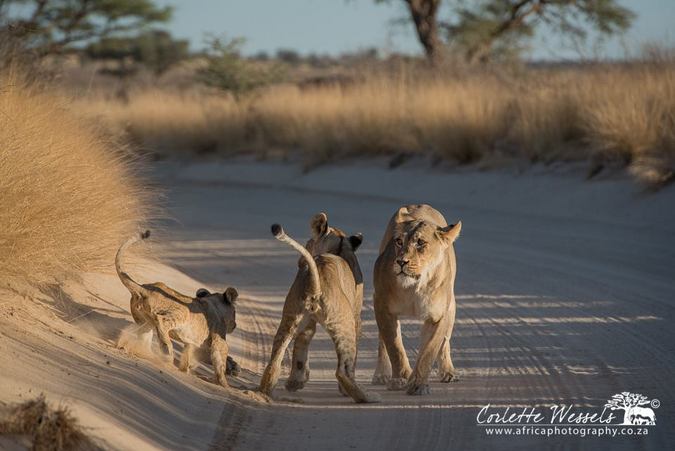 Later that afternoon the entire pride came to drink water – the cub, along with another sibling, was chasing the doves and just being silly. One of the males went to drink water and the cub approached him.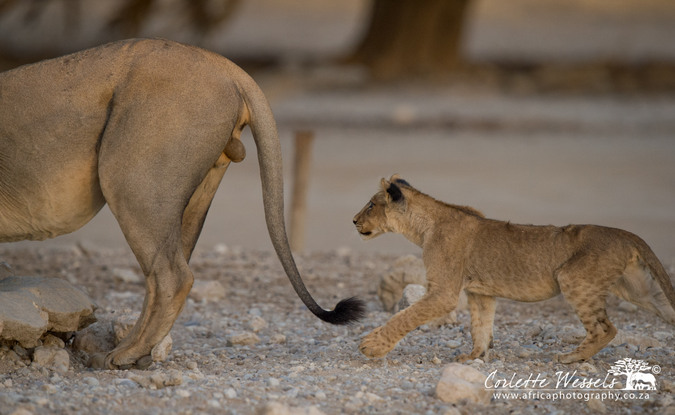 At this point I was not sure how he was going to react and if he was even the father. At first she almost stalked him and jumped onto his back while he was drinking water. He did not even lift his head.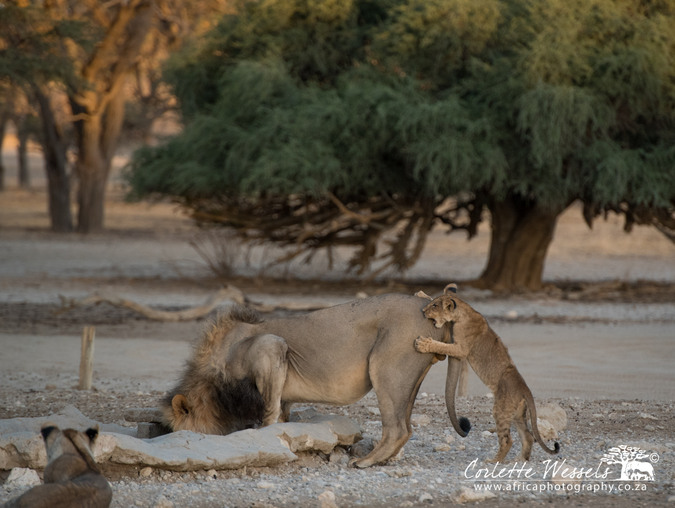 The cub then saw these "things" hanging at the back of the male and it looked very interesting to her.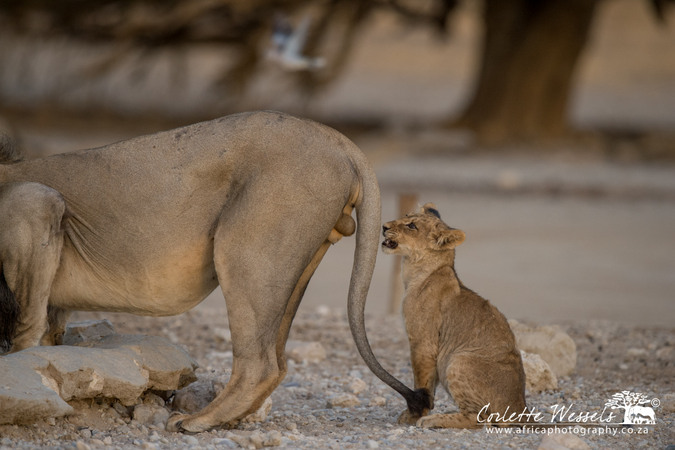 At first she just looked at it, then sniffed it, then to my surprise she gave it a bite! I thought that's it, he is going to turn around and kill this cub!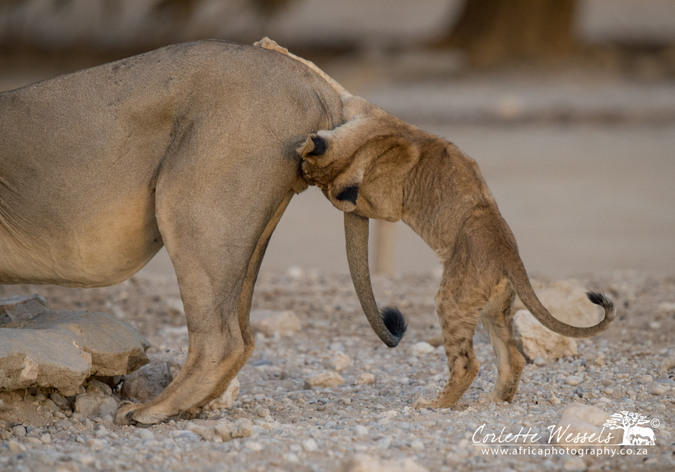 BUT… he did not. He did not even stop drinking.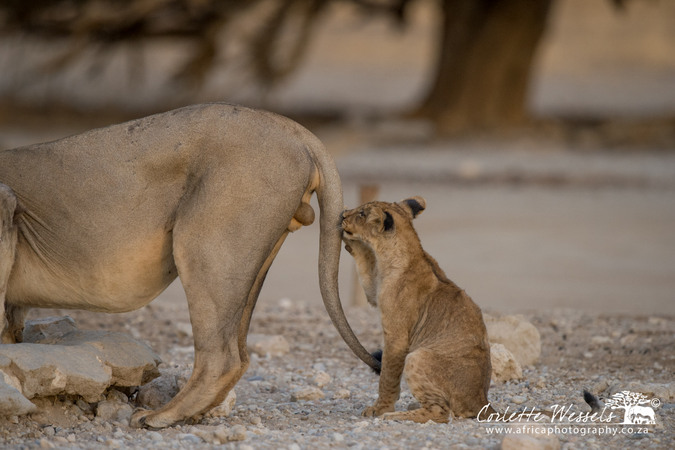 I think this entire pride was just so happy to have their cub back and for this one day allowed her to do what she wanted.
Thank you Kalahari for sharing this very special sighting with us as a family, and I hope to go back later this year and see if 'Klein sus' is still there and survived the dangers of the wild.