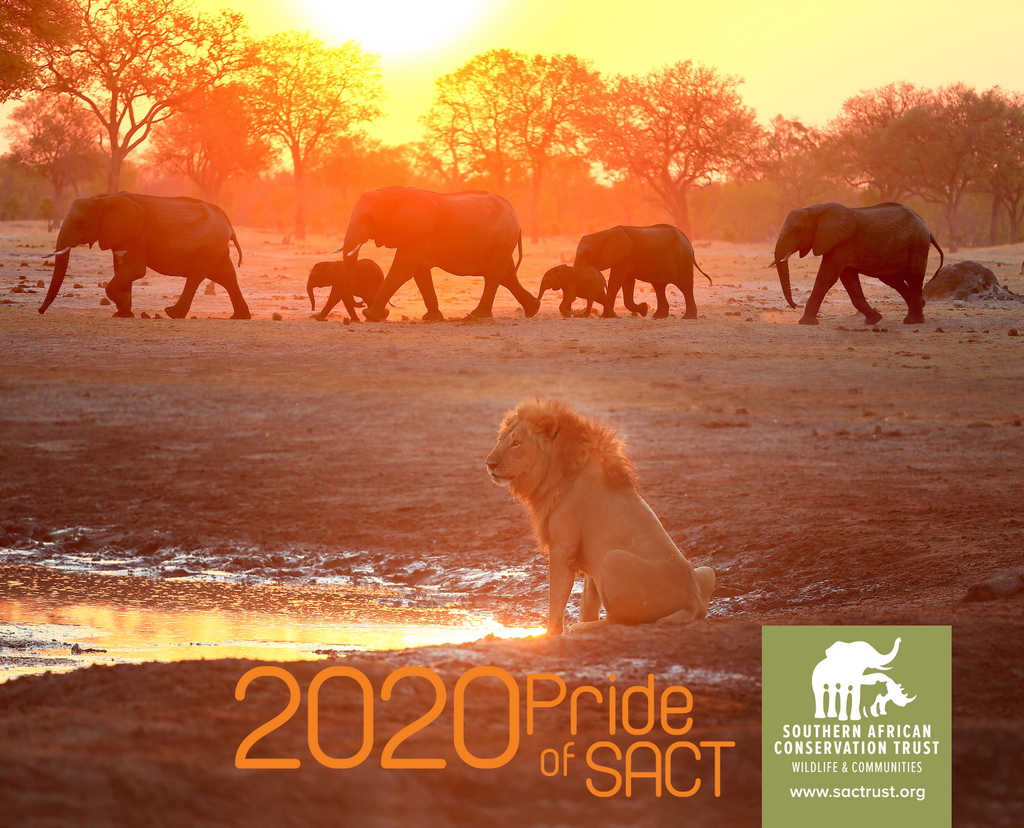 NEWS DESK POST written by Southern African Conservation Trust (SACT)
The Southern African Conservation Trust (SACT) has revealed their stunning 2020 wall calendar and are ready to take your order! And as you can see by the images, next year's theme focuses exclusively on lions.
Lions in Africa are in trouble, with their numbers plummeting by over 40% in the last three generations due to loss of living space and human-related conflict. In order to highlight the issues and raise funding, the Trust created this calendar to help support lion conservation in Africa, with the benefactors of the funding from the calendar sales going to the Lion Management Forum of South Africa (LiMF).
From the donations made to SACT, the LiMF will enjoy a sponsorship donation of approximately 30% of the cover price, with the balance going towards printing and artwork.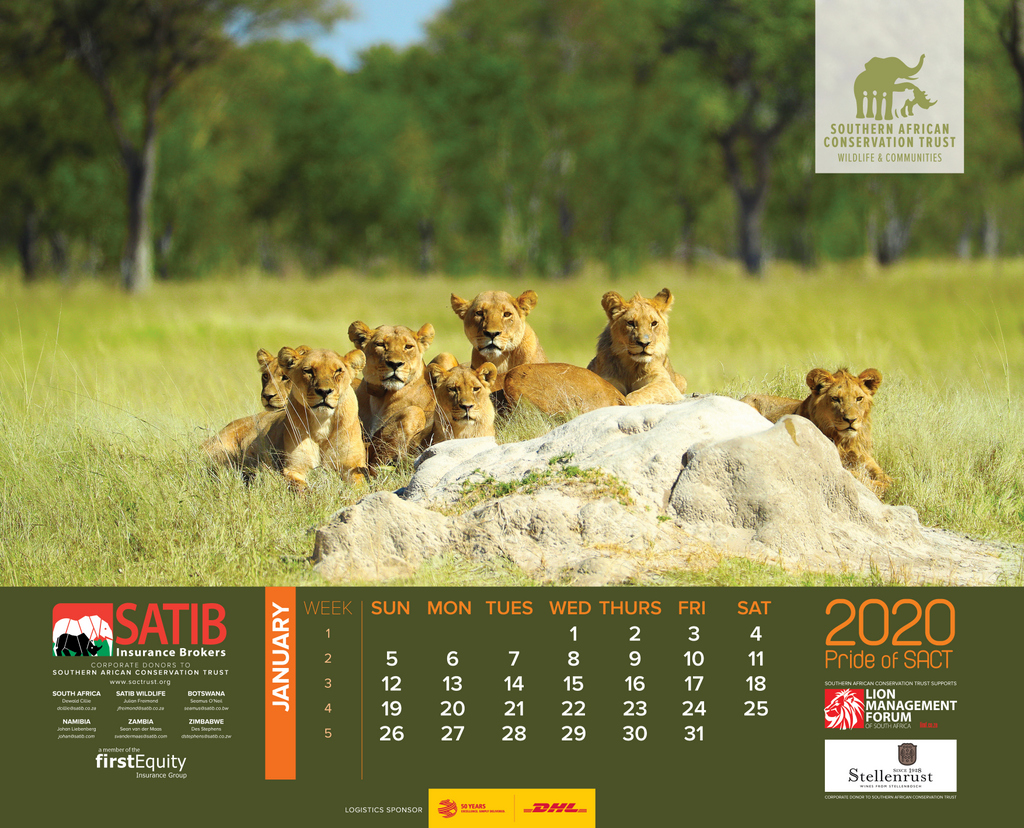 The calendars are 60cm x 50cm and contain 14 pages of high-quality photos of lions, taken by Brian Courtenay (Chairman of SACT and trustee of LiMF), and includes an overview of LiMF and SACT by the chairpersons.
The calendars will be delivered to home/office addresses in main towns or cities by courier service DHL EXPRESS, the Trust's corporate sponsor. Please note that deliveries cannot be made to remote locations.
The cost of two calendars (minimum order and inclusive of delivery) are the following:
• South Africa: R250.00
• UK: £25.00
• USA: $30.00
• Europe: €25.00
The calendars will go into production mid-October and will be ready for dispatch by mid-November so that delivery can be made in a timely fashion – just in time for Christmas!
HOW TO ORDER
Orders must be placed and paid to the SACT on or before 15 October 2019.
To place your order, or to find out further information, please contact Mela at mela@sactrust.org or Brian Courtenay at elephant@satib.co.za
SACT will confirm your order by return email and provide PayPal banking details.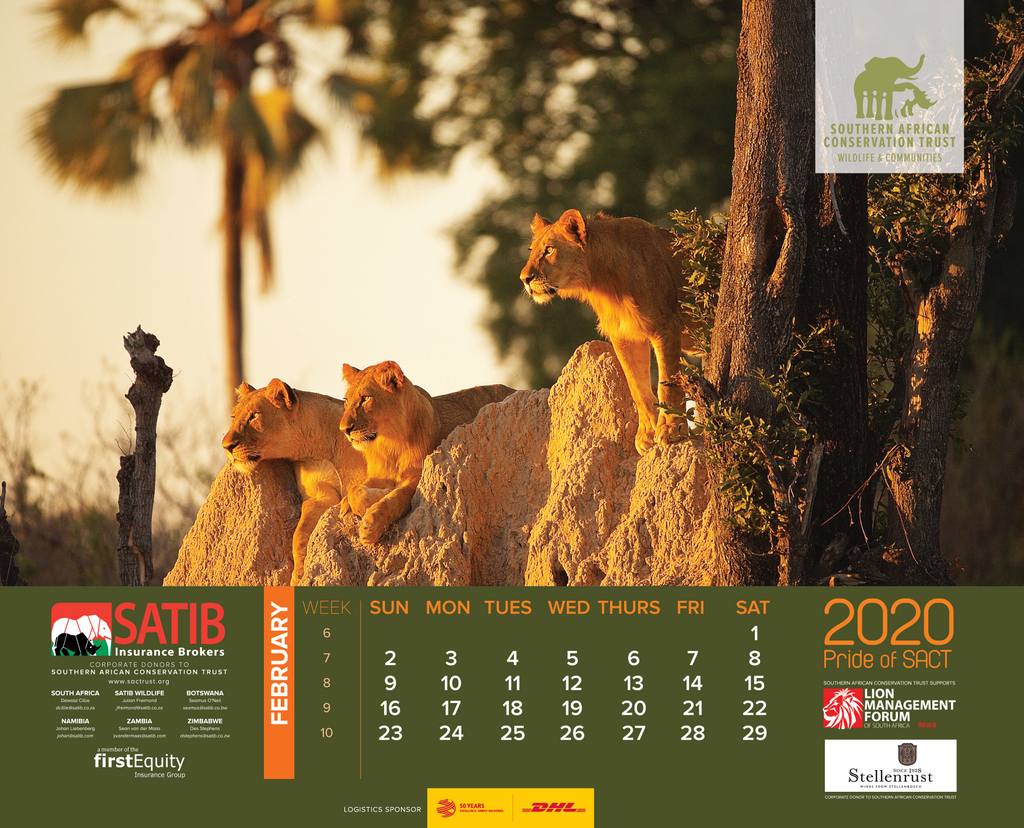 ABOUT SOUTHERN AFRICAN CONSERVATION TRUST (SACT)
The Southern African Conservation Trust is a registered NGO in South Africa, having registered six years ago as a conservation non-profit and public benefit association. The SACT actively supports LiMF in conserving lion populations in South Africa.
ABOUT LION MANAGEMENT FORUM (LiMF)
The roar of an African lion is a synonymous with Africa and no one can imagine an Africa without lions. Across much of their continental range they are in serious trouble, however South Africa remains a stronghold with close to 3,000 lions – one of seven countries in Africa with more than 1,000 lions. Small reserves started introducing lions in the early 1990s to restore natural ecosystems and enhance the tourist experience. There are now over 50 small reserves with lions around the country, with more added every year, accounting for over 700 lions (more than many African countries can boast).
Fences are effective at reducing threats to wildlife and have become a necessity in the South African landscape; with increasing prevalence across the continent. Lions live in prides and have a complex social system and thus they are a challenge to manage within smaller, fenced areas. Facing these challenges alone is daunting for any manager and thus, ten years ago in 2010, a small group of like-minded managers organised a meeting to discuss the unique challenges they were facing relating to management of lions in smaller spaces. Out of this first meeting of 16, the Lion Management Forum (LiMF) was born. Growing from strength to strength, word has spread and we now have over 80 members representing managers, ecologists, veterinarians, academics, students and government agencies across the country and into neighbouring countries.
LiMF is committed to promoting a robust lion population that contributes to the well-being of people. We provide a platform for the development and sharing of best practice guidelines that we hope will ensure a healthy lion population within South Africa for many years to come. The expertise we have is becoming more relevant to African lions across the continent as other countries struggle to maintain large populations resulting in more, smaller fragmented populations.