In this week's news wrap a top Idaho wildlife official has resigned amid outrage over a photo of him posing with a baboon family he killed in Namibia; SANParks have intensified security measures in the Kruger to tackle the rise of elephant poaching; 13 rhino horns shipped from South Africa were seized in Vietnam; a New Zealand drone company is helping in the fight against South African rhino poachers; South African rhino film wins top awards at US film festivals; and Ugandan ranger wins prestigious Tusk Wildlife Ranger Award 2018.
Idaho official resigns after fury over photo posing with baboons he killed (full story: The Guardian)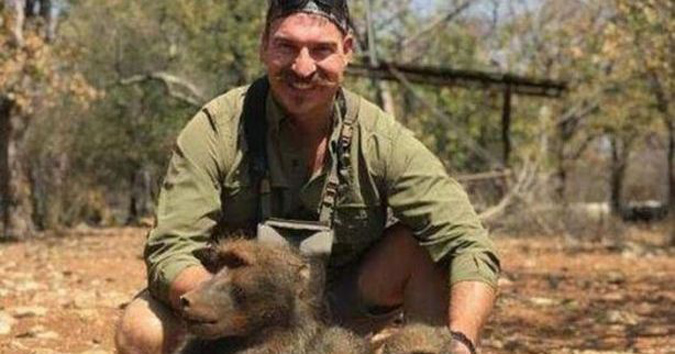 A top Idaho wildlife official has resigned amid outrage over a photo of him posing with a baboon family he killed in Africa.
Idaho governor CL "Butch" Otter said in a statement that he asked for and accepted Blake Fischer's resignation on Monday, three days after the Idaho Statesman newspaper published the first report about a photo of Fischer smiling with four dead baboons propped in front of him.
Fischer and his wife shot at least 14 animals in Namibia according to the photos and descriptions in an email he sent to more than 100 recipients.
The baboon family photo showed blood visible on the abdomen of the smallest baboon, its head lolling back to rest on the chest of one of the dead adult baboons. Fischer killed them using a bow and arrows, visible in the bottom of the picture.
Fischer did not apologise for killing the baboons but said in his resignation to Otter that he "recently made some poor judgements that resulted in sharing photos of a hunt in which I did not display an appropriate level of sportsmanship and respect for the animals I harvested".
Fischer and his wife also killed a giraffe, a leopard, an impala, a sable antelope, a waterbuck, a kudu, a warthog, a gemsbok (oryx) and an eland… (Continue to full story here)
Security boosted at Kruger Park after rise in elephant poaching (full story: TimesLIVE)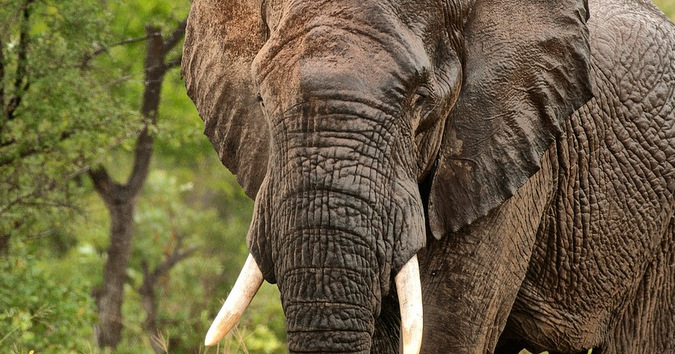 SA National Parks (SANParks) have intensified security measures to tackle the rise of elephant poaching in the Kruger National Park.
SANParks spokesman Isaac Phaahla said on Wednesday morning that 58 elephants have been killed so far this year' compared to 32 over the same period last year.
"That's a huge concern for us'" he said.
Phaahla said the northern and eastern parts of the park were particularly vulnerable to the threat of poaching. While security measures in the north had already been "topped up"' he explained that "most of it is coming from our eastern borders' which is Mozambique".
"Remember' the initiative that we do for the rhinos is for all the species. It doesn't [only] target the rhinos or elephants'" added Phaahla… (Continue to full story here)
Vietnam seizes 13 rhino horns shipped from South Africa (full story: Reuters)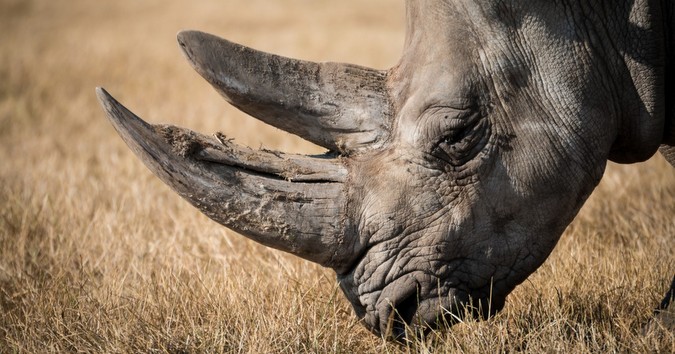 Authorities in Vietnam seized 13 rhinoceros horns and related items from South Africa last Friday, just two weeks after the seizure of a ton of illegal wildlife products, state media said.
Authorities found nearly 34 kg (75 lb) of rhino horns was shipped by a sender in South Africa on a Qatar Airways flight to an individual in Vietnam who refused to pick up the package, state-run Vietnam Plus said.
Vietnam has cracked down on illegal wildlife products as part of its commitment to a conservation treaty, the Convention on International Trade in Endangered Species.
Last month, authorities in Hanoi seized nearly a ton of elephant ivory and related products and pangolin scales from Nigeria, Vietnam Plus said… (Continue to full story here)
New Zealand drone company helps in fight against South Africa rhino poachers (full story: Newshub)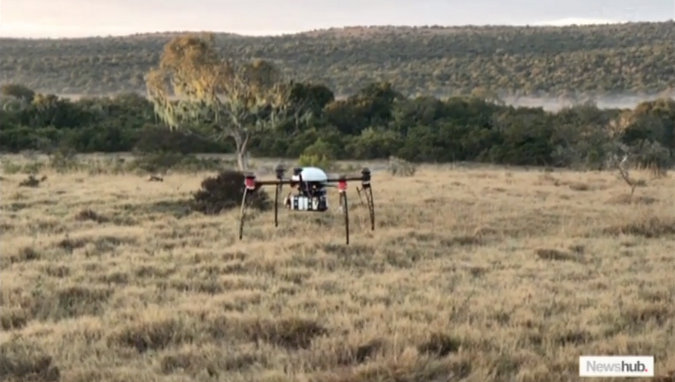 More than 7,000 African rhinos have been poached over the past 10 years. But while it's a problem nearly 12,000 km away, Kiwi drone company Aeronavics says the solution may be right here in New Zealand.
"They've got ground troops, they've got vehicles, and now they've got this drone that allows them to see from the sky," says founding director Linda Bulk.
The Raglan-based company has developed an anti-poaching 'eye in the sky' drone. It's a heavy duty drone, with an 8km range, and a built-in heat sensing camera.
"There's a pilot with a base station and they have a screen, and from that screen they can essentially scout the whole area."
The drone monitors the movements of rhinos and poachers and assists patrol teams, particularly after dark.
"They can't see a thing really at night… obviously because it's dark. But switch on an infrared camera or heat sensing camera, and suddenly you can see."
And just like a car alarm, it's hoped that even the drone's presence will act as a deterrent… (Continue to full story here)
South African rhino film wins top awards at US film festivals (full story: AG News Desk)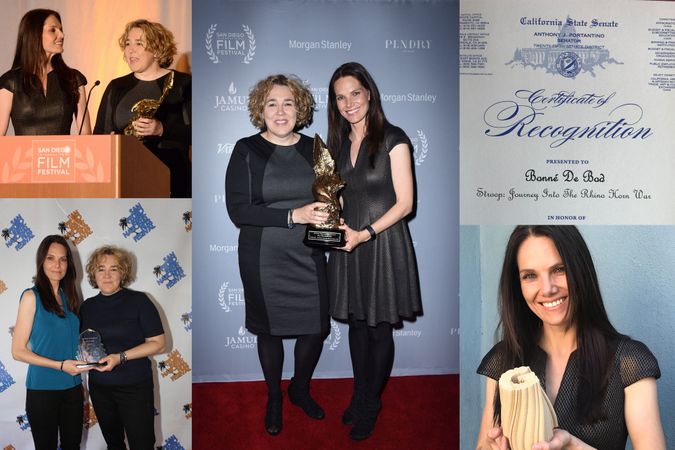 The South African feature documentary STROOP – Journey into the Rhino Horn War has won the coveted Best Documentary award at the prestigious San Diego International Film Festival held this past weekend.
Hollywood's Mudbound producer Kyle Tekiela presented the award to filmmakers Bonné de Bod and Susan Scott saying, "documentaries tell stories that bring big issues to light and the jury felt this was one of the biggest of them all, that poignantly conveys the struggle the world's rhinos are having to remain alive for the next decade".
The weekend was a winning one for the filmmakers as they also scooped an additional two awards – from the LA-based Glendale International Film Festival where they picked the Best Female Filmmakers award (a huge accomplishment given that over 130-films across fiction and documentary were in competition, which meant that STROOP was given the nod across all genres). And – also in LA – from the city's premiere film festival, LA Femme, which supports women producers from around the world, De Bod and Scott were awarded the Special Documentary of Focus Award… (Continue to full story here)
Ugandan ranger wins prestigious Tusk Wildlife Ranger Award 2018 (full story: AG News Desk)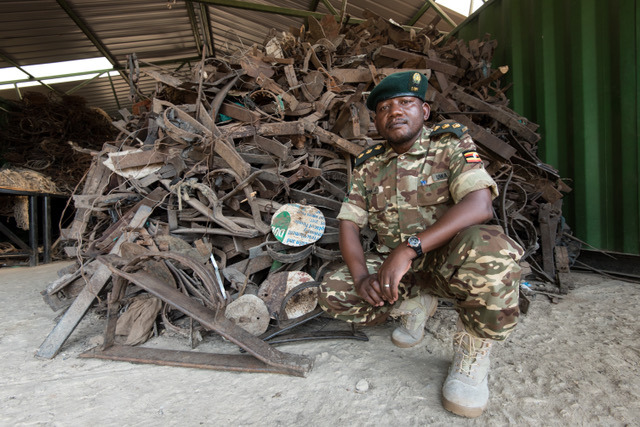 "Every creature in this world has a purpose and a positive one. We should strike a balance living in harmony with them. These resources must be protected!" Julius Obwona – Tusk Wildlife Ranger Award Winner 2018
The annual Tusk Conservation Awards, in partnership with Investec Asset Management, celebrate extraordinary people, whose work and lives might otherwise go unnoticed outside their fields. Their work with wildlife and communities in Africa safeguards the future for us all. The Tusk Wildlife Ranger Award gives international recognition to the men and women who face danger every day to protect Africa's wildlife. Rangers often work for little reward, risking and even losing their lives to protect the world's wildlife and its fragile ecosystems.
Julius Obwona joined the then Uganda National Parks in 1995 as a ranger, rising through the ranks to become Assistant Warden and then Warden in Charge of Law Enforcement. Much of his operational experience was gained when the Lord's Resistance Army were very active in the Murchinson Falls Conservation Area. Julius worked with the Ugandan army to counter and remove the rebel group. Julius now supervises over 300 staff.
Since 2014 Julius has trained over 600 rangers, now widely deployed throughout Murchinson. He headed up the creation of the Marine Ranger Unit and was integral in planning the location of the seven new Ranger Posts. This is even more impressive, considering that in 2013 there was only one working vehicle in Murchinson and all operations were done on foot.
Over the past 18 months his leadership has led to the prosecution of 720 suspects involved in wildlife related crimes, 620 being successfully convicted. Fourteen were notorious, heavily-armed elephant poachers. His efforts have led to major reductions in elephant and bushmeat poaching. Julius and his teams of rangers have confiscated over ten metric tonnes of snares, reducing the three elephants a day formerly being seen in traps to around three a month… (Continue to full story here)