In this week's news wrap three rhinos, a mother and two calves, died after a poaching incident; a Botswana MP proposes lifting the elephant hunting ban; an enormous amount of ivory was confiscated after a wide-ranging law enforcement sweep of Yunnan border areas in China; Zakouma National Park's six black rhinos were dehorned to help reduce the risk of poaching; the DR Congo is considering whether to open up two world-famous national parks to oil exploration; and Zimbabwean police are investigating the illegal hunting of a 'problem' elephant bull by two Americans visiting the country on tourist visas.
Three rhinos – mother and two calves – die after poaching incident (full story: AG News Desk)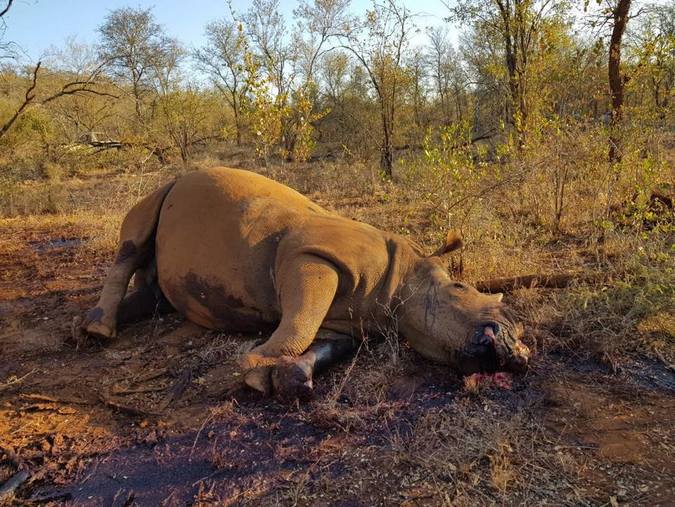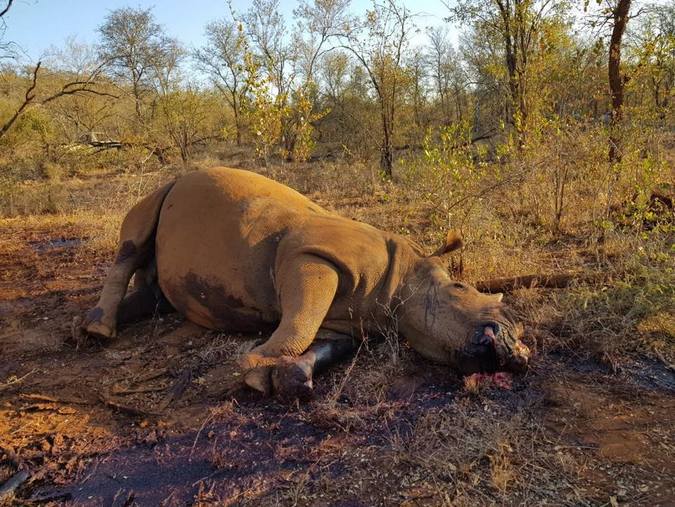 SanWild Wildlife Sanctuary near Gravelotte in South Africa has lost three of their rhinos at the hands of poachers over the past weekend. The discovery of the carcasses of the rhinos, named Audrey and her calf Azi, were made on Saturday.
A joint search operation which included two helicopters, a fixed wing aircraft, dog units, the local community and counter poaching units was rallied but despite all best efforts, the poachers managed to evade capture.
The rhino cow, Audrey, had at the time another calf called Louise.
Tracks were later picked up and a search operation ensued with the hope of finding Louise. On Sunday, Rhino Revolution, Wild Skies Aviation and Dr. Peter Rogers from ProVet Wildlife Services joined up to try and locate the young calf. The hope was that should she be found alive and  taken away to a rhino orphanage. Sadly, her body was found on Sunday morning – she did not survive the stress of the ordeal. (Continue to full story here)
Botswana MP proposes lifting elephant hunting ban (full story: AG News Desk)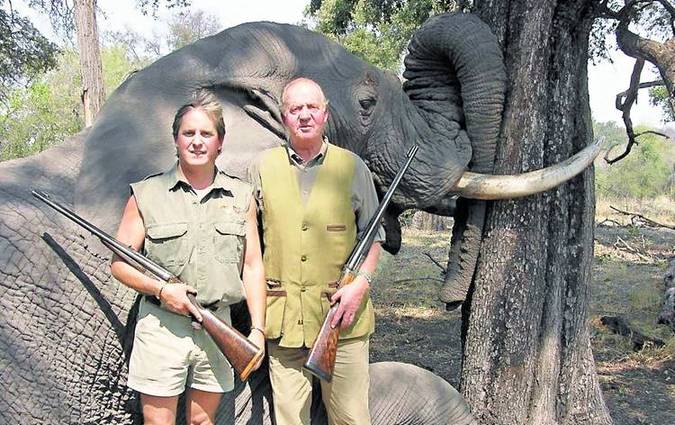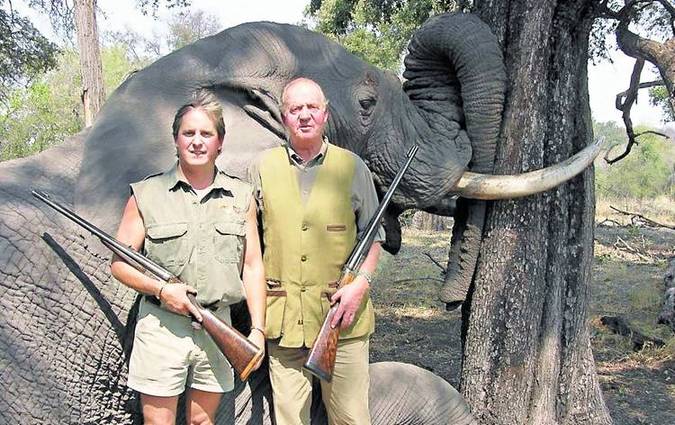 The Botswana parliament has adopted a motion tabled by Maun East MP Mr Kostantinos Markus requesting government to consider lifting the ban on the hunting of elephants in areas that are not designated as game reserves and national parks, to reduce the elephant-human conflicts that are a serious issue for poor rural people.
Debating the motion, the Vice President and Boteti West MP, Mr Slumber Tsogwane said the human-wildlife conflict had over the years been rife, primarily due to an overlap between human population and wildlife. The human-wildlife conflicts, he said, had been prevalent in the Boteti constituency, where large numbers of elephants roamed freely in marginal range lands. The increase in human population had also resulted in the encroachment into more marginal lands inhabited by wildlife.
The Vice President said conflicts between people and wildlife currently ranked among the main threats to conservation countrywide, adding that with much of the wildlife living outside protected areas, one of the real challenges to conservation is how to enhance and sustain coexistence between people and wild animals in those areas.
He said the increase of the elephant population had also affected the land conservation plans as they tend to over-graze and destroy the natural landscape.
He emphasised that the motion should not be regarded as a leeway to promoting poaching of elephants as government would implement stringent measures to protect elephants and other wildlife spies. (Continue to full story here)
Province-wide dragnet targets illegal ivory trade in China (full story: GoKunming)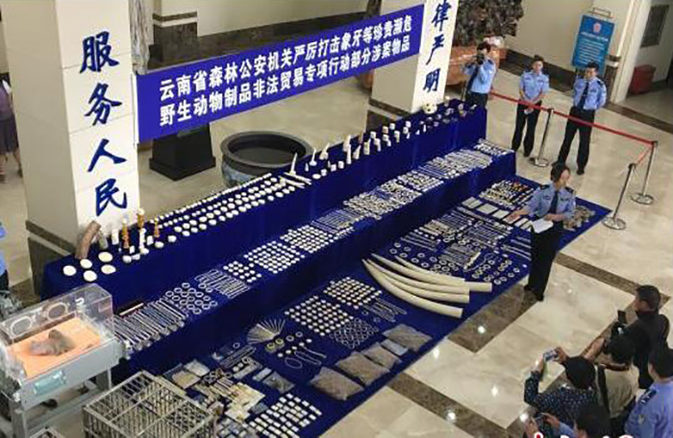 A wide-ranging law enforcement sweep of Yunnan border areas in China ended recently with the confiscation of an enormous amount of ivory. The operation targeted illegally imported rare animal products, with a focus on those coming from elephants. Police and local media outlets are extremely confident in the anti-trafficking measures, declaring that the ivory trade in Yunnan has "essentially been eliminated", media outlet Yunnan Net reports.
The series of sting operations began at the beginning of this year and ran through the end of May. At a June 21 press conference, representatives of the provincial forestry police displayed more than 1,900 items seized during the dragnet. The haul included at least five complete elephant tusks and hundreds of pieces of jewelry made of ivory.
The estimated combined value of the seized contraband is in excess of 2.5 million yuan (US$390,000), according to a police spokeswoman. Much of the merchandise is assumed to be destined for wealthy collectors in the country's east. Police arrested forty-five people during the sting, charging them with a litany of crimes including smuggling and possession of banned substances. (Continue to full story here)
Zakouma's six black rhinos dehorned (AG News Desk)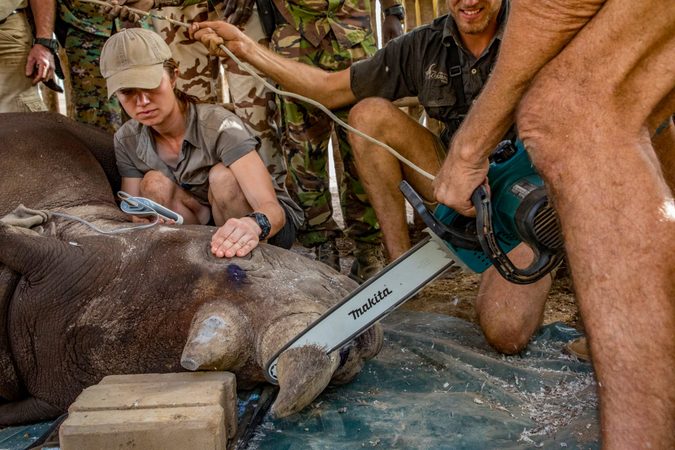 Zakouma National Park's six black rhinos have been dehorned. The horns were removed and transported away from the park to a secure location in the nation's capital.
In addition to these security and protective measures, a horn trimming regime will continue on a frequent basis going forward. The dehorning, which was part of the initial plan in caring for these rhinos in Zakouma National Park, was carried out by experienced vets who took every step to ensure that dehorning was done safely and did not cause any harm to the rhino. This step was carefully researched and planned, and studies suggest there is no long-term or social impact of dehorning, as long as all the rhinos in an area are dehorned.
In a historic move, the first six black rhinos were reintroduced to Zakouma National Park in May bringing back the species after a nearly 50-year absence. Dehorning them is one of the many security measures we are taking to reduce the risk of poaching.  (Continue to full story here)
Gorilla refuge may be opened in Congo oil search (full story: Bloomberg)
The Democratic Republic of Congo is considering whether to open up swathes of two world-famous national parks to oil exploration.
A decision to allow a search for crude may threaten Virunga National Park, home to many of the about 1,000 mountain gorillas still alive, and Salonga National Park, the world's second-biggest tropical rainforest reserve. A committee is being established to debate the proposal as Congo plans to increase crude output from the 25,000 barrels per day it produces from ageing oil blocks along the Atlantic Ocean coast.
"We are in the middle of putting together this inter-institutional commission," Emmanuel Kayumba, chief of staff in Congo's Oil Ministry, said in an interview in the capital, Kinshasa.
Mountain gorillas are critically endangered, according to the Nairobi-based African Wildlife Foundation. They're mainly found in eastern Congo, along with neighbouring Uganda and Rwanda, where they serve as an attraction for tourists who pay to trek into forests to view the apes.
The ministry is recruiting members from the presidency, parliament and the government, as well as civil society organisations, Kayumba said. The commission will recommend whether or not the authorities should press ahead with shrinking the two parks to permit exploration and production in areas that are currently protected, Kayumba said. (Continue to full story here)
Foreigners hunting in Zimbabwe: investigations into corruption and fraud (AG News Desk)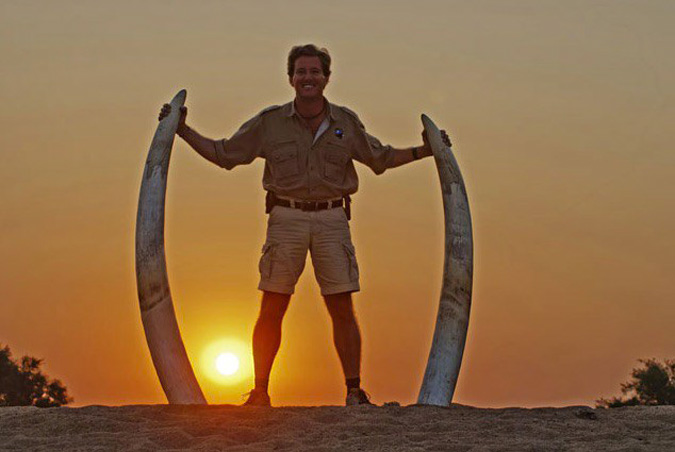 Zimbabwean police are investigating the illegal hunting of a "problem" bull elephant in the Penemene area, near Beitbridge, by two Americans visiting the country on tourist visas.
The incident is the latest in a series of hunting violations under investigation by local and international authorities, who fear the unethical pursuit of hunting trophies and collusion by wildlife managers is pushing Zimbabwe's endangered species to the brink.
While the new regime's "Zimbabwe is open for business" policy is focused on driving economic and political reforms in the run-up to elections in July, little is being said about restoring sanity in the country's natural ecosystem, where reports of wildlife poaching, illegal hunts by foreigners and identity fraud are rampant.
The most recent incident involved Threeways Safaris, a hunting outfit based on the banks of the Bubi River in Beitbridge district that offers 'Big 5' hunts in Zimbabwe and South Africa.
On May 31 two American clients, Robert Allan Jean of Florida and Paul Zoellner Weldon of Michelin, were accompanied by Roy Gama, a former Zimbabwe Parks employee who now works at Threeways Safaris, when they shot an elephant bull.
Police said the Americans were in the country on tourist visas issued at the Beitbridge border post on May 29.
According to a police report, the bull was part of a "relaxed breeding herd" of about eight elephants reported by villagers to be in their fields. It was killed with "a rifle belonging to the Threeways Safaris owner, and Roy Gama is not a learner or professional hunter (PH)".
The incident needed investigation, the police report said, because it appeared to be a "non-trophy hunt disguised as problem animal control". Gama had shot at least three "problem" elephants in the area in 2018, it said.  (Continue to full story here)