In this week's news wrap Tanzania has launched the country's largest ever elephant collaring effort to protect its dwindling elephant population; Britain will ban the sale of ivory items regardless of their age in an effort to restrict the illegal ivory trade; Taiwan is to revise laws for a complete ban in ivory trade from 2020; two Chinese nationals have been held in Nepal with 162 kg of pangolin scales; fifty-eight years jail time has been handed down to rhino poachers; a report states that donkey skins are the new ivory; and Kenya's tourism minister advocates life sentences for ivory possession.
Unprecedented collaring effort aims to protect Tanzania's threatened elephants (full story: WWF)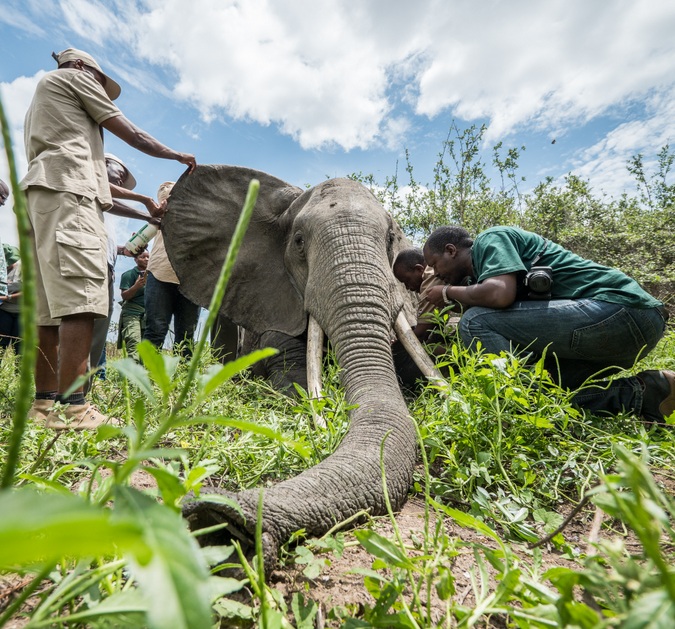 In Tanzania, the government, with support from WWF, has launched the country's largest ever elephant collaring effort to protect its dwindling elephant population. With almost 90% of the elephants lost over the last 40 years in the Selous Game Reserve, a World Heritage site, enhancing rangers' ability to guard the remaining ones from poaching is essential to rebuilding the population.
In a project spanning 12 months, 60 elephants are expected to be collared in and surrounding the Selous. This will enable reserve management and government rangers to track elephant movements, identify and act against threats in real-time. The use of satellite collars is a proven effective measure to monitor wildlife movements and provide enhanced security.
The data collected through the collars will help teams predict where the elephants and their herds are moving to anticipate the dangers they may face, such as the risk of encountering poachers. It can also alert teams if the herd is heading toward community settlements to help move them away from farmlands and reduce the risk of human-elephant conflict.
"In a landscape as vast as Selous where poaching continues, better information on the whereabouts of elephants is critical to anticipate the risks they may encounter, including fatal attacks by poachers," said Asukile Kajuni, Deputy Programmes Coordinator for the Elephant and Ruvuma landscape programmes, WWF-Tanzania. "The collars mark an important first step in the zero poaching approach we are taking by enabling wildlife protection teams to be on the front foot against poaching attacks." (continue to full story here)
Britain to ban sale of ivory items, regardless of age (full story: AG News Desk)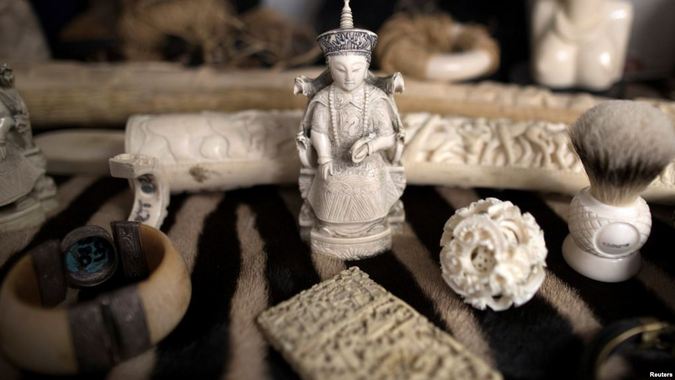 Britain will ban the sale of ivory items regardless of their age in an effort to restrict the illegal ivory trade, tackle poaching and help protect elephants, the government said on Tuesday. The new legislation will create the toughest ban on ivory in Europe and one of the toughest in the world, it said, with a prohibition on the sale of nearly all antiques containing ivory.
International commercial trade in ivory has been illegal since 1990 and the sale of raw African elephant ivory of any age is not authorised in Britain. But currently, worked items produced before 1947 can be traded within Britain or other EU countries, as can items produced after 1947 that have government certificates.
Environment Secretary Michael Gove said the tougher restrictions, which follow a public consultation, would demonstrate Britain's belief that "the abhorrent ivory trade should become a thing of the past".
"Ivory should never be seen as a commodity for financial gain or a status symbol, so we will introduce one of the world's toughest bans on ivory sales to protect elephants for future generations," he said in a statement.
There will be exemptions for antique items that contain less than 10% ivory by volume, some old musical instruments, and the rarest and most important items of their type, including portrait miniatures painted on slivers of ivory. (continue to full story here)
Taiwan to revise laws for complete ban in ivory trade from 2020 (full story: AG News Desk)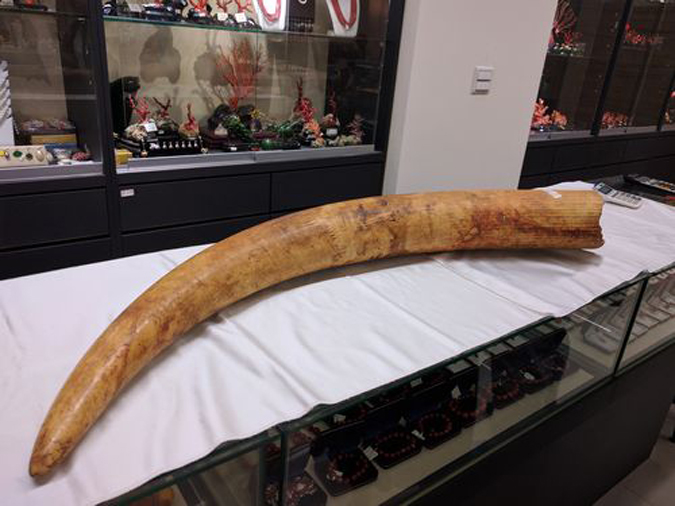 The Forestry Bureau announced Tuesday that it is working to revise regulations concerning wildlife conservation so that a solid ban can be put into force in 2020 against trade in ivory in Taiwan. The only exception to the ban is that individuals will be allowed to keep ivory only if they possess documentation that proves the products have been legally acquired, the bureau said in a statement.
Taiwan imposed amendments to the Wildlife Conservation Act in 1994 that prohibit trade and public display of ivory unless in recognised special circumstances, said Hsia Jung-sheng, head of the bureau's conservation division. At that time, however, in the light of the fact that there were still many local art dealers and seal makers dependent on ivory and who kept a lot of stock, the government took transitional measures to allow trade in declared ivory with the permission of the supervisory authorities, Hsia noted.
The latest action was taken in response to the international community's call for saving the African elephant, after a United Nations report in 2016 indicated that the number of African elephants living in the wild has dropped by some 20 percent, from 508,000 head in 2006 to 415,000 head, Hsia said.  (continue to full story here)
Two Chinese held with 162 kg pangolin scales (full story: The Himalayan Times)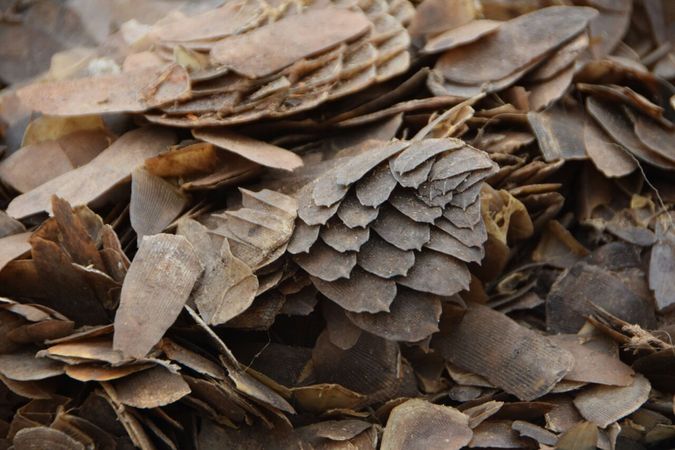 The Central Investigation Bureau of Nepal Police has arrested two Chinese nationals, who were allegedly involved in smuggling body parts of protected species to Nepal from Africa. SP Jeevan Shrestha, CIB spokesperson, said 162 kilograms of pangolin scales were seized from the duo. It is the single-largest haul of pangolin scales in Nepal.
The Chinese nationals, who arrived in Kathmandu from Istanbul on a Turkish Airlines flight yesterday, were found carrying the pangolin scales during an X-ray screening of their luggage in Red Channel Area of Tribhuvan International Airport Customs Office.
"Our investigation shows that they bought the pangolin body parts in Congo of Africa and took the air route of Istanbul-Kathmandu," he informed, adding that the Chinese nationals had made Nepal the transit point of the contraband.
"We have established a transnational connection to this wildlife smuggling rink jointly by run by Congolese, Chinese, Bangladeshi and Nepali citizens. CIB is coordinating with the Interpol for more information about the foreigners associated with the smuggling racket," SP Shrestha added. (continue to full story here)
Fifty-eight years jail time for rhino poachers (full story: defenceWeb)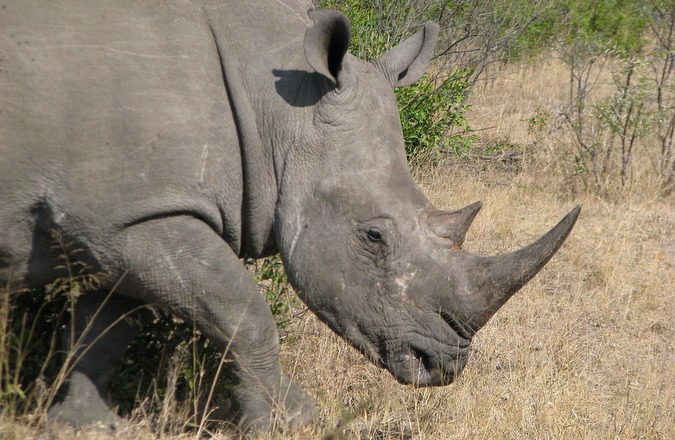 Environmental Affairs Minister Edna Molewa has welcomed lengthy sentences handed down to rhino poachers as well as the arrest of five people for unlawful possession of ivory.
"The sentences handed down by the Lephalale Regional Court and the swift actions of North West police in arresting five people trying to sell ivory in Rustenburg is to be commended.
"This is further proof the Integrated Strategic Management Approach adopted by government to combat rhino poaching and which is now also being applied to addressing other wildlife crimes such as ivory smuggling, is bearing fruit," Molewa said.
Two rhino poachers, Kenny Mthethi (35) and Sam None (34) were each sentenced to 58 years imprisonment on a number of charges, including hunting protected species, theft, trespassing and possession of unlicensed firearms and ammunition in the Lephalale Regional Court. The accused were found in possession of two rhino horns, a hunting rifle and four rounds of ammunition following a joint operation by police and local farmers (continue to full story here)
Donkey skins are the new ivory (full story: The Economist)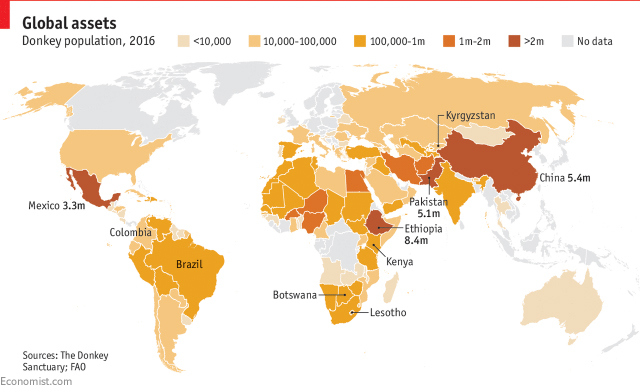 Donkeys are the backbone of many farming villages in developing countries. But if current trends continue, the world's rural poor may soon need to find a new beast of burden. The animals' ranks have thinned dramatically in many African countries: Kenya's donkey population, for example, has fallen by half since 2009, to 900,000. The primary cause is neither disease nor declining demand for live donkeys, but instead a burgeoning market for their pelts.
Since ancient times the Chinese have consumed ejiao, a gelatine made by boiling and refining donkey skin to produce a tonic taken as an elixir. As the country grew richer in the 1990s and 2000s, demand for the product grew and fewer donkeys were needed for agriculture and transport. As a result, there were only 5 million donkeys in China in 2016, down from 11 million in 1990. Because donkeys are relatively poor breeders, China no longer has enough of them to satisfy its thirst for ejiao. One solution is to fake the product using the skin of other animals, such as pigs. But some manufacturers have now instituted DNA testing to ensure their ejiao is genuine. The other option is to import from abroad.
China's biggest sources are African. In Kenya, the price of a donkey soared by 325% during a six-month period last year. From 2011 to 2016, the number of donkeys fell by 60% in Botswana and a fifth in Lesotho.
Poor farmers can hardly be blamed for selling their donkeys for sums that dwarf their value as draft animals. But in many cases, the vendors are not the actual owners. Instead, thieves have begun stealing donkeys in order to take advantage of the surging prices, leaving farmers without their most prized labourers. In response, around 15 countries have taken measures to curb the donkey trade, such as refusing permits for exports. Several African countries, including Botswana, now prohibit exports to China. (continue to full story here)
Kenya's tourism minister advocates life sentences for ivory possession (full story: Africa News)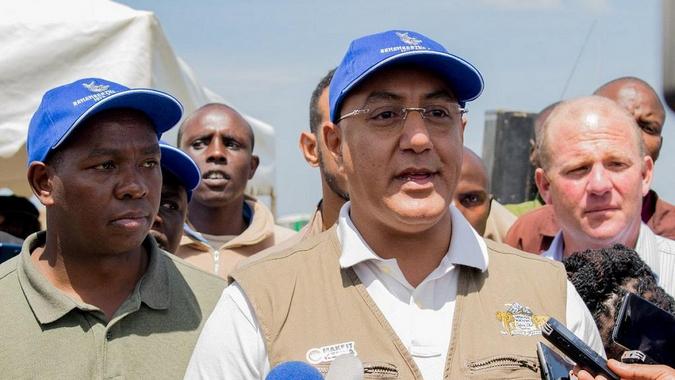 A Kenyan government official on Saturday said that anyone caught possessing ivory should be sentenced to life in prison as a headstone was unveiled for the world's last male northern white rhinoceros.
Wildlife officials at Ol Pejeta Conservancy, about 250 km (155 miles) north of Nairobi, put down the 45-year-old rhino, named Sudan, on March 19 because of a rapid deterioration of his condition.
Kenya's tourism minister Najib Balala was present at the conservancy to unveil the headstone and declared that ivory belonged to elephants and rhinos rather than humans.
''We are very clear as a government punitive measures must be taken into punishing people who kill our wildlife and that's why we are pushing for life sentences for people who kill for ivory because ivory belongs to elephants and rhinos better than taking it for human consumption'', Balala said. (continue to full story here)