In this week's news wrap a mass poisoning incident has left six lions and over 70 vultures dead near Ruaha National Park; a suspected poacher was killed by lions near Kruger National Park; and custom officials have seized rhino horns carved into Buddha statues in Hong Kong.
Mass poisoning incident leaves lions, vultures dead near Ruaha (full story: AG News Desk)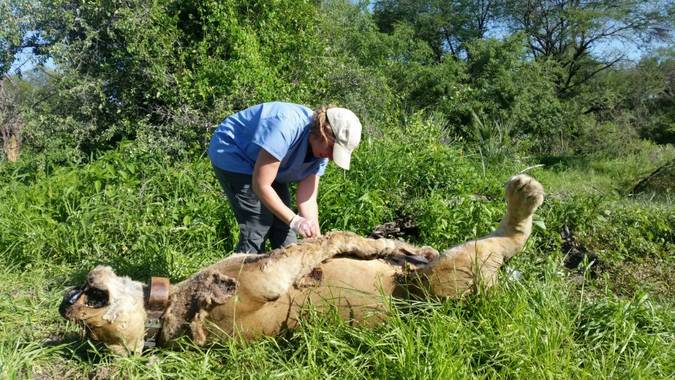 The following is a statement released by Ruaha Carnivore Project on their Facebook page:
"We are deeply saddened to report a mass poisoning incident in the Wildlife Management Area (WMA) just outside Ruaha National Park, Tanzania. We received a 'mortality alert' from one of our collared lions, and the team responded rapidly. When they arrived at the site, they found a devastating scene – six lions (the collared adult female, three sub-adult females and two sub-adult males) had been killed, apparently from poison as they were all found close to a scavenged cattle carcass.
This event had additional tragic consequences, with dozens of critically endangered vultures found dead or badly affected. RCP worked closely with colleagues from WCS Ruaha-Katavi, Tanzania, the Parks authorities and other local agencies, and they eventually found 74 dead vultures as well as the six lions. Thanks to the skills of the WCS team, four other sick vultures were able to be taken to the Park for treatment. Sadly, one died shortly after arrival but the others are currently doing well.
The authorities are investigating this incident, but it appears as if someone poisoned a carcass after lions attacked cattle. Alarmingly, poisoning is a common response to conflict, and this highlights how vital it is to do all we can to prevent carnivore attacks on stock, and reduce chances of retaliatory killings. Cattle are extremely important to local people, and carnivores can cause major economic and cultural hardship when they attack stock – and, when people don't benefit from lions, it is unsurprising that they resort to killing them. Thanks to support from many partners, we have made great progress in reducing such attacks, for example by predator-proofing enclosures and engaging communities, but there is much more to be done across the landscape, and protecting grazing livestock is particularly challenging. It is also vital to secure the Wildlife Management Areas and – probably most important of all – make sure that local people receive real benefits from wildlife, so they eventually see them as more of an asset alive than dead. (story continues here…)
Lions kill suspected poacher near Kruger (full story: AG News Desk)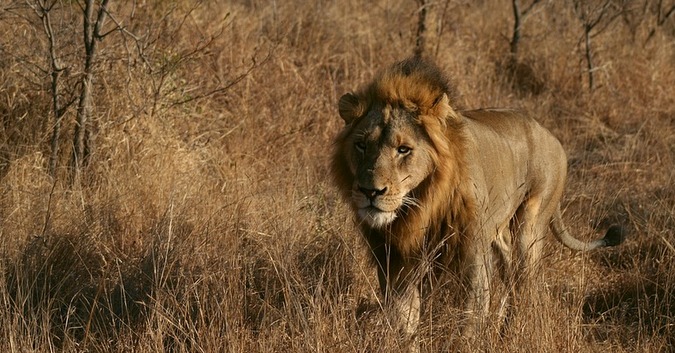 Friday 9 February 2018: A suspected poacher was attacked and killed by lions in a private nature reserve that forms part of the Greater Kruger National Park, South Africa.
The deceased man is believed to have been a poacher, as a gun, axe and backpack were found close to the scene. Initial reports suggested that the deceased was a 47-year-old tractor driver, after his tractor broke down in the same area – believed to be near or inside the Umbabat Nature Reserve in the Greater Kruger National Park. However, further investigation has revealed that the tractor driver is alive and well.
Police Lieutenant-Colonel Moatshe Ngoepe said: "We are still trying all other means, including the Home Affairs Department, to get his history, which may lead us to his residential place."
"The process of identifying the deceased has already commenced and it might be made possible by the fact that his head is amongst the remains that were found at the scene," Ngoepe continued.
He went on to say that "anyone who can assist the police on the identification of the deceased may go to Hoedspruit Police."
Joburg smugglers carve rhino horn into Buddha statues (full story: TimesLIVE)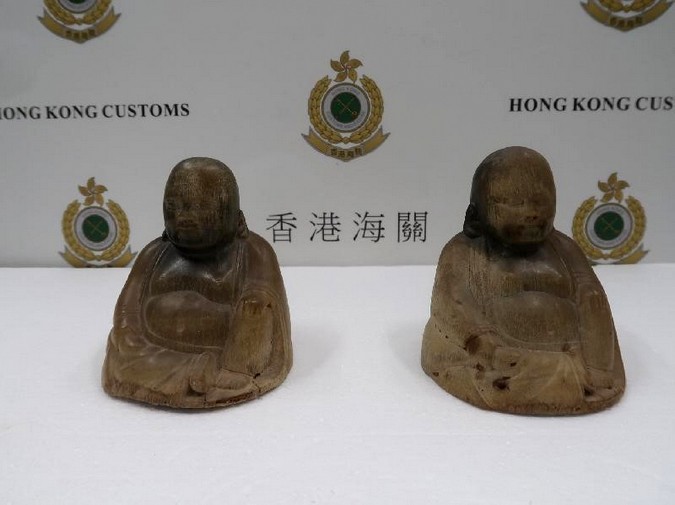 Innovative rhino horn smugglers thought they could outsmart Hong Kong airport security by carving the contraband into Buddha statues.
But their efforts were foiled by customs officers who have seized several rhino horns with an estimated market value of HK$2.7-million (R4.1-million) after searching the check-in luggage of passengers arriving on flights from Johannesburg and Madrid.
Two of the horns had been carved into miniature statues of Buddha' while others were wrapped in tin foil and foam to fox airport security scanning equipment.
The Hong Kong Customs Department said in an official statement that several horns (with a total weight of just over 12kg and estimated market value of HK$2.4 million) were intercepted at Hong Kong International airport on Saturday.
They also arrested two men' aged 26 and 42' who arrived in Hong Kong from Johannesburg' via Doha' Qatar.
"During customs clearance' suspected rhino horns wrapped in aluminium foil and foam were found inside a paper box in their check-in luggage. The two men were then arrested and their cases handed over to the Agriculture' Fisheries and Conservation Department for follow-up investigation." (story continues here…)