In this week's news wrap a German tourist was mauled by a leopard in Namibia's Kuiseb Canyon; a pride of eleven lions have died of suspected poisoning in Uganda; according to a Kruger head ranger rhino poaching in the national park is declining, while elephant deaths are up; a 'problem' lion was shot near Kruger; wild dogs return to Gorongosa after decades of absence; an elephant has killed a woman in Botswana; and investigations continue in Cameroon following a large discovery of illegal wildlife products hidden in shipping containers bound for China.
German tourist mauled by leopard in Namibia's Kuiseb Canyon (full story: AG News Desk)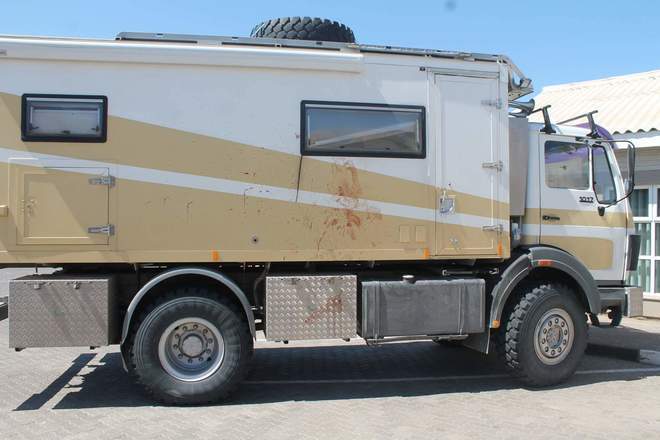 A German couple touring Namibia lived through the horror of a leopard attack in the Kuiseb Canyon yesterday morning (Thursday, 12th April) that left Hardy Specker (61) in a critical condition.
Specker and Petra Windmeisser had been in Namibia for the past two weeks, and after spending time at Swakopmund, they left through the Namib Naukluft Park three days ago.
On Wednesday, they decided to overnight in the Kuiseb Canyon, about three hours from Walvis Bay.
Windmeisser told The Namibian yesterday afternoon that around 01h00 yesterday morning when Specker was closing the camper window, a leopard jumped up the side of the van and caught him by the head with its claws and mouth.
A fight for Specker's life ensued when he was hanging halfway out the window as the big cat tried to pull him out while Windmeisser was pulling from the inside.
"The struggle went on for some minutes. Hardy eventually managed to stick his fingers into the leopard's eyes, which caused it to let him go. I then managed to pull him in. There was blood everywhere," she recalled.
Specker's scalp was torn from the skull, while his shoulder and arms were shredded. He also had a wound on his throat. The couple stayed in their camper, too scared to do anything because the leopard had jumped on the roof at times and moved around the vehicle for the remainder of the night.
"Specker was losing a lot of blood, but he remained conscious. We screamed and made noise and used light, but the animal remained there," she said.
Around 07h00, farmers saw the distressing scene and chased the leopard away. They managed to help the couple and summoned EMed Rescue to meet them halfway. They were taken to the Welwitschia Private Hospital at Walvis Bay, where Specker immediately underwent surgery. (continue to full story with graphic image here)
Eleven lions die of suspected poisoning in Uganda (full story: AG News Desk)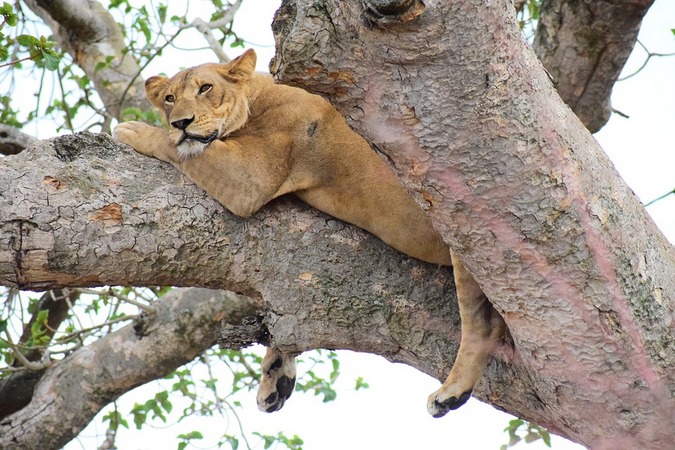 The conservation fraternity in Uganda is mourning the loss of a pride of lions at Hamkungu fishing village, an enclave of Queen Elizabeth National Park. This comes just a month after the country joined the rest of the world to mark the UN World Wildlife Day Celebrations under the national theme: "Creating a safe environment for the survival of big cats".
Speaking to the Daily Monitor, the Uganda Wildlife Authority communications manager, Mr Bashir Hangi, confirmed the incident. "It is true we lost a pride, three mothers and eight young ones, in a fishing village called Hamukungu," Mr Hangi said. He added that the authority suspects that these lions were poisoned, but investigations will establish the actual cause. "We are suspecting poisoning. The information we have is that they attacked someone's cow but we are yet to establish who exactly," Mr Hangi said.
He described the incident as shocking and unexpected given the collaboration that has been ongoing between the authorities and community. "We celebrated the survival of big cats on March 3 and someone cannot come in April and kill 11 of them, there is no way someone can think that this is resting today or tomorrow" Mr Hangi noted. (continue to full story here)
Rhino poaching in KNP declining, elephant deaths up (full story: Citizen)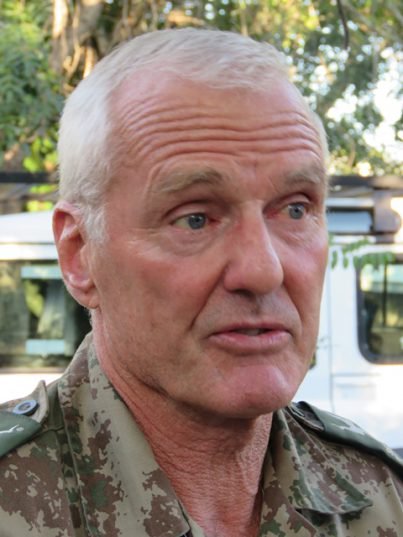 An upward trend in elephant poaching of 46% year-on-year is continuing, according to Kruger head ranger Ken Maggs.
Nothing is off the table anymore when it comes to protecting South Africa's core population of black and white rhinoceros kept at South African National Parks' Kruger National Park (KNP). That's according to Kruger head ranger Ken Maggs who said yesterday even the extreme idea of fencing populations in, surrounded by lights and rangers, was an option when it came to protecting the ungulate.
While he wasn't allowed to give precise numbers for poaching this year, Maggs said indications showed a downward trend in rhino poaching was being maintained while worryingly, an upward trend in elephant poaching of 46% year-on-year was continuing.
And given the nature of poaching, it could change in an instant, Maggs noted.
"Wildlife crime isn't seen as high a priority as some of the other criminality we have, particularly violent crimes such as murders and hijackings. Of course, the police must focus their attention there," Maggs said. "So it is understandable, but nevertheless, it does impact it."
Yet, there is a financial cost to each animal killed for its horn or ivory. In 2014, SANParks sold 354 rhinos for more than R81 million, working out to an average of about R228,000 each. Prices for elephant are more difficult to come by, but to hunt one in Zimbabwe can cost upwards of R252,000.
"Rhino or elephant poaching is probably less risky for a hard-core criminal and the syndicates than doing an ATM bombing or a cash in transit heist, smuggling firearms, or human trafficking," Maggs said.
He estimated it could take up to a month for a person who knew nothing about the bush to become an expert poacher. Maggs noted Kruger was not a friendly environment for anti-poaching technology. (continue to full story here)
'Problem' lion shot near Kruger (full story: AG News Desk)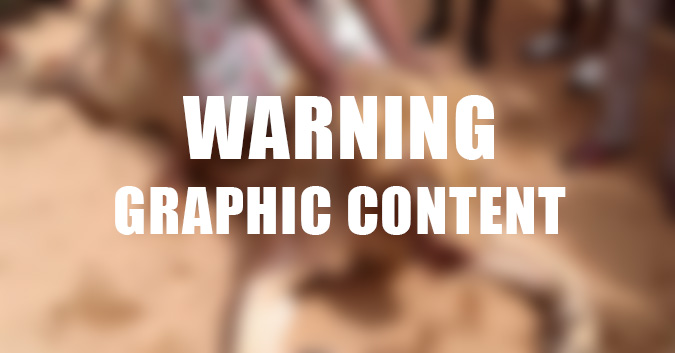 In a case of human-wildlife conflict, a 'problem' lion has reportedly been killed near the town of Finale, South Africa, after the local community complained that it was killing livestock. Finale is near the larger town of Hoedspruit, and the Kruger National Park. It is likely that these lions escaped from a nearby private game reserve and not from the Kruger National Park.
"The community of Finale are reportedly rejoicing after a lion, that has reportedly been 'terrorising' the community and livestock in the area, has been shot by nature conservation officials. It is reported that rogue predators have been walking in the area for some months now and have killed a number of cattle, leaving community members furious and seeking compensation." (edited from third-party site: Letaba Herald ) 
Further editorial comment
Human-wildlife conflict is a very real issue for rural communities in many parts of Africa, who have a different perspective on the matter to people who do not live amongst dangerous wild animals. Solutions are not easy to come by or implement, because of the remoteness of many of the areas, the complexity of the issues involved, and because of increasing human and livestock footprints and resultant reduction in suitable habitat for free-roaming wildlife. Drought cycles impact heavily on the number of human-wildlife conflict incidents, as do the presence of man-made watering points.
Most conservationists agree that the solution has to involve and empower the affected communities. Many government agencies and NGOs are not equipped to deal with individual incidents or even with ongoing management strategies. Help or compensation for killed livestock or destroyed crops is often not forthcoming, or takes too long to arrive. This all adds up to increasing frustration and anger amongst affected communities.
The disturbing photographs in this instance demonstrate understandable relief and resultant celebration when the 'livestock-killing culprits' are found or killed. While those of us who live in areas ruthlessly sanitised of dangerous wildlife may have a negative emotional reaction to these photographs, hopefully most will try to understand the stress of living amongst wild animals that are a threat to lives and livelihoods. (continue to full story with graphic images here)
Wild dogs return to Gorongosa after decades of absence (full story: AG News Desk)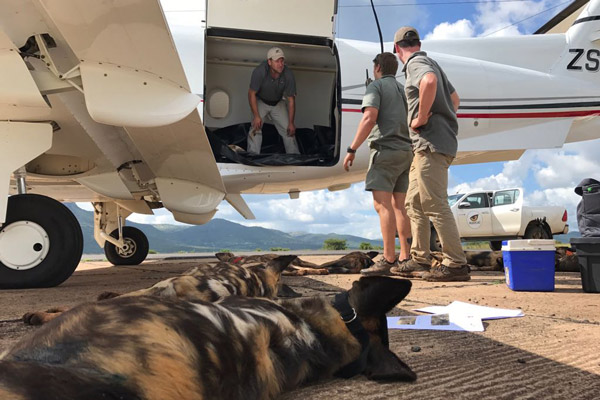 In a monumental initiative driven by the South African Wild Dog Advisory Group (SAWAG), a founding pack of 15 African wild dogs has been translocated from KwaZulu-Natal, South Africa, to Mozambique for reintroduction into Gorongosa National Park, marking the return of this endangered species to the Park after an absence of more than 25 years, and signifying the first ever wild dog introduction into Mozambique.
With only around 6,600 wild dogs left in Africa, this incredible animal is one of the continent's most at-risk carnivores, and is listed by the IUCN as Endangered. A key conservation strategy is the reintroduction of packs into viable habitats where they once occurred. And now wild dogs will again roam free in Gorongosa, thanks to an innovative and exciting cross border collaboration between wildlife NGOs and government agencies.
This is a landmark occasion, as wild dogs have never before been reintroduced into Mozambique. Wild dogs have disappeared from much of their former range in Mozambique (although there is a healthy population in Niassa National Reserve), and Gorongosa lost all of their wild dogs as a result of the 1977–1992 civil war.
Today, the 400,000 ha Gorongosa is Mozambique's flagship natural area and lies at the heart of the work being undertaken by the government of Mozambique and the Carr Foundation to bring back to life a vast and diverse natural ecosystem over a 25-year period. Wildlife is now thriving in the park, with numbers of species and animals having made a strong comeback. With the abundance of herbivores, the natural next step is the return of large carnivores. (continue to full story here)
Elephant kills woman in Botswana (full story: AG News Desk)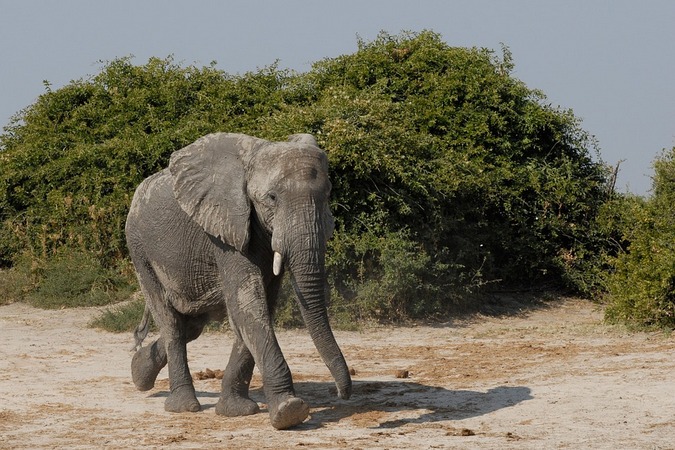 According to a report, a 57-year-old Maun resident died on Monday after being attacked by an elephant in Botswana. The woman, a British national currently residing in Maun, was attacked while she was out with her 67-year-old Botswana partner walking dogs.
"Prior to the incident, the elephant had invaded our yard, which is situated along a river bank, but we managed to chase it away with our vehicle," police quoted the partner as saying on Monday.
Thinking that the elephant had fled, the couple took their dogs out for a walk, but immediately after leaving the yard, the elephant attacked the woman while her partner ran for his life. The woman sustained serious injuries and was pronounced dead upon arrival at a local hospital. (continue to full story here)
Cameroon investigates illegal ivory, pangolin scales bound for China (full story: VOA News)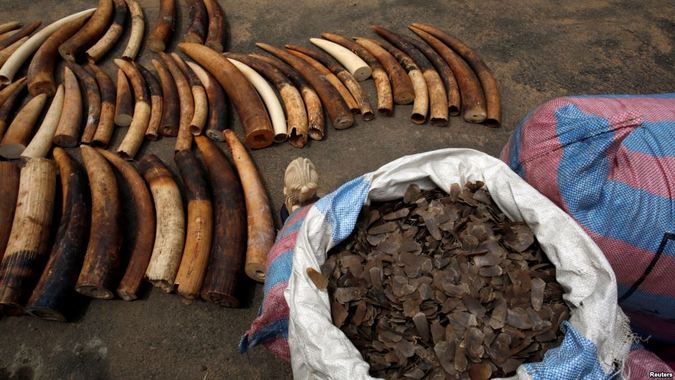 Law enforcement officials in Cameroon say investigations continue following a large discovery of illegal wildlife products hidden in shipping containers bound for China.
At least 1,000 kilograms of pangolin scales and several hundred elephant tusks were found April 6, in containers of cocoa that were to be transported to China from the Douala International Airport.
Officials have not yet determined the country of origin for the contraband. Poaching of elephants and pangolins remains a problem in Cameroon; however, the country has also served as a regional hub for smugglers.
Didier Ngono, an official from the wildlife department, told VOA that three Chinese nationals have been arrested and will help police with their investigation. Ngono says that under the law, the penalties for smuggling include fines ranging from $6,000 to $20,000 and prison sentences of between one and three years. (continue to full story here)