In this week's news wrap the famous super tusker elephant, Tim, was rescued from certain death; Malaysia torched 2.8 tonnes of African pangolin scales; the Kruger National Park 10-year management plan was approved by acting Environmental Affairs Minister; the lion bone quota was reduced to 800 skeletons from 1,500; an American woman was attacked by a hippo after her canoe capsized on the Zambezi River; an anthrax outbreak in Mana Pools in Zimbabwe has killed 100 impala; and eight West African giraffe have been reintroduced to Gadabedji Biosphere Reserve in Niger after a 50-year absence.
Famous super tusker Tim rescued from certain death (full story: AG News Desk)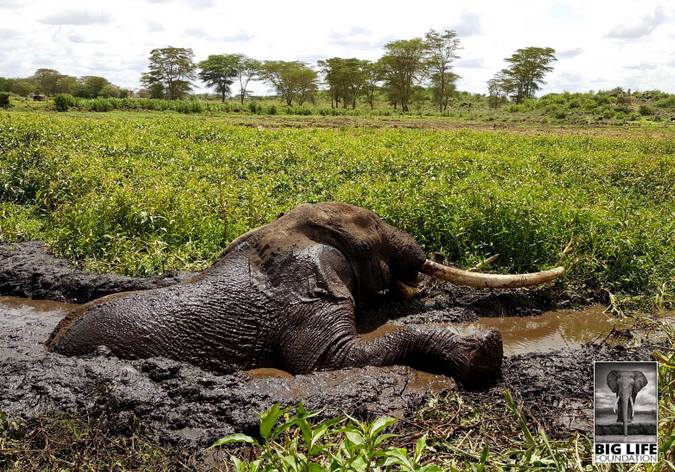 Mondays don't start much worse than this: a report received of a big bull elephant stuck in the mud deep in the Kimana swamp. Our hearts sank. Given the size, there was a small number of elephants it could be, and a small chance of a successful rescue.
An aerial view confirmed the worst: it was Tim, an icon of Amboseli and one of Africa's largest and most magnificent elephants. He was stuck in a section of deep mud, surrounded by farms and a growing crowd, and clearly in serious trouble.
Big Life Foundation rangers responded immediately, but the outlook wasn't good. Tim was up to his neck in mud and fully immobilised, with zero chance of escaping on his own. Nor was there a way for any kind of vehicle to get close enough in the swamp, either to pull him out or to dig around him. Failure – Tim's death – was suddenly an even more real possibility.
Regardless, everyone got to work. This was a challenge of physics: how to pull a 6-ton object out of a suction pit, when that object is alive, thrashing, and has no idea the people around him are trying to help. Tim was understandably aggressive and stressed, and tiring fast. Exhaustion alone can kill an animal, and it became a race against the clock to try something, anything, to save him… (Continue to full story here)
Malaysia torches 2.8 tonnes of African pangolin scales (full story: AG News Desk)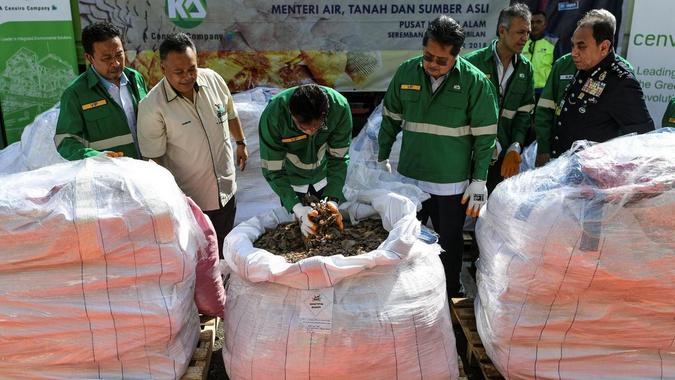 Malaysia on Thursday torched nearly three tonnes of seized scales of endangered pangolins worth $9 million in a bid to deter illegal wildlife trafficking from Africa.
The Southeast Asian nation is battling to clamp down on rife trafficking through its borders of the ant-eating mammals, whose scales are highly valued in traditional Chinese medicine.
"Such a huge seizure and torching of it is definitely a blow to smuggling syndicates," Abdul Kadir Abu Hashim, the director-general of the Wildlife and National Parks Department told AFP.
Some 3,000 pangolins would have been killed to obtain the 2.8 tonnes (2,800 kilograms) of scales, Abdul Kadir estimated.
The scales were confiscated by customs officials at Malaysia's Port Klang between May and September 2017. The animal parts arrived in three different shipments from Ghana and Cameroon, and had false local addresses, officials said… (Continue to full story here)
Big news as Kruger National Park 10-year management plan approved by Minister (full story: AG News Desk)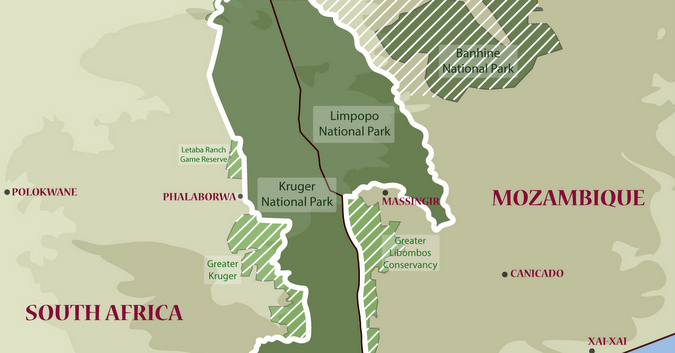 South Africa's Acting Minister of Environmental Affairs Derek Hanekom has officially approved the ground-breaking and visionary 10-year Kruger National Park Management Plan, a huge step forward for ambitious plans to expand Kruger's conservation footprint across international borders and to incorporate a wide spectrum of landowners and land uses.
The formal signing of the Plan on 5 December will kick-start the emergence of the 10 million-hectare Great Limpopo Transfrontier Conservation Area (GLTFCA) as a world-leading conservation initiative. The Plan will guide the Kruger's strategic direction and operations in relation to broader regional land use for the next ten years, and is a major catalyst within the Greater Kruger regional socio-economic landscape… (Continue to full story here)
Lion bone quota now reduced to 800 skeletons from 1,500 (full story: AG News Desk)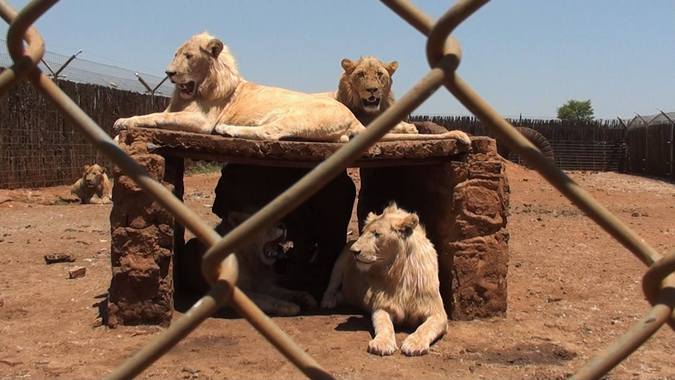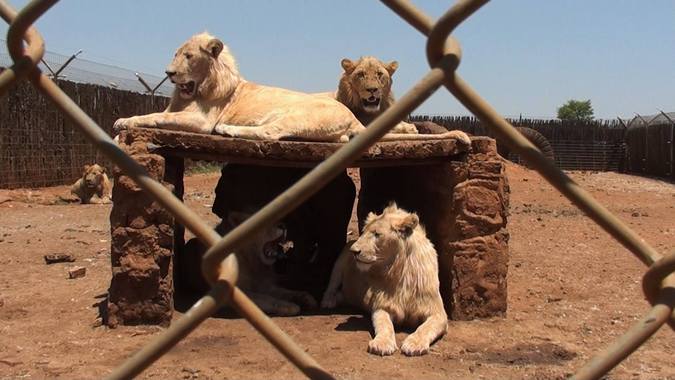 According to a statement released by the Department of Environmental Affairs (DEA), the current quota for the lion bone trade has been reduced from 1,500 to 800 lion skeletons.
Minister Nomvula Mokonyane, in a statement dated December 3, announced that the amended lion bone trade quota is now back to what it was in 2017. This amended quota is a reversal of the increase to 1,800 skeletons announced in July 2018.
The statement said that "taking into account the current compliance inspections of lion captive breeding facilities being conducted throughout the country, there is a need to harmonise sustainable use with strictly controlled legal international trade and monitoring … The maintenance of the 2017 quota will allow the Department to reflect on effectiveness of the implementation of the quota, enhance compliance and monitoring systems, and further allow the High-level panel being appointed to incorporate these issues into their work".
According to research by South African authorities, there are 3,500 African lions in the wild in South Africa, and approximately 7,000 lions in 260 captive breeding facilities. Lion are bred in captivity for hunting, the lion bone industry and the tourism products of cub petting and walking with young lions… (Continue to full story here)
American woman attacked by hippo after canoe capsizes on Zimbabwe wildlife tour (full story: ABC News)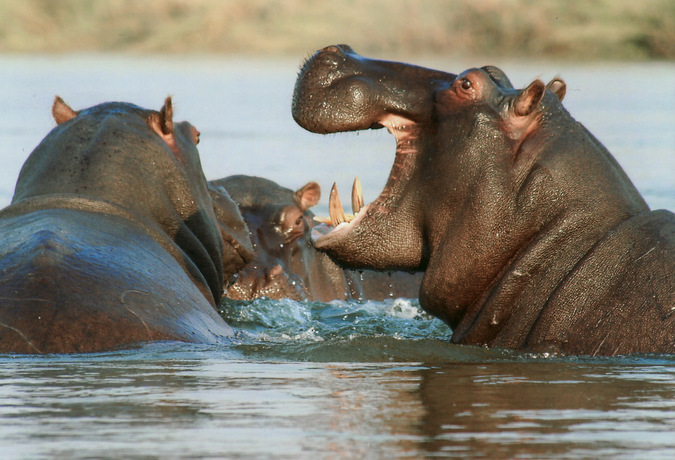 A woman was attacked by a hippopotamus while she and her husband were on a wildlife tour in Africa, according to tour operator Wild Horizons.
On Saturday, a married couple was on a canoe safari – consisting of three guests and two guides – on the Zambezi River in Zimbabwe. One of the guides saw hippos on the right side of the river, and instructed guests to paddle to the left, away from them, Wild Horizons said in statement.
As they paddled, a hippo emerged underneath the canoe the woman was in, capsizing it, the tour operator said. The hippo then attacked her and pulled her under water as she attempted to swim to shore.
The head guide pulled her onto the river bank and administered first aid, according to Wild Horizons. The woman was then airlifted to a local hospital… (Continue to full story here)
Anthrax outbreak in Zimbabwe's 'Painted Wolves' park kills 100 impala (full story: News24)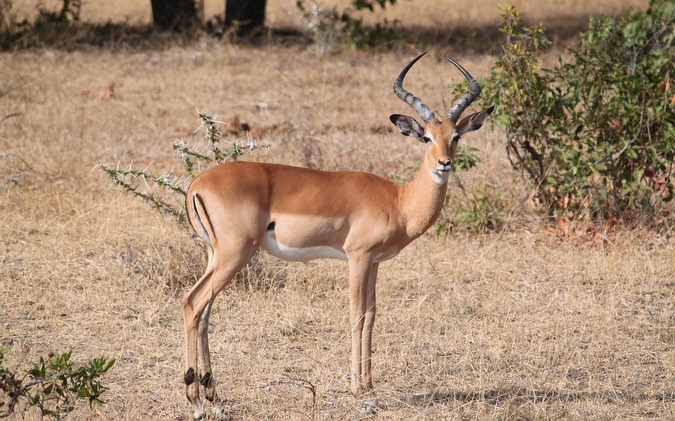 Nearly 100 impala have died of suspected anthrax in Zimbabwe's tourist-loved Mana Pools National Park, home to the wild dogs made famous in the recent BBC documentary series, Dynasties.
Zimbabwe state wildlife authority spokesperson Tinashe Farawo confirmed the outbreak on Tuesday. Anthrax can be fatal to humans though there are no reports of any human infections in this outbreak. Vets sent to the area have managed to bring the disease under control, Farawo told News24.
"We've managed to contain the disease. Our vet doctors are down there: they are working flat out to ensure that we clear the area," he said in a phone interview.
"We are trying to avoid the spread of the disease to other species. At the moment we are dealing with impalas only," he added.
Anthrax isn't uncommon in Zimbabwe's wildlife and farming areas. The spores that trigger the disease remain dormant in the soil until they're ingested by wild animals or livestock… (Continue to full story here)
West African giraffe return to Gadabedji after 50 years of absence (full story: AG News Desk)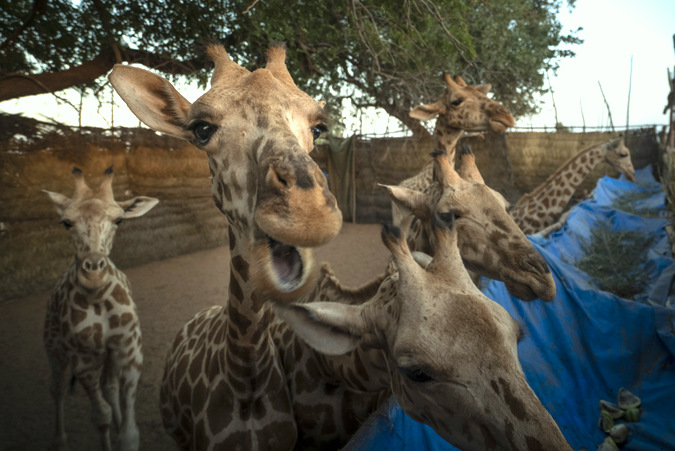 The Giraffe Conservation Foundation and Sahara Conservation Fund announce the safe reintroduction of eight highly threatened West African giraffe into Gadabedji Biosphere Reserve (recently listed as a Biosphere Reserve by UNESCO). In two trips of 48 hours each, two groups of four giraffe were translocated over 800 kilometres by truck to their new home. This is the first conservation effort of its kind in Niger, and for West African giraffe.
The world's last remaining population of West African giraffe (Giraffa camelopardalis peralta), a subspecies of the Northern giraffe (Giraffa camelopardalis), is restricted to the 'Giraffe Zone' in the Republic of Niger, an area approximately 60 kilometres south-east of the capital Niamey.
Even though the 'Giraffe Zone' is not formally protected, it forms part of the W Transboundary Biosphere Reserve, covering more than 1,700 km². These West African giraffe are an isolated population, with the closest population of giraffe being Kordofan giraffe (G. c. antiquorum) that live more than 2,000 kilometres away in northern Cameroon and southern Chad – also a subspecies of the Northern giraffe.
Operation Sahel Giraffe commenced in early November 2018, after a year of meticulous preparation. Eight giraffe were individually captured in the 'Giraffe Zone' and transferred to a holding pen (boma), where they were kept for more than three weeks to prepare them for the long journey… (Continue to full story here)