EXTRACT FROM THE FOLLOWING THIRD PARTY SOURCE: Lowvelder
As many as half of the lions in the southern region of the Kruger National Park (KNP) may be infected with a form of animal tuberculosis (TB), called bovine TB (BTB), according to the latest findings by Stellenbosch University's animal TB research group.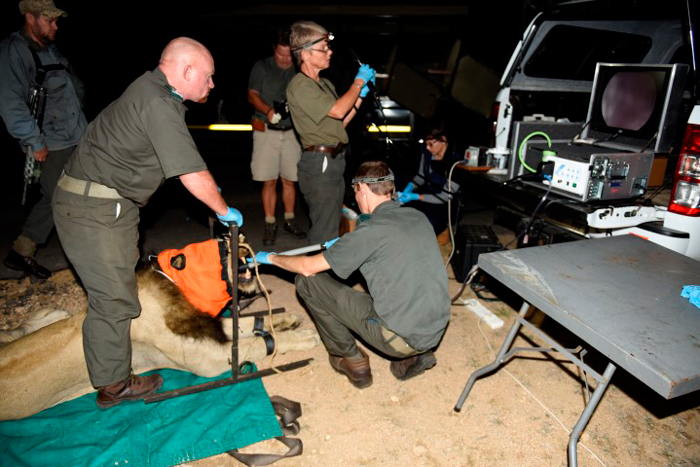 There is an estimated 54% prevalence of BTB in the southern Kruger lion population. "These test results were made possible due to a new molecular technique that we have developed for detecting infection," said Ms Tashnica Sylvester, a doctoral student at Stellenbosch University's faculty of medicine and health sciences. "With this test we can now accurately distinguish between TB-infected and uninfected lions."
Ms Sylvester's interest in lions and their survival is not merely that of a scientist. "I am in love with lions. They are my favourite animals. There are only about 3,000 wild lions roaming freely in South African parks. I wanted to contribute to finding out more on a disease that seems to be threatening them as a species," Ms Sylvester remarked.
httpv://youtu.be/PbbWiy_kQ98
BTB is a slow-progressing disease. The estimated time from infection to death is between two and five years."The majority of lions appear healthy. Lions with advanced BTB may show symptoms like swollen joints, slow-healing wounds, poor coat condition, weight loss, coughing and difficulty breathing," explained Ms Sylvester.
She was part of the research group that developed a test to diagnose BTB in lions, using a single blood sample. Previously a lion had to be captured twice in three days to perform a TB skin test, but with the new method a lion will only have to be captured once.
"Lions are generally quite healthy and do not show clinical signs of the disease until they are at a very advanced stage. The test we designed can pick up the infection long before the clinical signs show up," remarked Ms Sylvester.
When vets in the Kruger had to dart a lion for disease surveillance or to remove a collar, Ms Sylvester and her research team tagged along and drew a blood sample.
Lions can be infected with BTB when they eat infected buffaloes and other animals. "Around 40% of the buffaloes tested in the southern part of the Kruger were positive for BTB. Buffaloes are one of the top prey species for lions and, since buffaloes with BTB may be weaker and lag behind the herd, they may be more susceptible to predation," concurred Ms Sylvester.
Ms Sylvester explained that there are different test and cull programmes throughout the country where the buffalo testing positive for BTB are culled in an attempt to stop infection of other buffaloes. "The problem is that buffaloes are not the only prey species that become infected. Kudus and warthogs have also tested positive for BTB," she said.
A recent study by the animal TB research group also suggests that lions might be able to transmit bacteria between themselves by droplets transmitted through sneezing or coughing. At present there are no medications available to treat BTB in lions. The biggest concern is knowing which animals are positive, and keeping them from areas where BTB is not prevalent.
Ms Sylvester and her team did not test any animals from the northern KNP. "We, however, saw that as we moved more towards the central part of the park, there was a decreasing prevalence."
In 2006 KNP generated approximately ZAR1.5 billion for the region. Lions are one of the main attractions for visitors and a loss of one of the Big Five could have economic consequences.
Although lions infected with BTB do not pose a direct threat to humans, sick lions may be too weak to hunt their prey and may roam closer to areas inhabited by humans and livestock. "Increased awareness of TB in wildlife is the first step in addressing the issues associated with this disease," Ms Sylvester said. "Since BTB affects a wide diversity of species, it is crucial to understand the origin, prevalence and risk factors associated with transmission."