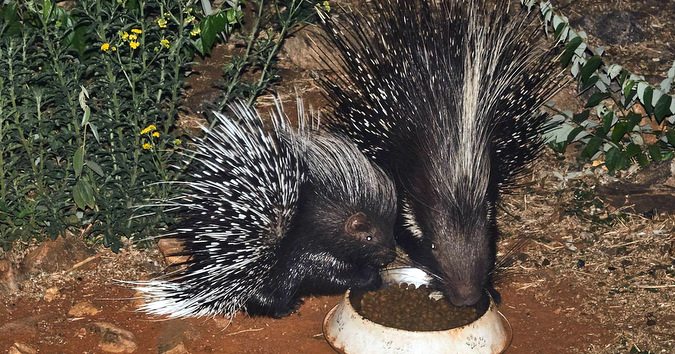 Written by Erika de Jager, founder of ZURI Orphanage
A little more than a year ago, ZURI Orphanage had a special moment when two adult Cape porcupines turned up with their two babies. I watched them grow and get more and more at home at the practice during the year. This last couple of months I did not see them together so often but I thought it had to do with the good rains that we had and the abundance of food in the veld.
Great was my surprise when this year, on the 27th September, I realised that the porcupines were outside the practice again. It was about 1:00am and when I looked out of the window I saw the two adult porcupines – with two brand new babies! They had bred successfully for the second year in a row, and what is more, they shared their babies with us.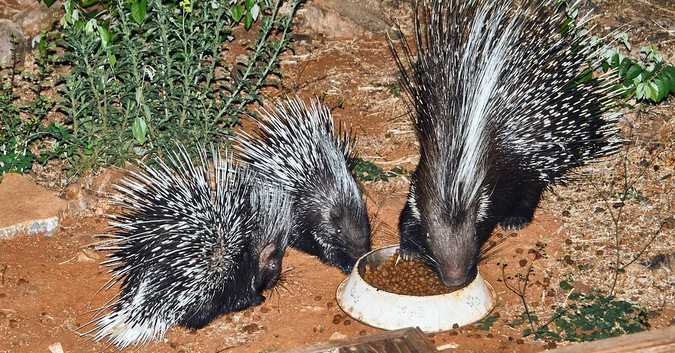 It all started when Hermanus was discovered as a small baby porcupine on his dead mother in 2014. It is a special feeling to know that we had a small part to play, and that another generation of porcupines will visit us in 2017 and teach us about their ways.
During the times I have observed them, I have come to learn that while the adults eat, the babies will often sleep for a while and then carry on eating later. When it comes to eating, I have noticed that the babies are very agile at this young age and will eat just like the adults – taking the dog kibble between their little front feet while eating. I have also discovered that if there is any noise, the babies will run to the bigger porcupine (who I presume is the mother) for protection.
For me, every time I see them is a special moment and I am thankful for having the privilege to see them so close. My vision is to share nature with the world and I hope you enjoy them as much as I do.