EXTRACT FROM THE FOLLOWING THIRD PARTY SOURCE: Captured in Africa Foundation
In a series of saddening recent images – Lion & Safari Park, based in Lanseria, South Africa – appear to have not fulfilled their previous guarantees that they would stop all lion cub interactions, as there is evidence to suggest that they are now offering tourists the opportunity to pet lion cubs at their new park.
In 2015 Lion & Safari Park issued a statement to the world that they would cease lion cub petting at their new facility due to the public backlash against them. It seems they have now gone back on their promise. More lion cubs are now being used for tourist entertainment.
Here is a quick timeline of events to make things clearer:
– In late 2014, CBS 60 Minutes exposed Lion & Safari Park for selling their lions into the canned hunting industry.
– In March 2015, Global March for Lions helped to organise, staged an internationally recognised protest outside Lion & Safari Park, calling for them to stop cub petting and selling lions.
– In June 2015, an American tourist was killed by one of Lion & Safari Park's lions.
– In late 2015, Lion & Safari Park announced it was to open a new park, ceasing all lion cub interactions due to public backlash.
There are many articles in which Lion & Safari Park claimed to be putting a stop to lion cub petting. So the question is – did the park approach these media outlets with a false statement, which led to false advertising?
Please note that nowhere on Lion & Safari Park's new website does it stipulate that they offer these lion cub interactions, nor is there any photographic evidence on their website that such lion cub interactions take place. However, the following images were found on Instagram in the 48 hours prior to 15th August 2016. People's faces and names have been removed to protect their privacy.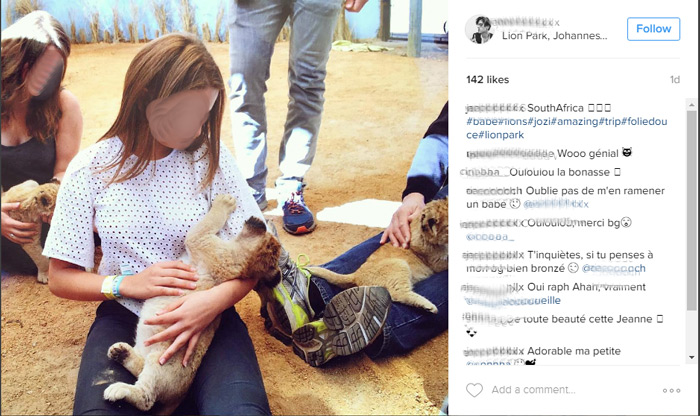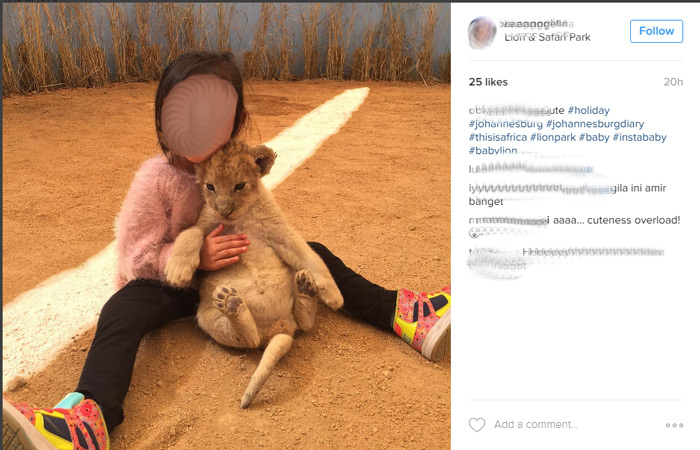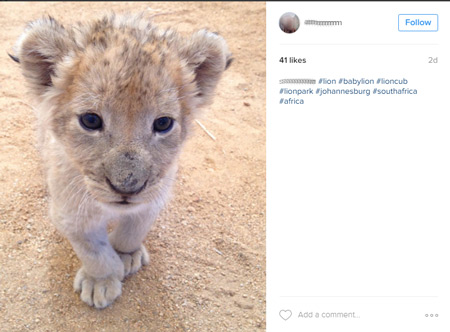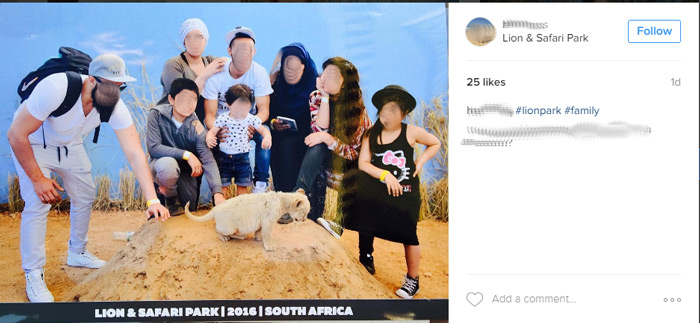 Blood Lions, the creators of the documentary expose canned hunting industry states, "Blood Lions adds their voice to those who condemn the Lion Park for going back on their commitment to end animal exploitation practices such as cub-petting. In what is clearly a decision based solely on financial considerations, it once again highlights that the vast majority of South African predator facilities exist purely as a business opportunity. It also reaffirms our stance that all breeding for non-conservation purposes must be stopped."