The annual Lewa Safaricom Marathon is one of the most anticipated events in East Africa. Organised by Tusk Trust, it takes place in one of the most dramatic settings on the continent: Lewa Wildlife Conservancy in northern Kenya, a UNESCO World Heritage Site and home to some of Africa's most endangered wildlife.
This year, I ran the half marathon under the banner of ForRangers, a dedicated group of individuals who raise critical funds for the real heroes of conservation: the rangers.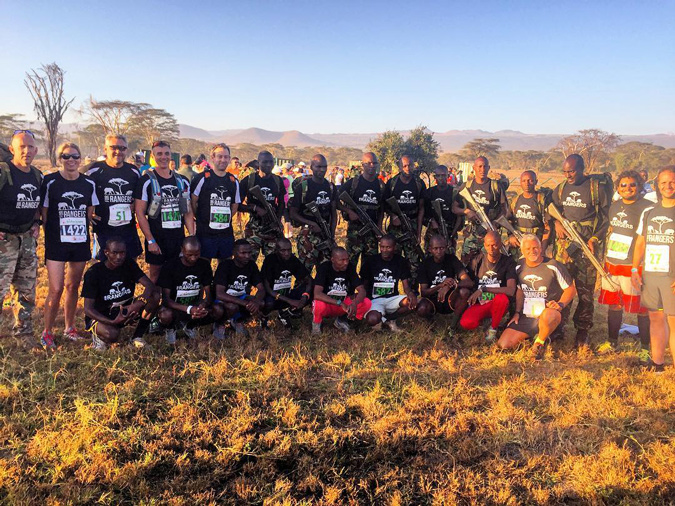 It's 7.15am. The morning chill sweeps over me and I shiver. I'm eager to get going despite knowing what is too come. My 1400 odd running companions crowd at the narrow start line, each trying to maneuver themselves strategically in front of the other to avoid being caught at the back. The gun sounds and the runners surge forward like a tsunami; we're off!
The first 2km are an absolute minefield as I try to stick with my running companions wearing the black and white shirts proudly sporting the ForRangers logo. We dodge, sidestep and overtake countless runners who are already regretting that unavoidably contagious 'start of race sprint'.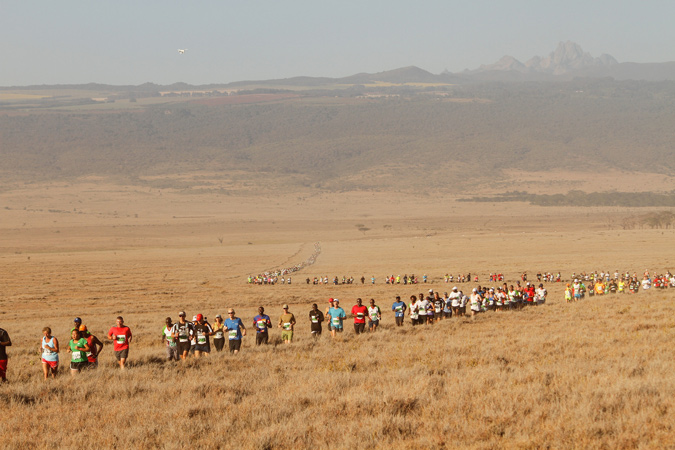 By 5km everyone seems to have settled down and I'm able to get into a comfortable rhythm. My companions are nowhere to be found having left me in their wake. For someone to whom running does not come naturally I'm still feeling good but a solid uphill section awaits us. I try to take my mind off it by looking out over the wide-open savannas trying to spot wildlife.
With mount Kenya in the background the setting is absolutely spectacular. I spot the odd giraffe and lost zebra but that's it. The race organisers have done a fantastic job moving the rhinos, buffaloes and elephants to a safe distance. That's one thing I don't have to worry about.
The sun rises quickly bringing the heat with it; a thousand feet kick up the dust as the course climbs steeply. The 1km markers tick by slowly, I try not to focus on them but rather on my breathing. Enthusiastic encouragement is hurled at us as we pass each watering station. I'm 10km in now and 57 minutes have passed since the gun. I'm feeling good but there is still a long way to go.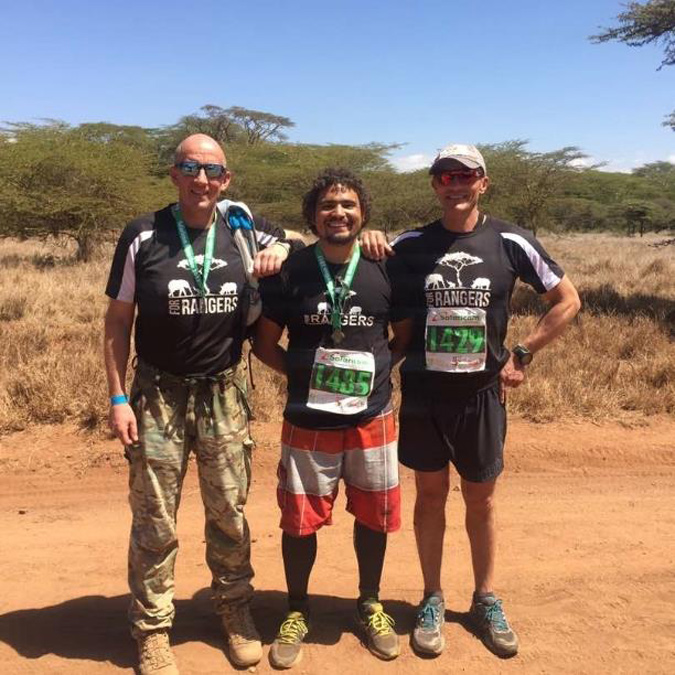 A sporty American lady with a ponytail suddenly catches up to me and asks me how far we've gone.
"Not far enough!" I reply, gasping for oxygen. She tries to engage in a conversation, but at 5500ft I simply can't spare the oxygen that my tired muscles are going to need. I shake my head in apology and she soon disappears over the horizon. By 17km in I'm really starting to feel the burn but I will myself not to stop running, once you do, it's a slippery slope. I push on, sweat dripping into my eyes.
Eventually, just over two hours since the start, I pull into the home straight and cross the finishing line. I've loved every minute of it. But my achievement is dwarfed by that of Pete Newland, one of the founders of ForRangers, and his hardcore team of rangers, drawn from neighbouring conservancies. They sprint over the finish not long after me carrying heavy rifles and backpacks weighing 30 pounds. It's a hell of an achievement.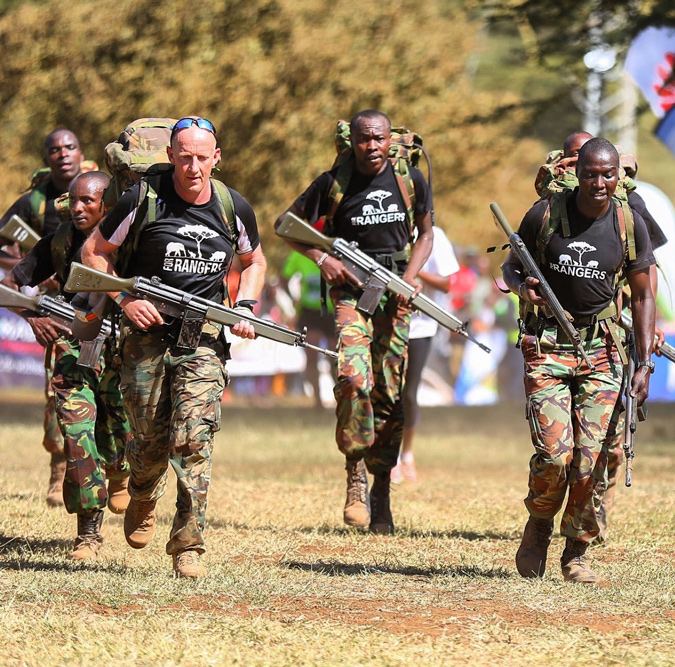 The rangers with Pete are the real heroes; they constitute the frontline of the war against poaching and risk their lives every day. ForRangers is a small charity set up by Pete Newland and Sam Taylor who complete increasingly extreme events to raise awareness and funds for ranger welfare.
This includes everything from the simple act of buying socks for the rangers to boost morale, to donating USD10,000 to the families of rangers killed in Garamba National Park in the Congo at the hands of poachers, to paying for the medical bills for a ranger injured in a car accident.
For someone who is not a runner, it's an honour to be part of this team on this day.
Find out more about ForRangers on their website and Instagram.