Written by Greg McCall-Peat
Hearing that a leopard has been found with a kill up in a tree is one of the best things to hear over the radio when taking guests out on safari.
This was exactly the case a couple of days ago when new guests were arriving at Umlani Bushcamp in the afternoon and an almost guaranteed leopard sighting was already on the cards.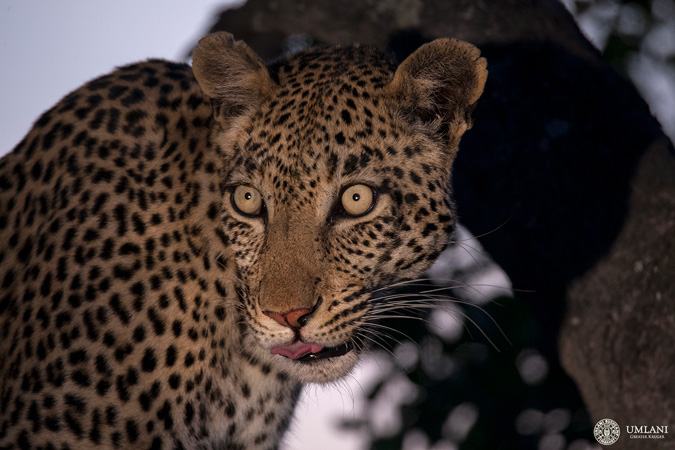 However, the optimism started to dwindle when I spoke to the other rangers and they informed me that the leopard had been lying in thick bush. She was sleeping off her full belly in between bouts of feeding on her kill that was in very dense tree. The visual apparently hadn't been very good at all.
However, when we went out on our drive, we decided to still give it a go and headed towards the sighting in the hopes that things would improve.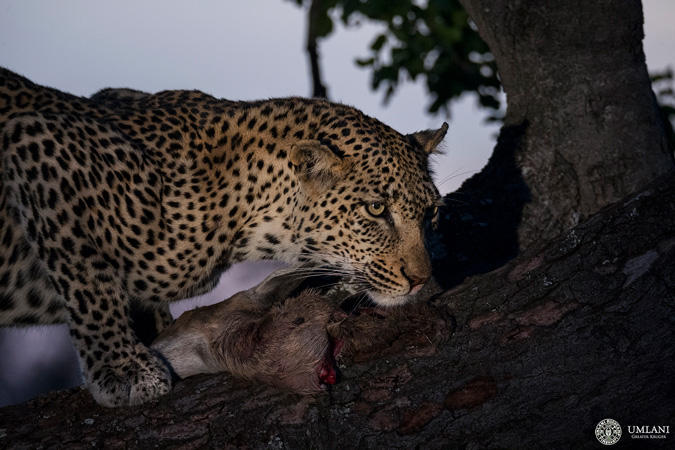 Throughout the drive we heard reports on the radio of the vehicles coming and going at the leopard sighting.
By the sounds of things, it was more of the same from the morning – just a few rosettes in between leaves and grass – so we decided to take our time in getting there and aimed to be last at the sighting to allow us more time with the leopard.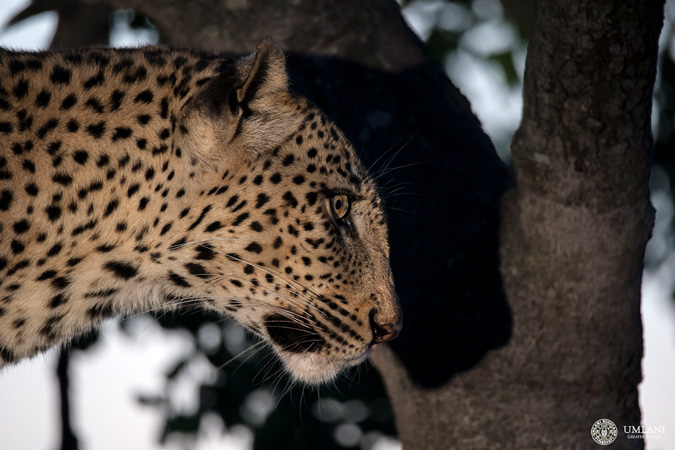 As we made our approach to the sighting, luck quickly moved onto our side. The leopard had taken her kill out of the tree when a group of hyenas arrived on the scene. This sent her bolting up another tree with the remains of her kill.
We didn't know what to expect as we weaved our way off-road towards the sighting. As we rounded a thicket, we were greeted with the awesome sight: The female leopard was poised perfectly on a parallel branch of a weeping boer-bean tree, with the sunset behind her creating a magical backdrop.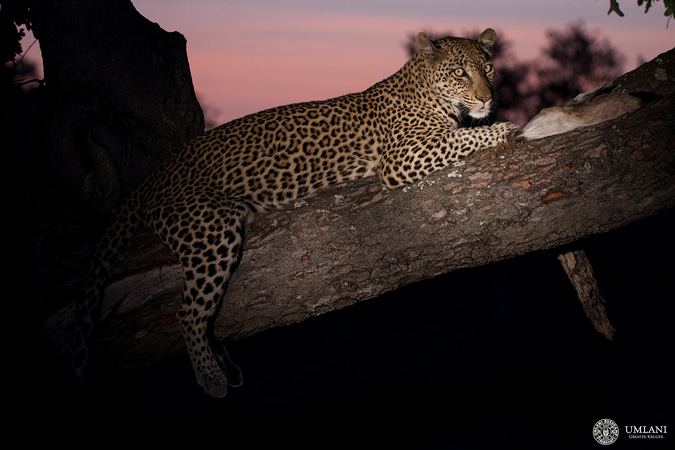 We eventually left her in peace as she fell asleep once the sun had sunk below the horizon. It was a truly magical sighting and certainly one that our guests will remember for years to come.