Written by Terry Stallard
The haunting cry of a fish eagle resonates across the lake as we pull up at Kosi Bay Lodge. The powder soft sand, raphia palms and Umdoni (water berry) trees create a tropical, African welcome.
With beads of perspiration on our brows, we are anxious to unpack and seek replenishment at the Nhlanga pub to soak in a stunning view of the largest lake of the Kosi Bay system. It is here that we plan the next few days of our boating photographic expedition.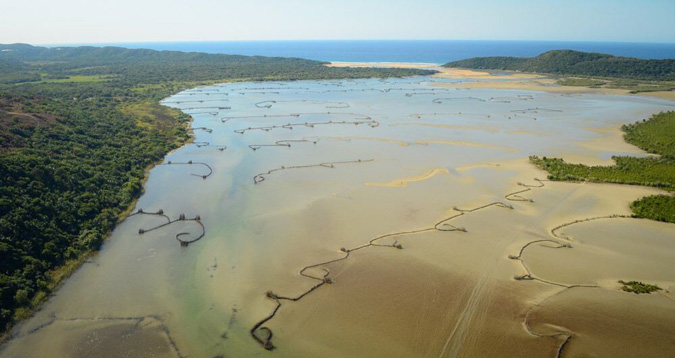 Kosi Bay is world famous for its pristine estuaries of an 18km long system comprising four lakes that flow out into the Indian Ocean, not far from the eastern border between Mozambique and South Africa. Each lake boasts its own ecosystem with the first lake producing clear, brackish water as opposed to fourth lake with its fresh water, peat soils and tepid colour. The estuary supports the livelihood of the Thonga community who use a traditional netting method for sustainable fishing.
Batteries recharged, we head down to meet our boat guide, Thulani Ngubane, for our sunset cruise.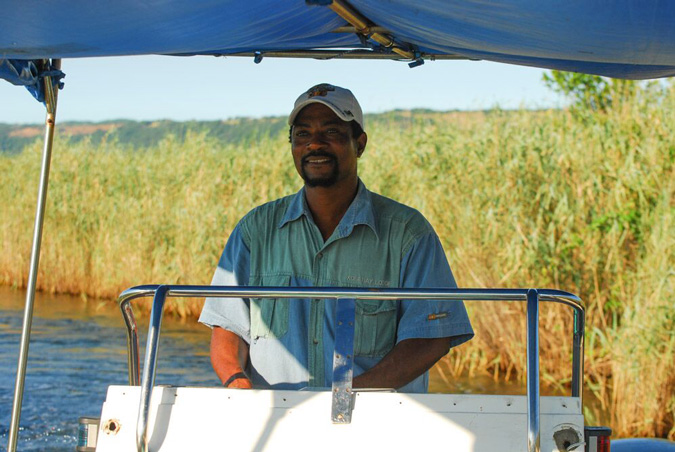 We are immediately struck by his humble and friendly disposition, which is a distinctive feature of the Thonga tribe from where he derives. We tell him we are interested in bird photography. As he expertly navigates his way across the lake, Thulani passionately shares anecdotes about the ecosystems and history of the area. The boat gently rounds a corner and a colourful  splash of pink draws our attention – flamingos. What a treat!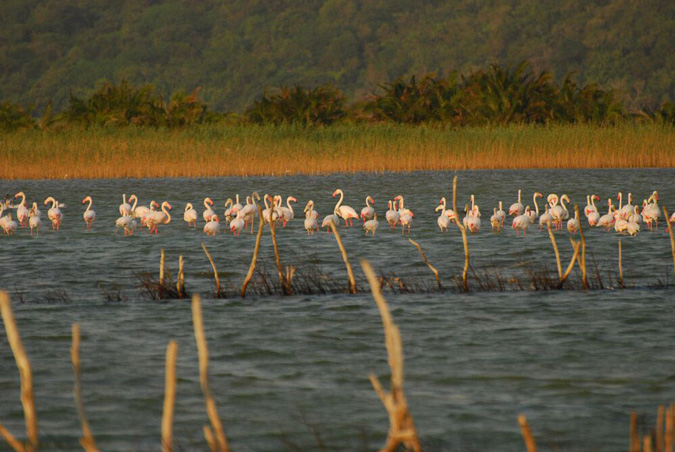 We head home for an early supper at the Umdoni restaurant where the espetada and prawn curry make a distinct impression. Most folk capitalise on the refurbished self-catering cabins where Kosi Bay Lodge offers a comprehensive range of authentic wooden and thatch cabins or well-equipped tents commonly referred to as "glamping". Kosi Bay Lodge is versatile in that private parties can enjoy seclusion whilst larger groups can be accommodated for conferences or special events.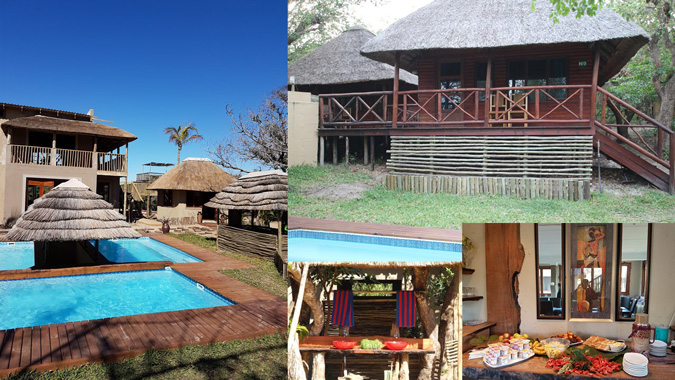 The following morning we join Thulani on the lake tour and are thrilled to encounter a pod of hippo, Goliath heron and the rare, endangered Palmnut vulture. Pied kingfishers compete for prey. We hold our breath as they propel their tiny wings, with pilot precision and lightning speed, to hover directly above the water. A cautious, camera-shy Finfoot sneaks off into the reeds.
We learn of the seasonal Loggerhead and Leatherback turtles that emerge from the Indian Ocean to lay eggs on the beach between November and January. Special turtle tours can be booked between January and March to watch myriads of babies complete the race back to the ocean. Before the boat trip is over, Thulani takes us to a shallow spot where we can stand in an area that has been sectioned off by a reed fishing trap. The earlier encounter with the hippo pod remains forefront in our minds but Thulani assures us we are far away and this water is clean and shallow. Our advice to travellers, only go into the lake under guidance from the experts!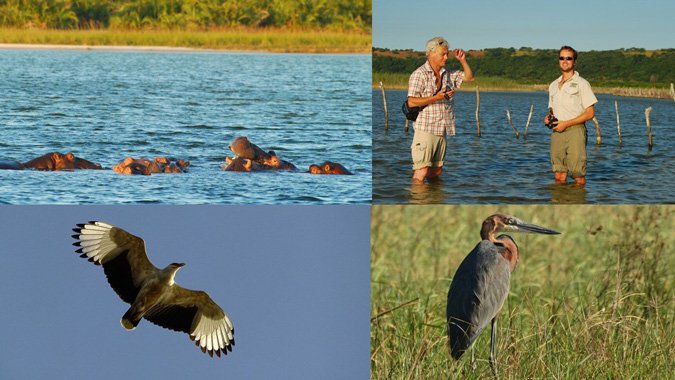 The following day, we request a trip to the mouth of the estuary where the ocean and lakes unite. Armed with snorkelling gear, sunhat and sunscreen we sit back and enjoy the ride. We see carefully positioned tree poles of underwater fences peek up in linear lines above the surface. This traditional method of fishing by the Thonga fishermen creates an artistic backdrop against the landscape. As we approach the mouth, we are struck by the crystal clear water and can see shadows of fish darting back and forth. The shadows transform to a kaleidoscope of colour when we don our masks and flippers to peer beneath the surface. What a stirring visual experience!
All too soon and it is time to head home. We are grateful to Tailor Made Safaris, Kosi Bay Lodge and the Thonga community for ensuring a perfect photographic opportunity in a special piece of paradise.