Original Source: yearinthewild.com
We were dwarfed by a baobab tree in the Northern Tuli Game Reserve of South-Eastern Botswana. I stretched out my arms against the trunk, then walked slowly around it and measured the circumference, which came to about 20 metres.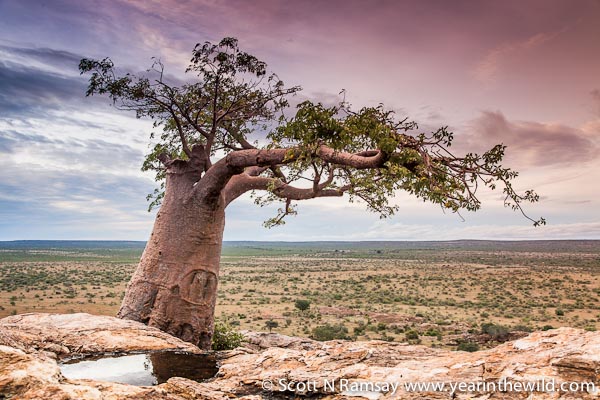 "This one is just a baby," my guide and instructor Okwa Sarefo laughed. Age and size, it turns out, is decidedly relative in the African bush. "It's probably only 1 000 years old," Okwa explained. Hold on, I thought, only 1 000 years old? "Baobab trees are the oldest living things in Africa" Okwa told us. "Some really big specimens with circumferences of 40 metres could be over 4 000 years old."
Okwa is based at EcoTraining's camp in Mashatu Game Reserve, a 30 000 hectare property within Northern Tuli Game Reserve. Golden sandstone koppies stand above mopane woodland and grassland. Intersecting rivers are fringed by the deep shade of nyala trees. Africa's wildlife wanders freely across an old land, largely untouched by modern man.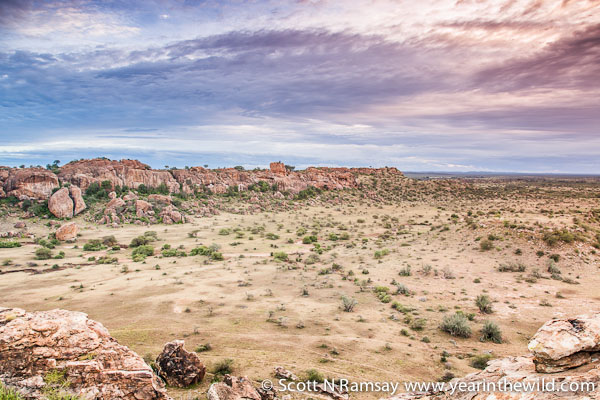 The EcoTraining camp on the banks of the Matloutse River offers a variety of hands-on nature training courses. I'd joined up to what is essentially a crash course in zoology, botany, herpetology, ecology and wilderness philosophy, all rolled into one. I'd come here to understand Africa's natural heritage, to learn about things large and small, from dung beetles to baobabs. In the process, I inadvertently unlearned a few things that I had been taught in city classrooms.
Needless to say, after a few days, I'd been impressed, and sometimes overwhelmed, by Okwa's knowledge. A member of the Bayei water-bushmen tribe in the Okavango Delta, he's been living and working in Botswana's wilderness his whole life. As a young boy he went to school, but his real education, he said, was the natural world of the Delta; hunting, fishing, wandering and admiring his wild neighbourhood. He learnt to read and write quickly, and at age 12 he started poling a mokoro through the myriad channels, dodging hippos and crocodiles, and developing an uncanny sense of direction. By age 20 he was guiding foreign tourists deep into the wildest areas. Today, at age 38, he's a veteran of the bush, and knows almost everything (by his own admission, you can never know everything about Africa's natural world). But he does know every bird, every tree, every mammal, every reptile, and almost every insect… and he knows how they all fit together.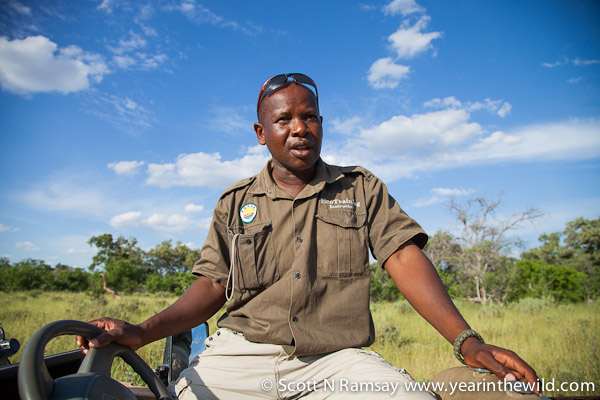 And he's seen it all. Charged by elephant? Many times. Tossed out of a canoe by a hippo? A couple of times. Witnessed a leopard pulling an impala out of a python's mouth? Once. Ever had to shoot an animal? Never. Okwa hardly ever carries a rifle. His understanding of animals is innate, and his identity is tied into the land, the sky, the trees and the animals. "I grew up in the bush, I live in the bush, and I will die in the bush. This is my home. I can't be anywhere else. I tried working in an office for a few years. I hated it. I am happiest here among the wild animals."
As we learned from Okwa, everything here is intricate and complex, from a simple blade of grass to a large bull elephant. And everything is connected to everything else. "Tell me," Okwa asked our group of students as we spotted some dung beetles rolling some elephant dung along the road, "what's the role of these insects in the bushveld? Besides cleaning up the dung of course." Dung beetles, it turns out, are important dispersal agents, collecting manure into a ball, laying their eggs inside, and rolling the ball into a hole in the ground where the larvae of the beetle can hatch. In the process, the seeds of grass and trees in the dung are also buried. I had never considered that an ancient, regal baobab tree could have originated from the breeding habits of a poo-loving beetle four thousand years ago. But there you have it – they're connected in some way.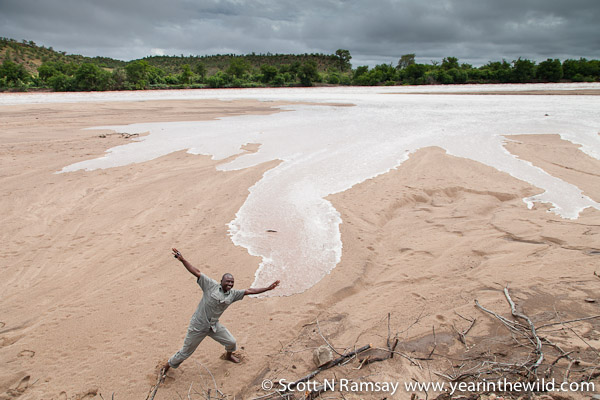 "Without a dung beetle, perhaps this baobab tree would never have grown here?" Okwa said. "But without water, without oxygen, without soil and without sunshine, nothing of what you see here would exist. Everything is in relationship to everything else. Nothing survives without the help of other things. Even man."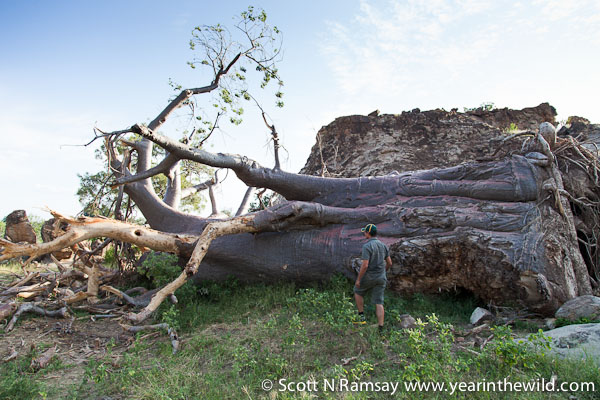 Ah, yes. Even man. This was the big lesson. For sure, on the Ecotraining course you'll learn how to identify the birds, grasses, reptiles, mammals and trees. I found it interesting how the ancient geology of the land combines with the weather patterns to determine which species thrive or die. And I was amazed at how the cultural identity of Africa is rooted in the landscape, how the animals, trees, plants and rivers are intimately woven into the social tapestry of the people.
But what struck me most about Okwa was the lessons the African bushveld could teach people of the "modern" world. I have been privileged enough to attend good schools and universities, but for some reason, I'd personally found my education to be incomplete, as if I'd missed a key message. (Maybe I wasn't listening to my teachers carefully enough). Sure, in my more astute moments I could do calculus (only just), and sure, I could read Shakespeare (sort of), and sure, I could compile an income statement (reluctantly). But having been born in Africa, and now working for most of every year in its wilderness areas, I found most of my formal education to be irrelevant.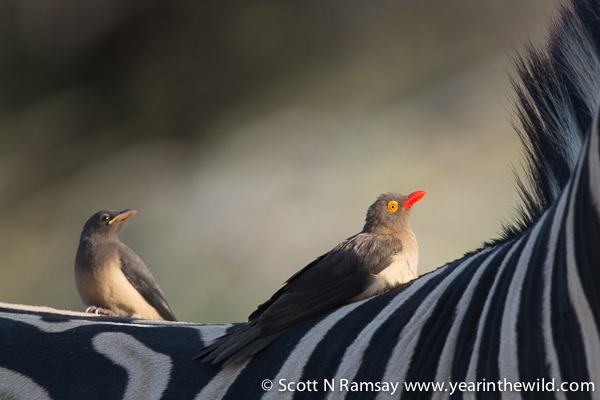 Confronted with the complex splendor of the African bushveld, most foreign people – or those with "modern" educations – are flummoxed and inspired by the immensity of life on display. How do you explain it all?
Consider the numbers: there are thousands of plant species, and thousands of animal species, all interacting with each other continuously, each one finding its niche, co-operating with each-other, being eaten by something or eating something, or being born, growing or dying. The possible permutations of interactions are immense, and certainly beyond statistical modeling. And here's the thing: it all works! Year after year, century after century, millennia after millennia, Tuli's natural ecosystem supports itself, and keeps sprouting new species, of which we are a relatively recent addition.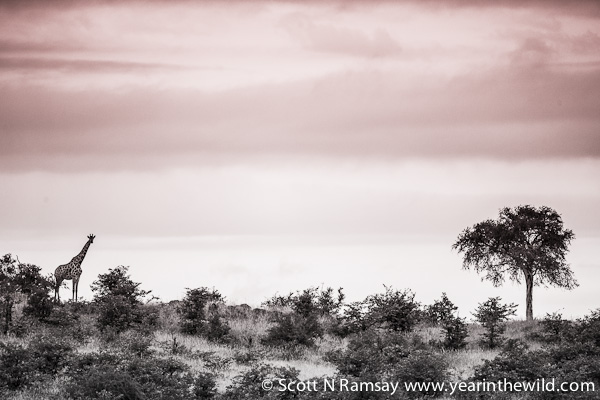 Everything is in balance, and everything is harmonious. And guess what? There isn't a professor, scientist or industrialist for three hundred kilometres in all directions. It got me thinking about an American teacher named David Orr, who gave a remarkably insightful talk to a bunch of students way back in 1990, when the concept of global warming was a relatively new thing. The gist of his talk went something like this: how come, when there are so many seemingly "clever" people in the world, the Earth's natural environment – on which we depend – is being polluted, damaged and in some cases destroyed?
It's a very good question. The modern world has the most advanced technology, the best scientific studies, the most data, the most knowledge, internet connectivity and the finest universities, but every day the natural world – on which we depend for our own survival, is being increasingly destroyed (I think it deserves to be said again, right?).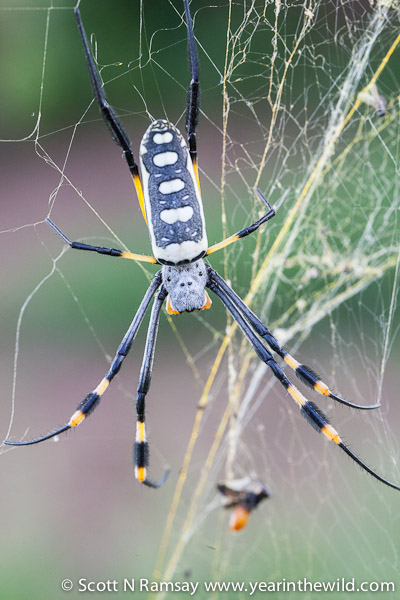 We consider our "modern" human society to be at the apex of civilization, as if we're on a linear path to an ever more successful future. Whatever is "modern" has wrongly assumed to be considered "best". But as is plainly obvious, we are in fact regressing, by destroying the very thing has has borne us and sustains us: the environment. "The truth is that many things on which your future health and prosperity depend are in dire jeopardy," David Orr said. "Climate stability, the resilience and productivity of natural systems, the beauty of the natural world, and biological diversity."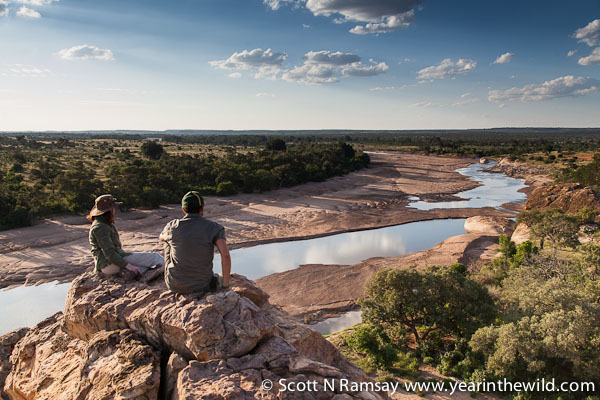 "It is worth noting," Orr continued, "that this is not the work of ignorant people. It is, rather, largely the result of work by people with BAs, BSs, LLBs, MBAs, and PhDs." For example, in the 1930s "the Germans were the best educated people on Earth, but their education did not serve as an adequate barrier to barbarity of the Holocaust. What was wrong with their education? It emphasised theories instead of values, concepts rather than human beings, abstraction rather than consciousness, answers instead of questions, ideology and efficiency rather than conscience."
"The same could be said of the way our education has prepared us to think about the natural world. It is a matter of no small consequence that the only people who have lived sustainably on the planet for any length of time could not read, or do not make a fetish of reading. My point is simply that education is no guarantee of decency, prudence, or wisdom. More of the same kind of education will only compound our problems. This is not an argument for ignorance, but rather a statement that the worth of education must now be measured against the standards of decency and human survival. It is not education that will save us, but education of a certain kind. For example, we routinely produce economists who lack the most rudimentary knowledge of ecology. This explains why our national accounting systems do not subtract the costs of biotic impoverishment, soil erosion, poisons in the air or water, and resource depletion from gross national product."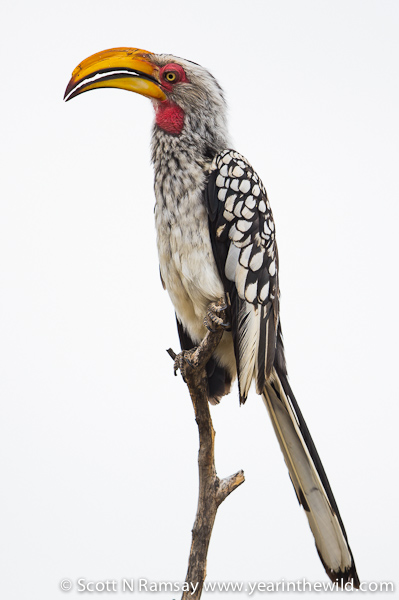 As we walked back to our camp on the edge of the Matloutsie River, surrounded by a chorus of woodland kingfishers, I thought how it might do the world some good if all economists spent time with a person like Okwa. Or if all politicians and businessmen could sit on top of a hill in Mashatu, simply admiring a breeding-herd of elephants. Perhaps they would realise how there is more to "success" than money and industrial economic growth? Perhaps they'd realize that although the "modern" world offers many benefits, not everything that is "modern" is necessarily "good".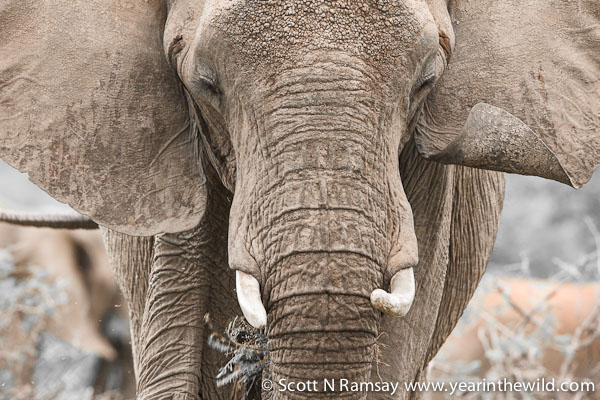 Perhaps these no-doubt well-meaning icons of business and politics would also realise how connected they are to nature, that they themselves are a product of billions of years of exquisite evolution, and they have a right to be here, on Earth. Of course, along with this realisation, logic dictates that all other species also have a right to be here too, and that "modern" people are depriving other species of that right. Surrounded by thousands of species too marvelous to understand, and sitting under a crimson Botswana sky, perhaps they'd realise that they are just one species out of millions, and that humans depend on all other species for our own survival. Finally, confronted by the African bushveld, they may realise that despite our remarkable achievements, humans are not the only impressive life forces.
That title also belongs to any number of other living things: the baobab tree, the elephant, the crack of lightning, the flooding river, the black mamba and the roaring lion. Or what about the humble dung beetle? In the process of doing all his dirty work, he happens to sow the seed of the mighty baobab tree.
Our own definition of success as "modern" people may have to be re-calibrated. Each of us has a role to play, and each species is as valuable as the next. Perhaps we shouldn't be too quick to consider ourselves the most important species.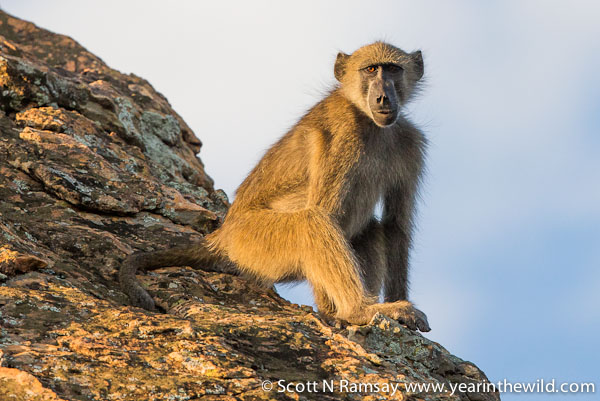 "The plain fact is that the planet does not need more successful people," David Orr wrote. "But it does desperately need more peacemakers, healers, restorers, storytellers, and lovers of every shape and form."
"It needs people who live well in their places. It needs people of moral courage willing to join the fight to make the world habitable and humane. And these needs have little to do with success as our culture has defined it."
To comment on this story: Download our app here - it's a troll-free safe place 🙂.

---
HOW TO GET THE MOST OUT OF AFRICA GEOGRAPHIC:
Travel with us. Travel in Africa is about knowing when and where to go, and with whom. A few weeks too early / late and a few kilometres off course and you could miss the greatest show on Earth. And wouldn't that be a pity? Browse our famous packages for experience-based safaris, search for our current special offers and check out our camps & lodges for the best prices.
Subscribe to our FREE newsletter / download our FREE app to enjoy the following benefits.
---