Written by: Dave Renshaw
There we were in the local pub in 1969 sipping our pint of "Light and Bitter" discussing the best way to get to South Africa. "It's a bloody long way down," Adrian said, looking at the pocket map. "It can't be that far, it's only 6 inches on the map," I replied. Those words would see us through many a rough day Hitchhiking from the UK to South Africa, but they would also come back to haunt us.
Armed with a worn-out rucksack, map, a sleeping bag, poncho, five changes of underwear and t-shirts and 300 Pounds Sterling in traveller's cheques, we said our farewells and trundled off into the big blue. I mean, how hard could it be?
At the end of day one, I turned to Adrian and asked, "How far have we come?"
"About an eighth of an inch by your reckoning," he replied. In real terms about 250km.
This set the tone on how we approached each daily journey; we would talk in inches on the map or kilometres actually travelled depending on our mood. I must add at this stage we had bought a much bigger map, so the journey was looking a little more formidable and less doable.
Europe was a synch when it came to hitchhiking as the whole of the continent was au fait with the concept of people standing on the side of the road hitching a ride. Egypt and every country south of it was another story. They did not have a clue about what was happening when they saw these two young backpackers standing on the side of the road holding their thumbs out. They would stop and look at our thumbs and ask what we were doing.
However we soon found out that the local transport was very cheap, that was if we didn't mind riding with the odd goat or artillery field gun.
After missing the pyramids due to an Oxo cubed size bit of hashish in a cigarette, enough to tranquillise a bull elephant in a state of musth, gliding out of Cairo was a fantastic experience. We suddenly realised the extent of Egypt's history and while the Aswan dam is huge and an incredible feat of engineering, it was sad to think that deep below in the now flooded valleys there could be undiscovered tombs and temples – lost to history with so many stories untold.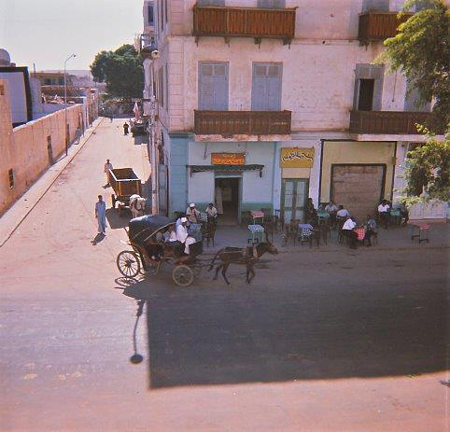 There are many things one learns while travelling the Nile through Egypt and Sudan, and all of them are "Don't drink the water." Forget fad diets, have a glass of the local water and go 13 days on the Nile – I weighed 73kg on day one as we left Khartoum, and on arrival at Juba 13 days later I weighed just 58kg.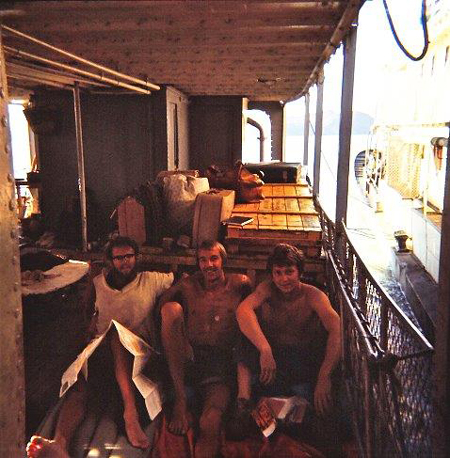 A massive wheel propelled the boats with eight barges attached to the front to force their way through the water hyacinth that covered vast sections of the Nile, the same concept as an ice breaker. The captain ascertained the depth of the river by the barges as they ploughed over and through the sand on the bottom. As the Nile became wider and deeper, they dropped off two barges at a time, tied them down in the reeds and collected them on the way back to Khartoum.
Unfortunately for us, we were sleeping on the barges when they did this, and they parked us in the reeds in the middle of the night. Adrian woke up and said, "It's very quiet." I said something else to the effect of, "They've F*#@ing gone." We noticed that the boat was now just a little light in the distance and about three miles away – there was only one boat a week in those days.
Getting into the Nile at night and walking through those reeds up and onto the bank can be tricky at the best of times. I think we did it in five seconds flat – the Nile crocodiles in that section are huge! We ran along the bank screaming and shouting and eventually caught up to the boat and boarded to the hysterical laughter of the passengers on board.
On arrival at Juba, I looked for the local hospital, but the church bishop mentioned that it would be better to fly into Uganda as the Civil War was still raging outside of Juba and it wasn't safe to travel by road.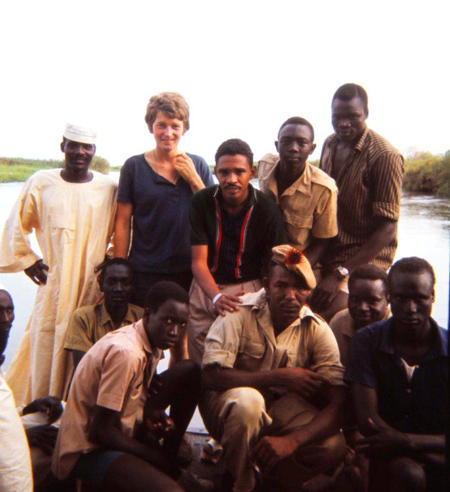 So we stayed with the bishop while we waited for a plane and there I was, stark naked, lowering myself into the first bath in 13 days when what seemed like the whole of Sudanese army came rushing into the bathroom waving their guns, shouting that we were being arrested as we were suspected of being mercenaries. We were then taken to the army barracks next to the local prison and spent about two hours explaining to the local Commander of the Sudanese Army that we were backpacking through Africa. Luckily for us, he was British army trained and believed our story. We ended up staying at the barracks and sleeping on the floor outside his office as they felt it was safer for us.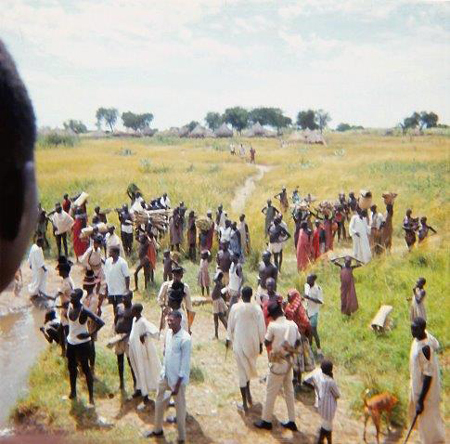 A week later, we flew out to Entebbe in Uganda. It was scorching when we arrived at the airport. A white Mercedes pulled up, and an electric window slid down – the first electric window I had ever seen. A voice said in perfect English, "Good God, you look awful, I suggest you get in." This was the Mayor of Jinja and to sit in an air-conditioned car after three weeks on the Nile was pure bliss.
Days later, feeling much better, we made our way to Kenya. In Nairobi, we stayed at a youth hostel where we noticed a handwritten sign saying, "Need a lift south?" We slept under the sign until the writer of the sign turned up. Our lift from Nairobi took us through Tanzania, Zambia, Malawi, Mozambique and Rhodesia to Johannesburg, South Africa. We had made it, and that was a lift of note, but that's another story altogether.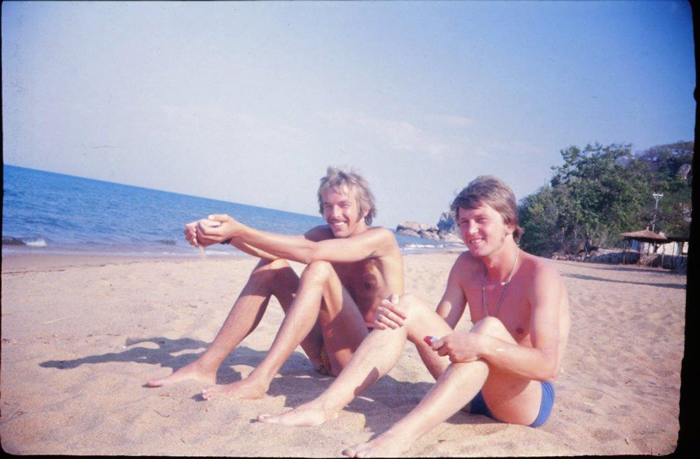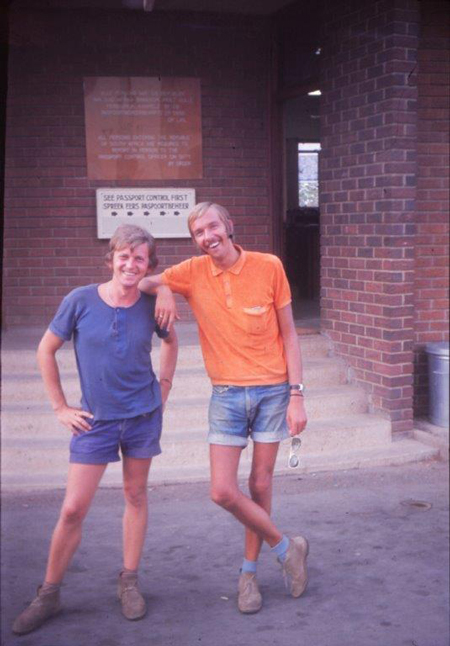 Dave Renshaw visited Africa once again this year with his son, Chris Renshaw – the winner of the Africa Geographic Photographer of the Year Competition. Chris treated his dad to a fabulous safari with Premier Safaris for his 69th birthday – you can read all about their adventure in our online magazine: Uganda Dreaming.
To comment on this story please join our PRIVATE TRAVEL & CONSERVATION CLUB. See details below.

---
HOW TO GET THE MOST OUT OF AFRICA GEOGRAPHIC:
Join our private travel & conservation club (mobile app and desktop) to enjoy significant benefits, including the best prices at Africa's top lodges and networking with others like you. Find out more here.

Subscribe to our weekly newsletter to enjoy more stories like this. Subscribe here.
Travel with us. Travel in Africa is about knowing when and where to go, and with whom. A few weeks too early / late and a few kilometres off course and you could miss the greatest show on Earth. And wouldn't that be a pity? Search for your ideal safari here, or contact an Africa Geographic safari consultant to plan your dream vacation.
---