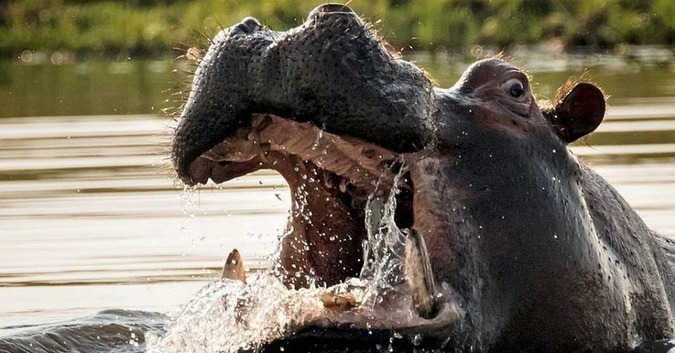 A hippo has attacked and killed a Taiwanese tourist, and injured another, at a wildlife resort on Lake Naivasha in Kenya. The two tourists were taking photos of the hippo on the shores of Lake Naivasha when it attacked. Chang Ming Chuang (66) was bitten in the chest and was pronounced dead upon arrival at Naivasha District Hospital. His colleague, Wu Peng Te (62) survived with minor bruises.
Kenya Wildlife Service (KWS) posted on their Twitter account announcing the death, saying that they are "tracking the hippo". Originally KWS said the two tourists were from China, but Taiwan's foreign ministry said the two were from the self-ruled island. Kenya has no formal ties with Taiwan, recognising only China and its claim to speak for and represent the island internationally.
David Kilo, chairman of Lake Naivasha Boat Owners Association, told Kenya's Star newspaper that the rise in water levels had contributed to the increase in hippo attacks as they are forced to wander into nearby hotels and farms in search of pasture.
China's official Xinhua news agency cited the Chinese embassy in Nairobi as saying it had sent diplomats to the scene and requested the Kenyan authorities to boost security at tourist resorts to avoid attacks by wildlife.
"It is the unshakeable duty of the Chinese government to provide consular protection services to Taiwanese compatriots," a spokesman at the Chinese Embassy in Kenya said.
"The Chinese Embassy in Kenya will work closely with the Kenyan government to help evacuate the body of the victim, treat the wounded and handle the aftermath," added the spokesman.