Written by Michael Botes
While slowly cruising through the iSimangaliso Wetland Park estuary in South Africa on a beautiful mid-summer morning, my guests and I enjoyed a strong cup of coffee while keeping an eye out for any sort of wildlife that may catch our interest.
Being a keen birder I am always on the search when guiding as iSimagaliso supports more than 500 bird species and is one of the most important breeding areas for water birds in South Africa, with at least 48 species having bred here. We have had the most spectacular bird sightings, such as the soaring African fish eagle, the pigmy kingfisher, the goliath heron and many more.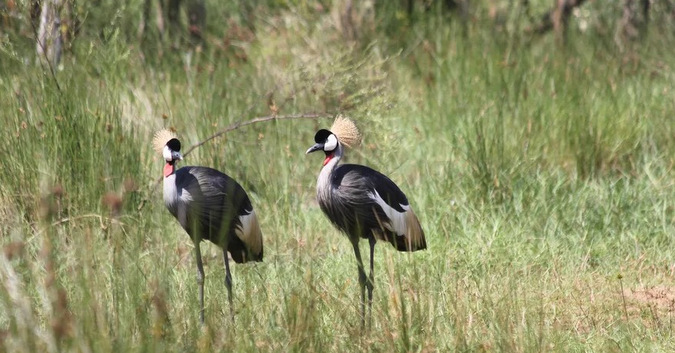 During our relaxed boat cruise, filled with wildlife and excitement, two beautiful grey crowned cranes were spotted at a glance in the distance – only the second sighting I have had of a pair of grey crowned cranes in my life!
These cranes are extremely rare to see in our area around Makakatana Bay Lodge, however the pair seemed very satisfied with our beautiful wetland as a breeding sight. They were already collecting nesting material to build a large platform nest among the vegetation.
The grey crowned crane can lay between 2 – 5 eggs and when the chicks hatch they are precocial – meaning they are relatively mobile as soon as they hatch. Both parents will assist in raising the chicks to ensure their survival.
We were very excited to see these beautiful birds in their natural habitat and are looking forward to seeing their chicks someday in the future.