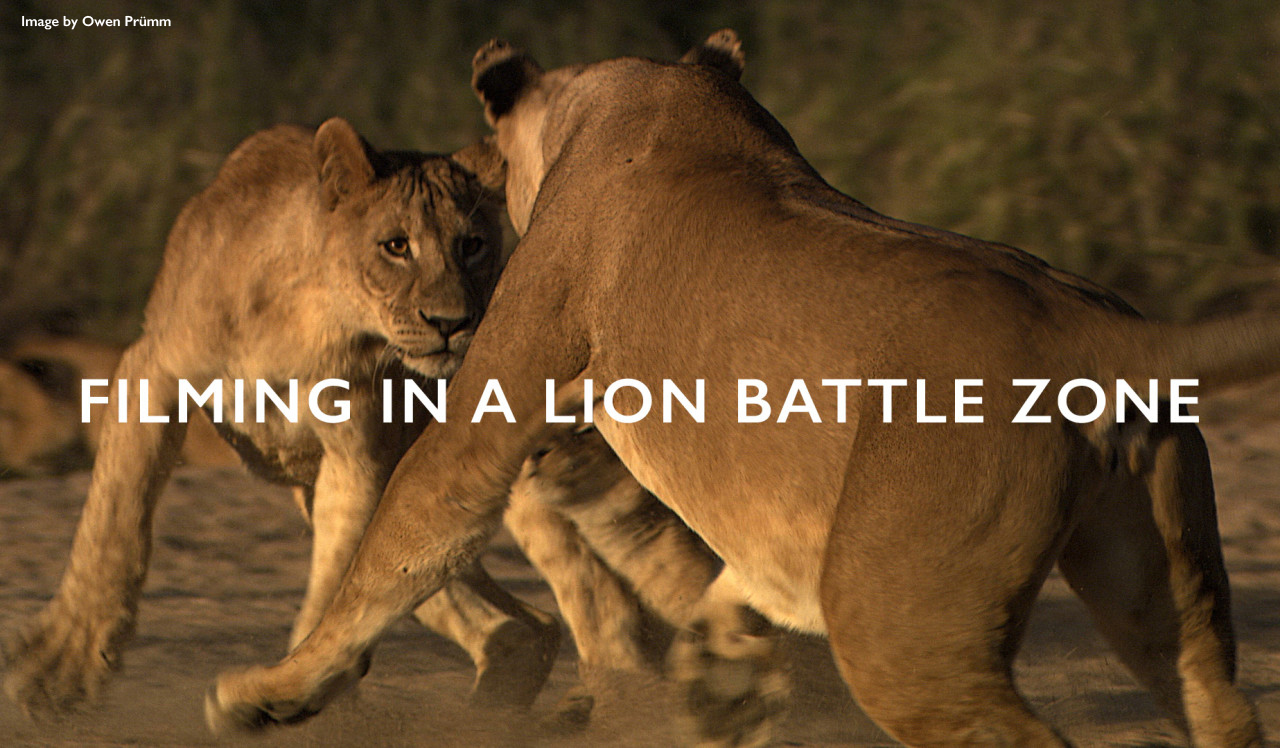 A WILDLIFE FILMAKER OFFERS A GLIMPSE INTO A WORLD FEW HAVE EVER SEEN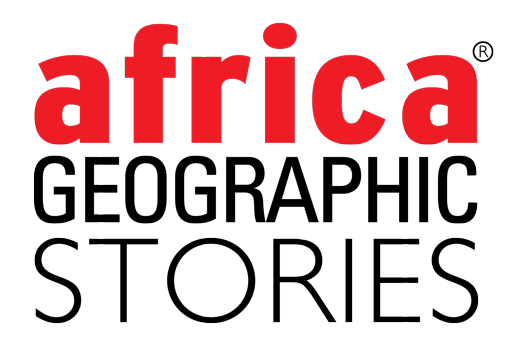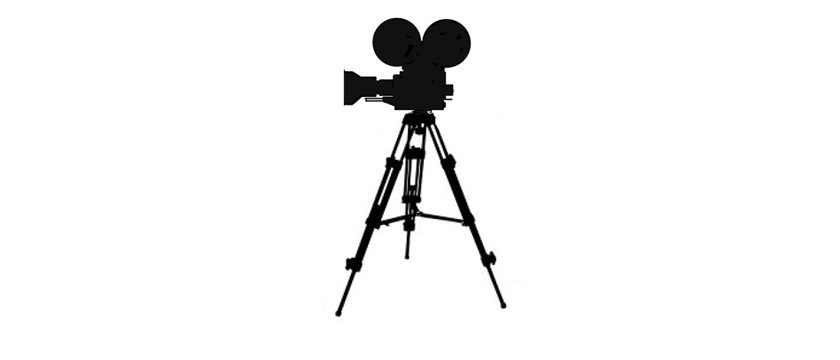 My introduction to southern Tanzania came in 1995 shooting a documentary for SABC3 in the Selous Game Reserve. I had only nine days to shoot but I knew I had stumbled upon a wilderness that existed nowhere else. This was an ancient Africa that had remained largely unchanged for hundreds of years.
I vowed to go back and ten years later I was set up in my own camp in Selous producing a film for Discovery Channel, Germany's NDR/ARD and National Geographic Television called "Bandits of Selous", about a family of banded mongooses struggling to survive in a predators' paradise. Whilst there, I recognized the potential for an extraordinary film. Some lion prides were hunting fully grown giraffe and as yet no filmmaker had been able to capture a full sequence of this phenomenon.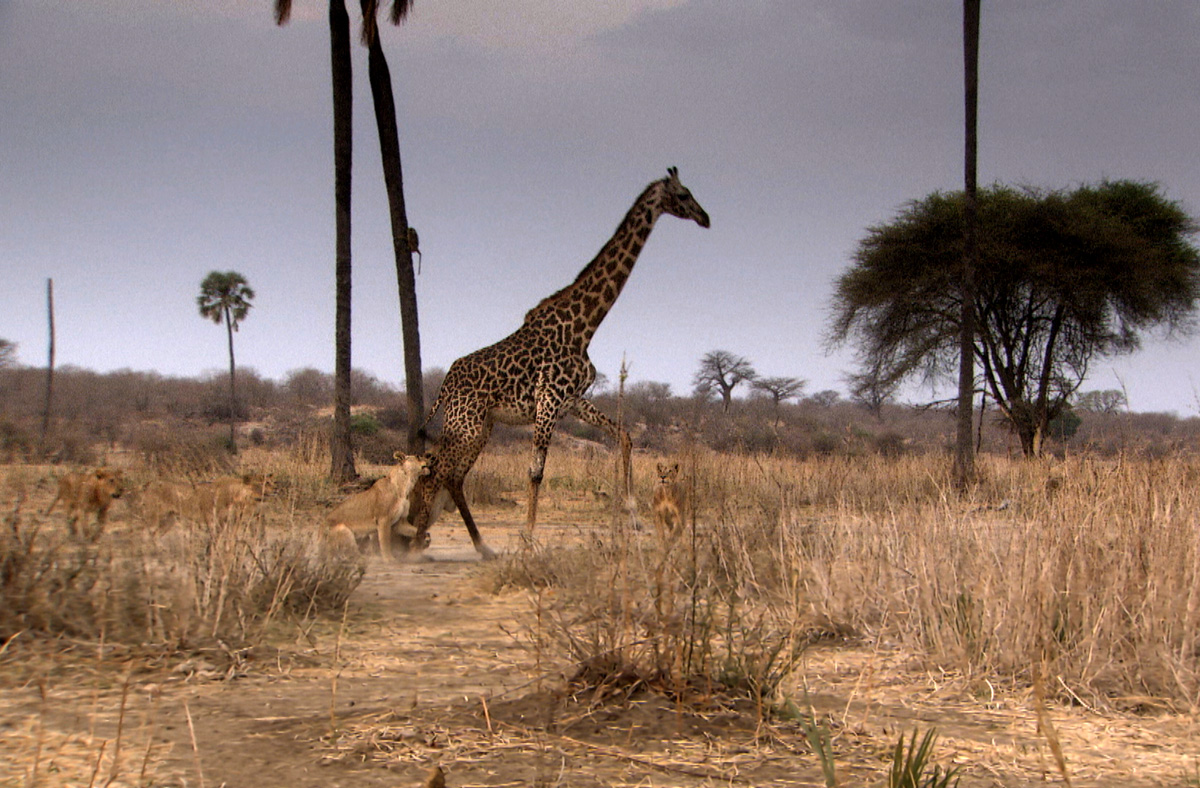 Unfortunately the 'poachers war on elephants' was beginning to escalate and although I wanted to stay in Selous and document this horrific turn of events, the Tanzanian Government was not approving further film permits. I learned, however, that lions in Ruaha National Park were also hunting giraffe and after showing the owner of "The Old Mdonya River Camp" my Selous film, I was offered logistical support to produce a film that portrayed the beauty of Ruaha.
For the past six years I have had the privilege of my own camp and exclusive filming access to one of the largest and most remote national parks in Africa.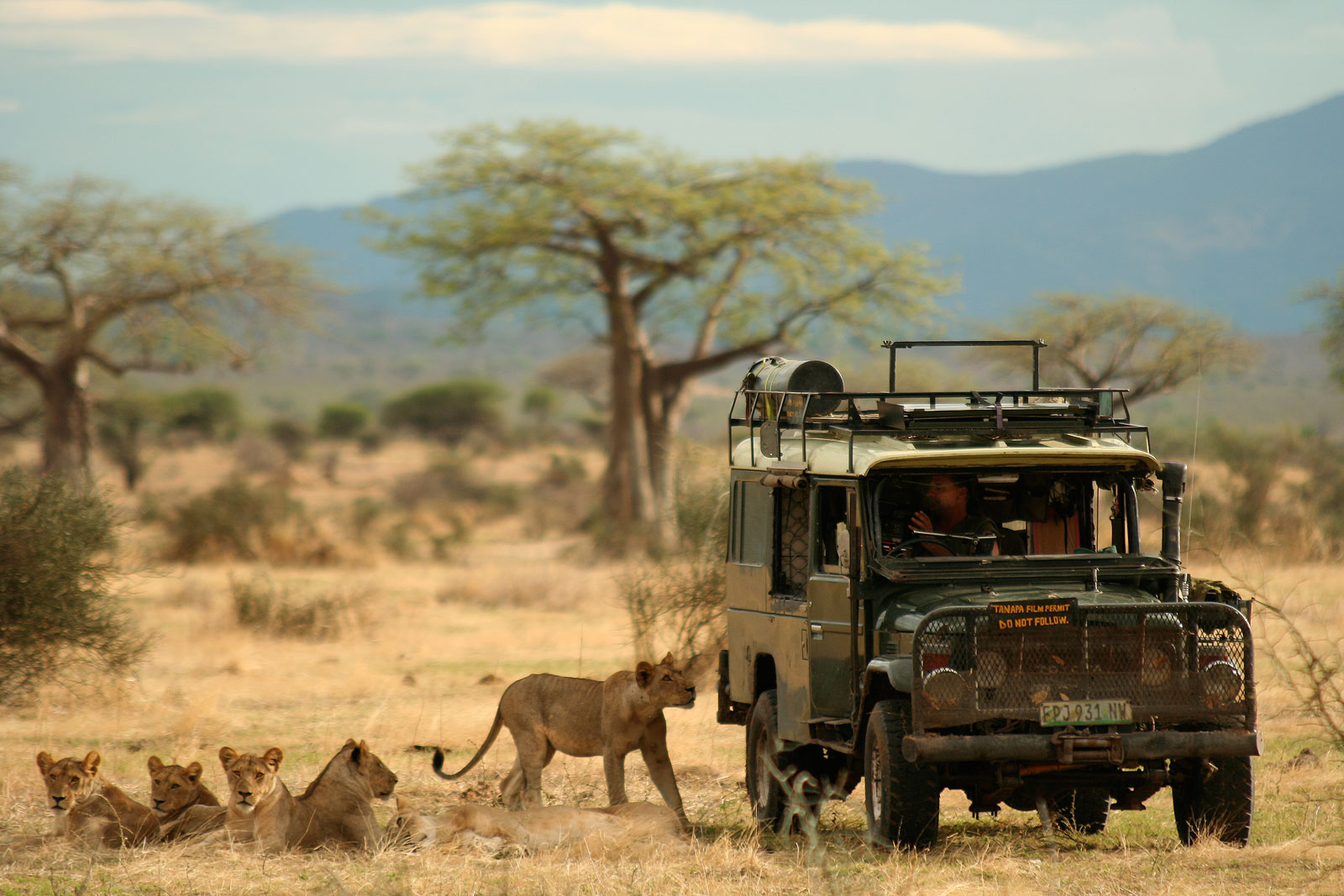 After two years, my first Ruaha film, "Lion Battle Zone", was co-produced with National Geographic for their popular series "Big Cat Week". The iconic giraffe-kill sequence still eluded me, so this film concentrated on the interactions of five lion prides with one massive herd of buffalo that moved between the different pride territories in the dry season.
I stayed on in Ruaha for another four years, eventually capturing the elusive giraffe sequence, plus much more in the way of exclusive animal behavior, deploying several specialized cameramen to shoot alongside me and fill in during my absence.
A new multi million-dollar feature length documentary is the result. With the working title "Lions", it is now in post-production. Audiences will experience warring lion tribes fighting for dominance in one of the highest lion population densities in Africa. We focus on lions that specialize in hunting large prey such as giraffe, elephant and buffalo, offering glimpses into a world few humans know of.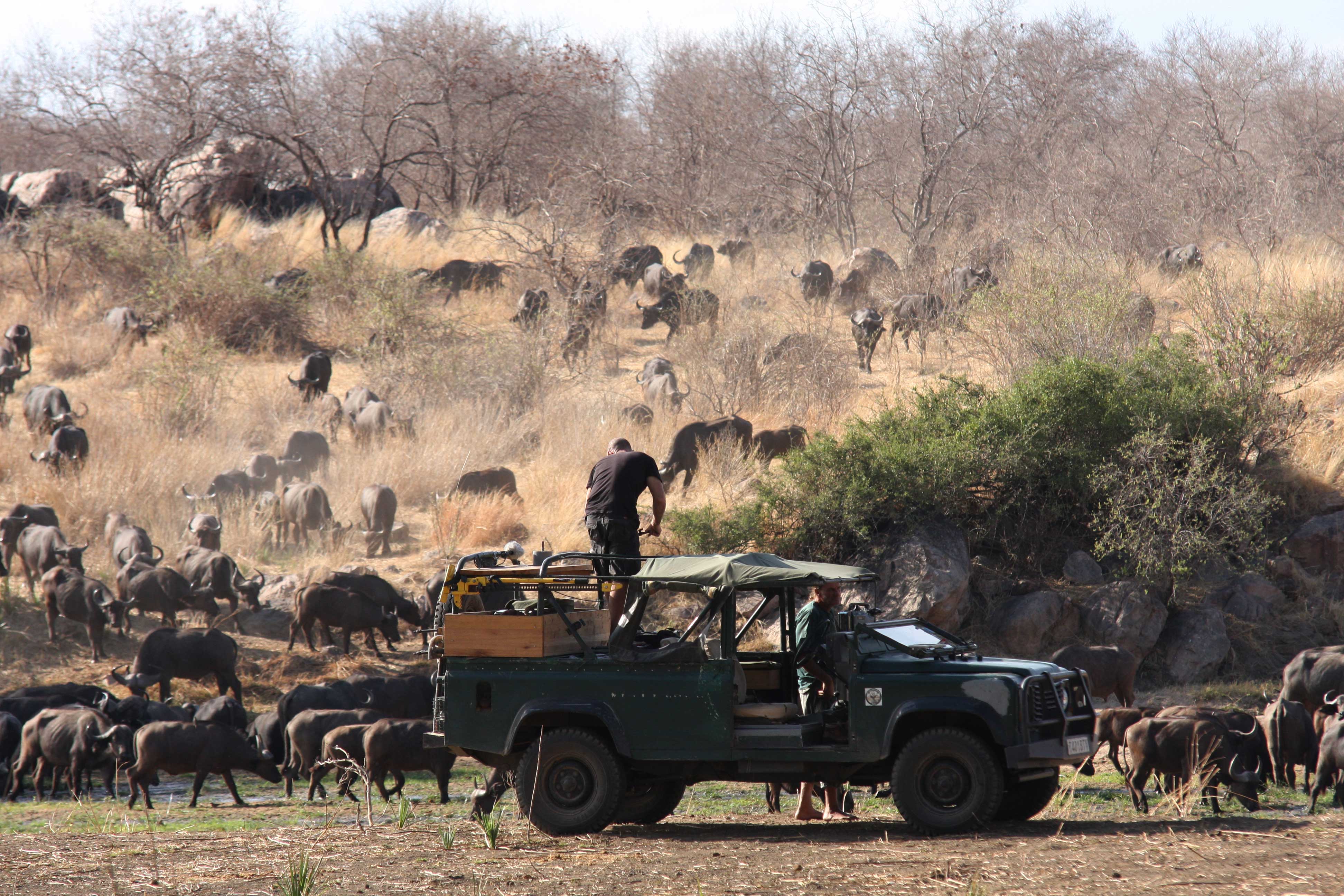 Central to our story is dispelling the myth of the "lazy male lion", a stereortype created from natural history films. The chances of survival for male lions in an environment as competitive as Ruaha are already slim, and the victors are very few, so I directed the camera teams to "stick with the boys."
Dispelling the myth of the lazy male lion
We followed the development of five male lions from an early age – before and after they had been violently ousted from their family and territory. This provided us with an incredible storyline filled with action, humor and sadness as they desperately try to survive in a world filled with danger. Of the five males only two make it into adulthood, and only one becomes king and rules over his own pride and territory.
The two surviving young males taking down their first adult buffalo in broad daylight, after several failed attempts, is a tipping point in their story. A family of lions killing a large elephant in broad daylight and a single lioness taking down large buffalo on two separate occasions is testament to the specialized and extraordinary hunting capabilities of these particular lions. And of course, there's that giraffe sequence which we give you a foretaste of in the video at the bottom of this page.
Working in these remote areas is difficult, costly and risky for many reasons, but it is also very fulfilling. We more than hope that through reaching large audiences with this thrilling, breakthrough film, that utilizes subtle yet powerful conservation messages within the framework of the storyline, we can help protect not only this iconic species, but all animals that are facing threat due to human population growth.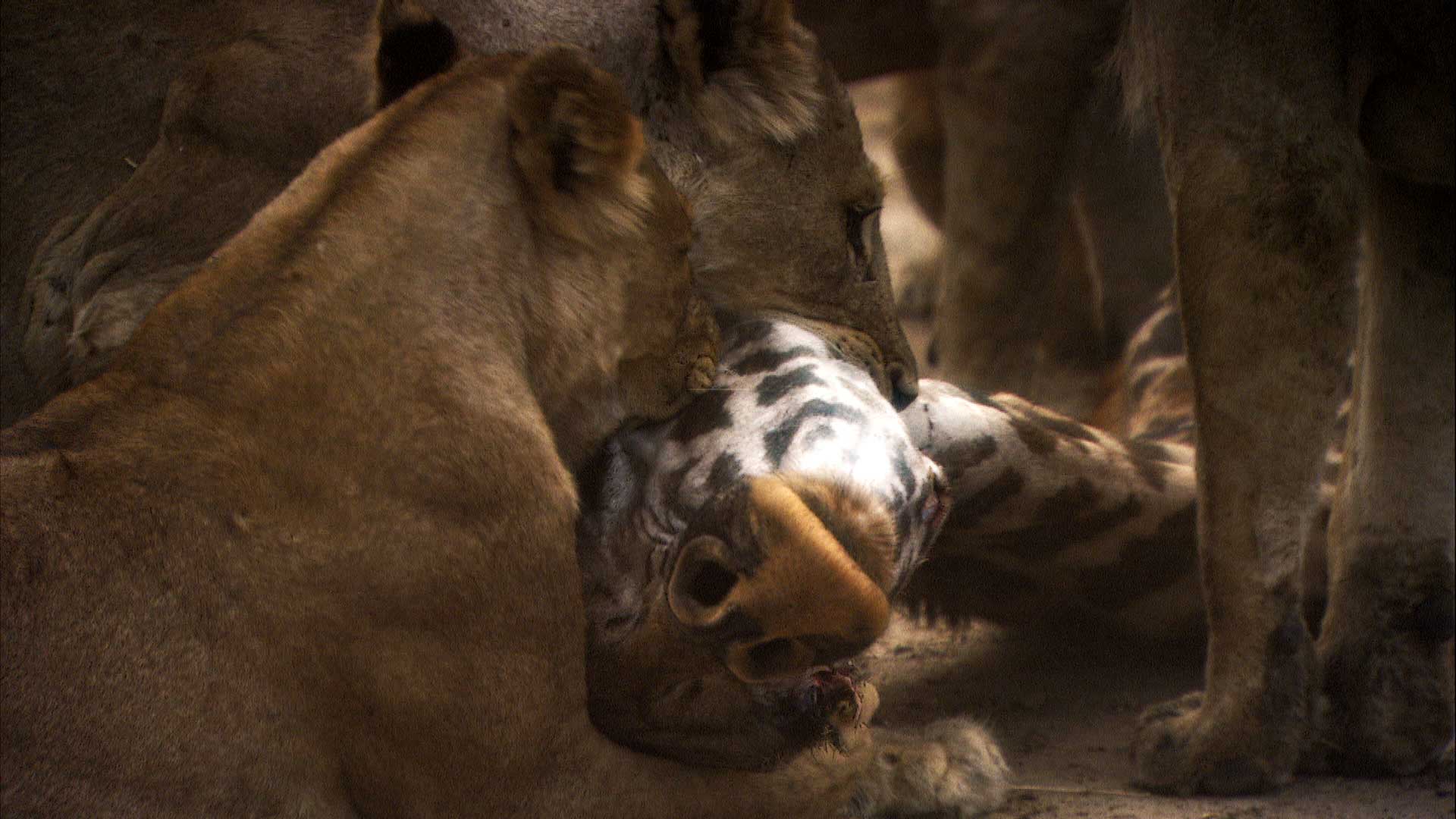 Enjoy these scenes from the upcoming documentary
about the hard working lions of Ruaha.
We recommend setting the quality to HD.
After four years of collaboration with Italian filmmaker Simone Pecorari, Prümm and Pecorari formed "Shibumi Films" in 2014. Their first project, with the working title "Lions", will be a feature length documentary for the cinema screen.
Shibumi Films' focus is on producing feature-length cinematic nature films, blue-chip natural history documentaries and cross media wildlife projects with a wide audience appeal. Their aesthetic ideal is to tell stories in a direct, subtle way, without trendy decorations and to demonstrate the beauty of the natural world with integrity. Shibumi believes there is a large, intelligent audience that does not want their nature soft or sensational, but would prefer to see it like it really is in the most entertaining way possible.

To comment on this story please join our PRIVATE TRAVEL & CONSERVATION CLUB. See details below.

---
HOW TO GET THE MOST OUT OF AFRICA GEOGRAPHIC:
Join our private travel & conservation club (mobile app and desktop) to enjoy significant benefits, including the best prices at Africa's top lodges and networking with others like you. Find out more here.

Subscribe to our weekly newsletter to enjoy more stories like this. Subscribe here.
Travel with us. Travel in Africa is about knowing when and where to go, and with whom. A few weeks too early / late and a few kilometres off course and you could miss the greatest show on Earth. And wouldn't that be a pity? Search for your ideal safari here, or contact an Africa Geographic safari consultant to plan your dream vacation.
---