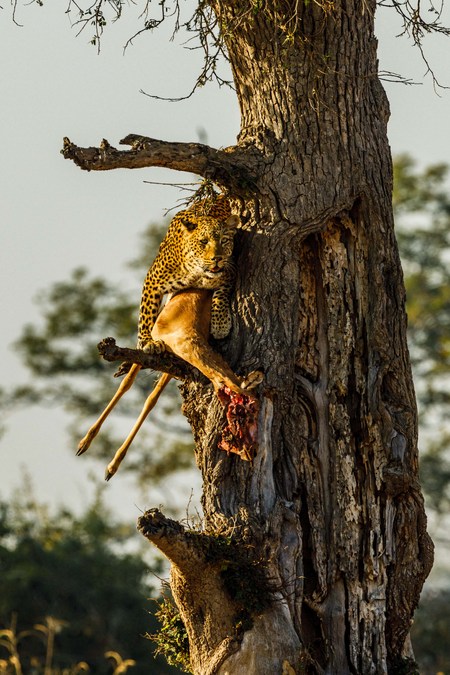 Entries for our Photographer of the Year 2019 are filling up our inbox at an incredible pace. We're three weeks in and have already received hundreds of great photos. Recently we received a series of photos of a leopard with her kill (and her attempt to climb a tree with it) which caught our attention, and we just had to share it with you. Continue reading to find out more about this fantastic sighting.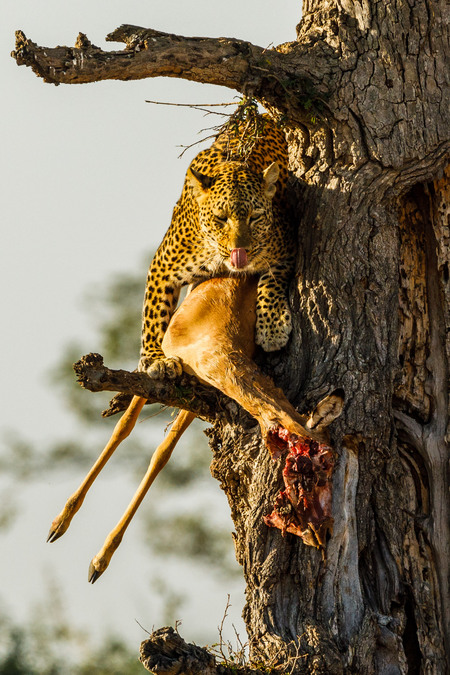 Written, and photographs, by Andre Erlich (Facebook & Instagram)
In June 2018, my wife and I stayed at Remote Africa's Tafika Camp in Zambia's South Luangwa National Park. It was a great camp with some unbelievable sightings. I have never seen such a large density of leopards as in South Luangwa – day and night!
One day, on a morning drive, we saw a leopard (a mother of a teenage cub) dragging her freshly killed antelope towards a tree which she clearly planned on climbing. We must have missed the hunt itself just by a few minutes.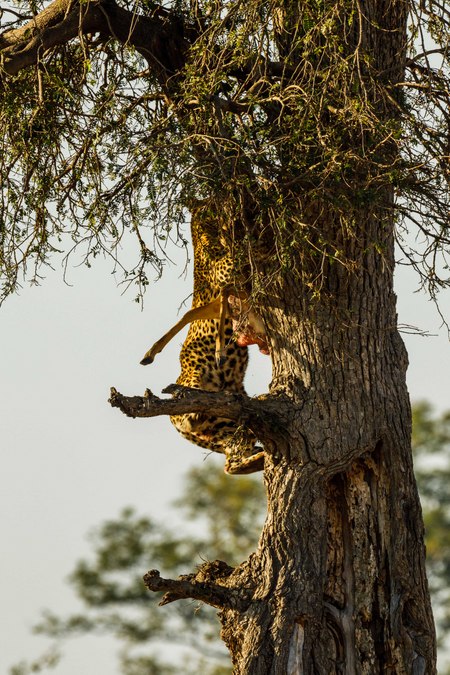 Interestingly, the night before we saw the same leopard, though that time she had a different kill – which was unfortunately stolen by a pack of painted wolves.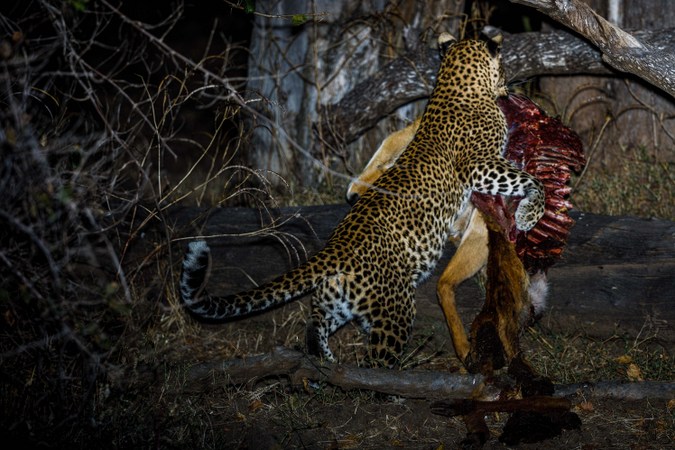 Because of what happened the night before, she must have been anxious to safekeep her current kill and get it high up into the tree before any other predators or scavengers came along.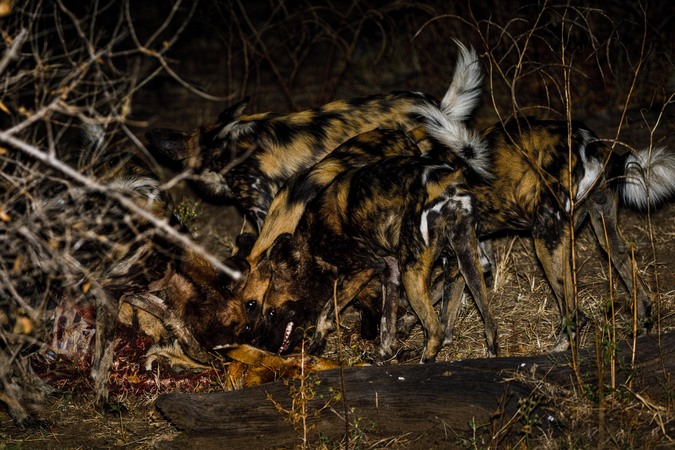 Quintessence of power and agility, leopards are excellent tree climbers and they often hoist their kill to protect it from not only painted wolves, but from the likes of hyenas and lions too.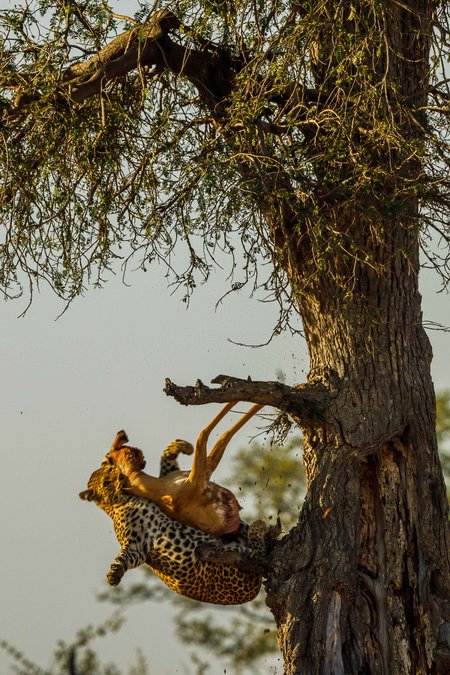 This particular leopard either overestimated her climbing skills or underestimated the weight of the antelope, but as she was climbing higher and higher the branch suddenly snapped under the combined weight of the hunter and the prey, and she came crashing down with a look of utmost surprise on her face!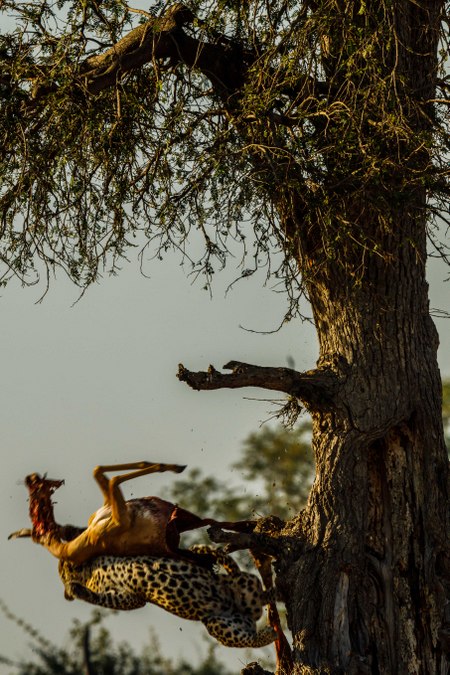 Upon landing, she looked a bit shaken, but totally unscathed… and the antelope was still very dead.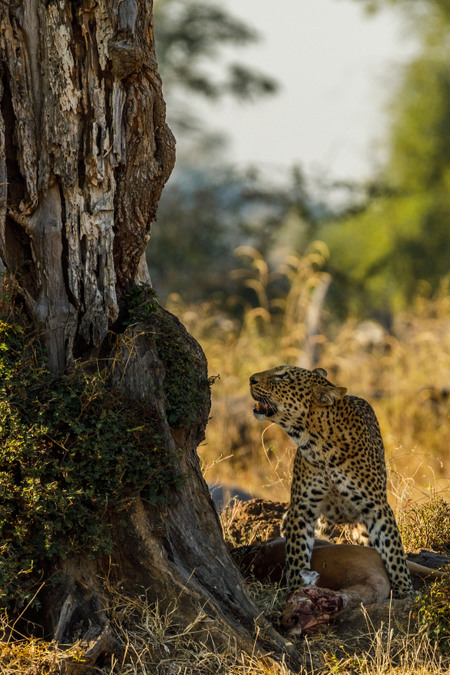 Looking quite surprised, the leopard scanned the tree from which she fell and understood very quickly that she needs to reduce the weight of the antelope. And what better way to do that but by eating as much of it as possible!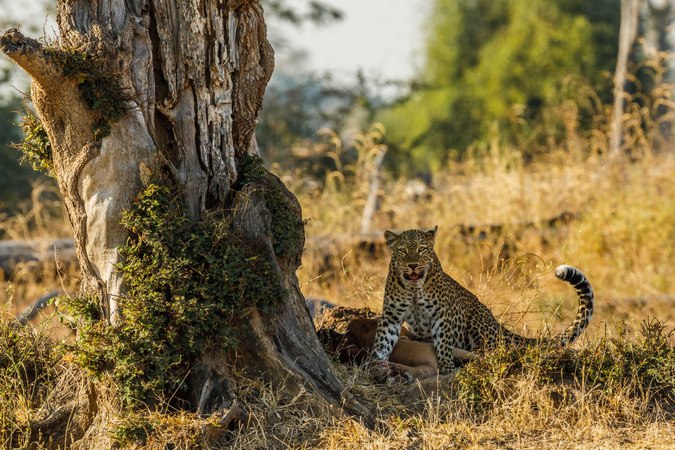 So, she started devouring her lunch (her cub was hiding under the nearby bushes) right at the landing site and then dragged it into the bushes to share with her offspring.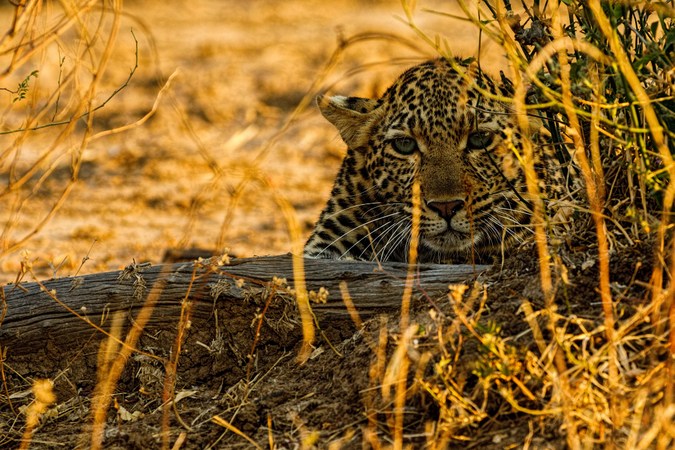 It was then that we left the leopard and her cub alone and continued on our morning drive. Later that night, however, we returned to find both the half-consumed antelope and a very full leopard safe in the tree.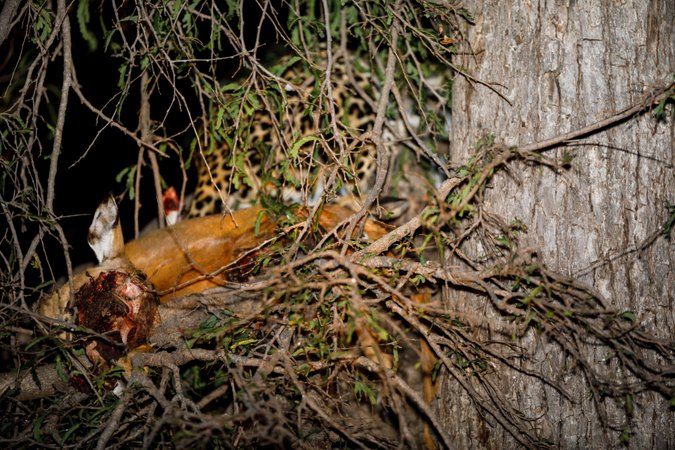 I am sure the leopard won't forget the lesson learned from this memorable adventure any time soon.