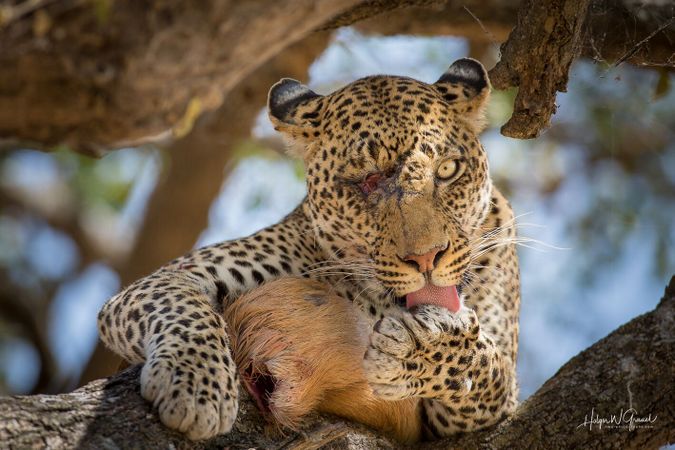 Written, and photographs, by Holger W. Grauel
It was a rather cold morning in the Tarangire National Park in Tanzania as we headed out on our first game drive of the day. The animals were not very active, so I didn't expect to see any sort of extraordinary sighting.
As we were driving through the park, enjoying the fabulous landscape, we approached a single tree and from a distance I could spot something hanging down from it. Upon closer inspection we realised it was a leopard with its kill – a great sighting for us!
However, even more of a surprise was that this leopard only had one eye!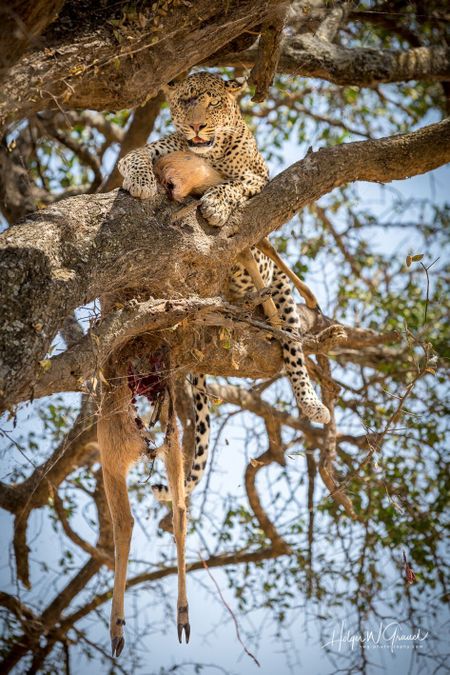 It is not clear how the leopard was injured, but looking closely through my camera lens I could see that the eye had been scratched out. The wound looked quite bad, and it probably wasn't too long ago that it was injured. But, I was happy in the fact that the leopard had its kill up in the tree, meaning that it is still able to effectively hunt and is able to survive despite this handicap.
So, the question remains: was the leopard injured by another leopard? Or maybe by another predator like a lion?