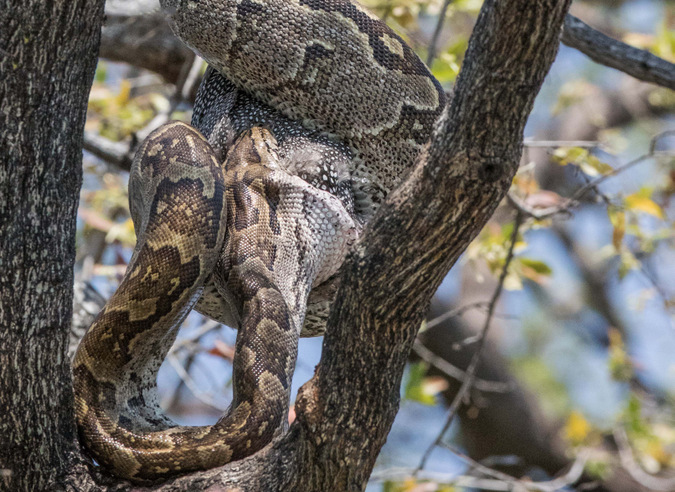 Written, and photographs, by Riaan Nysschens
While out on a super safari in Botswana with my guests, we were all enjoying our sunrise cruise on the great Chobe River when one of the guests spotted some action in a distant tree. In anticipation we slowly cruised along, scanning the area, hoping to see perhaps an elusive leopard.
However, we got better: a once-in-a-lifetime sighting for my guests, and certainly a first for me!
A huge, beautiful African rock python had just caught a helmeted guineafowl, which it was holding in a very tight grip up in a tree.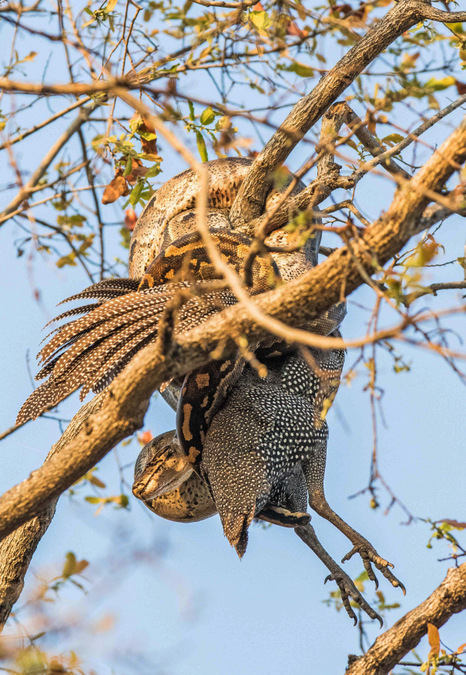 Being on a small boat we spent quite a while attempting to photograph the sight from directly below the tree, then decided to move on as our position was just not favourable.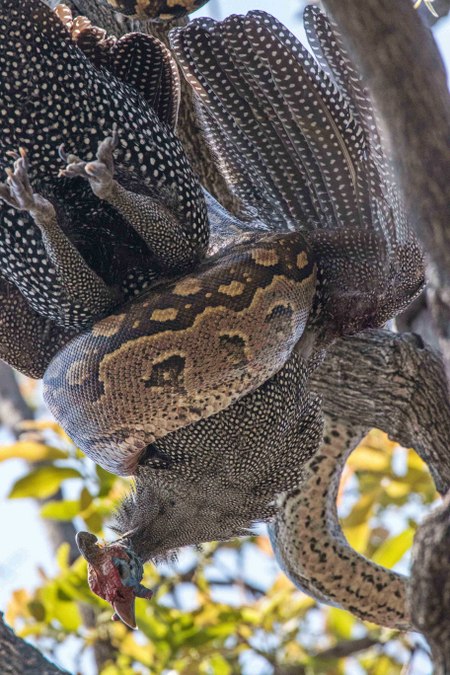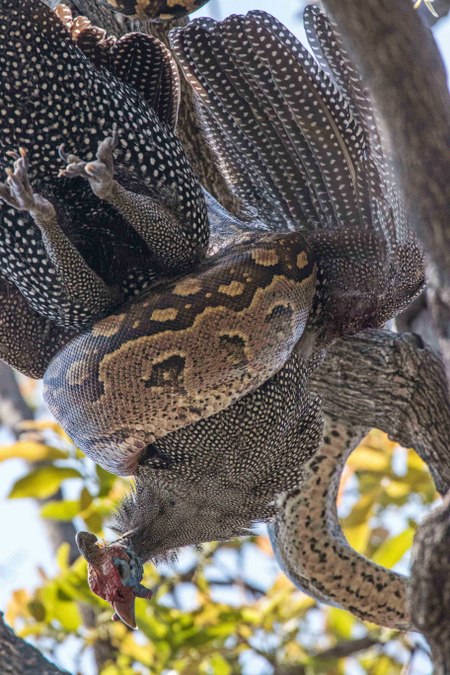 About two hours later we returned to our houseboat for breakfast before moving on to the next mooring point. Aboard the larger boat, I requested the captain stop at the sighting location as the viewing deck was substantially higher than our small photographic boat had been.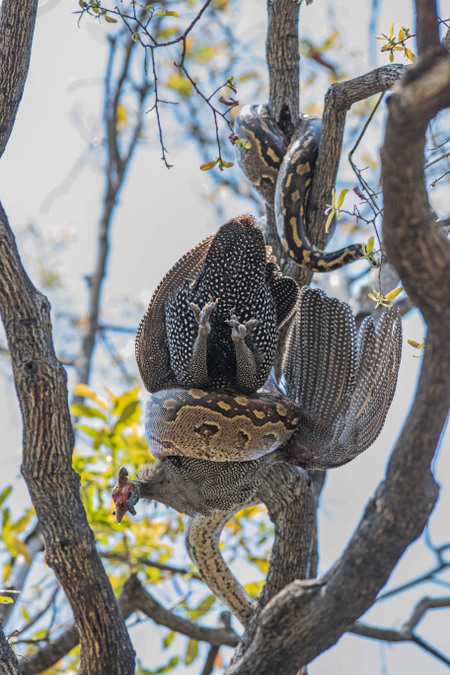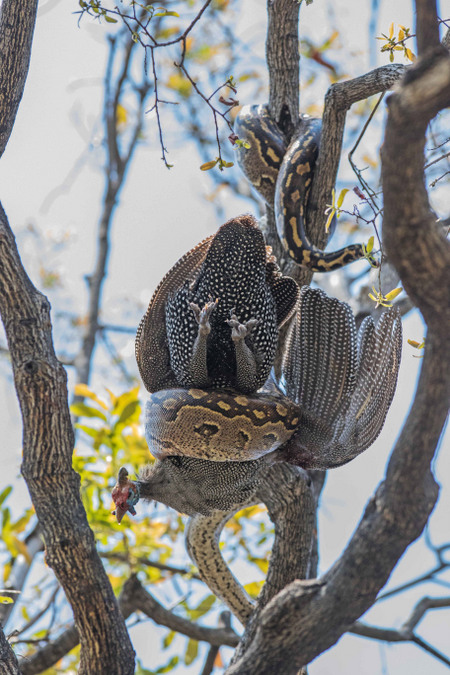 From here we were almost at eye level with the python and its freshly caught meal, and with great enthusiasm and excitement the camera shutters started going off.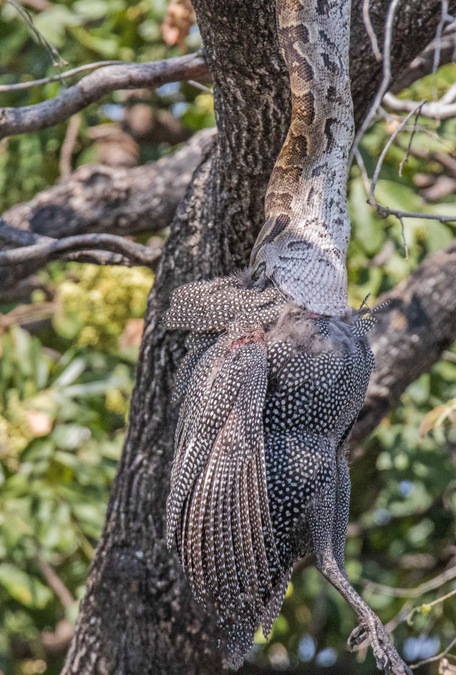 As we watched, the snake slowly released its grip of the guineafowl (which we presumed was now dead from suffocation) and let it go. The snake then dropped its own full length down the tree, tightly keeping its hold on the branch by its tail.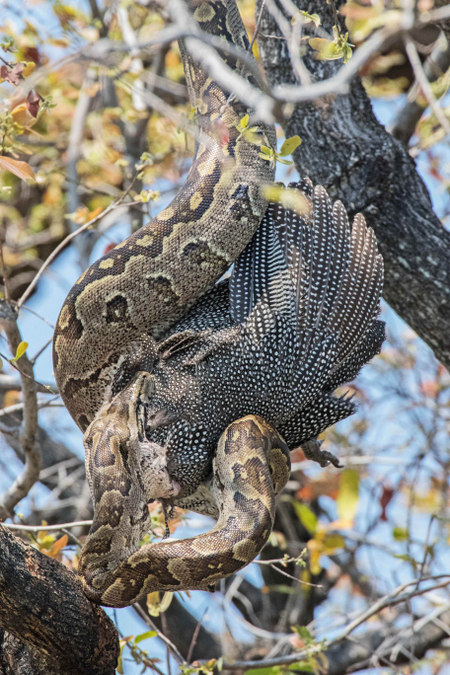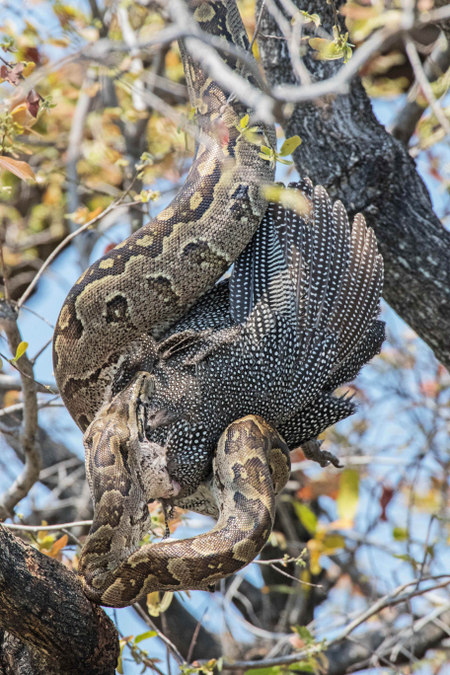 We waited with bated breath to see the next move.
Gently, yet powerfully, the snake pulled its catch back up to the branch it was mounted on and slowly started consuming it. What a sight!
Sadly we were running against time and had limited opportunity to shoot this amazing sight, but fortunately we had enough time to capture the beginning of a well-deserved guineafowl meal.