We didn't plan to arrive in Namaqualand National Park on the first day of spring – we had a rough plan for our trip north to Namibia and at the last minute we booked in at Skilpad Wildflower Reserve section of the park. This was our first stopover and a perfect way to begin our adventure.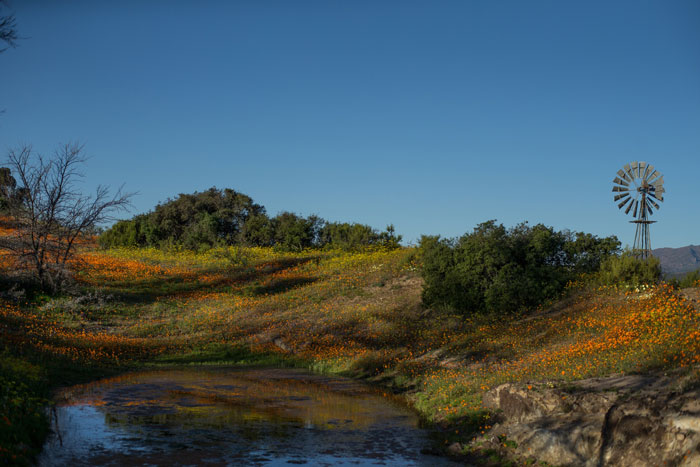 Namaqualand, also called the succulent Karoo, is a low-rainfall desert. With its winter rainfall, Namaqualand is home to the richest bulb flora of any arid region in the world. Every year the timing of the flowers and their quantities vary somewhat. But somewhere between August and the beginning of October this dusty stretch of land springs to life in a whole different way.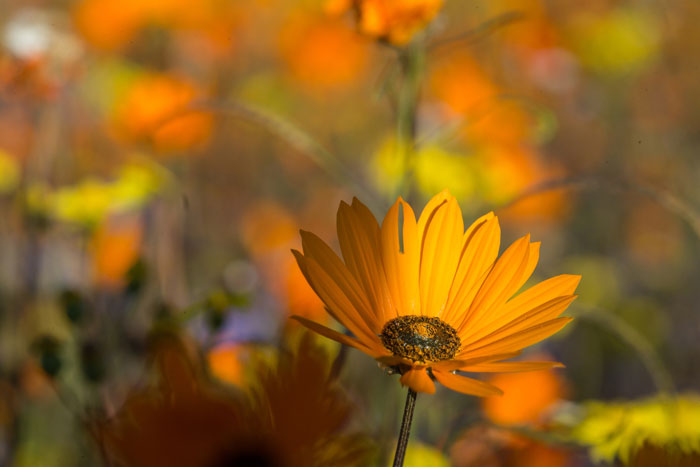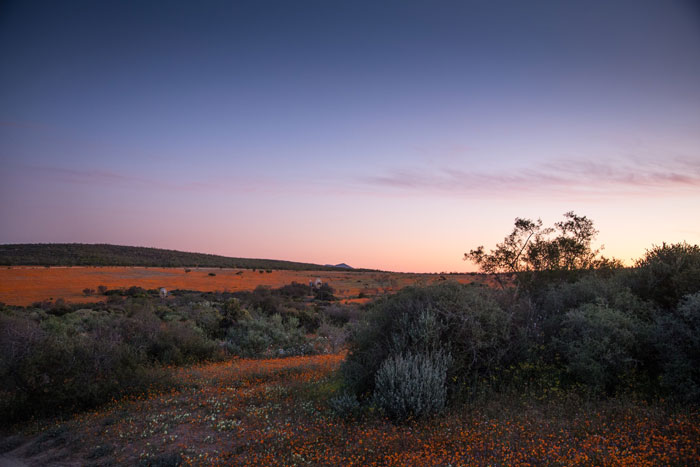 We immersed ourselves in it by setting up our rooftop tent facing eastwards towards a mountainside covered in wildflowers. No matter where you walk in this section of the park you are greeted by colourful flowers nodding in the sun, the most common being the orange daisy.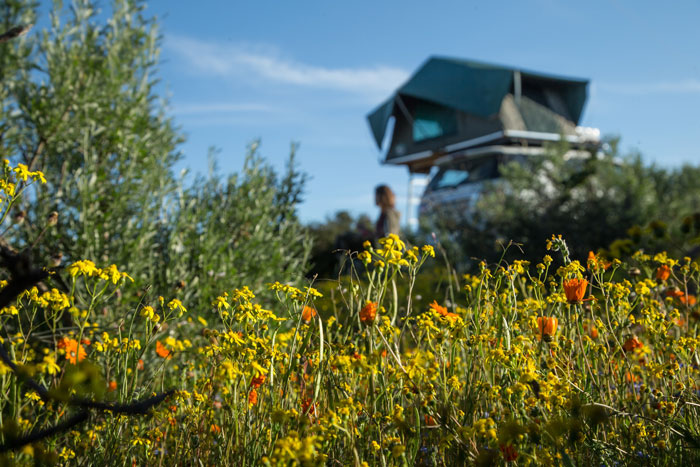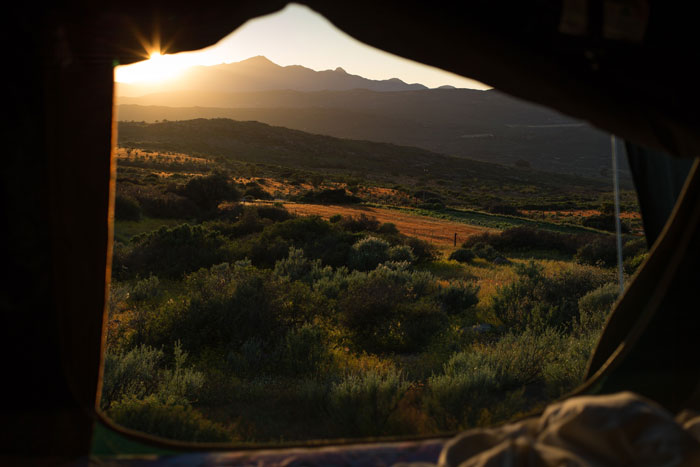 On our first evening, we saw a dog amongst these flowers and rocky outcrops. He was almost patrolling our area and the surrounds and didn't respond to our calls like most dogs would. This was a dog on a mission, fit with a thick neck, broad head and strong body. When we started asking questions we discovered the amazing Anatolian shepherd dog breeding project that is based at Namaqualand National Park.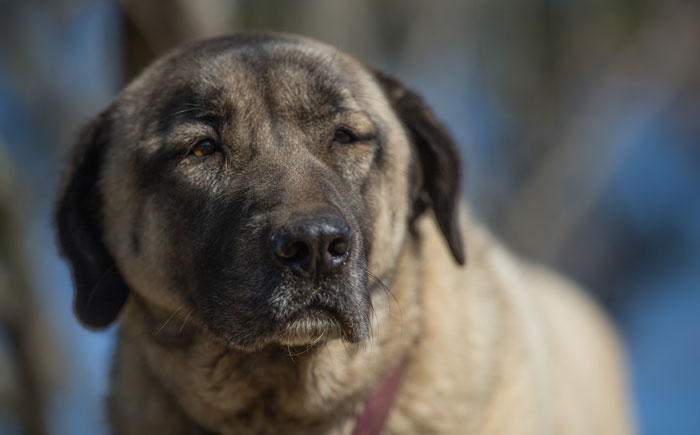 Learning about this innovative project that assists in conservation in this area, and experiencing it, was most definitely a highlight for us. The Anatolian Dog Project based in the Namaqualand National Park has been helping to breed and provide these dogs at an affordable price to local communities and farmers that cannot pay full market value for these dogs. We were fortunate to meet a new litter of three pups as well as some of the older Anatolian shepherds. Roland from SANParks taught us about this project and the amazing impact it is having.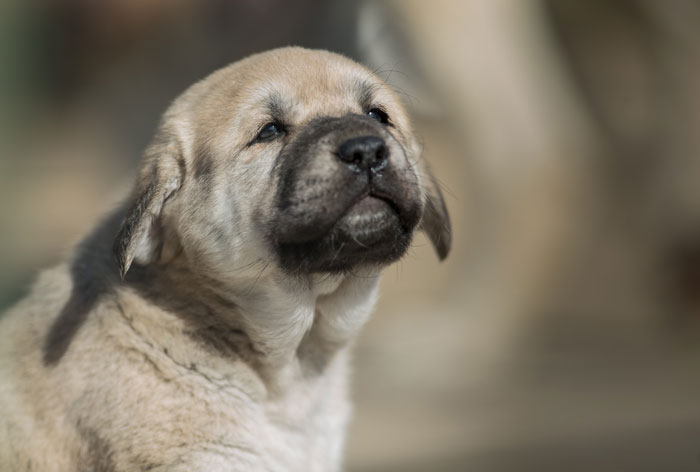 The Anatolian shepherd dog originates from Turkey, where locals have used them to protect their flocks from wolves and bears for thousands of years (and continue to do so today). The Cheetah Conservation Fund, which has its headquarters outside Otjiwarongo in Namibia and is lead by Dr Laurie Marker, was the first to revive this ancient method of non-lethal predator control in Africa and aggressively champion its cause.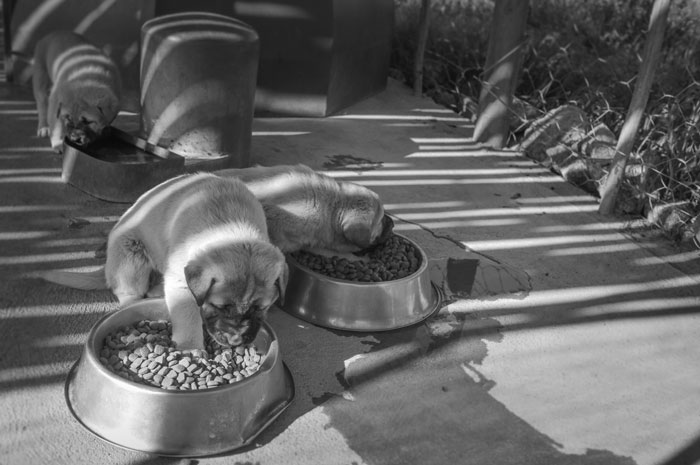 Anatolians begin bonding with livestock at a young age (6-8 weeks) and quickly become extremely protective of their 'family'. Should their flock be threatened, these dogs will defend them furiously – however, the difference is that the Anatolian shepherd dog will not hunt or chase predators over a large distance and leave their flock unguarded. A battle with a predator happens rarely as their mere presence and warning bark is enough to keep these predators at bay. The neighbouring farmers in Namaqualand have reported a significant decline in the loss of livestock. Numbers have decreased from farmers losing 30-40 sheep per year to 1-5 per year – if that. This has a huge impact on their income and livelihood. It also means that they are less likely to use snares and other traps to fend off predators.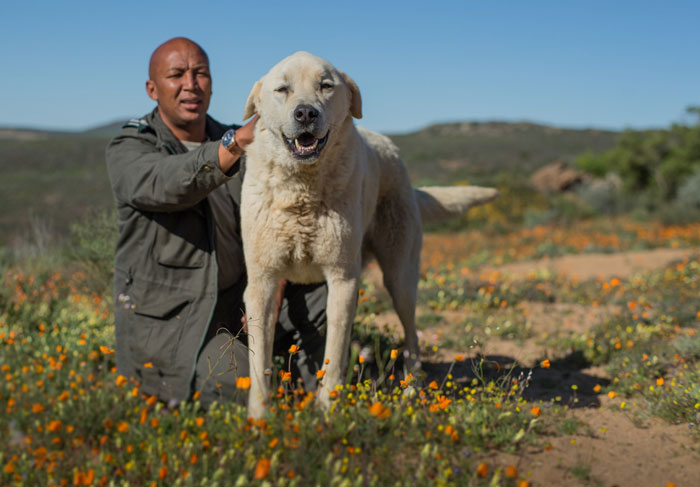 Coming from a conservation background and having lived in Kruger we have heard of many examples of human-wildlife conflict with little solution. Using these dogs instead of traps increases the chance of survival of small mammals on private land – many that are of no threat to the livestock but are injured or worse due to traps laid out to fend off unwanted predators. This includes small mammals such as aardwolf, aardvark, genet, African wildcat, honey badger, bat-eared fox, and even mongoose and tortoise. Therefore this initiative has more than one positive effect – these dogs create an amazing balance within this area. This is so good for the genetic pool of wildlife within the national park as the animals interbreed across land borders and fewer small mammals leaving and entering the Namaqualand National Park will be killed by traps and this benefits the entire Succulent Karoo Biome.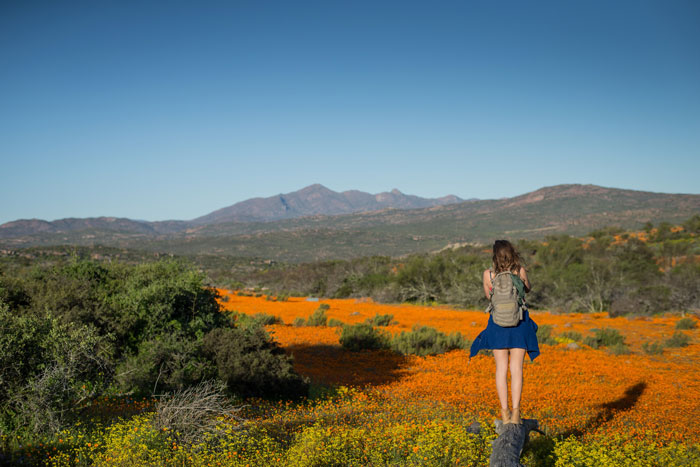 The project does require experts, and headed by Elanza van Lente, it assists the farmers too by teaching them how to look after these animals. These are working dogs, and therefore very different to domestic animals – one needs to know how to properly care for these dogs, and supervise them in order for them to be effective, happy and healthy.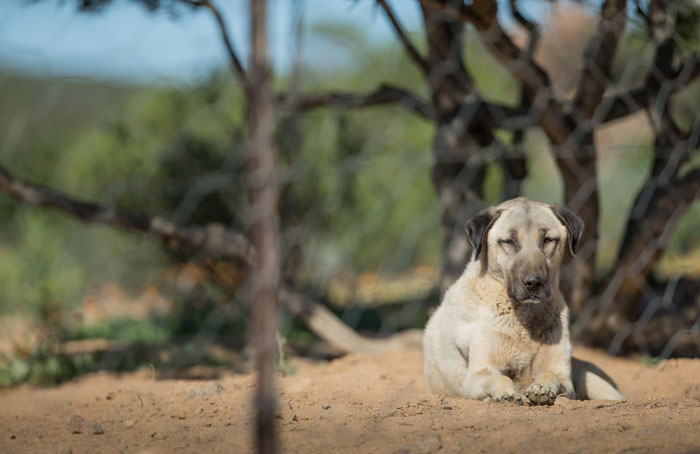 The puppies were beyond cute – but no human interaction is allowed and those managing the project are extremely diligent in this regard. Once they leave their mother's side they bond with the shepherd and livestock at just 6-8 weeks old and become a 'family'.
This project was uplifting to learn about and experience. Well done to Elanza van Lente and her team for their hard work and dedication in implementing it – the benefits to the area, to conservation and to the local farmers are benefits we can all be grateful for in the long run.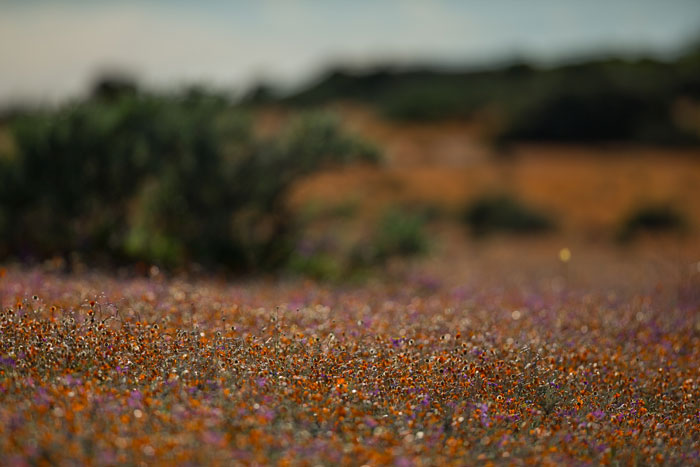 To comment on this story please join our PRIVATE TRAVEL & CONSERVATION CLUB. See details below.

---
HOW TO GET THE MOST OUT OF AFRICA GEOGRAPHIC:
Join our private travel & conservation club (mobile app and desktop) to enjoy significant benefits, including the best prices at Africa's top lodges and networking with others like you. Find out more here.

Subscribe to our weekly newsletter to enjoy more stories like this. Subscribe here.
Travel with us. Travel in Africa is about knowing when and where to go, and with whom. A few weeks too early / late and a few kilometres off course and you could miss the greatest show on Earth. And wouldn't that be a pity? Search for your ideal safari here, or contact an Africa Geographic safari consultant to plan your dream vacation.
---