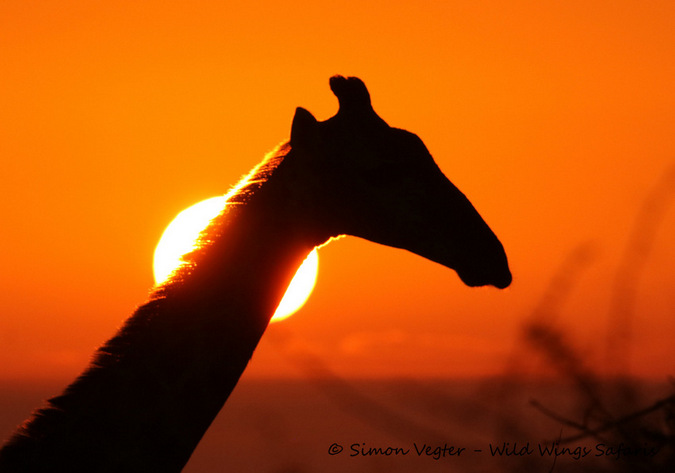 You've finally made the decision! The African safari of your dreams is about to become a reality. But what can you expect while you're on safari? What is a typical day on safari like?
It's apples versus oranges out there…
Firstly, the daily itinerary will differ depending on where you go. There's quite a difference between going on safari in a national park versus a private reserve. And there are differences from reserve to reserve.
A safari to the Serengeti will differ from a safari to Sabi Sand Private Game Reserve, or Kruger National Park, or Etosha National Park. Each destination, lodge or camp, setting and tour has its own feel and 'flavour'. Just one more reason why going on safari is so addictive!
And while it's impossible to guess or predict the various wildlife sightings and experiences you're about to witness, somewhere in the middle is a fairly standard 'routine' that a normal day on safari may look like.
Let's take a closer look…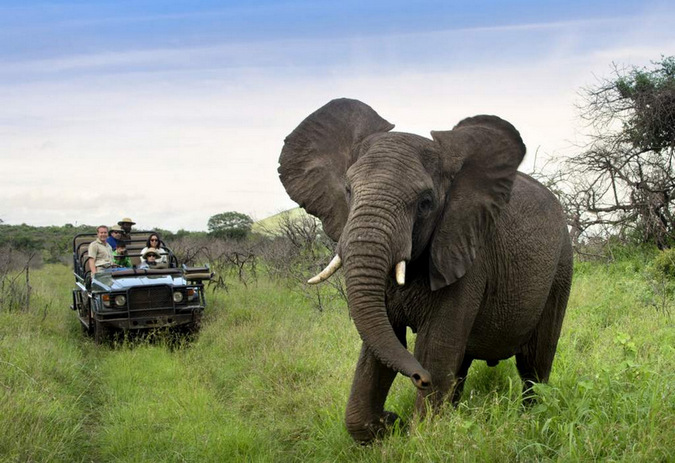 • Early, early mornings
Don't worry. Even if you are one of those who struggles to leave the sanctuary of your bed before the sun is almost overhead, you will not regret getting up early on safari. It's the best time for game viewing.
As soon as the sky streaks with the first rays of dawn, it's time to get up, grab a coffee, tea or hot chocolate, a muffin, croissant or local biscuit (like the delicious dunking rusks of Southern Africa) and head out for a day's game viewing, usually by foot or by open safari vehicle.
In the summer months, this can be as early as 5 am, or around 6 am in the cooler winter months.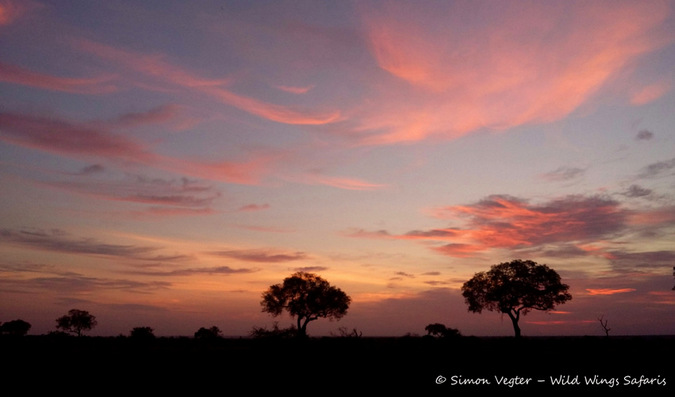 • Why the rush?
The animals follow the natural movements of the sun and its seasons. As soon as there's a hint of daybreak, they're up and going about their daily business.
If you're early enough, you may be lucky to see some of the nocturnal animals returning from their night's forage for food, or bloodied lions fresh from a kill looking for a comfy spot to rest for the day.
Most of the animals are more active in the early mornings, before the day heats up. Depending on the game viewing, the morning's activity usually lasts about 3 – 4 hours.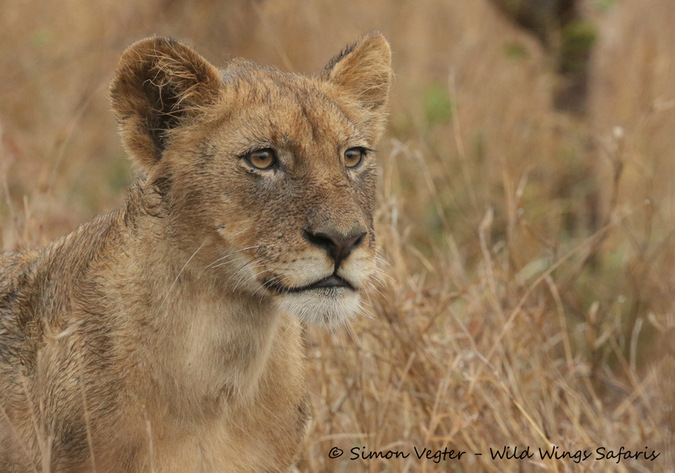 • Back in time for breakfast/brunch
When you get back to camp, you'll enjoy a hearty breakfast buffet with all the trimmings.
Or perhaps you may enjoy a pre-arranged breakfast picnic at a stop along the way, especially if a full day's game viewing is on the cards. This isn't always offered, but on some safaris it is possible to stay out all day on a game drive.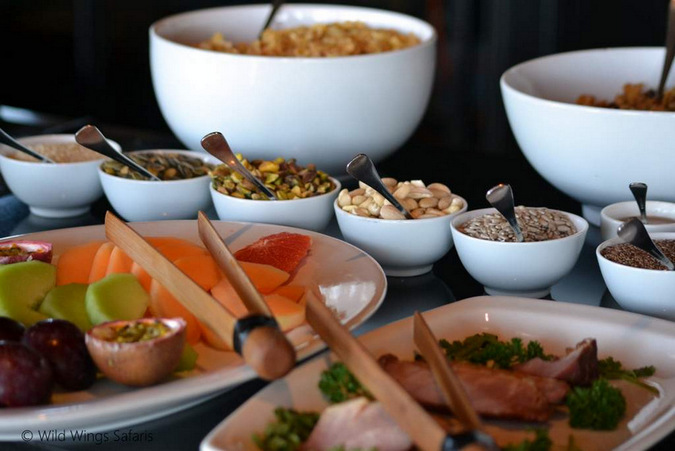 • "Mad dogs and Englishmen go out in the midday sun" ~ Noël Coward
The heat of the day (roughly 11 am to 3 pm) is not the best time for game viewing. During the hot months, the animals will be lying low, seeking out any available shade to rest in.
That said, as with anything to do with nature, expect the unexpected. No two days or two game drives are ever the same.  Sometimes the most spectacular sightings can be seen midday – a cheetah on the hunt, for example.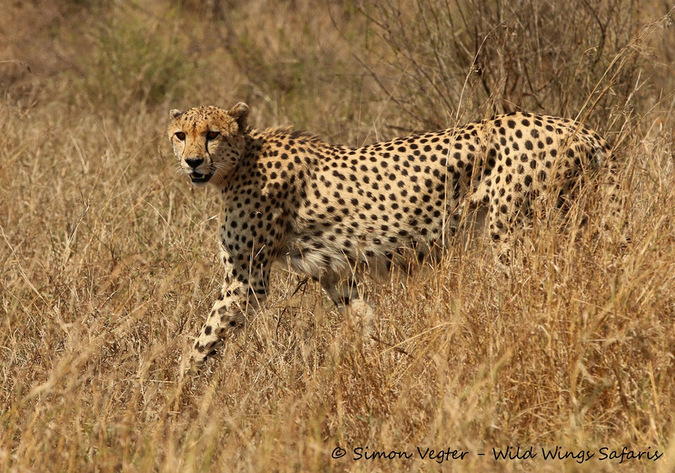 • Long and leisurely lunchtime
This is the time to relax and read your book, look up information about an animal, insect, bird or plant you've seen, enjoy a refreshing swim in the pool, laze on the deck with a cool cocktail in hand or simply enjoy the alternating silence and sounds of the bush.
If your lodge overlooks a waterhole, you may be lucky enough to do some game viewing from the comfort of the shady deck.
Depending on what time you had breakfast/brunch, a light lunch might hit the spot. With a full stomach, both humans and animals alike enjoy a siesta.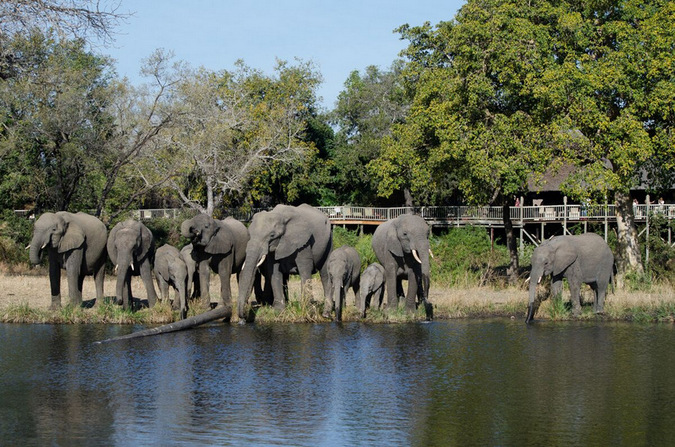 • Action in the afternoon
Once the day starts to cool, around 3 pm to 4 pm, it's time for some tea and snacks before heading out for the afternoon/sunset game drive.
In national parks, this could be earlier to allow enough time before gate closing, which is seasonal. In Kruger Park, for example, camp gates open between 4:30 am and 6 am in the morning, and close between 5:30 pm and 6:30 pm in the evening.
In the late afternoon, animals are once again on the move. Predators are out looking for their supper. Anything can happen and often does!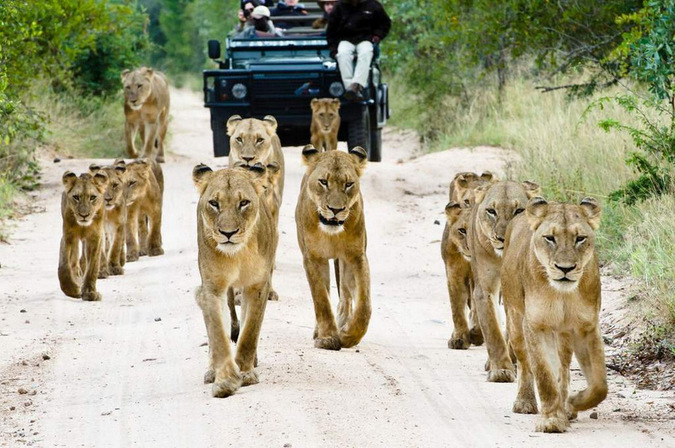 • Sunset sundowners
In private reserves where your game vehicle is allowed off road and to make bush stops, your guide will find a nice (and safe) vantage point where you can stop, enjoy sundowners and snacks and watch the sun set – a special and spectacular sight!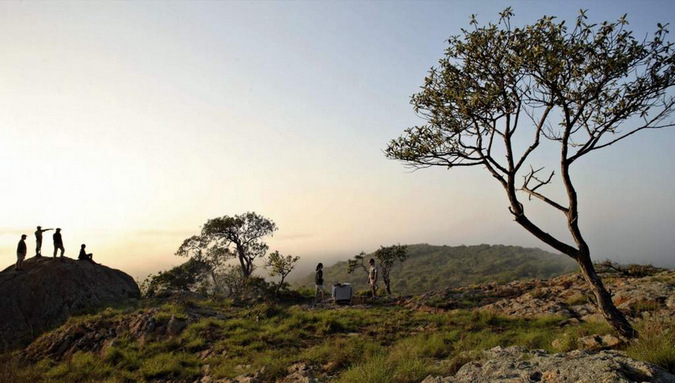 After that, you make your way back to camp, trying to spot the more elusive nocturnal animals with spotlights.
At the very least, you're bound to see a few nightjars, scrub hares and springhares. At best, you may spot those shy, rare species like anteaters, civets, aardwolves and the like.
Leopards are also quite active at night.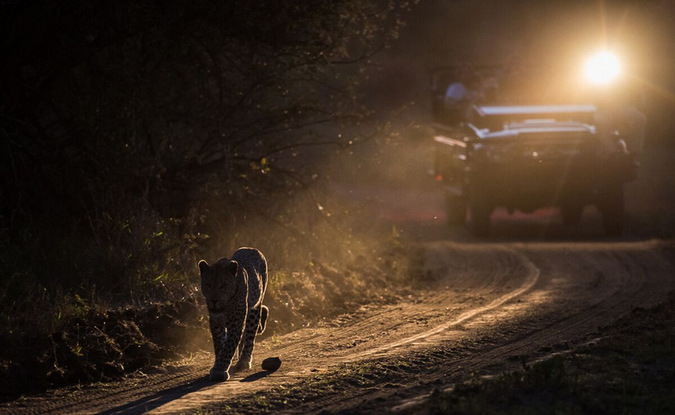 • Delectable dinners
If you're back early enough, you may get a chance to freshen up before dinner – which is always a sumptuous affair. Dinner may be served in the lodge's dining area, on the deck, in the open-air boma or at a romantic, intimate setting for honeymoon couples or by special request.
Some lodges also offer dinner entertainment by local musicians and/or dancers.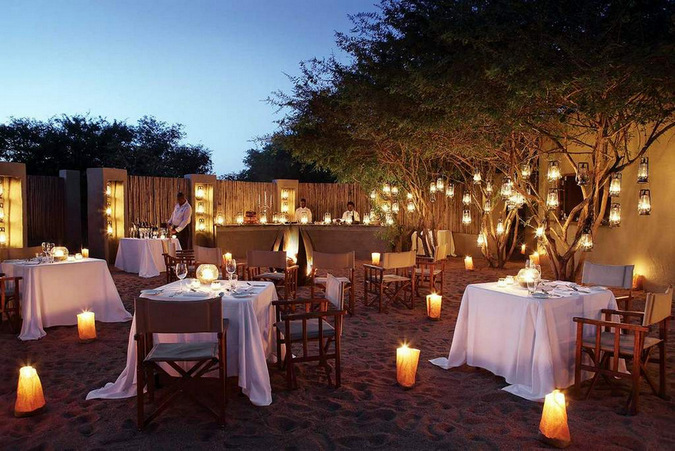 • Campfire tales
If you're not completely worn out by then, an inviting campfire is never far away. Join your fellow safari goers and guides to chat about the day's highlights, safari anecdotes and the possibilities that await you tomorrow.
The African night skies (weather permitting) are a sight to behold!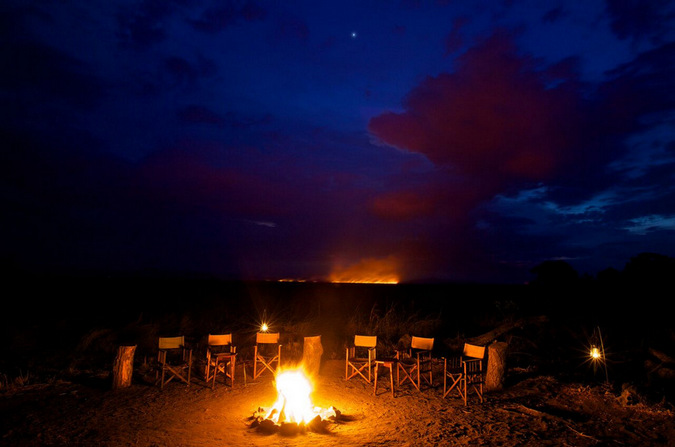 • La-la land
Finally it's off to sleep and perchance to dream, most likely beneath your swathed mosquito nets, in anticipation of waking to a bright new dawn and all the sights, sounds, smells and sensations you can look forward to.
And who on Earth knows what the next day might have in store for you?