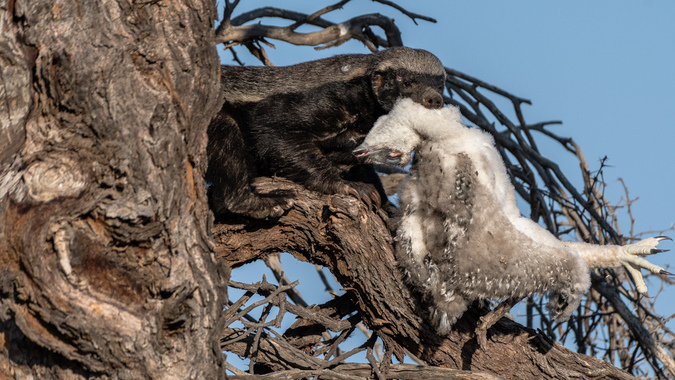 Written, and photographs, by Jacques Blignaut
One can never dictate to the bush what you want to see. You may have a wish list in your mind of what you would like to see, but it is never guaranteed that you'll actually see anything that's on your list. I have learnt this over many years of going to the bush and I always go with the attitude that everything I see is a bonus.
Then there is that one special sighting that comes along out of the blue – something that you would never expect to see in the bush and one that would probably top most wish lists!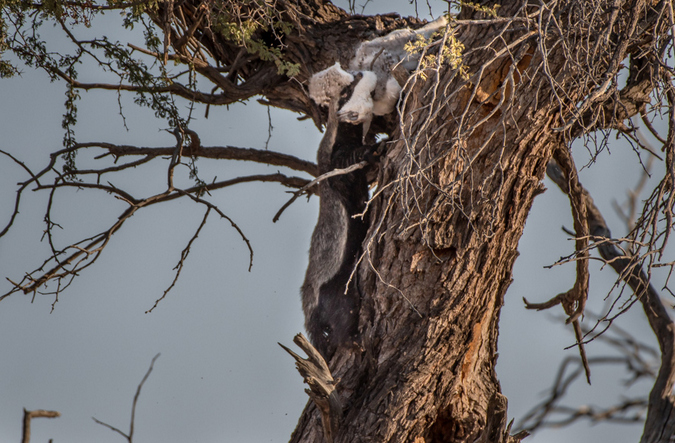 We were in the Kgalagadi Transfontier Park in South Africa in August, and according to local sources there was a martial eagle and her chick nesting close to Veertiende Boorgat. We were excited at this news as I had never seen a martial eagle chick before, and decided to go and visit it later that evening.
We arrived at the nest but could not see the eagle nor the chick. So we decided to take a drive down to Derdiende Boorgat and then turn around and come back to the nest later. Upon our return I was happy to see the eagle was back and that there was a good chance we would be able to see her chick now.
But then I noticed something seemed not quite right…
The next moment a honey badger appeared in the nest! He had caught the chick!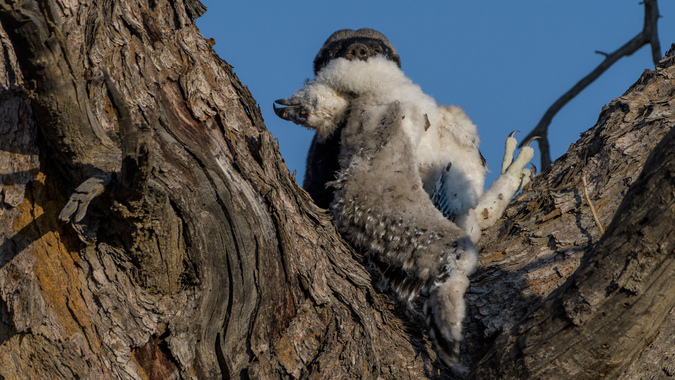 I could not believe my eyes. We just watched on stunned as the badger made his way down the tree with the chick before making a quick getaway.
It is unclear if the eagle mother tried to attack the badger to protect her chick while it was still alive, as we only arrived at the scene after the chick was killed. While the badger was making off with the chick, the eagle just sat at the top of the tree and watched the whole episode unfold before her, uttering alarm calls every now and then. She did not attempt to attack the badger in the tree or when he dragged the dead chick out into the open.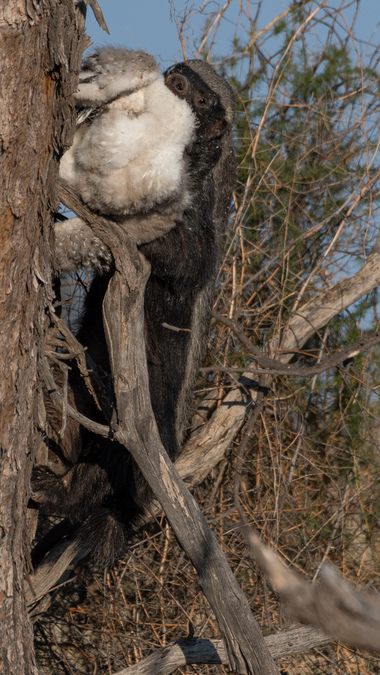 We drove away five minutes later in disbelief. Never in my life had I seen anything like this – not even the black-maned lions of the Kalahari can beat this. This was definitely the most memorable sighting I have ever seen, although at the same time quite sad as the martial eagle only lays one egg about every two years.