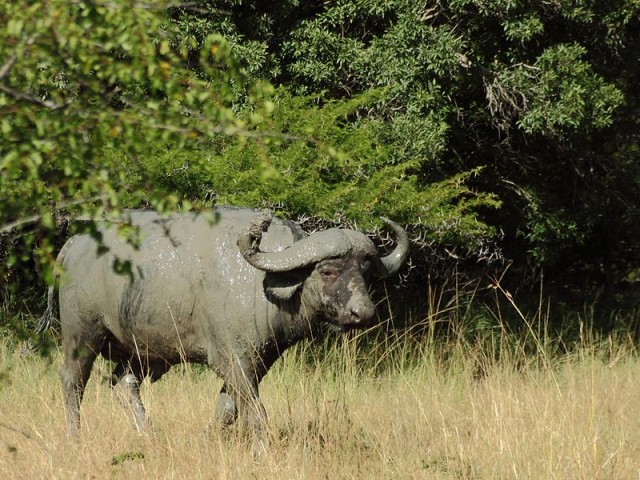 On 9 January 2013, the Zambian Minister of Tourism Sylvia Masebo – responsible through its board for the parastatal the Zambia Wildlife Authority (ZAWA) – called a meeting at very short notice in Lusaka of all the hunting-safari stakeholders.
Vice-President Scott attended. Rolf Shenton, the former MP for Mkushi whose father Barry brought the first white rhino to Zambia, reported on the meeting in Safaritalk saying that 'No hunting areas were allocated yet as community representation was poor …'.
The Minister had obviously forgotten that summer rains were pounding down and that to extricate chiefs from their sodden cotton-soil valleys at short notice would take a Vietnam War fleet of helicopters. The online Zambian Watchdog, Macebo's bête noire for being critical of the forthcoming Sata/Mugabe 'forward with the cock' fest at the UN World Tourism Organization General Assembly to be held in August 2013 at Vic Falls, reported that Masebo had not cancelled the tenders but delayed them, that lion and leopard hunting was now banned, and that she was involved with a cabal of unsuccessful applicants for concessions.
In September 2012, Zambia's Vice-President Guy Scott had called for reforms of ZAWA in order that villagers benefit from safari hunting. Ten years earlier he had motivated just such an attempt in Chief Mpumba's area of Mpika district. He, together with the present Minister of Justice Wynter Kabimba and Rolf Shenton established a community trust so that some of the Mpumba customary land could be alienated to it for the benefit of Mpumba's people. Their second objective – increasing responsiveness and accountability for the distribution of safari revenues – was addressed successfully through legal action taken on behalf of some specific customary communities who had not been paid their share of safari earnings.  Scott was therefore again saying that ZAWA owed communities money from hunting.
These communities are represented under the Wildlife Act of 1998 by elected Community Resource Boards. They are supposed to receive 45 percent – the chiefs 5 percent – of concession and license fees. The CRB is supposed to divide its 45 percent as follows: 20 percent to administration, 35 percent to community projects, and 45 percent to pay village scouts.  The agreement governing hunting concessions is the tripartite Hunting Concession Agreement between the CRBs and their patron the chief,  ZAWA, and hunting-safari operators.
As of 2011, ZAWA admitted it owed CRBs $1.4 million, though for years it denied this,  its Director of Conservation, Melody Simwanza, refusing to accept that anything was owed – despite the fact that I had given her evidence to the contrary from the West Petauke hunting concession that was part of my chiefdom development scheme.  In September, Minister Masebo instructed ZAWA to open a separate account for the CRBs and to revise the tender documents for hunting concessions for the period from 2013.
Despite many of the chiefs being summoned to decide with ZAWA on the successful bids, they stayed at Andrews Motel near the ZAWA HQ  for nearly a month without being consulted; ZAWA making its own selections on the basis that one of the selected applicants, Royal Zambezi Wildlife Safaris, had Chieftainess Chiawa as a shareholder and that the chiefs would therefore be compromised if they participated. The chiefs promptly petitioned President Sata.
On 26 December ZAWA handed their list of successful bidders to Masebo. On 31 December Masebo announced that the ZAWA Director General Edwin Matokwani, the Acting-Director of Conservation (in charge of CRBs) Melody Simwanza, and three others had been fired for corrupt practices in awarding the hunting concessions; one of the charges being that they had failed to consult with the CRBs and the chiefs. However, allegedly the main reason was that the merchant Gulam Patel had obtained six concessions in the names of his family members, and was a silent shareholder in another four. This is the same family with whom I had fought a long battle over their illegal alienation of part of the West Mvuvye National Forest, they being in cahoots with the former traditional owner of the land, Chieftainess Mwape (until recently a member of the ZAWA Board), the Nyimba District Council and the Commissioner of Lands. In 2007, a new hunting block, Mafunta GMA had been corruptly awarded to Zaeed Patel, son of Gulam. This was reported to the Ministry of Tourism with no action taken by them.
According to The Times of Zambia of 11 January, the Tourism Minister has now banned hunting in 19 Game Management Areas for one year, but not in some other GMAs, nor on privately-owned game ranches – provided the latter are game fenced, hold the necessary game ownership certificates and are members of the Wildlife Producers Association of Zambia.  Leopard, lion and elephant hunting are closed everywhere. In a stroke, the Zambia Wildlife Authority, already with a  debt approaching $20 million, will be left without most of its income, 19 of the 35 GMAs without functioning Community Resource Boards – their unpaid village scouts and ZAWA Wildlife Police Officers further stimulated to poach, the 19 or so chiefs without their normal five percent of concession and trophy fees, the villagers without project funds.
The Minister's promise to 'mobilise human, material and financial resources…and rehabilitate under stocked or depleted GMAs' is impossible given that the Millennium Development Goals, the National Adaptation Plan of Action around climate change, and a host of other donor programmes and projects have failed to do so for 50 years. Hints at engaging with 'private game developers' such as the controversial African Parks, a commercial operation, will not solve the problem, only add to the disenfranchisement of villagers. Nor can photo-safaris come to the rescue. In Zambia they perform a sterling job but there are few good photo-safari areas and they do not cover much territory. Both hunting and photo-safaris face massive obstacles around the rainy season and porous cotton soils that limit accessibility in the rains. In one Luangwa hunting concession in 2012 over a four month period, despite having three tourist lodges on the river, the professional hunter found 40 elephant carcasses.
It is worth remembering that in 2001 President Chiluba cancelled safari leases with ZAWA losing $4.7 million of income over two years.  As I reported to Vice-President Enoch Kavindele at the time, the onslaught on wildlife that followed was horrendous with disaffected officers on strike joining the killing fields, a situation redolent of the '70s and '80s when elephant went from 350, 000 to about 25,000, the black rhino – once ubiquitous – extinct.
In Ian Michler's blog in Africa Geographic entitled, Fingers off the Trigger we enter into the whole very heated and emotional pro and anti-hunting debate and see the strong evidence of the workings of group polarization.  Given the realities on the ground this debate rarely surfaces in Zambia.  Michler  – who exposed the wildlife trafficking of criminal gangs removing sable illegally from Zambia – advocates we close safari-hunting – as Botswana has decided to do for the 2014 season onwards. The effect of a ban in Zambia where hunting-safaris have been conducted for 120 years or so would be to extinguish ZAWA's income and allow open-access to the concessions because of a 40-year highly centralised and autocratic government having failed to protect and empower the chiefdoms.  Extinguish ZAWA's income by all means, but let us first re-establish the Game Department – of which I was a proud member, which is what President Sata had promised me in 2007 he would do. The recent instruction by the Minister of  Finance in Zambia that all parastatals (ZAWA) have to register on the Lusaka Stock Exchange, followed on from the mad-hatter decrees of the MMD Tourism Minister Namugala to make wildlife a profitable enterprise for ZAWA and begin cropping in GMAs to supply butchers and translocate wildlife from National Parks for the live animal market. Like her prescriptions for climate change, this is madness.
With fortress conservation and photo-safaris protecting Zambia a forlorn hope, the only way forward is devolution. But this is a political problem. The autocrat in State House does not want to see power go to the 94% of the country under the chiefs and the building of a canton-type federal state. Just look at what was meted out to Barotseland, once an African success story of note whose indigenous knowledge and management systems under their guardians of nature were first codified in 1936, later destroyed by Kaunda in July 1964 by his shameful abrogation of the Barotseland Agreement 1964 – the very agreement which had paved the way for Zambia's independence. After all, my Landsafe socio-ecological model for the development of chiefdoms followed similar principles and it too was destroyed when I attempted its implementation. There are powerful forces arraigned against devolution, an array of emergency security legislation still in place that can see you interned for waving a flag outside your hut. Ask the current political parties in opposition; ask the Barotse, ask numerous investors.
Looking at Botswana, another 'home patch', I suspect that they – the cattle-owning 'Big Men' – have decided to close hunting safaris because they want the land for cattle. After all the rangelands are being privatised due to the neoliberal agenda mounted by the elite, cynically putting forward claims of supposed overgrazing by villagers' cattle and therefore the need to introduce a modern system that will not degrade the land – a familiar criticism of the way the cattle power industry has operated for years.
I remember the veterinary fences at Makalamabedi, and later, the Ncojane and Makalamabedi cattle schemes, the veterinary fences at Phuduhudu, the deaths of many hundreds, thousands of wildebeest, and the invasion of the Central Kalahari by Kgalagadi horsemen and their cattle that newly struck boreholes had made possible. And I remember too when in 1977-78 the Botswana Government allowed, for the first time since lion were classified as vermin in Bechuanaland days, a cattle owner or his agent to kill any lion coming anywhere near his cattle. This opened up the trade in lion skins, a disaster outside of the Okovango and other tsetse-free areas, particularly in the sand country where lion spoor is so easily followed from the comfort of a vehicle. It was the sole reason I sold my hunting and game management company in Botswana.
In Zambia some of us have warned for years about the overshooting of lion and some other species, quotas there being a reflection of the number of safaris required in each concession by ZAWA to meet their income targets and to adhere to the predatory and exploitative Hunting Concession Agreement. The chickens have come home to roost.
As I wrote in Out of Zambia:
 In 2009 the lion quota was drastically cut. In 2010 the ZAWA Board wished to remove it completely but relented after pressure brought to bear by some members of the industry. From a cursory examination of current lion research results to which my company had contributed skulls, it was clear that a preponderance of sub-adult males were being shot. A seminal contribution in 2007 to lion management in Zambia – with the objective of the long-term management of the species, as well as to justify its retention on Appendix II of CITES – by the consultancy firm International Conservation Services, concluded that lion populations were being depressed by poaching of prey species and that certain GMAs needed to be rested.

The study also challenged the rigid classification of hunting areas and quota allocations that are unrelated to the resource, recommending that should success rates fall below 70 percent for two years a reduction in quotas should occur. The study questioned the inequitable financial and administrative burdens placed on operators. It also, for the first time in over 100 years of the safari-hunting industry, made a lucid presentation of the biology of lion harvesting, pointing out that it should be carried out at the level of the pride, not at the population level. The report also advised on the implementation of an operator certification process and, significantly, pointed out that a major threat to the sustainability of safari-hunting in GMAs was the failure to devolve adequate benefits to local communities, the lack of which reduces incentives for rural people to conserve wildlife. It also added that the primary linkage needed to be between the operators and the communities, not between operators and ZAWA.
In addition to the lion off-take problem is the insidious poisoning of carcasses to obtain lion and vultures for the 'tiger' bone and muti trade. In many areas lion are under grave threat – or like Bangweulu have already gone, because villagers had the means to do so. Stop hunting and you remove any kind of stewardship of nature in far-flung places – already completely unprotected in the rains. South Africa's white rhino were brought back from near extinction by safari-hunting, supplying the incentive to protect them, fortress conservation attempts having dismally failed. Kenya stopped safari hunting in 1972 leaving the bush vacant for the killing fields that followed, the scourge moving rapidly south.
Unlike Zambia, Kenya is accessible from Europe and ecologically diverse in space, easily attracting tourists to view their splendours; and they have aggressively empowered communities within conservancies.  Zambia has no such luxury with vast areas of forest with few wildlife hotspots and villagers living in the concessions already 30 percent poorer than their fellows elsewhere. Conservation is politics.
To comment on this story: To protect you against trolls & misinformation, we only permit comments in our app. See how to DOWNLOAD OUR APP below.

---
HOW TO GET THE MOST OUT OF AFRICA GEOGRAPHIC:
Download our APP (mobile phone & desktop) to receive travel discounts, comment on our stories, make safe donations and network with others like you Find out more here.

Subscribe to our newsletter to receive our best stories in your inbox weekly and for travel discounts. Subscribe here.
Travel with us. Travel in Africa is about knowing when and where to go, and with whom. A few weeks too early / late and a few kilometres off course and you could miss the greatest show on Earth. And wouldn't that be a pity? Search for your ideal safari here, or contact an Africa Geographic safari consultant to plan your dream vacation.
---