Written by: Carrie Hampton
Walking into The Backpack in the centre of Cape Town is like taking a breath of fresh African air. It's a little Rainbow Nation idyll, where mutual respect and generosity of spirit abound in all the ways they really should, but very often don't. 
It's the perfect reflection of Fair Trade Tourism's six guiding principles of fair share, fair say, respect, reliability, transparency and sustainability. The Backpack already used such tenets to forge a path for ethical business since its inception in 1990 and it became the world's first Fair Trade Tourism accredited backpacking hostel.
Their interpretation of "fair say" is to let the staff decide on the rules of the workplace, which are integrated into the employment contract. One such example is that all staff give back by taking part in community upliftment at any of the projects supported by The Backpack. 
The beautiful, smiling Thando Zozo, receptionist and duty manager, told me that her favourite outreach programme was the GCU Academy in Heideveld. Their story is told through ex-gangster Mario van Niekerk, who fell in love with a woman who wouldn't have anything to do with his way of life unless he changed. And he did… so fundamentally that Mario started the GCU to get kids off the street and playing soccer, then skipping and drama, life skills and education. In 2006 he was helping 250 children; he now reaches 4,000 kids a week through school visits. Thando loves going there as there's always some activity, like sport, reading or homework under way where she can assist.
Another project beloved by The Backpack, that goes hand-in-hand with this, is Pack for a Purpose, encouraging tourists to pack something in their suitcase that will benefit community projects around the world. The Backpack started asking guests to put soccer boots and kit into their luggage; "It was amazing when we took the first load to GCU, the kids were beside themselves with joy," said Lee Harris, co-owner of The Backpack. "It's a gift that keeps on giving," she smiles.  
Every hour that Backpack staff spend doing community work is incentivised through a bonus in the annual 13th cheque. No giving back, no 13th cheque! Thando also told me about bursaries available to all staff, which for her meant the chance for her son to go to a really good school. Congolese security guard Michele used The Backpack bursary to further his bible studies to become a pastor.
There are too many ways to mention in which The Backpack, alongside Fair Trade Tourism, makes a meaningful difference towards creating ideal working conditions. Having witnessed it for myself, I really don't think anyone should run a tourism business without consulting them both!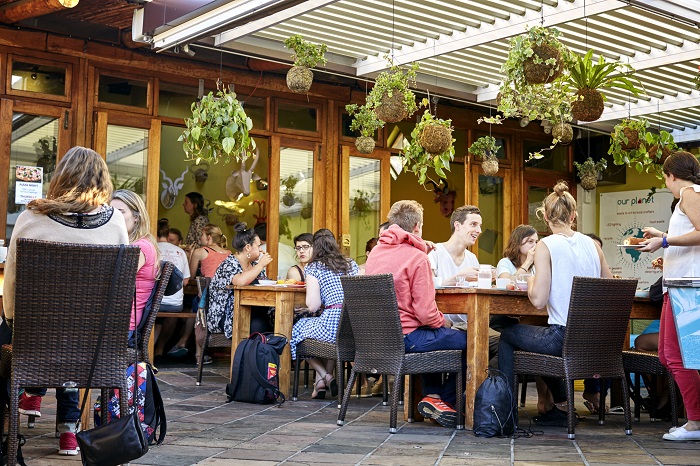 For more information on The Backpack and other Fair Trade Tourism establishments, visit www.fairtrade.travel