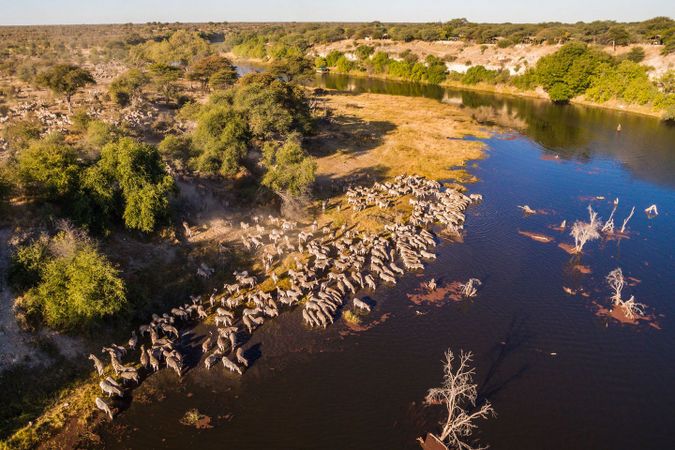 Written by Ayo Gospodinova
Ancient migration routes are again being followed, as fences come down and zebras take the paths once followed by their ancestors.
If you visit Botswana's Nxai Pan National Park during the dry season, when the arid landscape is as dry as a bone, it might be difficult to imagine that this region once witnessed the seasonal migration of hundreds of thousands of wildebeests and zebras that visit in search of lush, nutritious grazing. During the rainy season, the Nxai Pan transforms into a green paradise, with pools of standing water and lush grass and herbs as far as the eye can see.
Research has now shown that this seasonal migration may have been longer than the more famous Serengeti/Maasai Mara migration. Unfortunately, the rapid development of farming and beef production led to the construction of veterinary fences that stretch for hundreds of kilometres, across Botswana cutting off much of this migration route. Today some of these fences are being removed, and the ancient routes are being utilised again, leading to one of Botswana's best-kept secrets – the zebra migration.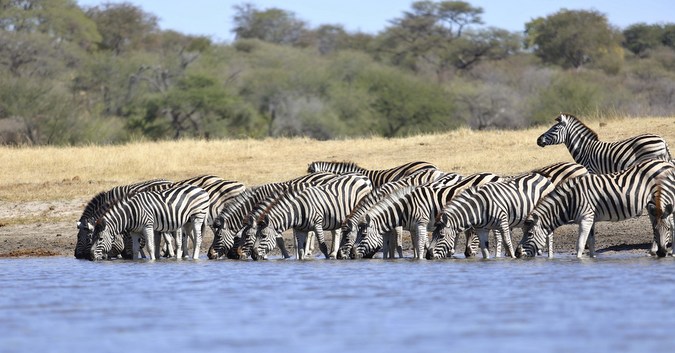 A study that focused on the zebra migration had eight adult female Burchell's zebras (Equus quagga) tracked via GPS collars. Research results indicate that the herd crossed the Chobe River on Botswana's border with Namibia, and moved south to Nxai Pan, at the onset of rains in the Pans area. This multi-country migration of zebras is the longest of all recorded large mammal migrations in Africa. The study was conducted by WWF and Namibia's Ministry of Environment and Tourism, in collaboration with Elephants Without Borders and Botswana's Department of Wildlife and National Parks.
As the migrating zebra would not have known routes followed by previous generations before the fences were erected (and subsequently removed), it has now been suggested that zebras have some form of instinctive ability to follow ancient migratory routes. This could be via genetic encoding, which explains how these black and white striped herbivores follow the same route corridors decades later.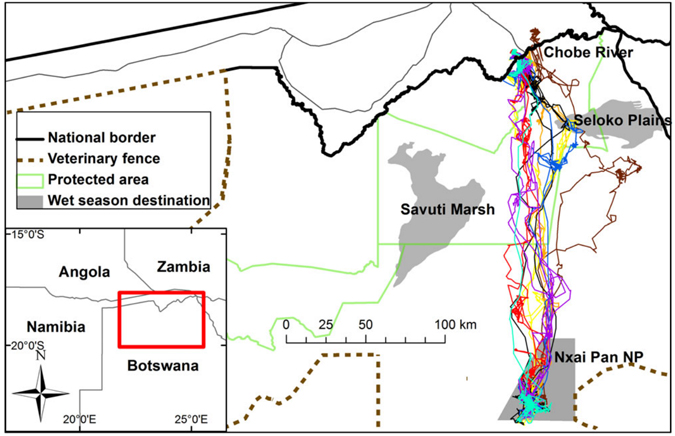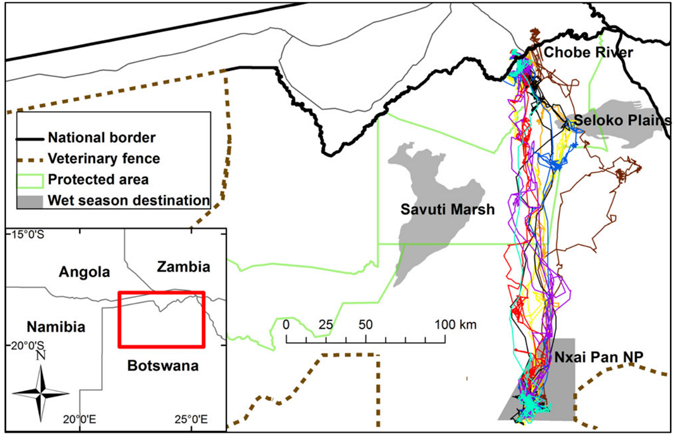 A completely different migration, the Okavango-Makgadikgadi zebra migration – that involves 15,000 zebras – was witnessed by researchers during 2008–2009 for the first time after the removal of a veterinary fence which was blocking an already existing route. This event also suggests that this may be a genetically encoded phenomenon.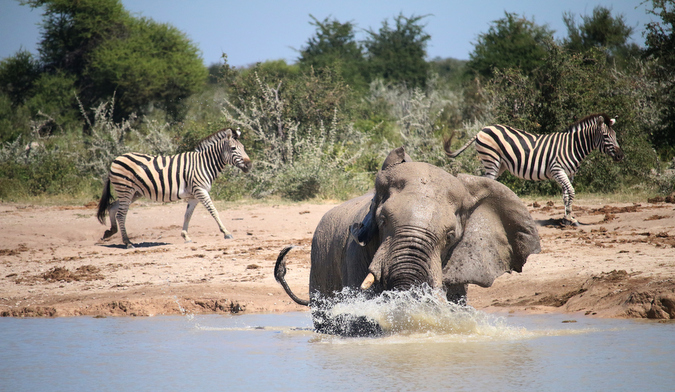 This 1,000 km return journey between the Chobe River and Nxai Pan is longer than the well-known Serengeti/Maasai Mara migration. And some of the zebras travelled far greater distances, if they diverted to other food sources en-route, before resuming the journey to Nxai Pan. The migration timing depends on rainfall during the rainy season of January to April. On one occasion (2012), researchers noticed that the zebras only embarked on their journey in December, several days after significant rainfall in the Nxai Pan area.
The migration occurs in the protected land of the Kavango-Zambezi Transfrontier Conservation Area (KAZA) – the largest transboundary conservation area in the world. It stretches across five southern Africa countries – Angola, Botswana, Namibia, Zambia and Zimbabwe, covering 440,000 square kilometres. This also shows how important it is for wildlife to preserve the raw wilderness of certain areas and to allow animals to move freely across the borders.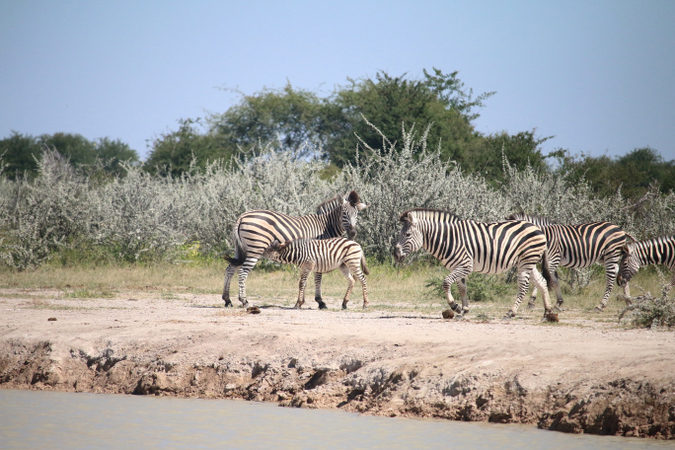 Migrations are vital for the ecosystems as they prevent over-grazing, and they ensure optimal utilisation of seasonal food sources. Predators such as lions, leopards and cheetahs and scavengers such as vultures, hyenas and jackals also benefit, as they follow the herbivores and predate on the weak and younger herd members. The best places to view this seasonal migration are Nxai Pan, the Makgadikgadi Salt Pans, and the Boteti River area.
Full report: Cambridge Core, Scientific Reports, R. Naidoo, M. J. Chase, P. Beytell, P. Du Preez, K. Landen, G. Stuart-Hill, and R. Taylor (2014): A newly discovered wildlife migration in Namibia and Botswana is the longest in Africa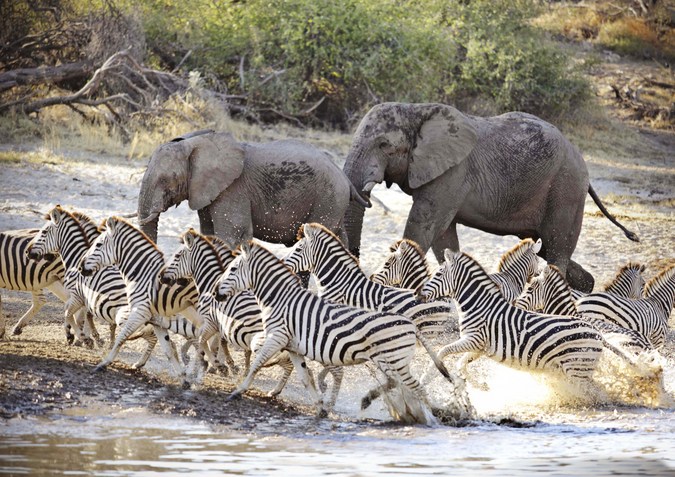 Subscribe to enjoy more stories like this.
---
TRAVEL WITH AFRICA GEOGRAPHIC
Travel in Africa is about knowing when and where to go, and with whom. A few weeks too early / late and a few kilometres off course and you could miss the greatest show on Earth. And wouldn't that be a pity? Search for your ideal safari here, or contact an Africa Geographic safari consultant to plan your dream vacation.