2,000kms, 20 days, 2 burst tires, and 1 unforgettably cold morning! A journey from Africa's equator to the dusty plains in the shadow of Mt. Kilimanjaro, to the dazzling turquoise waters of the Indian Ocean – and a couple of extra stops in between!
I live in Kenya. My girlfriend lives in the Netherlands. Therein lies the challenge as well as the opportunity. When she came out to Kenya at the end of 2016 we set out to explore this country. We knew Kenya was not going to disappoint!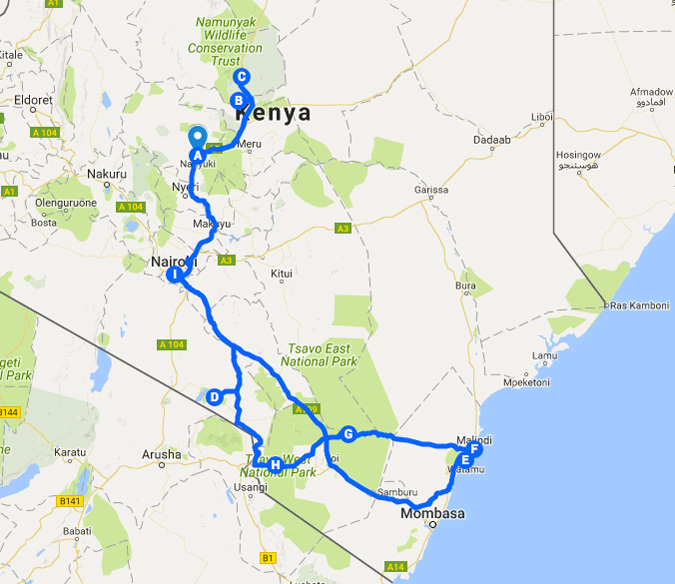 First up was a little hike up to the summit of Mt. Kenya located on Africa's equator. We headed up the Chogoria side of the mountain, undoubtedly the most stunning stretch, hopping from Lake Ellis to Lake Michaelson before launching our summit attempt from a miserably cold and windy basecamp at 4600m.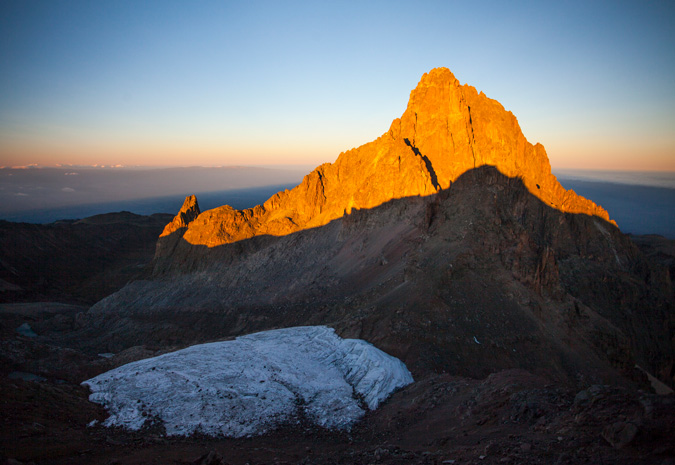 By 5:45am on the fourth morning we were just a stone's throw below the summit, huddling in a small cave with three Frenchmen as the wind blasted around us. We had climbed too fast and the wind-chill was unforgiving – we had to wait for the sun. Toes were being wiggled vigorously, gloved hands pounded frozen legs. Describing it as 'bitterly cold' would be an understatement.
For the life of me I couldn't remember what had possessed us to climb this mountain! But with the warmth-giving sun slowly rising over East Africa and Mt. Kilimanjaro fixed on the horizon, I suddenly remembered. It was a priceless morning.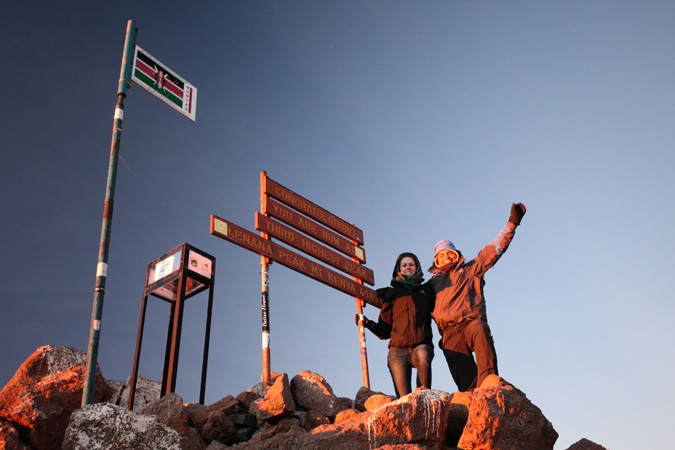 Leaving the chills of Mt. Kenya behind, we headed into the barren north of Kenya's northern frontier in search of pachyderms. There is no better place than Samburu National Reserve to do so.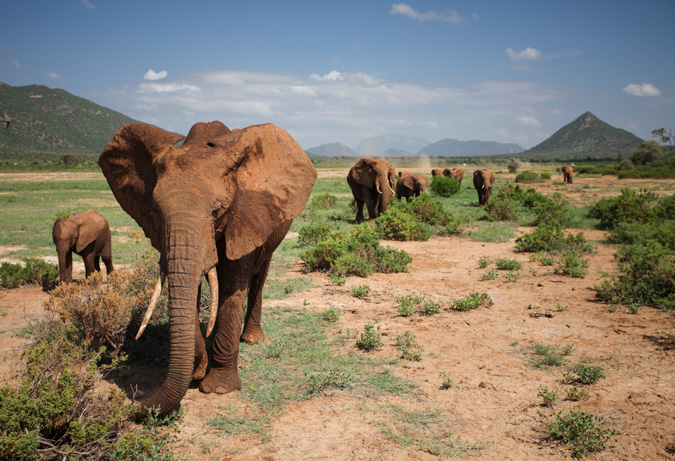 Hundreds of elephants close enough to reach out and grab a trunk, along with a lovely coalition of cheetah males, made it a spectacular visit. We fought off cheeky vervet monkeys and eventually fell asleep listening to lions roaring through the night as we camped along the Ewaso Nyiro River.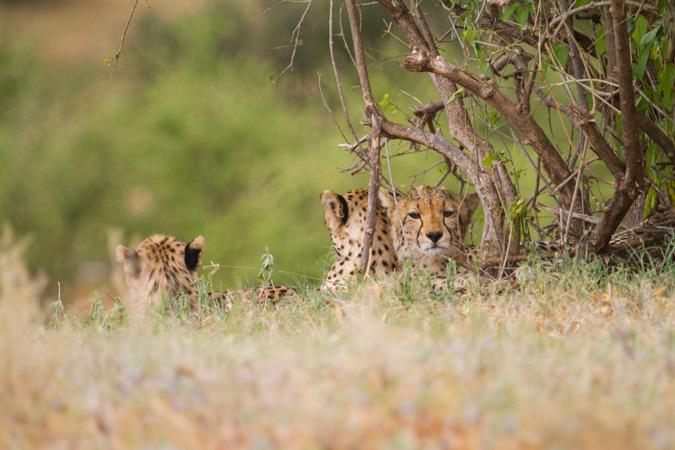 Mount Ololokwe 
We left the grey giants behind and headed further north in search of the "Sacred Mountain" – Mt. Sabache (or Mt. Ololokwe) located in Namunyak Community Conservancy. Rising from the Samburu plains, Mt. Sabache tops out at approximately 2000m with sheer rock cliffs on three sides. It is an impressive sight.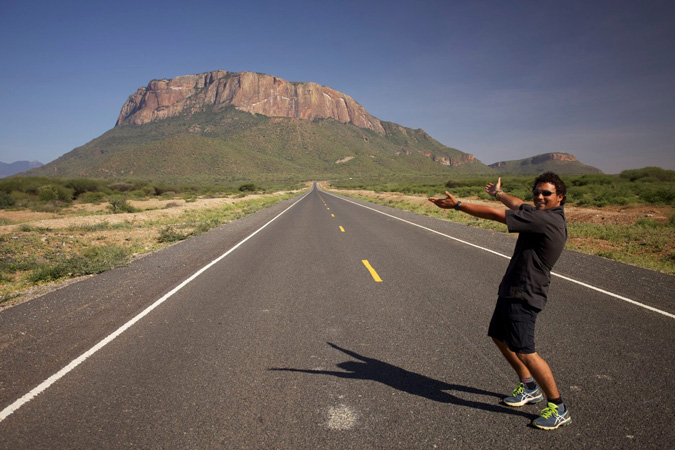 A five hour round trip saw us get to the top and enjoy the view over one of Kenya's most scenic landscapes as swifts shot past us like fighter jets. Make no mistake, the climb was tough but the mystique of climbing a sacred mountain was exhilarating, even more so knowing that elephants are common visitors on the plateau.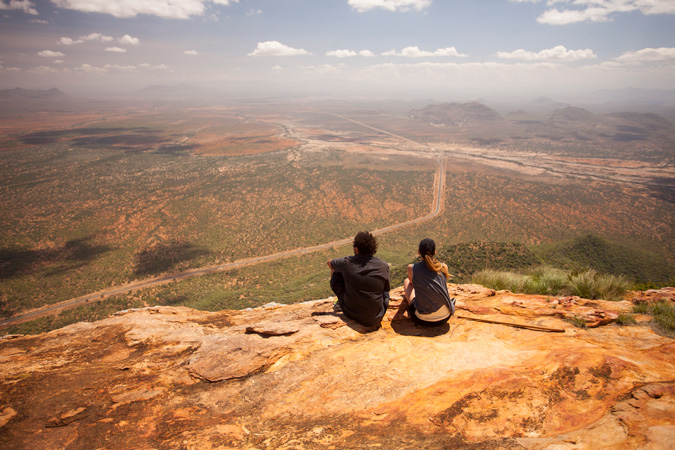 We survived the gauntlet of death that is the Mombasa Road to reach the dusty plains of Amboseli National Park. The park is not vast by any means but is teeming with elephants, wildebeest and other game – not to mention the 13 lions we encountered feasting on a zebra who had seen better days.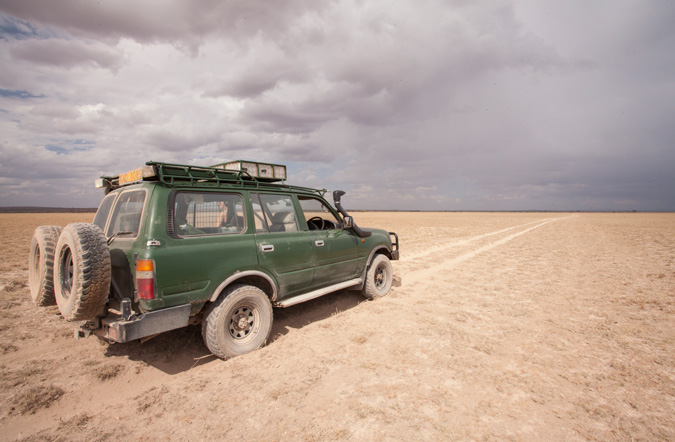 Located at the base of Mt. Kilimanjaro, Amboseli epitomises wild Africa in every sense of the word. It is a true wilderness, but one that is increasingly under threat by man.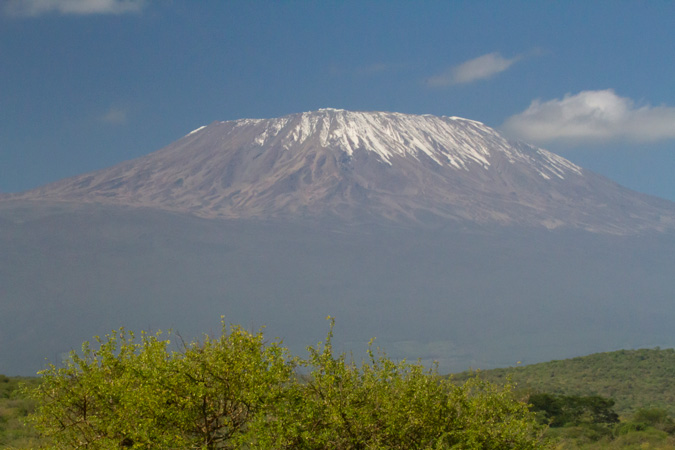 Watamu & Malindi 
We headed back onto the Mombasa Road and our Landcruiser ate up the kilometres with an insatiable appetite as we set our sights on the horizon – the Indian Ocean awaited.
Watamu is a sleepy town where the locals speak Swahili with an Italian accent (yes, you read that right). The water is warm, the fish fresh and the sea breeze intoxicating. We made a trip further north to Malindi, which had little to offer and so we ended up returning to Watamu.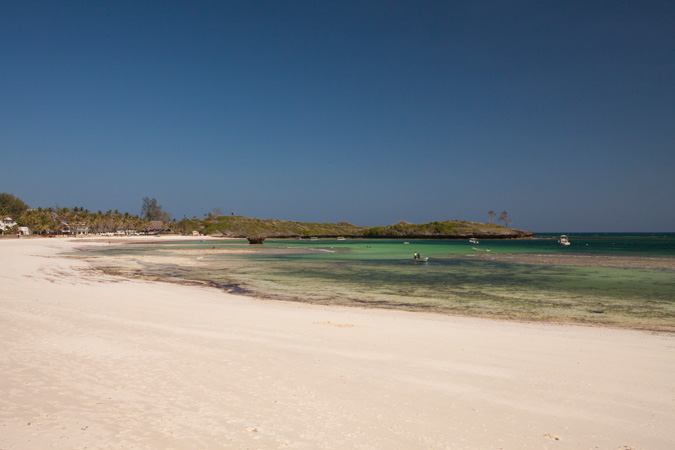 With our trip drawing to an end, only the mighty Tsavo National Parks stood between us and Nairobi. We entered Tsavo East through the Sala Gate from Malindi (please make sure you have a pre-loaded KWS smart card otherwise it's a long trip back). Tsavo East is a gigantic protected area and we were worried we wouldn't spot any game, but we needn't have worried. Within minutes we came upon a family of 10 lions gorging themselves on a buffalo.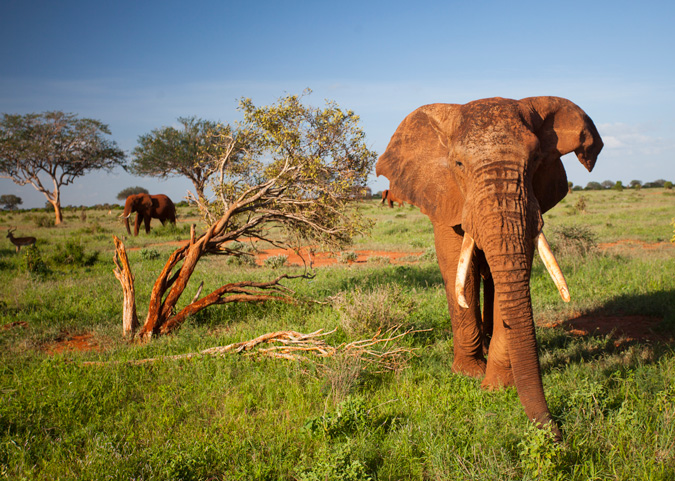 Five hours later we had traversed the park, spending some time with the famous tuskers of Tsavo and following a cheetah on an unsuccessful hunt as the sun dipped below the trees.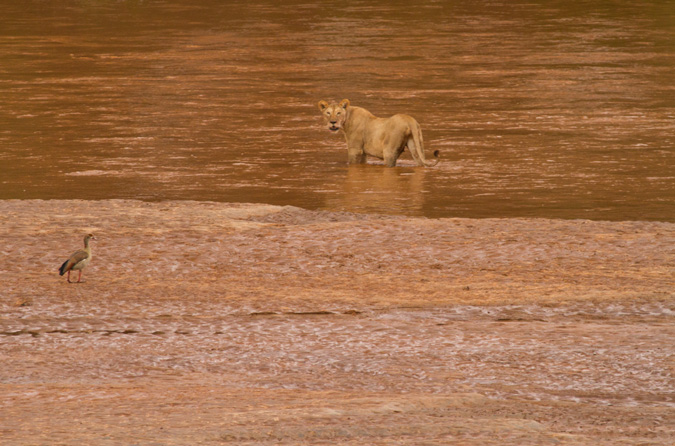 Tsavo West National Park 
Out one Tsavo and into another, which pretty much involved crossing over the Mombasa Road. Landscape wise, the beauty of Tsavo West is unparalleled but it's not prime game-viewing country by any means. The bush is thick and the wildlife sparse. Yet luck was on our side as we came across a stunning leopard right on the road that allowed us to follow her for an eternity. She was elegant beyond description.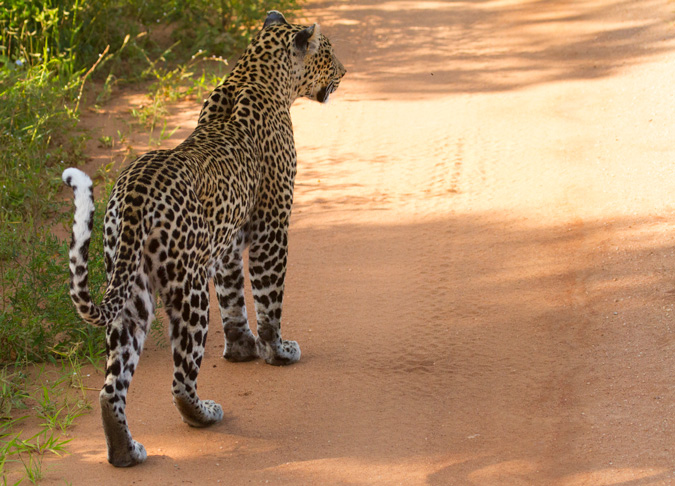 Before we realised it, the high-rise buildings of Nairobi appeared in the distance. Kenya is a stunning country with so much to offer. But one thing's for sure: we have barely scratched its surface!