Written by: Jon Bryant
In mid-October I returned to South Africa. It was an unexpected trip at short notice, but I was so excited to be returning to, what is without a doubt, my favourite country for wildlife photography.
This was my second stay at Jaci's Lodges in Madikwe. Jaci's is a family owned lodge that has a very personal approach, and the hospitality is second to none. Jaci's comprises of two lodges – the main lodge and the tree lodge. On my first stay and this subsequent trip I stayed in the tree lodge. I've stayed in a few different lodges in South Africa and I have to say that Jaci's tree lodge is probably my favourite. The rooms are incredible – they are luxurious and have a bathroom and outdoor shower to die for. Coming from northern Europe where we just don't get the heat to have outdoor showers, it was a revelation.
The lodge is built on stilts and there are walkway passages amongst the trees between the rooms and the main lodge area. This gives you a real feeling of being in the African bush, and there are some interesting animals to be seen within the lodge itself. Most notably, bushbuck, banded mongoose and vervet monkeys.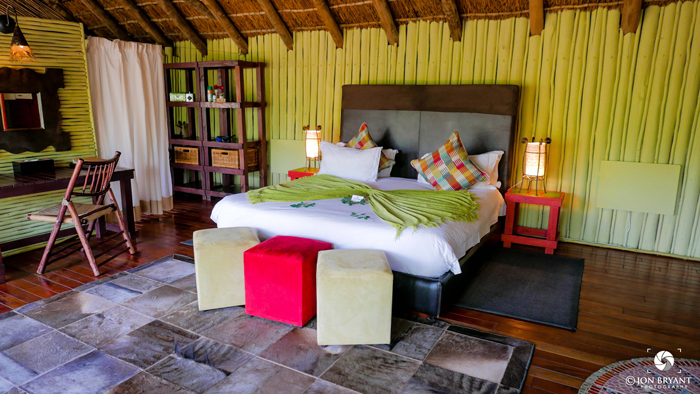 But that's about where it starts and ends in terms of wildlife within the lodge as Jaci's is fenced. This makes it ideal forfamilies. It means that parents and children are free to roam; whether that be to the star bed lookout or to one of the swimming pools to relax. As Madikwe Game Reserve is also malaria-free, it is a serious contender if you are considering a family safari experience.
The setting at Jaci's is also incredible. I love going on the morning game drives and always wish for them to never end as I just love being out in the bush and amongst the wildlife! However, coming back to a hot outdoor shower and an amazing breakfast/brunch helps you relax and ease your way in to the rest of the day.
The principle reason for my trip was to take photographs from the new Terrapin Hide. Jaci's Tree Lodge has a waterhole just next to its main gate, and Jaci and Jan, the founders of the lodge, have built a hide here too. But this is no ordinary hide.
Access is via the original wooden hide under the star bed, so that you now walk through a tunnel which is submersed in the waterhole. The hide is situated in the middle of the waterhole itself, and has numerous windows that are at the same level of the water. This gives a unique vantage point of animals that come down to the waterhole to drink or even swim. The hide has been aptly named the Terrapin Hide, as it offers a terrapin's view.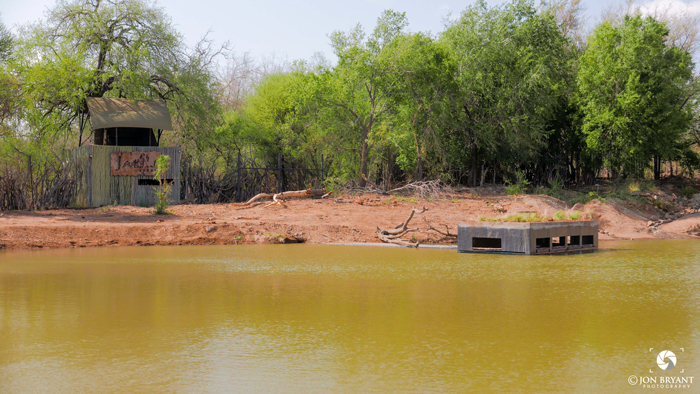 As Jaci's is fenced, it means that guests have free access to the hide at any time of the day or night. And if you get thirsty or hungry the lodge will bring drinks to you; you won't have to leave the hide and miss the action. For photographers who are looking for extended shooting opportunities, the hide is a fantastic complement to the game drives.
To think of the Terrapin Hide as just a photographic facility is not doing it justice. The animals cannot see you, which means you experience their surroundings and their environment on their terms. Even without a camera, if you just watch and listen, the calm and serenity is truly special. During my five days there, I witnessed children of a variety of ages be simply amazed, and they would share these images with friends and family as soon as they connected to the WiFi at the lodge
The twelve photographs that I have chosen to feature in my online gallery should give a sense of the experience of the Terrapin Hide. And here's one that isn't in the gallery: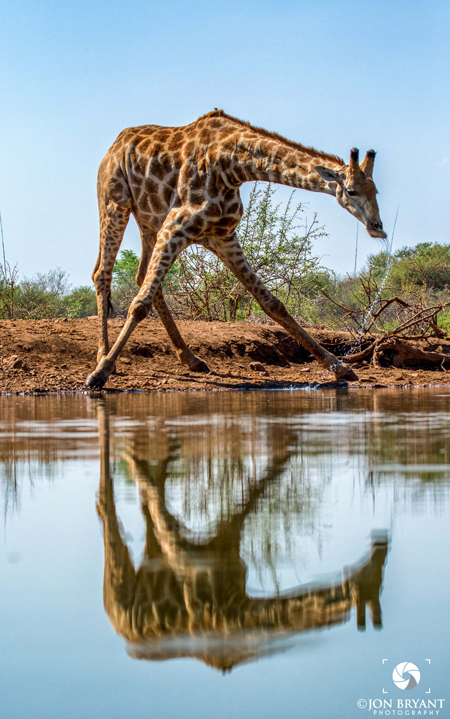 It is an image that I always had in mind but never had an opportunity to take before. Prior to shooting from the Terrapin Hide, I had only seen one giraffe drinking on five separate trips to Africa. But at Jaci's, I watched giraffes drinking every day. This meant that I had plenty of opportunities to get the shot that I was looking for.
For me I think this image epitomises the whole Terrapin Hide experience. The sighting itself is incredible and, in my experience, these types of images are pretty hard to come by. You have to put time in the field, find a water source on a drive, and have luck on your side. Whereas at Jaci's, you sit in the Terrapin Hide and the animals come to you. That's an amazing luxury to have as a photographer.
Once you've had a few sessions in the hide, your memory cards are full. Jaci's have developed a photographic studio facility in their main lodge. You can head over there and hook your laptop up to a flat screen HD monitor to view your images. This is a great facility if you want to share your images with friends and family, or even other photographers at the lodge to share your experiences and discuss photographic craft.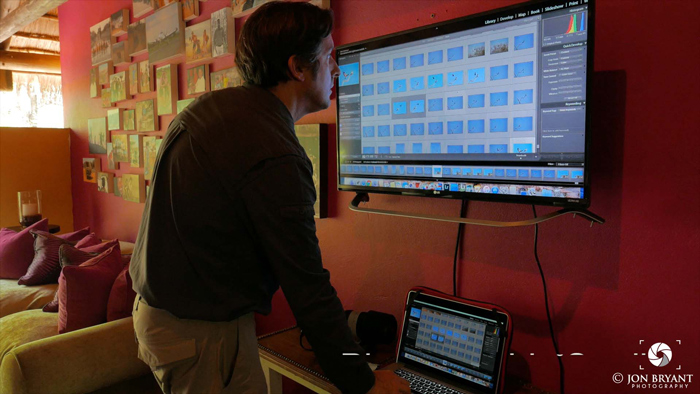 Overall, the trip to Jaci's Safari Lodge and the Terrapin Hide was truly amazing. From a photographic perspective it offered maximum time in the field. But beyond that, the Terrapin Hide adds a completely new dimension to the safari experience. With access 24 hours a day, the only thing that limits you is your own creative photographic vision.
Let me leave you with one last image that I took as we left the lodge on an afternoon drive. The waterhole was buzzing with activity, and it makes it hard to go on a drive when you have so much happening on your doorstep! What a great safari dilemma to have!