The wild dog sightings in South Luangwa National Park have been second to none lately. So much so, that Robin Pope Safaris' Tena Tena Camp has started to gain a great reputation when it comes to being a place to stay to see them.
With an 80% successful hunting rate, you'd think that one of Africa's most effective predators would be more generous when it comes to sharing its food. In reality though, they didn't listen to mom when the 'sharing is caring' lesson was given!
Return guest and safari veteran, Simon Cousins, witnessed their greediness firsthand on a recent early morning game drive with Robin Pope Safaris. It began with a pack of wild dogs successful bringing down a puku and devouring it.
There were a total of 13 dogs polishing off their bloody breakfast. Then eight slipped away into the bush, leaving five of them to finish the leftover scraps. As if it wasn't gripping enough to witness such a gruesome sight, a brave hyena decided to enter the equation and test its luck.
With five against one, the odds were not in its favour, and things did not turn out well for the hyena.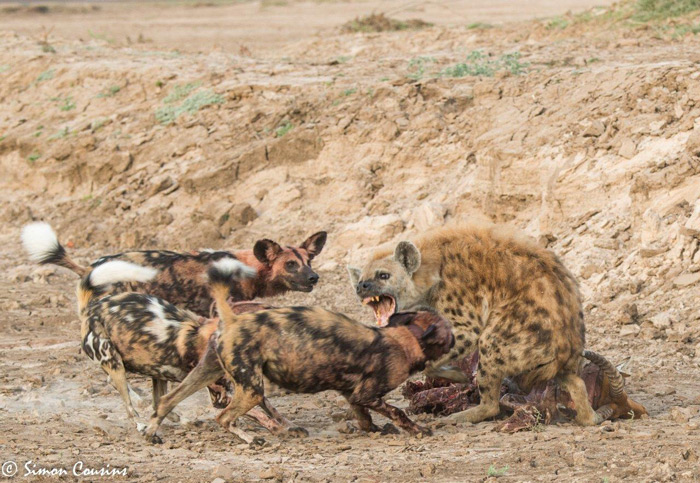 Simon and the guides watched on intensely as the drama unfurled around them. Bum tucked in, submissive, and whimpering, the foolish hyena seemed to almost know that it was about to get seriously reprimanded. In fact, its decision to snag some breakfast quite literally bit it in the bum!
The hyena started cackling and squawking, tucking its bottom even further under itself until the real chase began.
Eventually the dogs concluded that the scraps weren't worth fighting for. They were a pack of full, fat and sleepy dogs, and they couldn't ask for much more satisfaction in life. They left the hyena with a consolation prize – a mere pile of bones – to enjoy in peace.
The moral of the story? Never mess with a wild dog's breakfast because that decision might bite you in the bum!