Leaving Kafunta River Lodge for our morning game drive, we took the usual trail leading across the floodplains of the Luangwa River. However, we didn't even have a chance to get to the river as we soon came across a small pride of three lions – an adult female, with two youngsters of each sex, who had just killed a baby giraffe.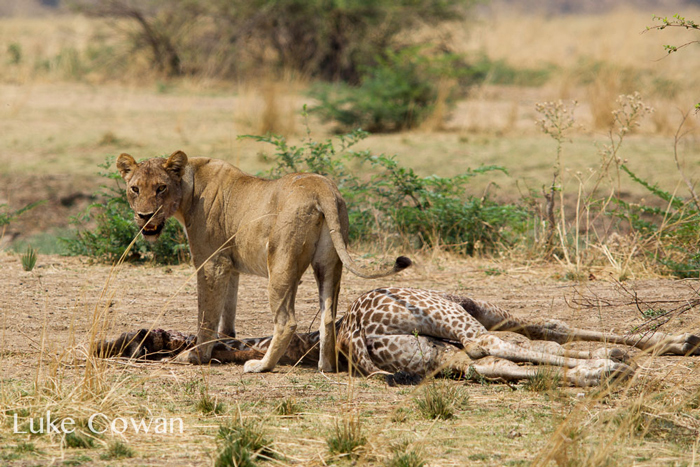 Even a tiny giraffe is not easy prey for such a small pride and, although we didn't see the actual kill, we could imagine it would have been a big fight. As the heat of the day was increasing, the adult lioness decided to move the carcass about 100 metres closer to the shade. It took her about 20 minutes, stopping every few metres to catch her breath.
The most dramatic part of the experience was that the adult giraffes stayed on the scene for a few hours, as if they were reluctant to believe that nothing could be done to save their little one and they couldn't walk away and accept the separation. One can only imagine what was going through their minds. It's the cruel reality of the African wilderness.
We checked the scene again the next morning, and found the three lions with full bellies next to a very depleted carcass. The lions were still very protective of their meal and were keeping the vultures at bay.