Information extracted from third-party sources: Traveller24 and SABC Digital News
Written by Derrick Spies
What was initially believed to be a single male lion on the loose in the area of Fochville in Gauteng for the past six weeks, has turned out to be a pride of five.
Drew Abrahamson, from the Captured in Africa Foundation, said they had been on their way to set a trap to capture what they believed to be one lion, when they had been contacted by SAPS members regarding a calf that had been killed in the vicinity.
"The police were at the scene, in their vehicle, when out of the darkness a pride of five lions emerged," she said.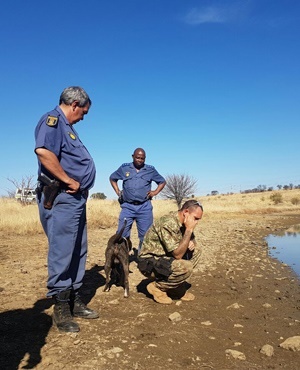 Abrahamson said they had gone out to the scene and had tracked the lions until 3:00 on Saturday morning. She said they had returned to Johannesburg this morning to collect additional crates and other equipment, and to work on a new strategy, before returning to the site at around 15:00 on Saturday afternoon.
"The lions appear to be wandering around between farms in the area, but we have identified a general pattern to their movements," she said.
PitTrack K9 Conservation and anti-poaching unit founder Carl Thornton told News24 on Thursday that they had been alerted to a lion's presence in the area at the beginning of August when someone allegedly drove into it.
"Lion footprints were positively identified at the scene of the accident and a nearby killing of a cow calf was also identified."
The lion was again identified when a farmer spotted it on his CCTV cameras at night, Thornton said.
Abrahamson said they were still not sure where the lions originated from.
"Lions are known to cover vast distances, especially if there are no other prides in the vicinity to limit their movements," she said.
She said the lions could have come from the Free State or North West provinces, and said it was still unclear whether they were wild or bred in captivity.
She said the community and authorities in the area had been very co-operative.
Abrahamson said arrangements had been made with the Pretoria Zoo to temporarily house the lions before a more suitable facility was found. She said since the lions appeared to be in an established pride structure, they could be housed together in a single enclosure, so it would not have a significant impact on those logistics.
Abrahamson said community members in the area, especially those on farms, were still cautioned to be vigilant and to take precautions such as keeping their pets and young children inside after dark.
httpv://youtu.be/7Hp34KbuBxY