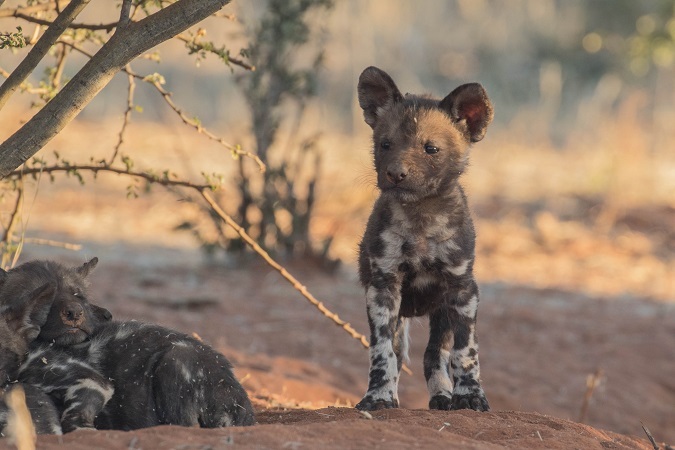 Tswalu Kalahari has welcomed a litter of no less than 13 African wild dog (Lycaon pictus) pups to their pack. Born about seven weeks ago to the alpha female of the pack, the average size of a litter of wild dogs is 8-12 pups.
Their birth is particularly relevant considering the fact that the population of African wild dogs, or "painted dogs" as they are also known, is estimated at roughly 5,000. Their decline is ongoing, mainly due to hunting, habitat loss and the fact that they are particularly vulnerable to the spread of disease by livestock.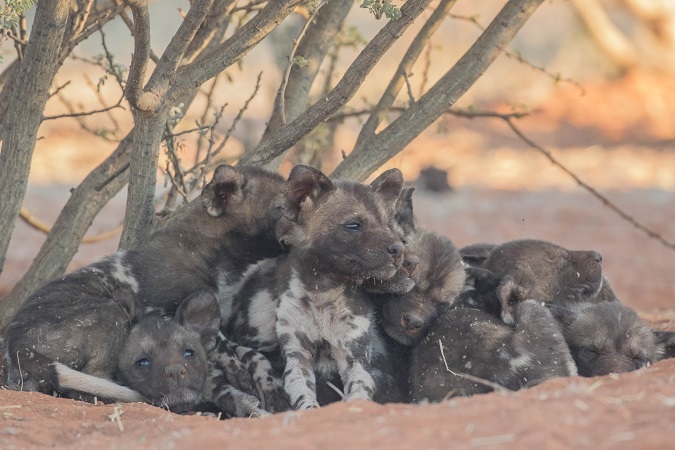 The new pups' eyes will have opened at 10-14 days with the ears becoming erect at 2-3 weeks, so it's not surprising that the pups stayed hidden in their den until they were about two weeks old. Eventually, the patience of the guides was rewarded, and they were lucky enough to begin counting them as they emerged from their living quarters to experience the big wide world around them. You can imagine the surprise and delight when the guides discovered there were 13 pups in the pack!
They are seen just about every day, usually at dawn and dusk when the adults are leaving and returning to the den where they regurgitate food for them, but if you are lucky you can also see them in the middle of the day.
Wild dog pups are playful, curious and energetic by nature and their antics are fascinating to our guests. For the first three months or so they will stay at the den site being nurtured by their parents, but it is not long before they will be seen running with the pack.