Offering a perfect blend of casual elegance and first-class service, Tanzania's Fumba Beach Lodge is located on the south-west peninsula of Zanzibar in the remote Menai Beach Conservation Area. This is a pristine section of coast and is one of the best places on the island to dive, snorkel or take a boat cruise.

A well kept secret, Zanzibar's Fumba Beach Lodge is a serene hideaway, stylishly concealed amidst forty acres of exquisite tropical wilderness.

Most of Fumba Beach Lodge's friendly staff come from the nearby Fumba Village, a quaint Zanzibar fishing village through which guests can stroll by themselves or be accompanied by Simba, the Maasai dog who has lived at the lodge since its opening. Simba is regularly mistaken as the lodge's public relations manager as a result of his charming attitude and poise.
The team at Fumba Beach Lodge will be delighted to organise any excursions that interest you, from scuba diving, snorkelling, kayaking and a sunset cruise, to spa treatments or a tour of Stone Town with its bustling markets, winding alleyways, ornately carved and studded doors. You can also choose to visit the Jozani Natural Forest Reserve, home to the rare red colobus monkey, unique to Zanzibar or explore a spice plantation, discovering the history of Zanzibar based on the trade of cloves, nutmeg, cinnamon, pepper and many other spices. Ruins of Persian baths and Omani palaces can also be seen in various locations on the island while a Prison Island tour and Mangapwani Slave caves visit can also be arranged.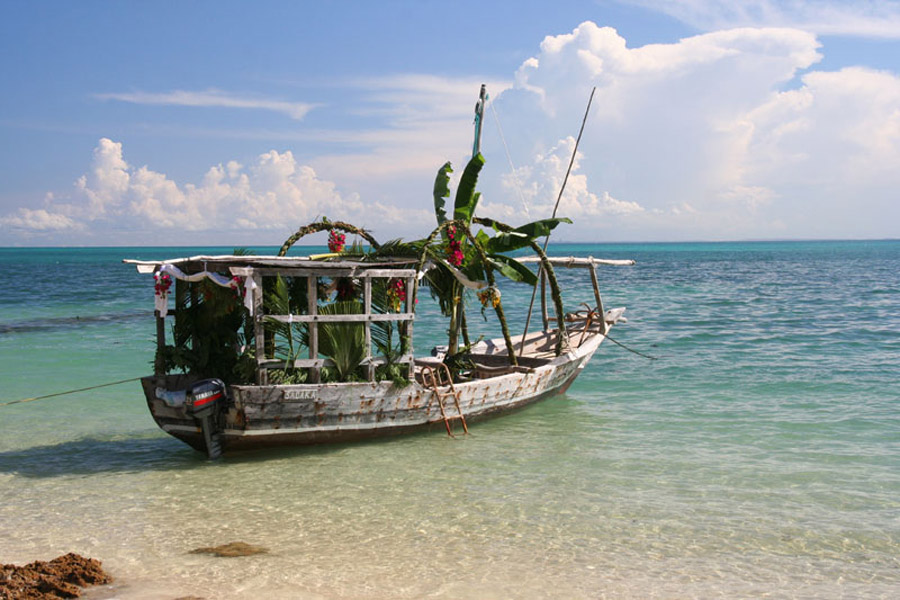 And if all you want to do is relax, read your book and enjoy lazy swims in Zanzibar's warm waters or the swimming pool, then you're in the perfect place!

Suggested Itinerary – Stay 5, Pay 4 package!
Day 1: Arrival at Zanzibar Airport and transfer to Fumba Beach Lodge
Day 2 to 5: Four full days of exploring and enjoying Fumba and Menai Bay
Day 6: Transfer back to Zanzibar Airport for your departure flight
Accommodation
Fumba Beach Lodge's whitewashed Zanzibari bungalows are dotted along the beachfront, and are well spaced to ensure privacy. Each bungalow has its own spacious verandah from which you can enjoy the magical views of the Indian Ocean.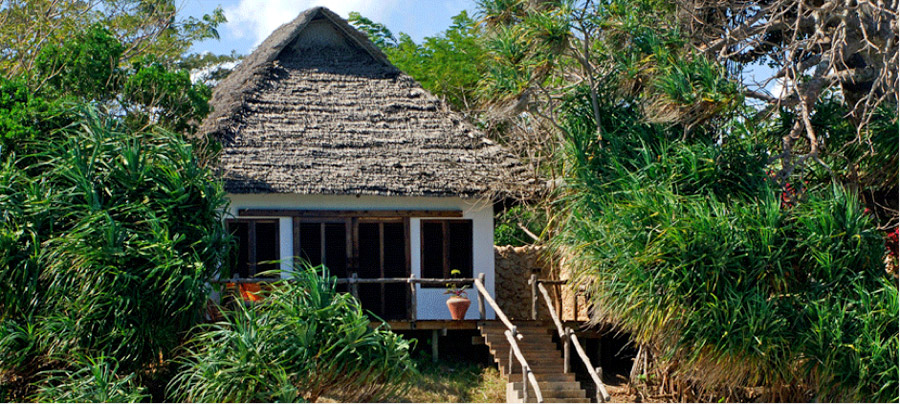 The rooms at Fumba Beach Lodge are shaded by a forest of magnificent baobab trees and whispering palms. Each stylish deluxe room is en-suite and furnished with a king size bed, imported bed linen and quilts for the occasional chilly night while an outside shower is also available.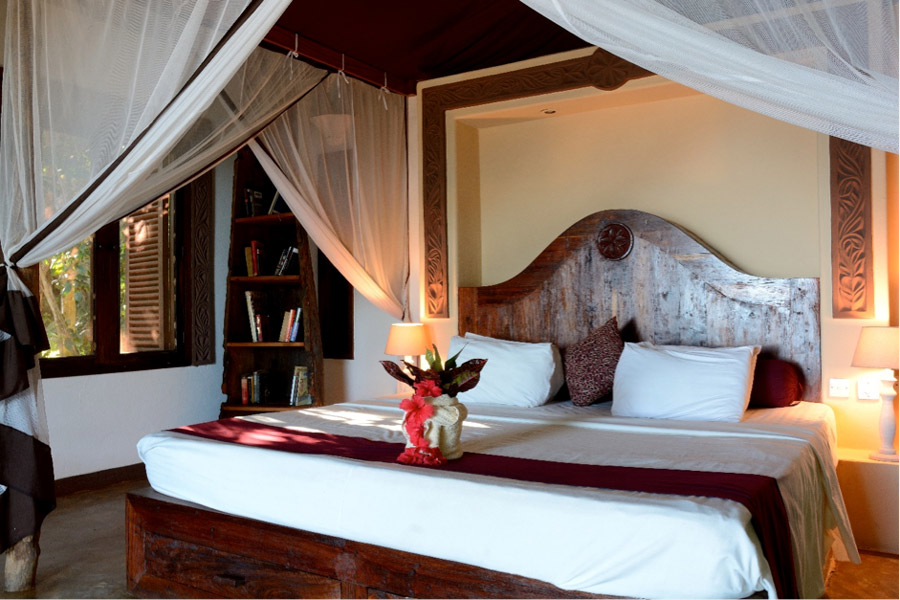 Right on your doorstep are the warm waters of Zanzibar where you will see local fisherman catch tuna, snapper, barracuda, lobsters, prawns and crabs, which are delivered to Fumba Beach Lodge on a daily basis. In the open air restaurant you will be able to enjoy fresh seafood along with a tantalising array of international and local dishes. And if you are feeling romantic, ask the staff to lay a table for you on the beach.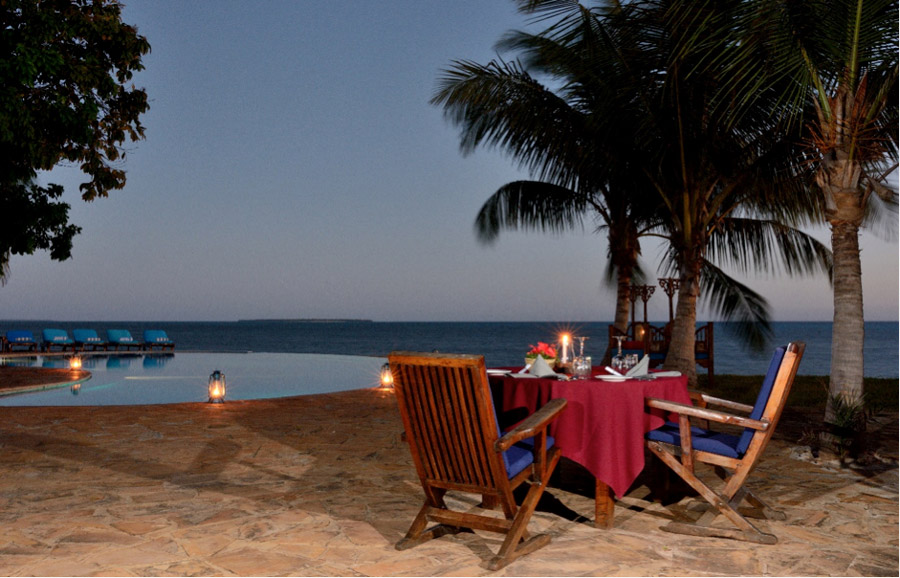 Additional Information
How to get there: There are daily flights from Dar es Salaam to Zanzibar with Precision Air, Hahn Air or Auric Air, and these take no more than 20 to 30 minutes. Alternatively, if you have just finished a safari in Kenya, you can reach Zanzibar from Nairobi on one of Kenya Airways' or Precision Air's daily flights. This convenient link takes approximately 1.5 hours. Please don't hesitate to contact us for assistance or further details.
From Zanzibar's international airport it will take less than 25 minutes to reach Menai Bay and Fumba Beach Lodge, which lie only a 30-minute drive from the capital Stone Town. This journey may entail braving some dirt roads, but this is all part of the adventure and is a small price to pay to escape the hustle and bustle of Zanzibar's main attractions.
Best time to visit: The best time to visit Zanzibar is from June to October during spring when it is cool and dry. However December to February is also popular as it is hot and dry.
If you wish to scuba dive off the coast of Zanzibar, the best times to visit are from July to August, and February to March. North coast diving is particularly good from June to October, whereas south coast diving is best between November and March.
Price includes: Meet and greet at Zanzibar Airport, all airport and hotel transfers, full board and accommodation at Fumba Beach Lodge in a sea view room, 24/7 office support.
Price excludes: International and domestic flights, visas, personal items, laundry, telephone calls, all drinks, travel and medical insurance, tips, excess baggage charges, any activities not specified.
Booking and payment details: Contact us for a booking form which will include details relating to deposit and final payments etc.