A five-day walking safari in one of Africa's prime wildlife areas – the Klaserie Game Reserve in the Greater Kruger.
Departure Dates
9 to 13 August 2017: FULL!!
21 to 25 September 2016: Spaces available
Introduction
Can you no longer ignore the calls of the bush? Look no further… join veteran and professional trail guide Brett Horley in the Klaserie Game Reserve on a five-day walking safari in one of Africa's prime wildlife areas.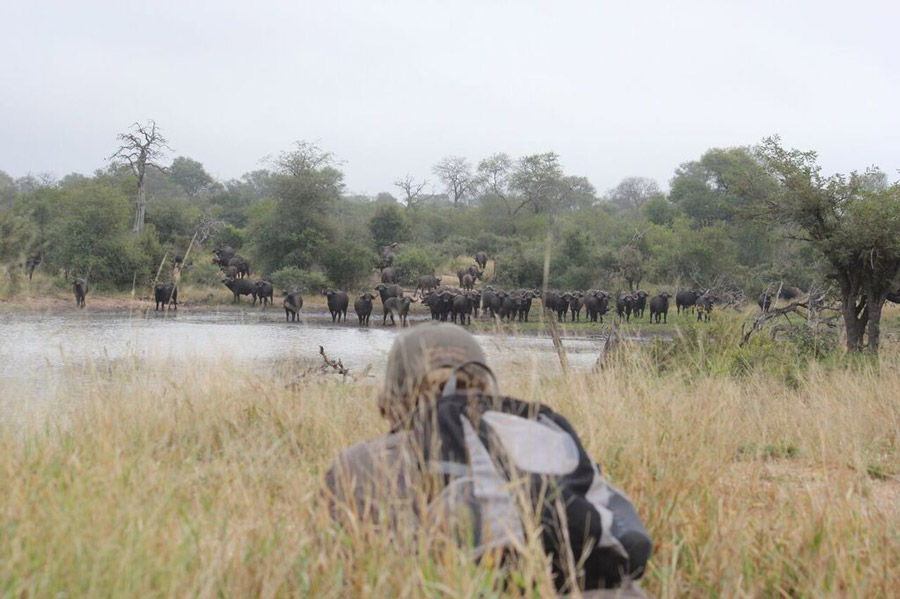 Based at Africa on Foot's trail camp in the Greater Kruger National Park, this walking safari promises to develop your connection with nature, yourself and others. Go back to basics in Klaserie and immerse yourself in the raw beauty of the bush, where instincts can be rekindled and you can enjoy some much needed space and silence. Tracking the fresh trail of a male lion on foot is an experience you will never forget.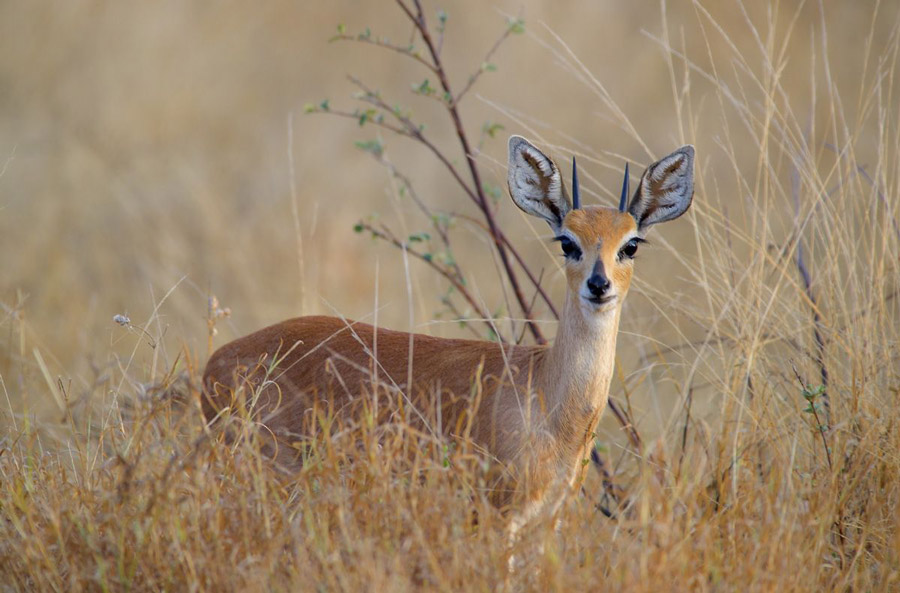 Itinerary
Day 1: Arrive, meet and greet the team at Klaserie Game Reserve
You will be met by Brett Horley at Eastgate Airport in Hoedspruit and transferred to Africa on Foot's trail camp in the Klaserie Game Reserve. Your arrival should be scheduled for around midday. Guests who arrive in their own vehicle will be greeted at Africa on Foot main camp and then escorted to the satellite trail camp.
Once everyone has arrived, Brett and the camp staff will show you to your tents and provide a short safety debrief on how to enjoy this experience to its fullest. You will then have the chance to unpack, relax and meet your fellow explorers.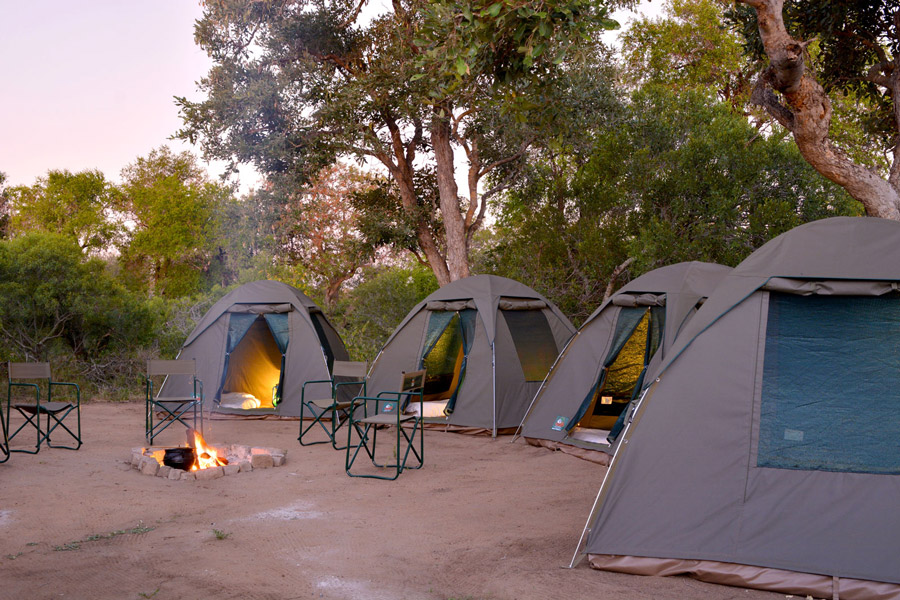 Just after 4pm you will leave Africa on Foot's trail camp on your first walk in the Greater Kruger National Park and enjoy a night drive back.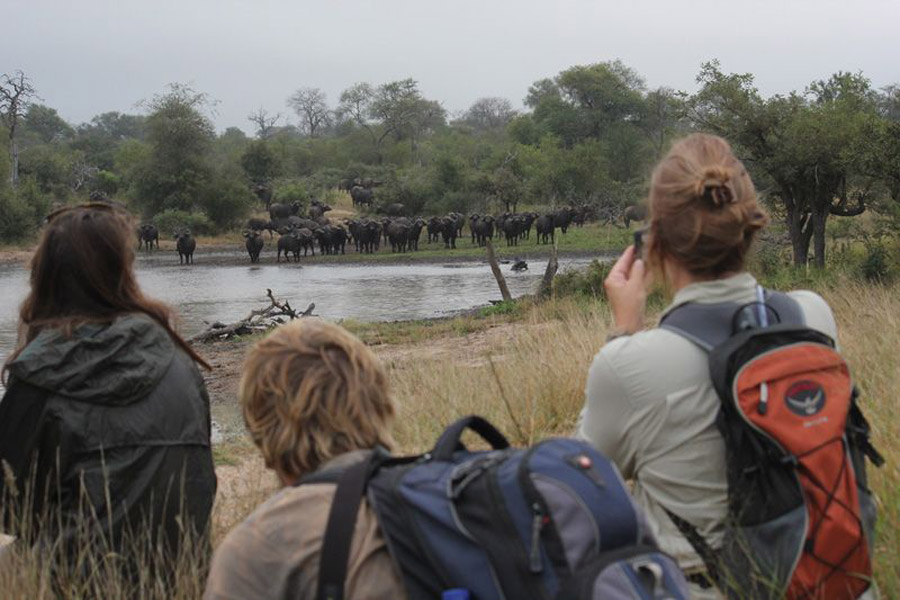 Hot showers, hearty food and a welcoming campfire will await you on your return.
Overnight at Africa on Foot's trail camp
Days 2-4: On foot in the Klaserie…
Every day starts around the fire with a cup of coffee/tea to accompany biscuits and a gorgeous Kruger sunrise.
You will walk for three to four hours every morning depending on the route and sightings. Bush walks are not strenuous – the terrain in Klaserie is generally flat and you will usually cover between six and 10 kilometres every morning.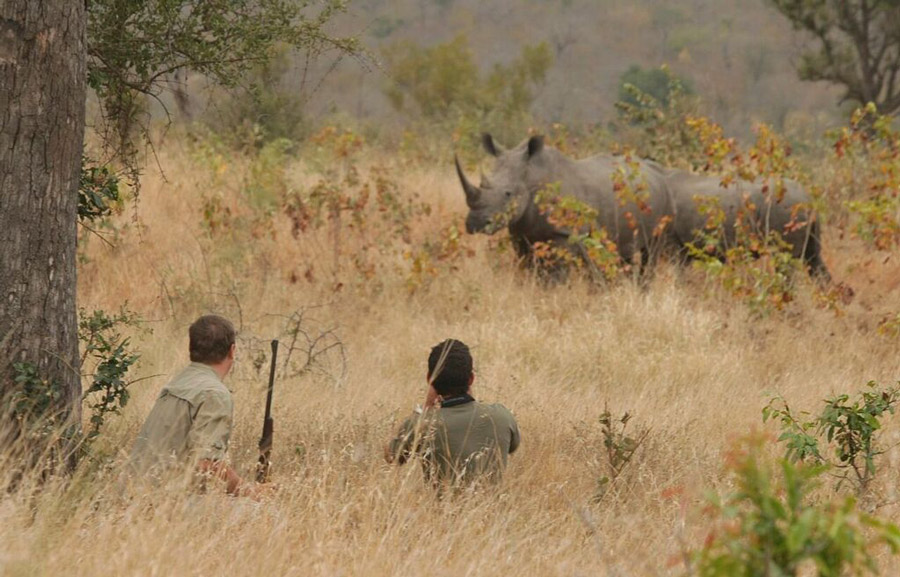 Every safari walk is different and every step defines a different outcome. Just remain open to the element of surprise, as the beauty of such an adventure lies in never knowing what will happen next. Whether you follow the roars of lions you heard the previous night, or stumble upon the tracks of a rhino seeking shade, or identify the drag marks left behind by a leopard dragging its prey, it is all part of the Kruger experience.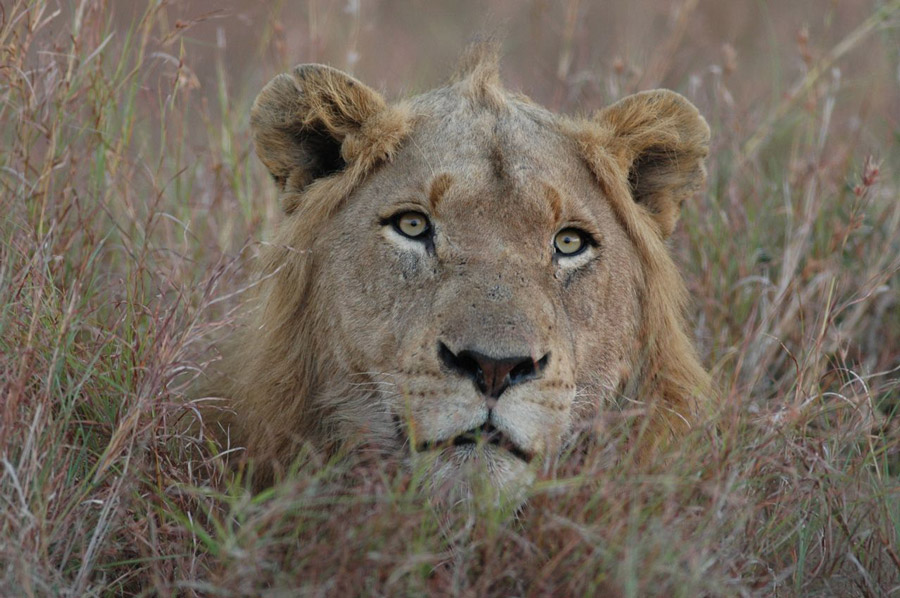 Brett Horley will introduce you to all the critters encountered along the way, from insects, birds and reptiles, to plants and majestic trees. Thanks to his encyclopedic knowledge and contagious enthusiasm, it will soon become clear how everything – not just the Big Five – plays a vital role in the bush.
By mid-morning you will be back at Africa on Foot's trail camp and ready to enjoy a hearty brunch.
As the heat builds up in Klaserie, you may choose to check out the nearby waterhole or just relax in the shade of the trees. Midday is a great time to catch up with your journal or enjoy a siesta.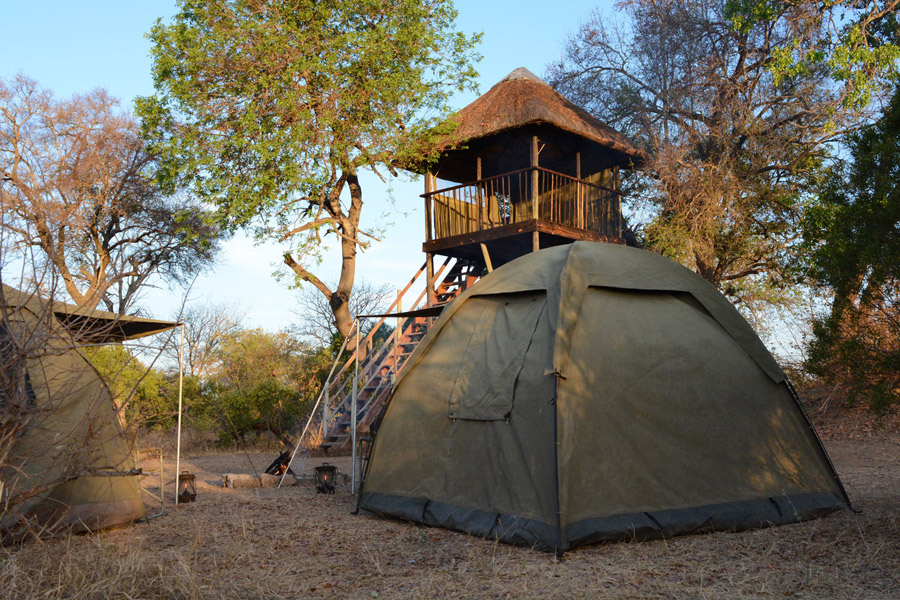 As temperatures drop in the afternoon, you will head out again for a shorter safari walk. This is generally a two-hour walk, which ends holding your favourite drink at sunset to toast another great day in the bush. A vehicle with a heavy duty spotlight will then pick you up so that you can set off in search of Africa's more elusive nocturnal mammals. Aardvarks, bush babies, African civets and, of course, lions, leopards and hyenas all become active at this time when they go on territorial patrols and head out in search of food.
Each day will be flexible according to what has already been seen, the areas walked and the group's preferences and needs.
If everyone is keen, bush walks can be extended and a full day walk, taking lunch along, can also be arranged on certain days.
Overnights at Africa on Foot's trail camp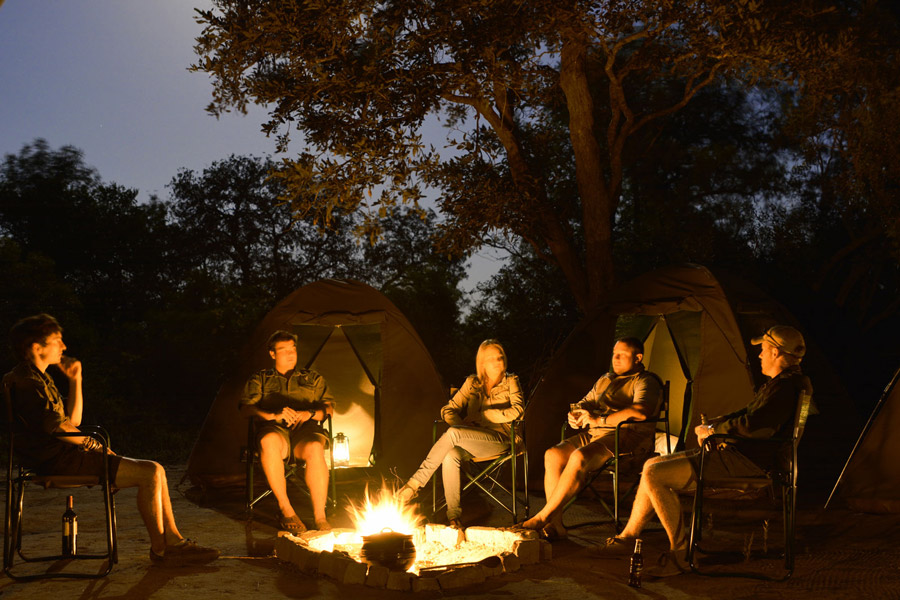 Day 5: Last walk…over and out!
After a final morning bush walk there will be ample time to pack, shower, enjoy brunch and exchange contact details with your fellow walking companions, as well as bid a fond farewell to Brett Horley and the wonderful trackers and support staff. Those in need of transfers back to the airport will be assisted accordingly.
End of services
The area
The Klaserie Private Game Reserve shares unfenced borders with Kruger National Park in South Africa, and offers spectacular scenery, incredible wildlife viewing opportunities and an impressive diversity of flora and fauna. The area selected for this walking safari is private and exclusive, which means that guests will have the chance to see wild game wandering freely, without the distraction of other tourists and vehicles. Guests are likely to see all of the amazing animals of the Greater Kruger region, including the Big Five and on night outings we will endeavour to meet up with the nocturnal denizens.
In addition, Klaserie Private Game Reserve offers prolific birdlife, including the lappet-faced vulture, saddle-billed stork, giant eagle owl, lilac-breasted roller, hornbill, wood-hoopoe, kingfisher, bee-eater, oriole and a plethora of colourful firefinches, sunbirds, whydahs, and buntings.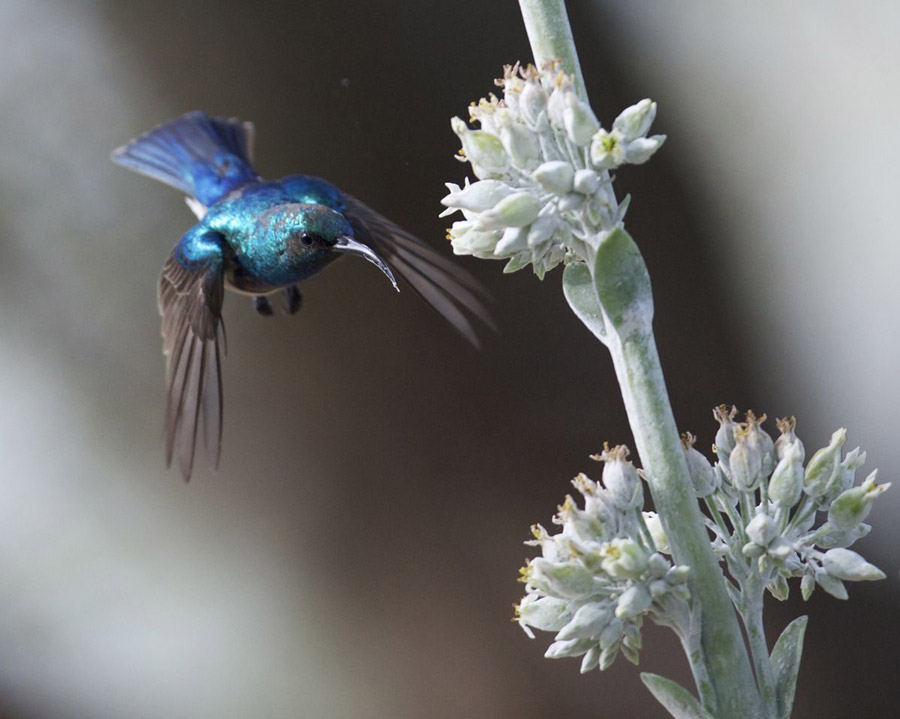 Accommodation
The Africa on Foot trail camp offers a rustic and traditional safari experience with all the necessary comforts one requires for an enjoyable stay. The trail camp sits along a secluded dry river bed in the Klaserie, very close to a seasonal waterhole. Centuries old elephant paths pass close by and it is the perfect position to walk from in the Klaserie Private Game Reserve.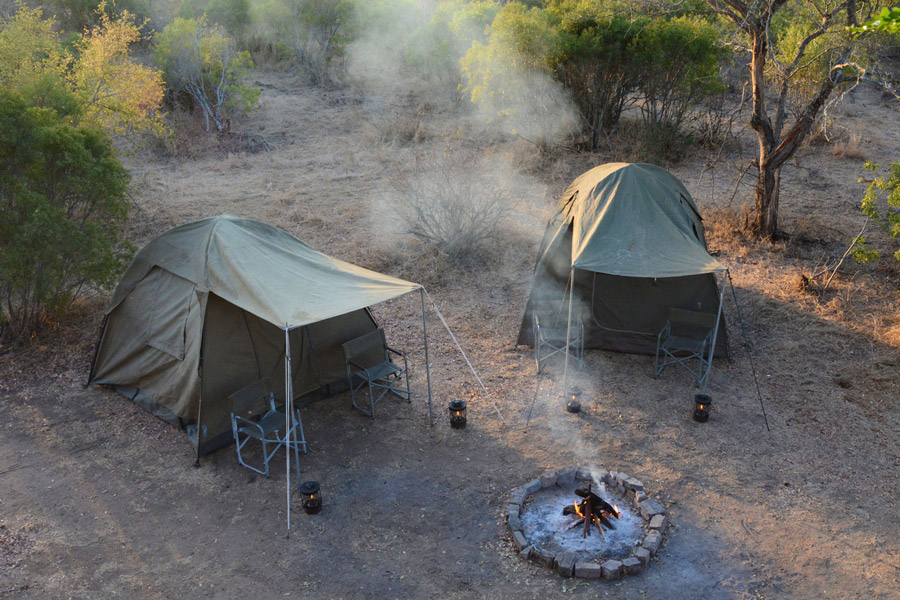 This is a trail camp which means no environmental footprint and basic amenities – making for the best wilderness experience. The 2m x 2m dome tents surround the fireplace – the heart of the camp, where conversations linger long into the night, serenaded by the whoop of hyenas. A lager style set up, tents encircle the camp and meals are taken in the open air mess tent. Comfortable mattresses on the floor and a light next to your bed make for a great nights sleep, as long as the honey badger does not come sniffing by!
The Africa on Foot trail camp is endowed with shared or communal ablution facilities that include a flushing toilet and a reed shower, with hot water provided by way of donkey boiler.
Wholesome and plentiful home style cooking, drinks cooled on ice, and water boiled on the fire to fill your water bottles is provided with conscious care. Life revolves around the camp fire in the evenings and shady trees will provide relief from the heat and midday sun.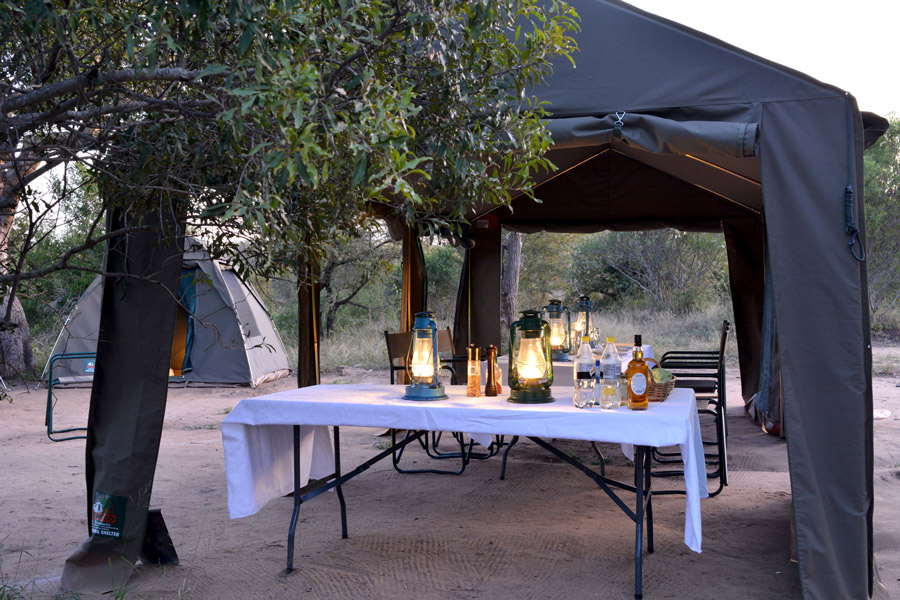 About the Guide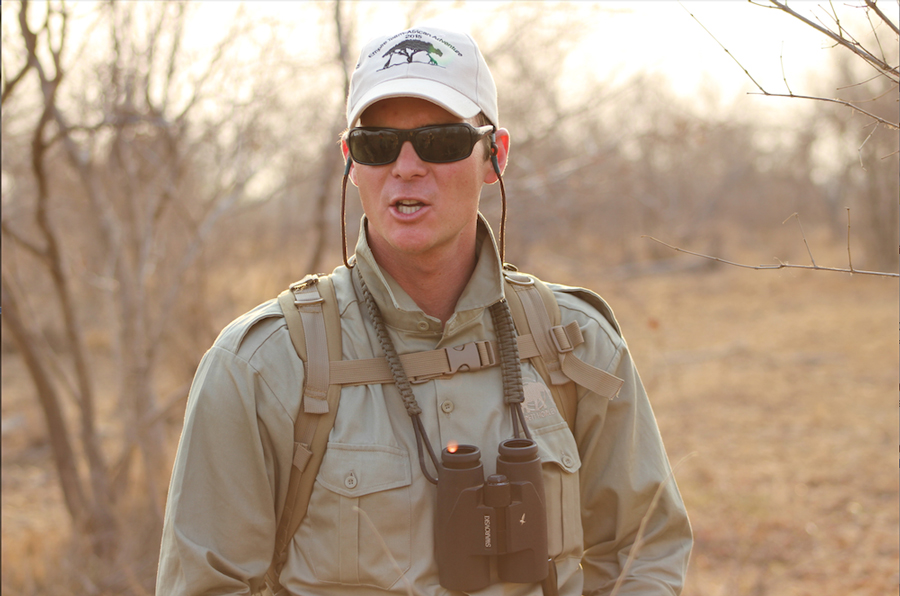 Brett Horley is a private safari guide. A powerful combination of a true conservationist and a nature enthusiast, Brett Horley has a clear motivation for man and beast to walk alongside each other in harmony. Global travellers – from families with children, to celebrities and business executives – have fed off his insatiable passion for all that is wild and natural. A highly knowledgeable, respected and trusted trail guide, he is comfortable in any Big Five terrain and situation. Brett Horley's instinct to interpret and read nature, as well as the needs of his guests, sets him apart and has generated an extensive and faithful following.
Brett Horley draws his knowledge from a lifelong interaction with the African bush, and he has cemented his passion with several recognised qualifications.
Brett Horley holds a Level 3 qualification as a member of the Field Guides Association of South Africa (FGASA), as well as being an Advanced Trails Guide and having the highly esteemed Special Knowledge and Skills (SKS) qualification for birding. In 2014 Brett was invited to participate in the Safari Guide of the Year competition along with seven of South Africa's best safari guides. Brett was the runner-up in this prestigious annual event.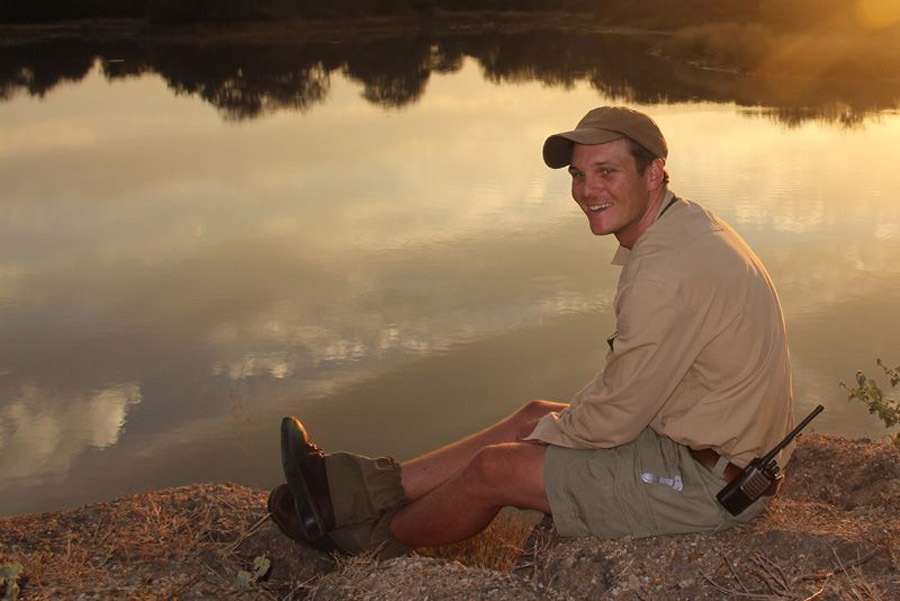 Brett Horley has guided for some of Africa's top safari companies, including Singita and Lion Sands  in South Africa, and Letaka Safaris in Botswana. Brett's belief in education as being part of a sustainable solution for the protection of wildlife led him to become involved in the training of guides in South Africa, Botswana, and Tanzania. He ran a highly successful educational programme in rural South African high schools, teaching skills and promoting tourism as a career path for young South Africans, many of whom now have employment in the luxury lodges that are part of the Greater Kruger National Park.
"I am extremely fortunate to live out my life's dreams and passions. As a young boy visiting my aunt and uncle on Lake Kariba in Zimbabwe, we tracked black rhino on foot and then sat underneath a baobab tree in the hot sun. The guide then peeled some bark off the tree and made me a bracelet from The Tree of Life. That was the day I knew what I would be doing for the rest of my life."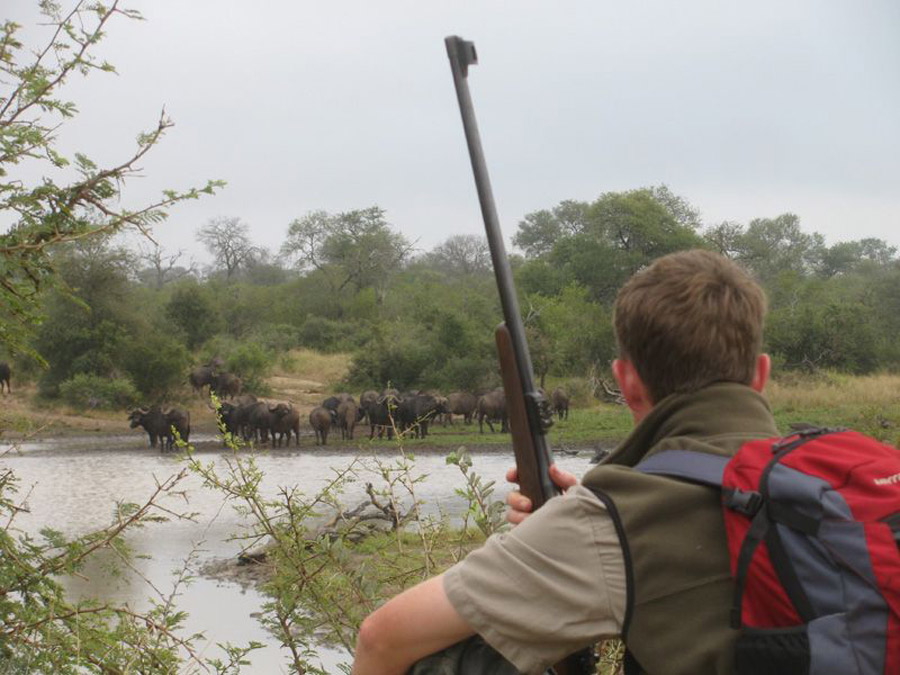 Additional Information
Climate: The best time to walk in the Klaserie Game Reserve is during the winter season when the bush dries up, making it easier to track, spot and approach game on foot. Game and predator movements also become somewhat more predictable as they endeavour to quench their thirst and hunger. Morning temperatures are cool and range between 8-15°C, making it wise to bring warm clothing and wear layers. The afternoons are clear, sunny and pleasant with an average temperature of around 23-28°C.
Difficulty: This is a walking safari, and we will hike on average 5 to 10 km on every morning across country that is generally flat. A lot less, possibly half that, during the shorter afternoon walks. Distances are highly variable as finding and tracking the game wherever this may be determines how much we need to walk. A basic to average level of fitness is required. If you are an inactive person, we recommend that you undertake some basic aerobic activities (hiking, jogging, fast walking, cycling) three or four times a week for at least a month before you come.
How to get there: Africa on Foot is about an hour's drive from the town of Hoedspruit. Eastgate Airport is about a 40-minute drive from camp. Guests flying from Johannesburg, Cape Town or Durban, will be met by our representatives and driven toAfrica on Foot across a Big Five area, so keep your eyes peeled for some early game-viewing. Guests arriving in their own vehicle will be met at the Africa on Foot main camp and escorted to the trail camp thereafter.
Scheduled flights: We are happy to assist you with the booking of your domestic flight. However, please note that flights are subject to availability at the time of booking, and flight quotes are valid for 24 hours only. Airfares and airport taxes quoted are current and are subject to change without prior warning should the airline impose an increase in rates for any reason. The airfare quoted is based on the lowest class fare available at the time of quoting and is subject to seats being available in that class at the time of booking. Should the class not be available at the time of booking, the next applicable fare will be booked and amended costs advised accordingly. Please note that fares may increase between time of booking, time of payment and the ticket being issued. Airfares are only guaranteed once paid in full.
Africa Geographic Travel cannot be held responsible for any re-routing, delays or cancellations imposed by the airlines. Guests should carry adequate travel insurance to cover such eventualities. Please note that all fares and taxes are subject to increase without prior notice and are at the discretion of the airlines and government.
Price includes: Meet and greet at the Africa on Foot main Camp and escorted to the trail camp. Four nights accommodation at the Africa on Foot trail camp. Conservation levy (but not own vehicle levy), AM and PM guided walks and optional night game drives. All meals, starting with a light lunch on day of arrival and breakfast on departure day. Filtered or boiled water with meals, coffees and teas. Sodas and alcoholic beverages are optional and charged additionally. 24/7 office support.
Price excludes: International and domestic flights (unless requested at the time of booking), airport or airstrip transfers (for assistance please contact us), visas, excess baggage charges, laundry, all drinks, cigars and cigarettes, telephone calls, laundry, travel and medical insurance, gratuities and any items of personal nature, sightseeing, excursions or any activities not specified in the itinerary, vehicle gate fee of ZAR 150 per private vehicle.
Booking and payment details: Once you have decided to join one of our safaris, you will need to contact us for a booking form, which will include details relating to deposit and final payments. As our groups are small, they fill up quickly.