Experience the beauty and diversity of the South Luangwa National Park with this photo safari that incorporates two different camps.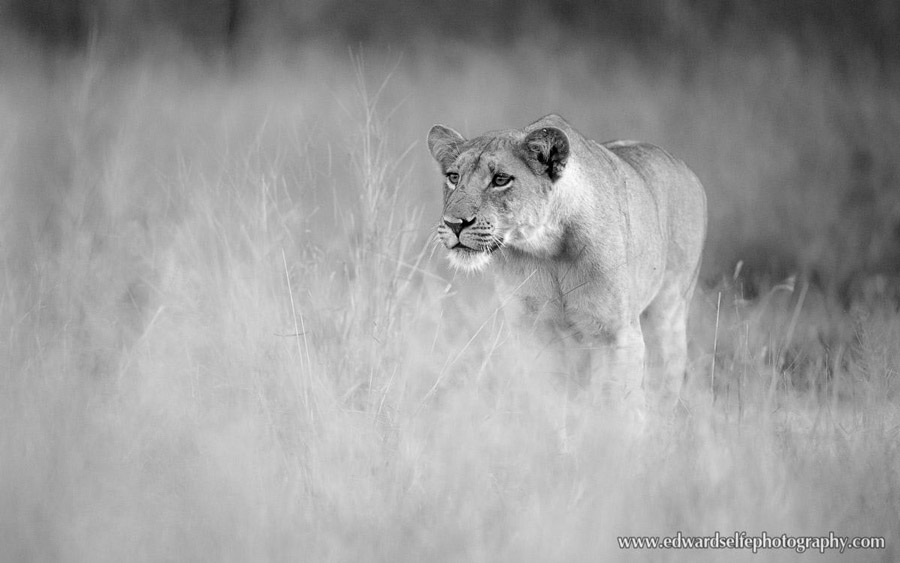 Departure Dates
18 to 24 September 2017
Introduction
South Luangwa is one of the best wildlife areas on the planet. The Luangwa River provides a year-round water source for a large variety of herbivores, which in turn support a healthy population of predators, with lion, leopard, wild dog and spotted hyena regularly seen. Also common are the endemic Thornicroft's giraffe and the beautifully marked Crawshay's zebra, which feed along the valley's many lagoons. The lush vegetation of the valley floor is home to many elephants and the prolific birdlife provides endless photographic opportunities around every corner.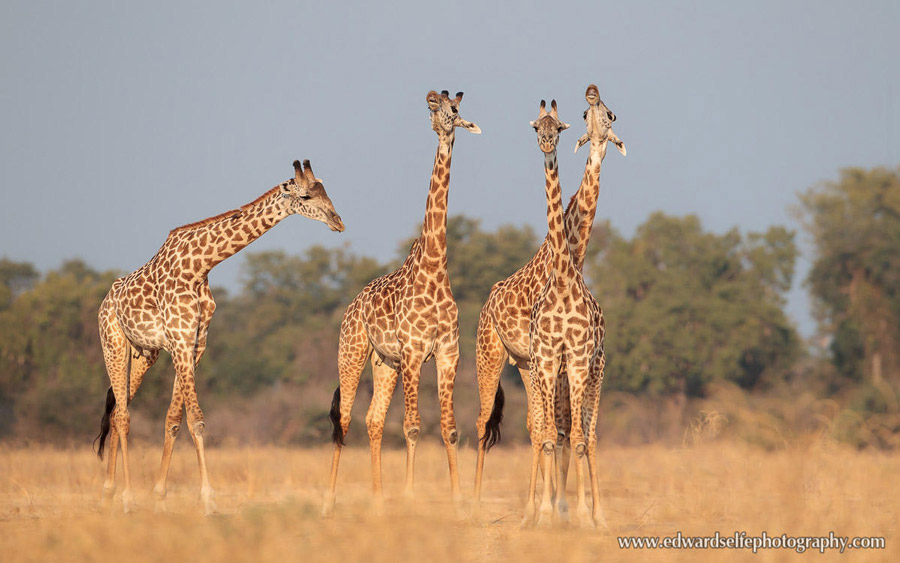 This photo safari package is aimed at both amateur and professional photographers alike. Resident photographic safari guide Edward Selfe will ensure that you take some of your best photographs.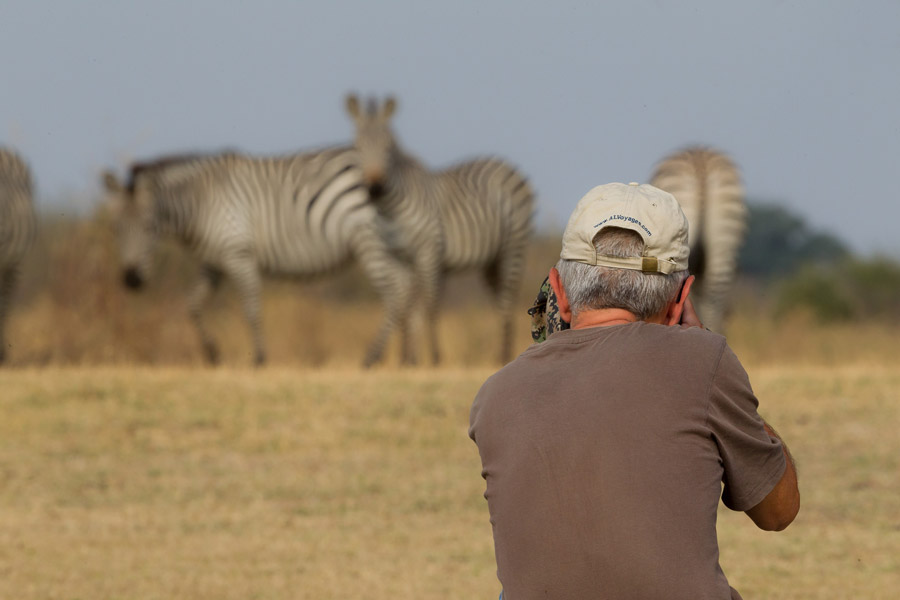 The itinerary is split between two camps, which are located in two different areas of South Luangwa National Park. Flatdogs Camp is located in the southern area of the park where safaris have been conducted for many years. Here the game is extremely relaxed around vehicles, offering great photographic opportunities. Lion Camp is further north in a more remote area of the park, and offers a more secluded experience where other vehicles are a rarity.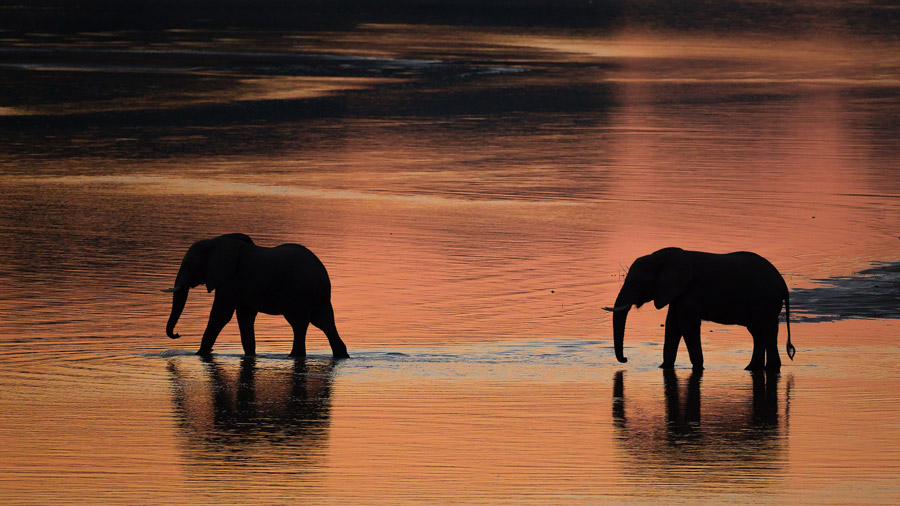 By combining Flatdogs and Lion Camp, this trip incorporates a variety of creative photographic settings and opportunities.
Detailed Itinerary
Day 1: Arrival in Mfuwe, South Luangwa National Park, Zambia
On landing at Mfuwe Airport, you will be met by Ed Selfe and transferred to Flatdogs Camp in South Luangwa National Park. The camp is a mere 35-minute drive from the airstrip and lies just five minutes from the main gate to the national park. Being this close to the park's entrance allows for early access in the morning and ample opportunity to make the most out of the golden hour just after sunrise.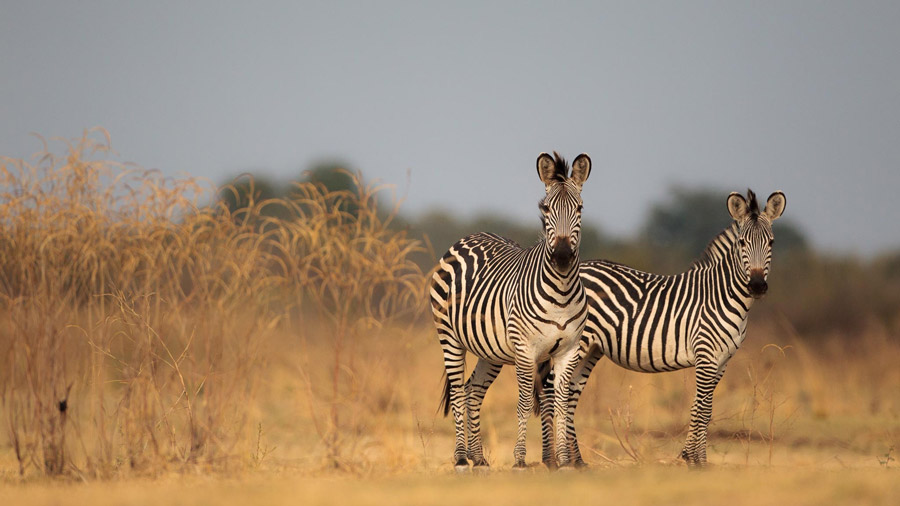 The wildlife in this area has become accustomed to safaris and largely ignores the presence of cameras and vehicles. The high density and diversity of game found in this area always yields a wealth of fantastic photographic opportunities.
All game drives are on open safari vehicles that allow uninterrupted 360° views.
Flatdogs Camp is based in a rich, riverine habitat that allows for great sightings from the moment you start your safari. Edward will guide you through the South Luangwa National Park's complex lagoon system, taking time for everyone to familiarise and make the most of the light.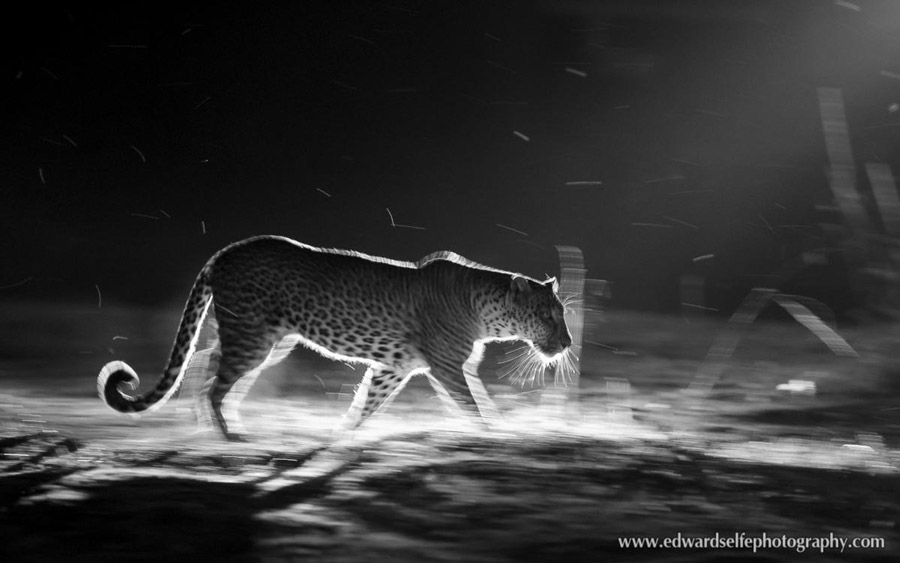 After dark, you'll continue your safari with a spotlight and Edward will assist you with the best camera settings to take photos of all the park's 'specialties' – leopard, porcupine and large-spotted genet. You'll head back to camp in time for supper and a chance to discuss photographic techniques.
Overnight at Flatdogs Camp
Days 2-3: Flatdogs Camp
From Flatdogs you will enter South Luangwa National Park every morning just after it opens. There will be plenty of chance to photograph the wide variety of wildlife, and Edward will endeavour to teach you several wildlife photographic techniques.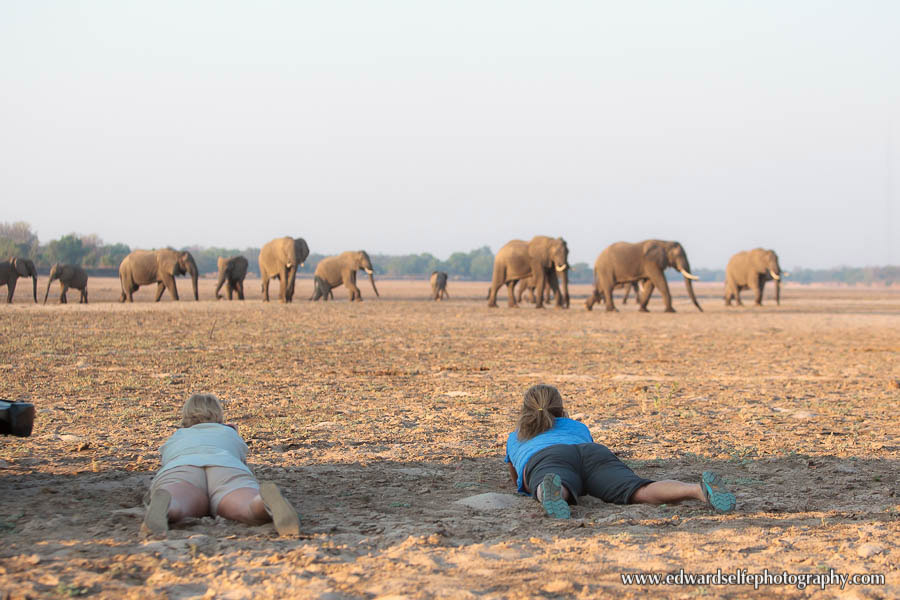 You can expect to then return to camp just after 10.00 for brunch.
After the morning photo safari, there will be ample time to relax and download photos. Edward will also be available to discuss editing methods. So if this is of interest to you, please bring a laptop that has photo-editing software.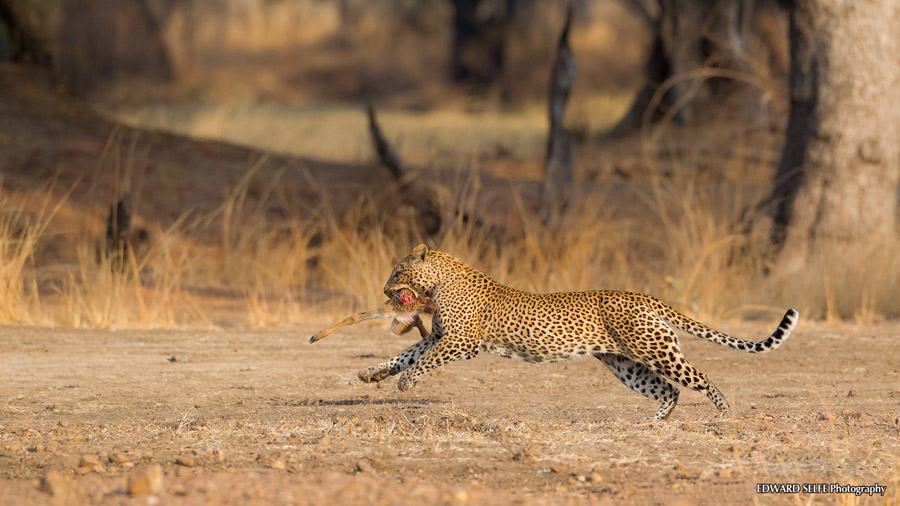 During the day there will be the chance to spend a couple of hours visiting other places in the Mfuwe area, such as a local school, rural health clinic or the nearby anti-poaching base. As well as enhancing your understanding of South Luangwa's complex human-wildlife relationships, these visits will also present interesting photographic opportunities.
You will then meet for tea at 15h00 before heading into the park again to catch the best of the afternoon light. After a stop at a scenic spot on the river to watch one of Luangwa's epic African sunsets, you'll continue with a spotlight in search of the local predators.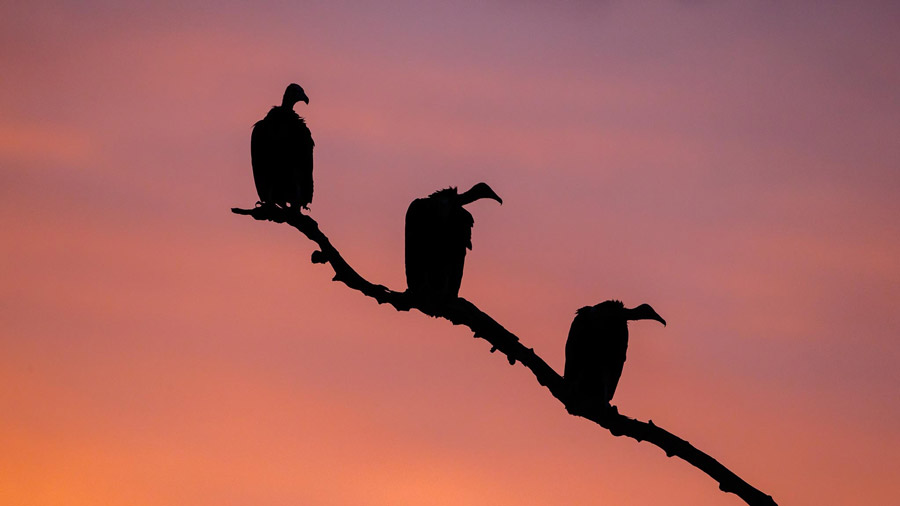 You will return to camp as the park closes at 20h00 in time for dinner and a well-deserved rest.
Overnight at Flatdogs Camp
Day 4: Traversing South Luangwa National Park
After three days in the southern area of the park, you will leave Flatdogs after a light breakfast, and set off on a photographic game drive on the way over to Lion Camp.
You will cruise through South Luangwa National Park following a road that weaves along the Luangwa River with excellent photographic and game viewing opportunities en route.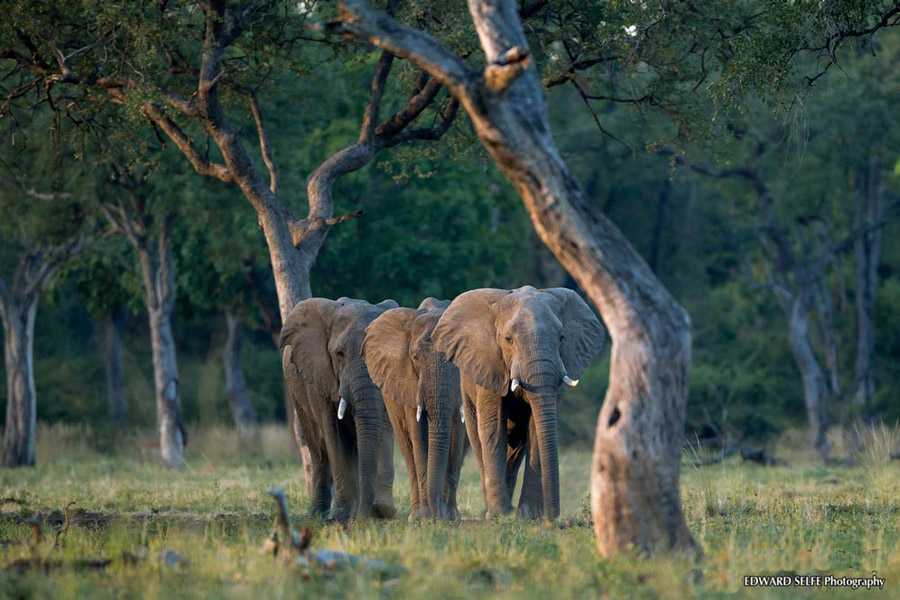 On arrival at Lion Camp you will have time to settle into your room before a buffet brunch is served.
After brunch there is a rest period during which you will have time to swim in the infinity pool, explore the library or game view from your private deck. There will also again be a chance to work on editing photographs. Afternoon tea is served at 15h00 before you head out on an afternoon photo safari.
You will return to the lodge at around 20h00 to freshen up before a three-course dinner is served.
Overnight at Lion Camp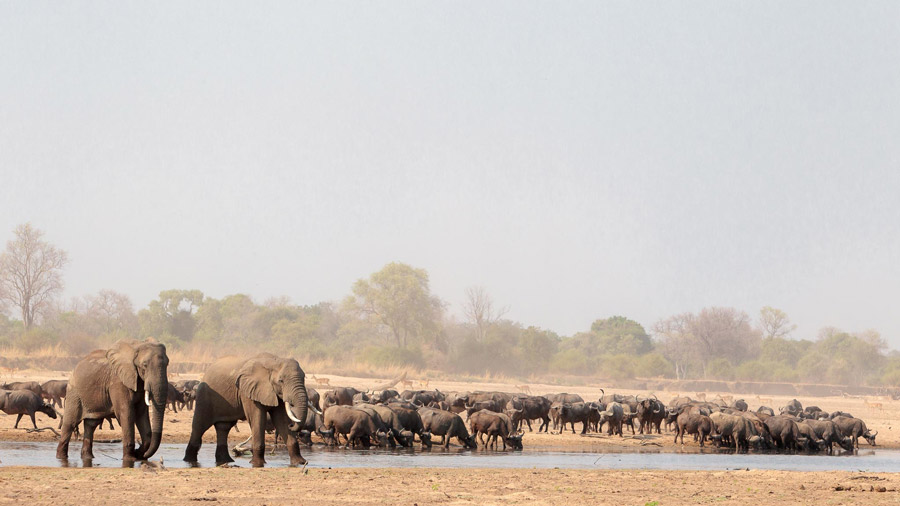 Days 5 and 6: Lion Camp and surrounds
As the most remote lodge inside South Luangwa National Park, Lion Camp only opens during the peak game viewing months from June to October. The lodge looks out onto open grassland, which is frequented by grazing mammals by day, and becomes a hunting ground for lions by night. In the absence of fences, game moves freely through the lodge grounds. Elephant, hippo and various antelope are regularly seen within the confines of the camp.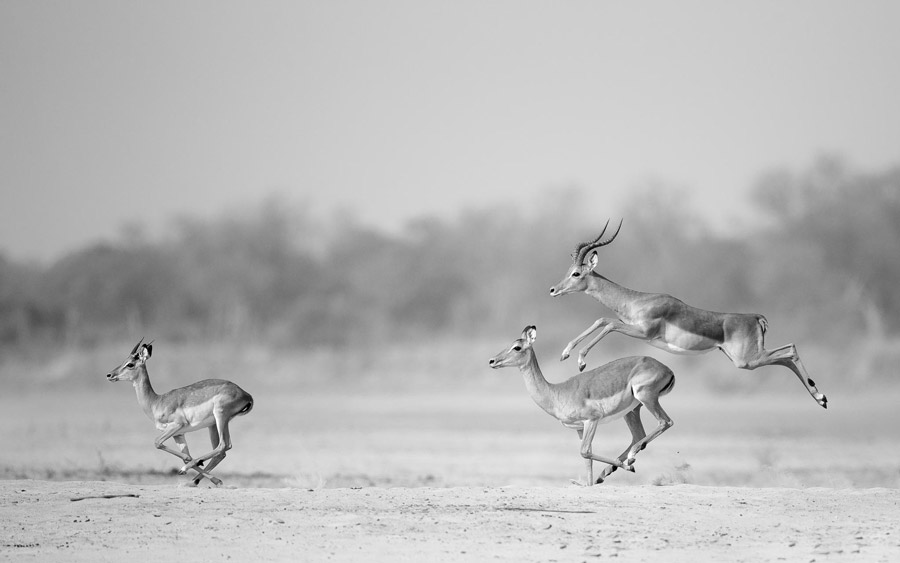 The northern sector of South Luangwa National Park allows you to explore different habitats. The grasslands offer the chance of spotting the endemic Cookson's wildebeest, and the high prey density means that sightings of lions on a hunt are a common occurrence.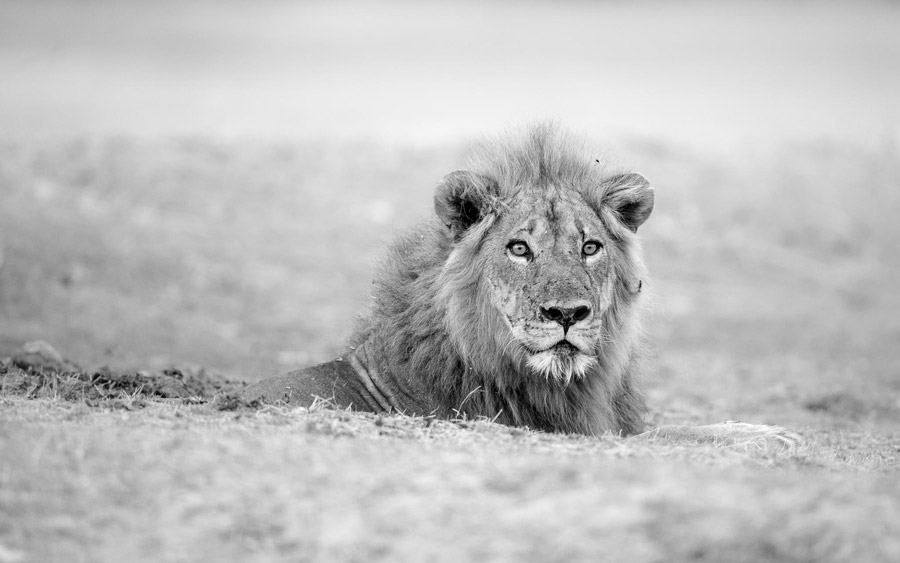 The daily routine remains the same – an early morning wake-up call before leaving on a morning safari, followed by an afternoon drive at around 15h00. As darkness falls, Ed will point out the tell-tale signs of predators lurking. These signs include baboons chattering, impalas snorting and pukus whistling. Once the sun goes down, the spotlight will be turned on unusual creatures such as Pel's fishing owl, African civet, aardvark, porcupine, honey badger and large spotted genets. Not to forget a few leopards along the way.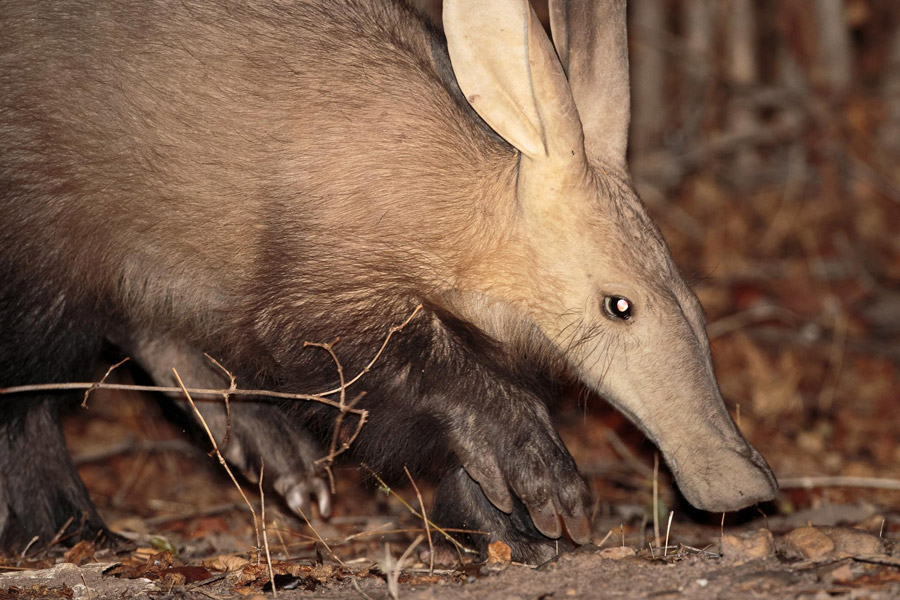 You will return to camp at about 20h00 in time for dinner and a last chance to review your photographs with Ed.
Overnight at Lion Camp
Day 7: All good things come to an end
Depending on everyone's flight schedule, there may be time for a morning photo safari before heading to the airport. This arrangement will be made once the group is formed. Our staff and Ed Selfe will help to co-ordinate your departure to meet with the remainder of your itinerary and any onward connections.
If you would rather stay longer in South Luangwa, or extend your photo safari with Ed Selfe for a few more days, please get in touch with us. We can offer various extensions that will allow you to see different areas of the park, or even include a five-day beach break on Lake Malawi's Mumbo Island as a fitting finale to your adventure.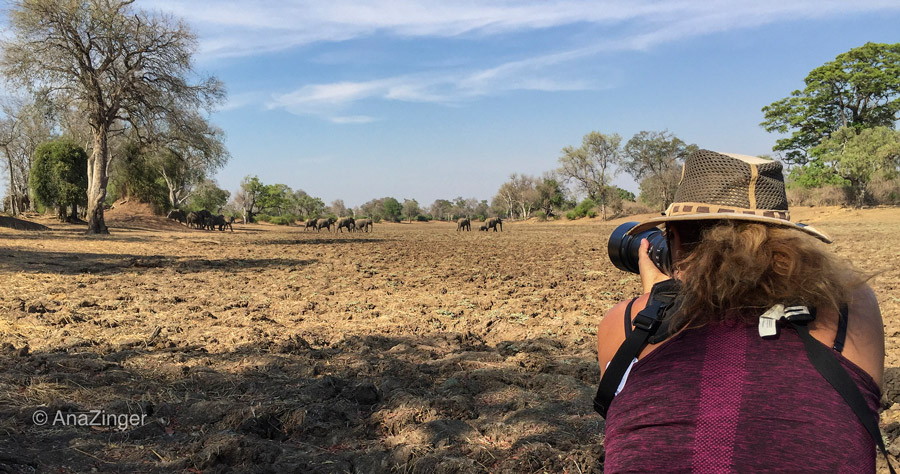 Accommodation
Accommodation at Flatdogs Camp will be either in cool, spacious chalets or classic African-style en-suite safari tents spaced along the Luangwa River with wide river views. The one that you will be assigned will depend on availability at the time of booking.

The six stone chalets are found in three separate buildings: each chalet has a downstairs double room with an en-suite bathroom, and an upstairs twin/triple room with use of a separate bathroom downstairs. The two rooms are completely separate with their own facilities, but can be joined through the small kitchen area if a family or group of friends book both rooms. Both rooms have their own verandah, electric fan and large mosquito net. Flatdogs is on mains electricity and has a standby generator for emergencies.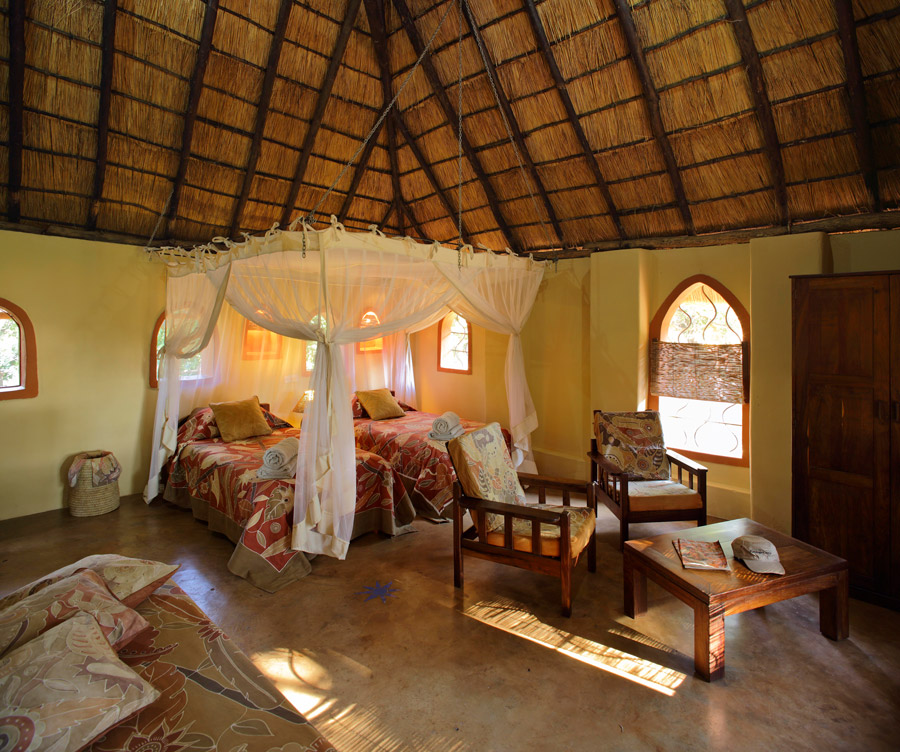 The tents are spacious and lead to a shaded open-air bathroom with a hot shower, flush toilet and basin. The luxury tents also have mosquito nets and electric fans as well as fully-gauzed windows. Mains electricity and plug sockets (3 pin UK style plugs) are found in all of the safari tents.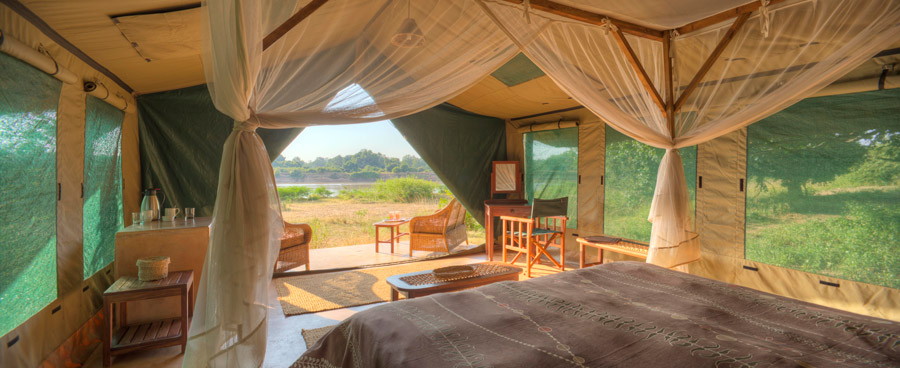 Accommodation at Lion Camp will be in a luxurious canvas and thatch chalet. Built on raised wooden platforms, and linked by a raised wooden boardwalk, your chalet will have either a four-poster double bed or twin beds and a walk-in mosquito net. Each chalet is en-suite with a shower and toilet with a private deck which overlooks the open plain.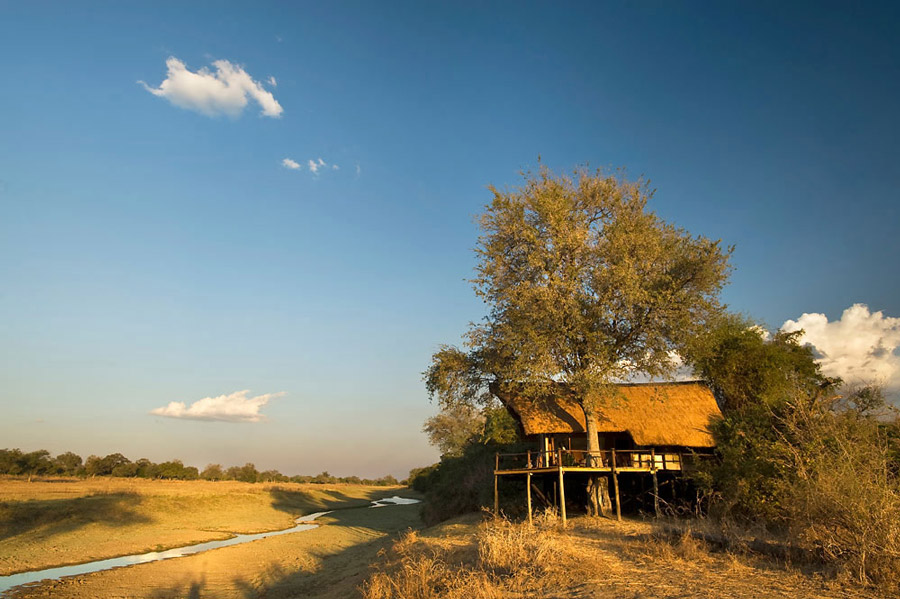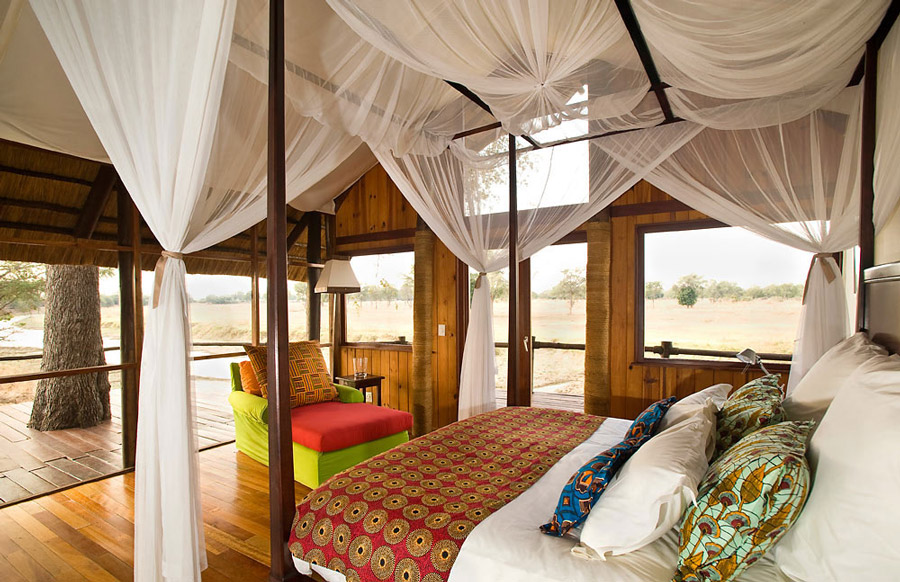 An infinity swimming pool, lower deck with sun loungers, central bar and fireplace are located in the main area, along with a library and small shop.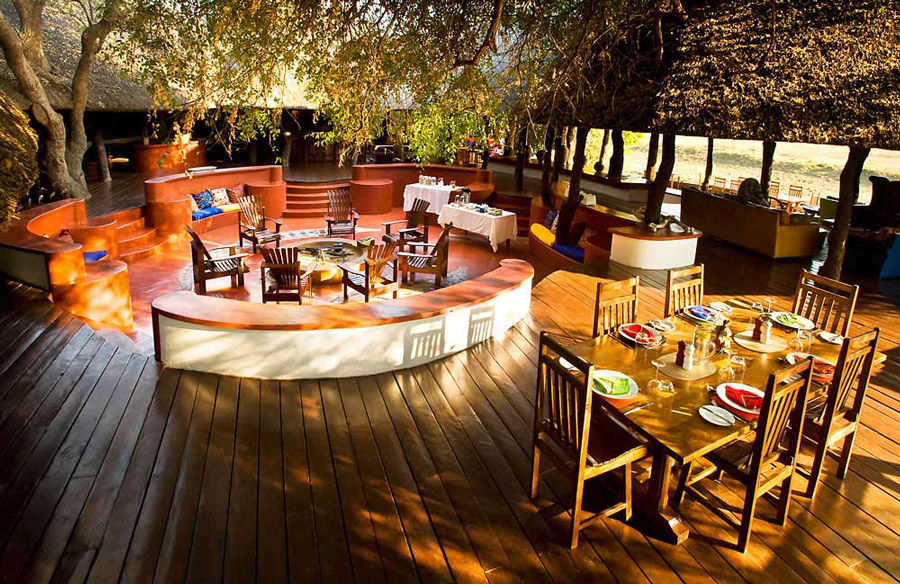 About the Guide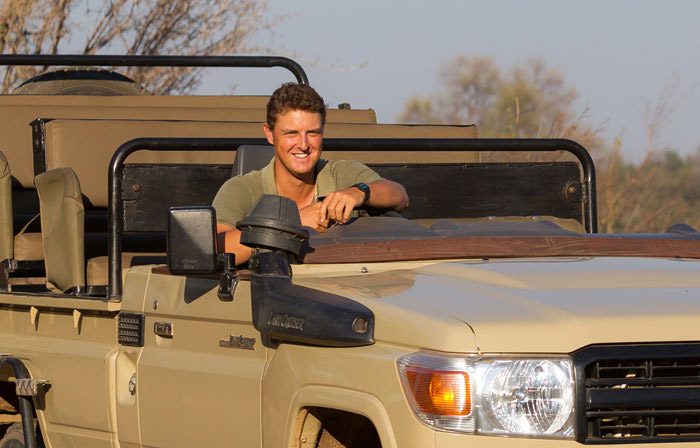 Ed Selfe has been living and working in South Luangwa since 2009. During this time, he's built up a comprehensive knowledge of the wildlife in the area and turned a passion for photography into a successful photographic-safari career. He loves photographing and studying the wildlife and birds of South Luangwa National Park and he has perfected the skill of locating the resident carnivores. He enjoys sharing his knowledge of wildlife behaviour and is passionate about Zambia's prolific and beautiful fauna. Ed Selfe is qualified to lead both vehicle and walking safaris.
Testimonials
"As a serious amateur photographer, I would highly recommend an extended stay at Flatdogs Camp for anyone who wants to experience Africa with a good camera in hand. Our guide, Edward Selfe, was not only a highly informed and experienced naturalist, but also an excellent photographer. Whenever possible, he would position our vehicle with consideration of the light, the animal and the upcoming potential action so that we had the best chance of getting the special photo that we wanted! Photography in Africa is challenging, but having a photo savvy safari guide like Edward can make all the difference," Laurie Shapley, USA
"Edward was a terrific guide and very knowledgeable. Having gone been on several safaris in different locations in Africa, the South Luangwa and Flatdogs guides were unique. There was no relying on radios to tell each other where game was sited. Rather we would stop and listen for sounds from the puku or other animals to indicate where there may be a leopard or another predator. It was more like game tracking than just driving through the park. Most of our leopard sightings were by ourselves with no other vehicles around so we could just spend time and watch them interact or hunt naturally. We spent over two hours just with a single pride of lions as they played and as we waited for the perfect lighting for pictures. No one else in sight. Truly a wonderful experience," Scott and Dan, USA
"Ed was the perfect guide for us. His photographic skill made a real difference to us, with his understanding of the best angles and best light," Ken MacLennan-Brown and Sandra Rossi, UK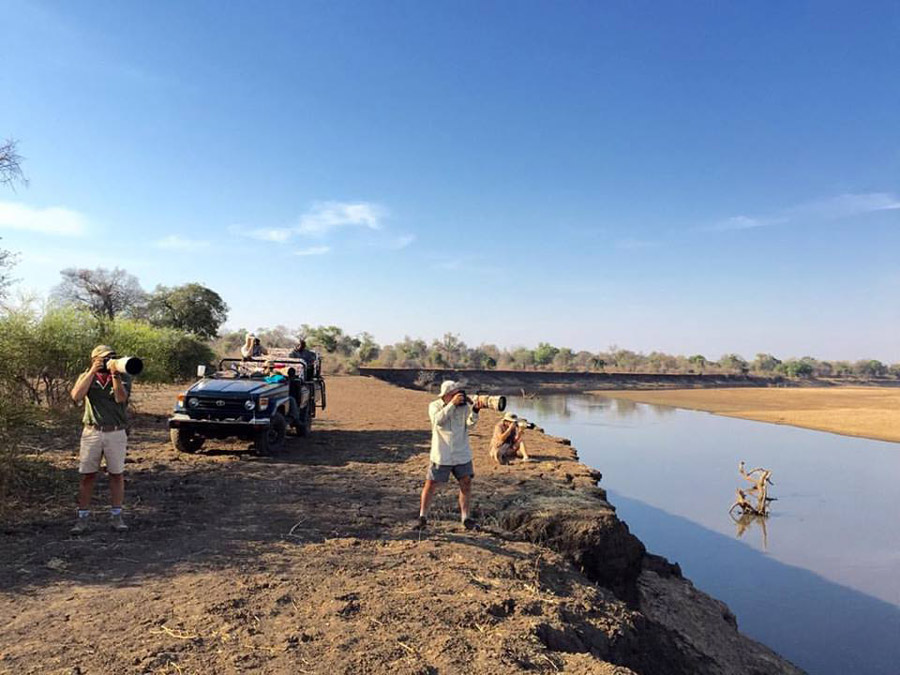 Photographic equipment
If you are able to bring a digital SLR camera with a couple of interchangeable lenses, including a telephoto zoom lens of at least 300mm, that would be ideal for this safari. Good examples are Canon and Nikon's 70-300mm and 80/100-400mm lens ranges. Longer, fixed prime lenses are excellent for safari and offer the best possible image quality, but at a cost of extra weight and bulk. A monopod or a beanbag is useful to support the weight of the camera and allow slower shutter speeds in failing light.
However, do not feel that you have to buy lots of new equipment to enjoy and benefit from this safari. South Luangwa National Park offers wonderful photographic opportunities to photographers with all types of cameras, and those who are familiar with their cameras often get the best photos.
Additional information
Climate: Average morning temperatures are around 10°C/50°F, thus it is advised to bring warm winter clothing for the cold morning game drives. Afternoon drives will be more pleasant with temperatures around 23°C/73°F. Rain is highly unlikely during this time of year and humidity is very low. Insects are at their lowest numbers and hardly a bother, but malaria prophylaxis remain essential.
Physical difficulty: This is mostly a vehicle-based photo safari, but there is the chance to get out and walk during the trip – based on group consensus.
Price includes: Internal return flights routing Lusaka | Mfuwe  | Lusaka, full board accommodation, mineral water or filtered bore-hole water with meals in your room and on game drives. All transport in the reserve and guided game viewing activities, pro-photographer guiding fees and informal photo processing sessions, South Luangwa National Park entrance fees, laundry, all airport transfers, bar drinks at Lion Camp. 24/7 office support.
Price excludes: International and domestic flights to/from Lusaka, bar drinks at Flatdogs, visas, travel and medical insurance, excess baggage charges, personal calls, gratuities, personal purchases, WiFi is available to purchase at Flatdogs and for emergencies at Lion Camp, activities not specified in the itinerary.
Flight details: Please note included in our trip cost per person are the flights routing Lusaka | Mfuwe | Lusaka. Your luggage allowance for these flights are 23 kg carry-on plus 5 kg hand luggage per person. More luggage allowance can be purchased in advance or at the airport, subject to availability. We can assist you with bookings to reach Lusaka Airport should you require this.
Booking and payment details: Once you have decided to join this safari, you will need to contact us for a booking form, which will include details relating to deposit and final payments etc. As our groups are small, they fill up quickly.