Join Africa Geographic Travel in Chobe's Savuti for a once in a life-time photo safari.
Introduction
Your chance to experience Chobe's ultimate predator playground has finally arrived! Perched close to water sources and predator hotspots, our Savuti mobile tented camp can be noted for its secluded nature, comfort, attention to detail and friendly staff. This popular Chobe safari has been designed by photographers for photographers, and will be lead by award-winning photographer and professional guide, Francois van Heerden.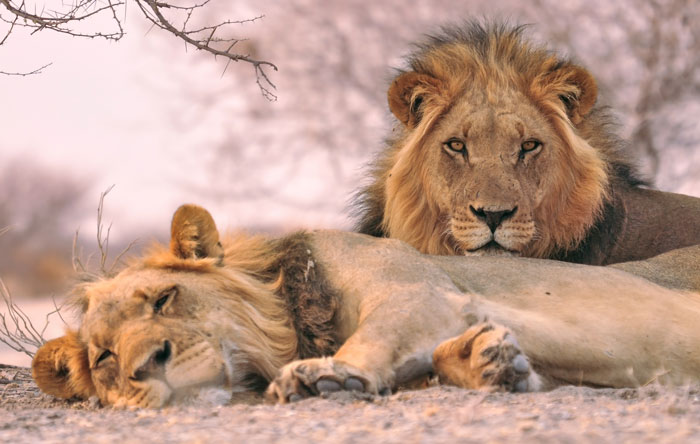 Savuti Marsh in Botswana's Chobe National Park is a sight to behold for photographers and wildlife enthusiasts. Savuti is blessed with an extensive matrix of mopane and Kalahari apple-leaf trees interspersed with open grasslands that make for clear and phenomenal wildlife viewing.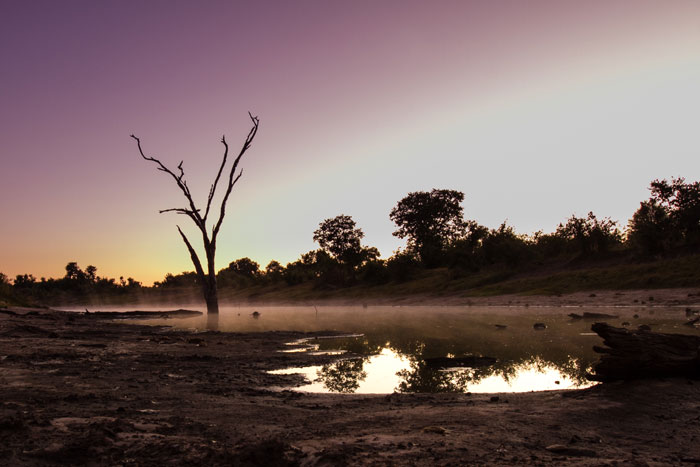 Spring begins in August and come September, the dry season starts to tighten its grip on both water sources and available food sources before the rains arrive in mid November. It is during this period that Savuti's wildlife hovers on the brink of despair and becomes concentrated around the remaining waterholes and dwindling pools. Large herds of buffalo, elephant, Burchell's zebra, wildebeest, hippos, kudu, impala, buffalo, and even sable vie for a chance to drink wherever water may be found. Presiding over these last drinking havens, lion prides and hyena clans wage war against each other for supremacy. Moving quickly from one waterhole to the next, wild dogs ruthlessly harvest their keep, whilst cheetahs assault unsuspecting victims on the open plains.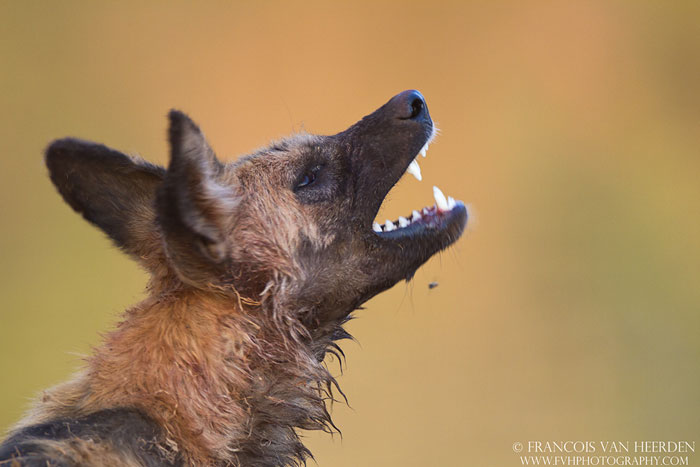 Fascinatingly, with water levels rising and falling, Savuti's predators have realised that there's a source of tasty fish and, if we are lucky we may witness one of these crafty fishing attempts.
Such abundance of drama has become a powerful lure for many wildlife enthusiasts, photographers and videographers worldwide, including many international and local film crews that have spent countless hours documenting the game of survival of Savuti. As a result, they have cemented Savuti's reputation as one of Southern Africa's premier wildlife viewing areas.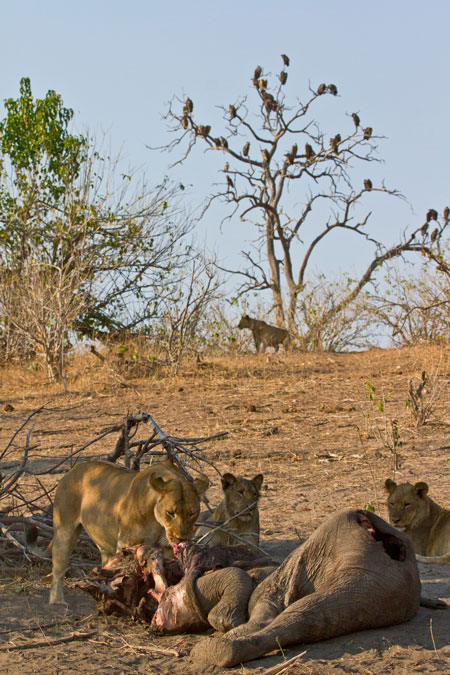 Detailed Itinerary
Day 1: Arrival in Kasane and photo safari session on the Chobe River
On arrival in Kasane, Botswana, you will be met by the Africa Geographic team and transferred to the very comfortable Chobe Bush Lodge. In the afternoon 15h00 enjoy a specialised photo safari via boat on the Chobe River. Breeding elephant herds, hulking hippo and buffalo, basking crocodiles and no shortage of birdlife will keep us enthralled until it is time to return to Chobe Bush Lodge for dinner.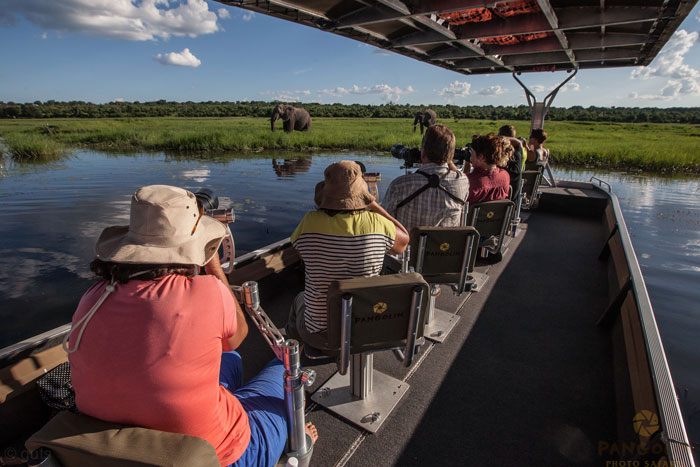 Day 2: Morning transfer to Savuti and photo safari in Savuti Marsh
After breakfast you will set off on a five hour drive to Savuti, crossing Chobe's magnificent teak woodlands and eventually reaching the Savuti Marsh. A packed lunch has been arranged and on arrival you will enjoy your first safari to find out where the action is happening.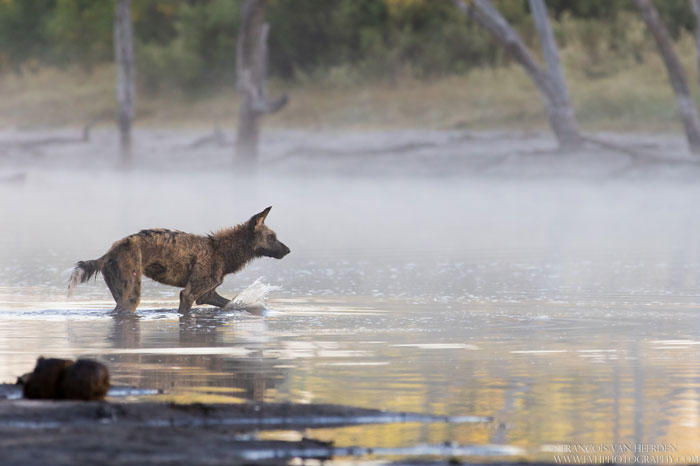 Days 3-6: Morning and afternoon photo safaris in Savuti
Each day's programme will be discussed the previous night by Francois van Heerden, who will keep track of game movements by using his experience of Savuti and knowledge of predators to create the best possible strategy for each photo safari.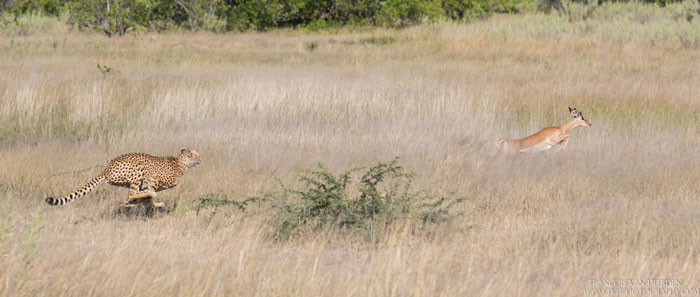 Enjoy early morning photo safaris before returning to camp for a hearty brunch. In the early afternoon participants can take the opportunity to enjoy a rest in the shade or to benefit from an informal photo editing session with Francois Van Heerden, where you can discuss techniques, shortcuts and other useful tips.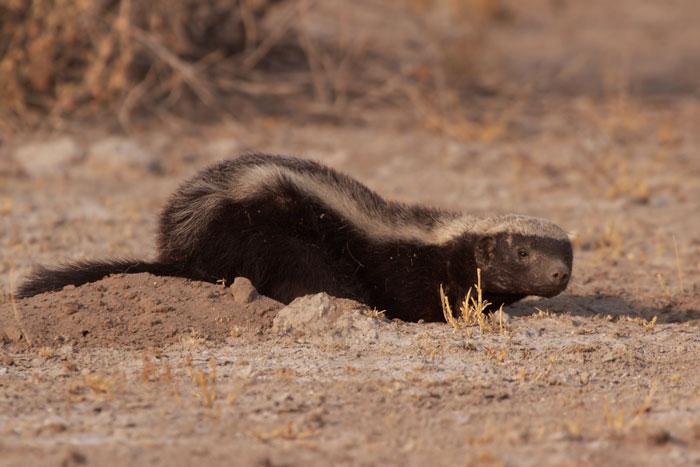 In the late afternoon head back out to Savuti Marsh. In addition to its predatory riches, Savuti also offers a chance to enjoy the legacy of its previous human residents. Rising out of the Savuti plains are a number of rocky outcrops including the well-known "Bushman Hill". Here you are able to find unique San rock art. The paintings depict a number of species that shared the area with Botswana's original people, including eland, elephant, sable, giraffe, hippo and the perilous puff adder.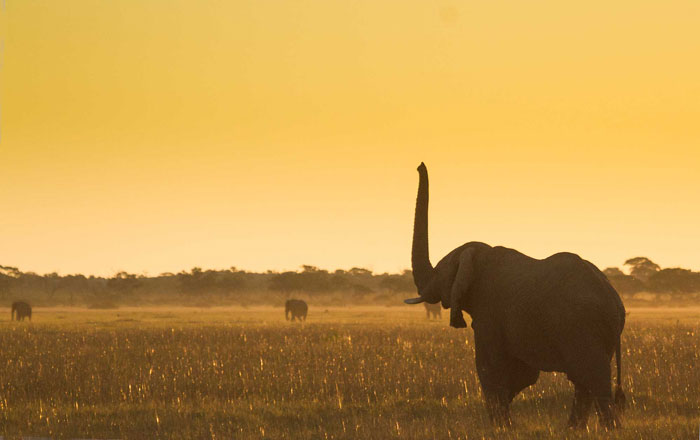 At the end of each day you will head back to camp for a well-deserved hot shower and a sumptuous three-course dinner under the stars, and to discuss the day as well as plan the next. For those interested, Francois van Heerden will also be at hand to share his night photography skills.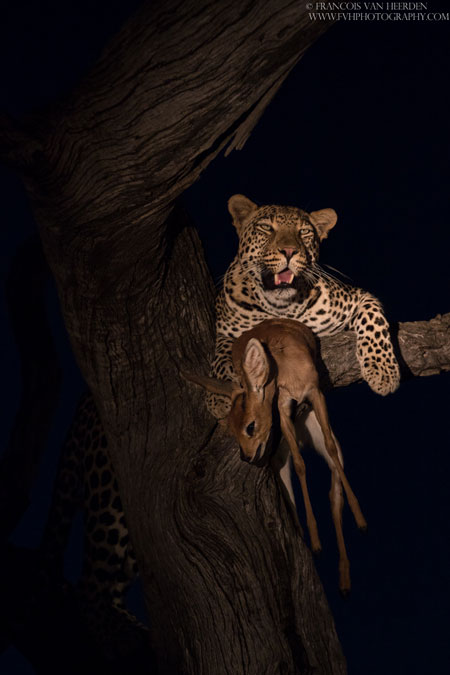 Day 7: Morning photo safari and return to Kasane
After a hearty breakfast the group will depart (with bags packed and loaded) on a final morning photo safari as you exit Savuti en route to Kasane.
A packed  lunch will be had en route, and all going well you will reach Chobe Bush Lodge in Kasane in the afternoon where a scrumptious meal, long shower and bed awaits everyone.
Day 8: Departure Day
After breakfast, you will bid your group and guide farewell and transfer directly to Kasane Airport for your onward journey or flights back home.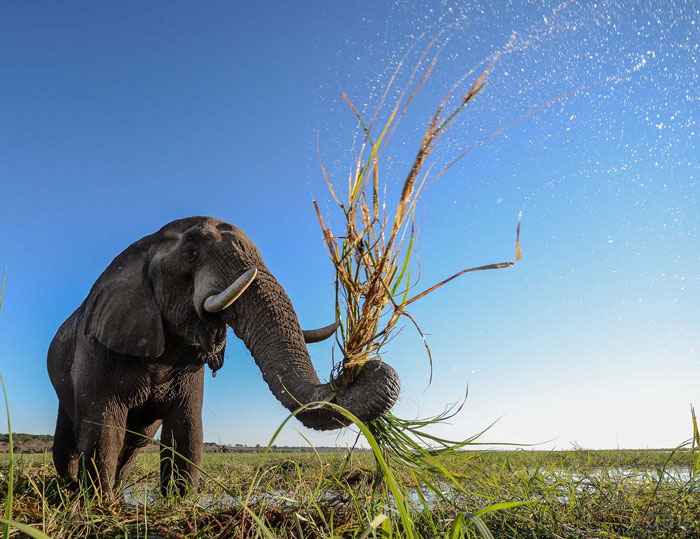 About the Guide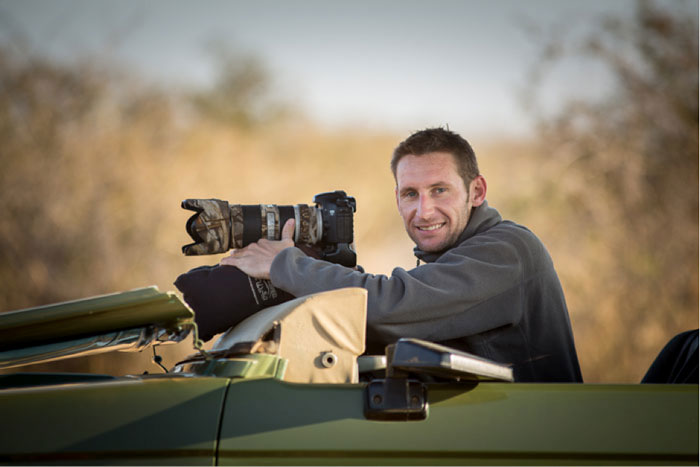 Born and bred in South Africa, Francois van Heerden developed his passion for wildlife while assisting in managing a small reserve on Makhado Air Force base – his favourite activities being snake wrangling, game captures and game counts.
After spending time in the UK working, Francois returned to South Africa and qualified as a professional field guide in 2007. He then bought his first DSLR camera and started photographing nature's beauty, which he is so privileged to see on a daily basis.
Francois van Heerden believes that to take your wildlife photography to the next level you have to know your subject intimately – to be prepared for that split second that defines that once-in-a-lifetime photo. Francois believes that photography is not just about taking a great photo but also about building memories and sharing nature's beauty and diversity, it's a great tool to broaden people's imaginations and awareness of our precious wildlife.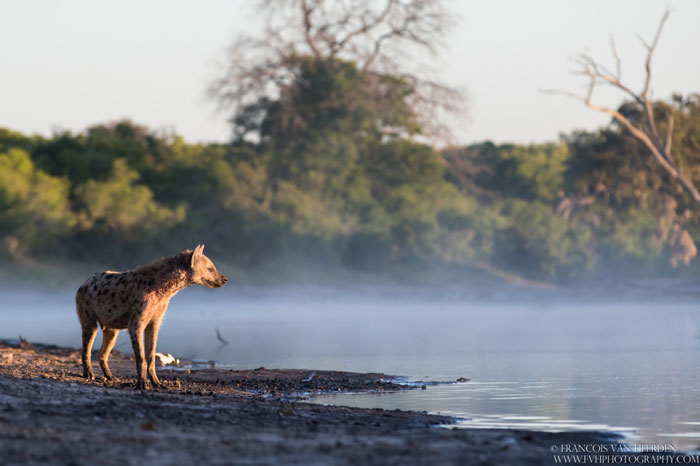 Accommodation
In Kasane you will be staying both nights at Chobe Bush Lodge.This flagship accommodation consists of 38 spacious luxury en-suite rooms each one with open plan bathroom featuring both bath and a shower, air-conditioning, TV and safe. The rooms are completed in modern bush-style design with exquisite views over Chobe National Park.
In Savuti we will be running a very comfortable mobile tented camp erected at two of the most sought after sites , right next, or near the Savuti Channel. The accommodation options offered include large (5m x 3m) en-suite, mini-Meru tents for couples or friends willing to share, and smaller (2,5 x 2,5) dome tents with separate shower and bush toilet facilities to accommodate singles (that said singles may book a double tent if they wish to, but a single supplement will then be applicable).
The larger double tents (Morula) have a small front verandah with chairs, as well a wash stand, two separate iron frame beds with mattresses and all required linen and an enclosed and private "en-suite" toilet and shower area. The shower is a portable shower, filled on request with hot water by camp staff. Essential toiletries are supplied.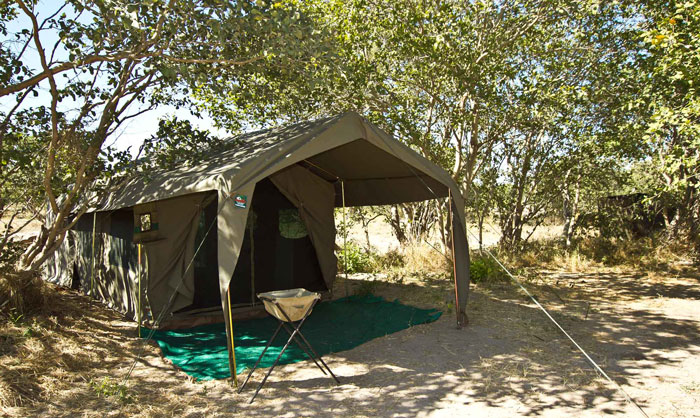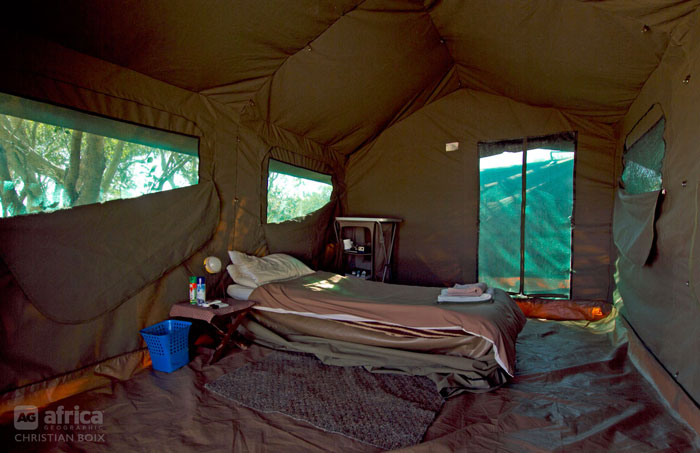 The smaller walk-in domed tents are also endowed with built-in floors, a small front verandah, very comfortable camp beds with a mattress and a full linen complement. A solar powered lamp and essential toiletries are supplied. The shower facilities and singles toilet are shared with a private cubicle with a portable shower filled on request with hot water by camp staff.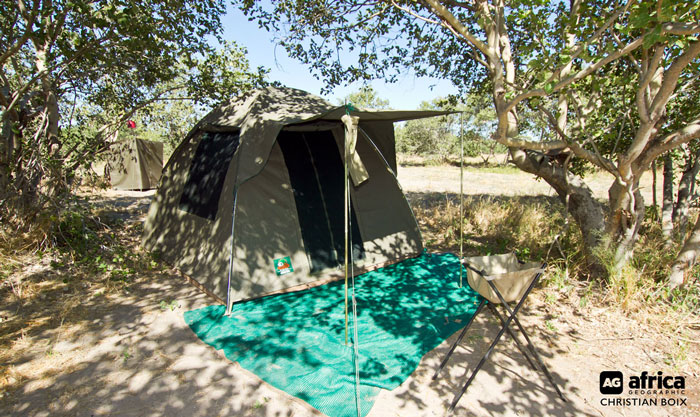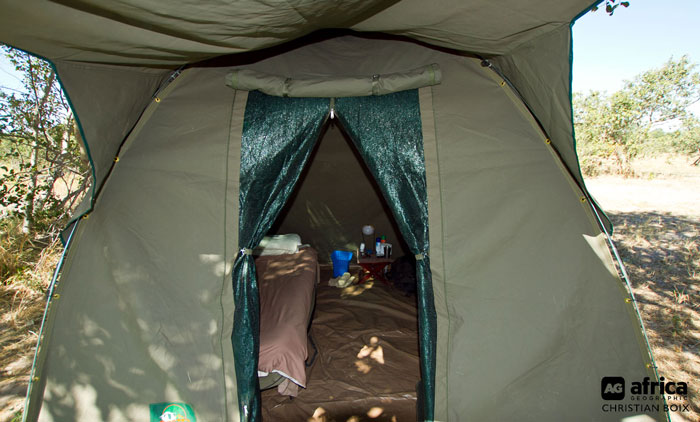 Besides the accommodation, two communal gazebos will be erected, one to dine and another to process and download your images. A full cold bar with bottled water, a selection of soft drinks, mixers and juice, local beer, and local red or white wine will be available.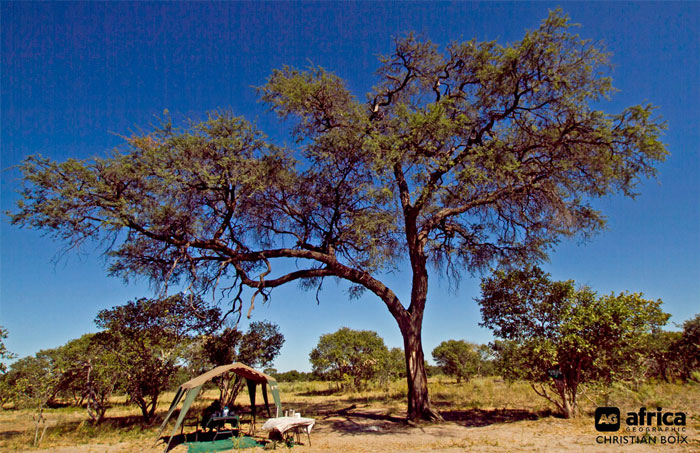 This is an unfenced wildlife area and the wildlife may pass through camp at any time of the day.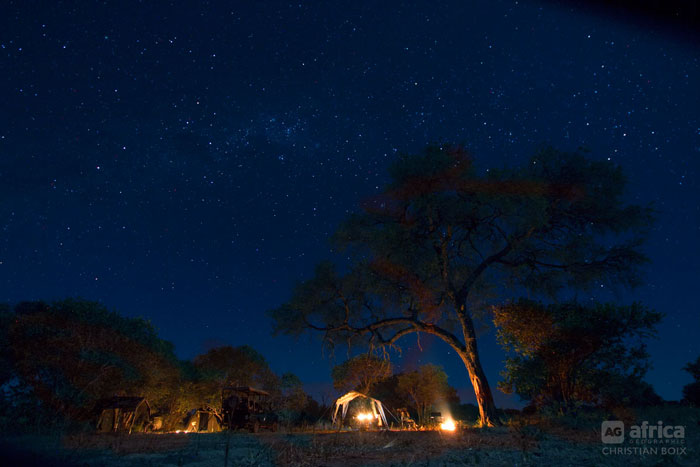 Trip Reports and comments
August 2016 with pre and post trip add-ons
Additional Information
Climate: As it will be the height of the dry season in Savuti, temperatures can reach 40°C and we expect it to be hot. Rain is unlikely but as it is the start of the rainy season a few millimetres is not impossible.
Difficulty: Activities are mostly game drive based. Accessing the photo boat is done via a jetty. The photo-boat experience does not require any level of fitness. The climbing of Bushman Hill will involve moderate exercise and is at the risk of the client (Bushman Hill has no steps or handrail and wildlife also frequent the area).
Battery charging and game drive vehicles: We use converted Toyota Land Cruisers, with an inverter system for charging camera batteries. It is, however, recommended that you bring extra camera batteries to avoid the disappointment of running out at a key moment. There is also an additional inverter in camp (run off the back-up vehicle) in order to charge batteries. Please note that this is a bush environment and, as such, charging is limited to small appliances (e.g. camera batteries) as we cannot use generators in Chobe National Park.
Mobile phone reception: Once in Savuti mobile phone reception is non-existent, with your last opportunity to call home at Kasane airport.
Price includes: Full-board accommodation, all transfers, all 4×4 transport and photo boat trips, all drinks (except imported wines and spirits), unlimited mineral water, the services of a professional photographer/guide, informal photo processing sessions, bean bags (to be returned), all park entrance fees, and 24/7 office support.
Price excludes: International and domestic flights, visas, travel and medical insurance, optional gratuities, excess baggage charges, personal calls, personal purchases, laundry, and any activities not specified in the itinerary.
Flight details: Please note that this safari begins and ends at Botswana's Kasane International Airport. You will need to make your own arrangements to get to Kasane Airport; Air Botswana fly daily from Johannesburg. FYI the bag weight allowance on this flight is 23 kilograms (checked baggage) and 7 kg (hand luggage).
Booking and payment details: Once you have decided to join one this safari, you will need to contact us for a booking form, which will include details relating to deposit and final payments etc. As our groups are small they fill up quickly.