A wonderful combination safari of game drives, bush walking and an affordable tented camp in Zambia's South Luangwa National Park. 
Departure Dates for 2016 and 2017
2016 DEPARTURE DATES:
3 to 7 August 2016     |     14 to 18 September 2016 (fully booked)
2017 DEPARTURE DATES:
14 to 18 June 2017    |     12 to 16 July 2017     |     9 to 13 August 2017
Introduction
This budget safari offers exceptional guiding and a true wilderness experience. Africa Geographic has just made the renowned South Luangwa National Park in Zambia accessible for travellers on a modest budget.
Thanks to a newly erected eight-bed tented camp, which is nestled deep inside South Luangwa National park, we bring you the unique chance to savour the raw essence, magic and beauty of the Luangwa Valley in blissful privacy, and on a budget.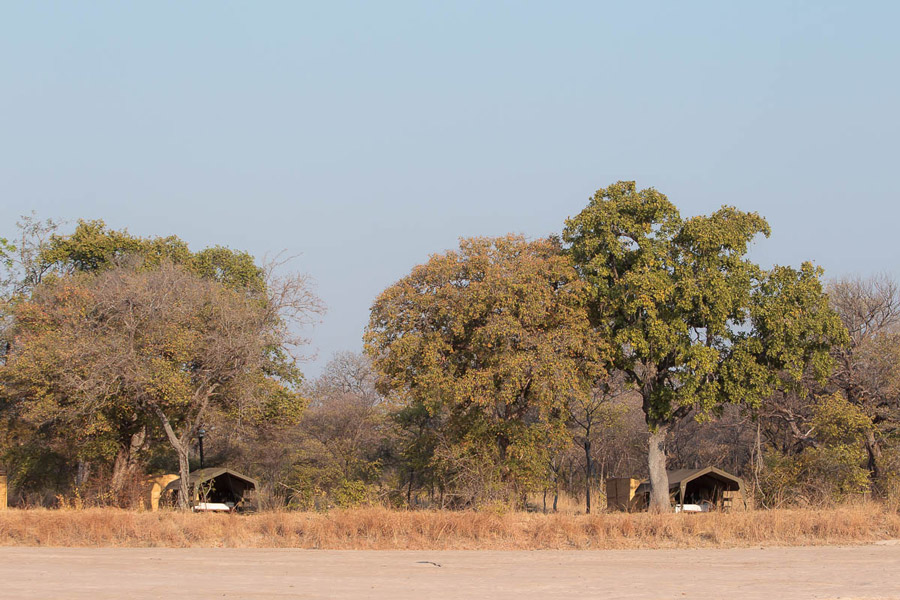 This safari holiday offers a wonderful combination of walking and driving safaris that will appeal to experienced safari-goers and first-timers alike. And in order to add a bit more variation to your trip, as well as to offer a greater understanding of South Luangwa, archaeologist Dr Rosie Fletcher will join you on one of the days to provide a fascinating insight into the human history of Zambia.
The exceptional game viewing and tracking on foot, as well as the epic bush breakfasts and the unforgettable sundowners, will ensure that you leave South Luangwa with a wealth of unforgettable memories to cherish for many years to come.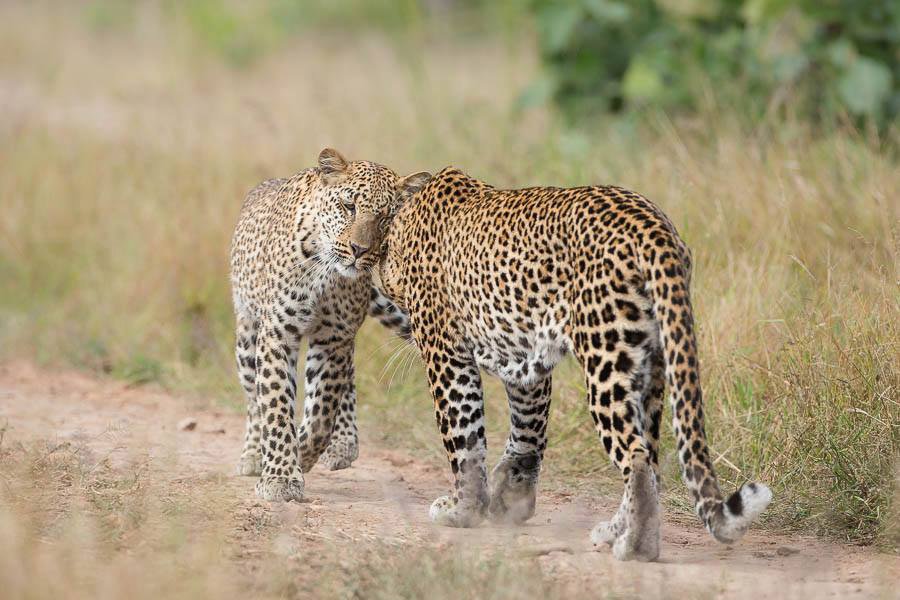 Itinerary
Day 1:
Your safari will begin mid-morning with a hearty welcome at Zambia's Mfuwe Airport by your expert guide Gavin Opie, who will escort you to Nkonzi Camp. Guests choosing to travel overland from Chipata will be met at an arranged spot in Mfuwe Village. Once everybody has settled in at Nkonzi Camp, Gavin Opie and his wildlife scout will provide a short safety briefing before joining you for a relaxing and wholesome lunch.
Your first night safari will kick off just after 4pm. After enjoying sundowners en route, you will drive through the enigmatic African dusk, watching closely for nocturnal species such as honey badgers and African civets, while the Milky Way gradually comes to life above you.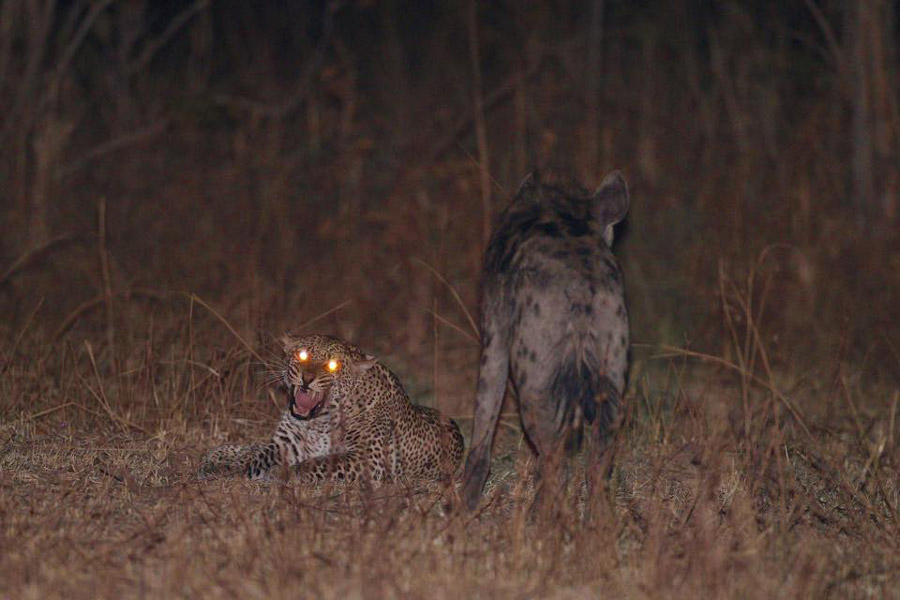 Back at Nkonzi Camp, a welcoming fire, drinks, hot showers and a delicious dinner will await, and as you lay your body to rest, the call of distant hyenas and Scops and Pel's fishing owls, along with the roars of lions, will lull you to sleep.
Day 2:
This day in South Luangwa begins around the campfire, with the dawn chorus in full swing to herald another beautiful morning on safari. After coffee/tea and a light breakfast, the safari vehicle will arrive to whisk you off on your first morning game drive. This is an enchanting time to spend in the bush as wildlife is at its most active in the cool of the day, and the soft morning light saturates every colour.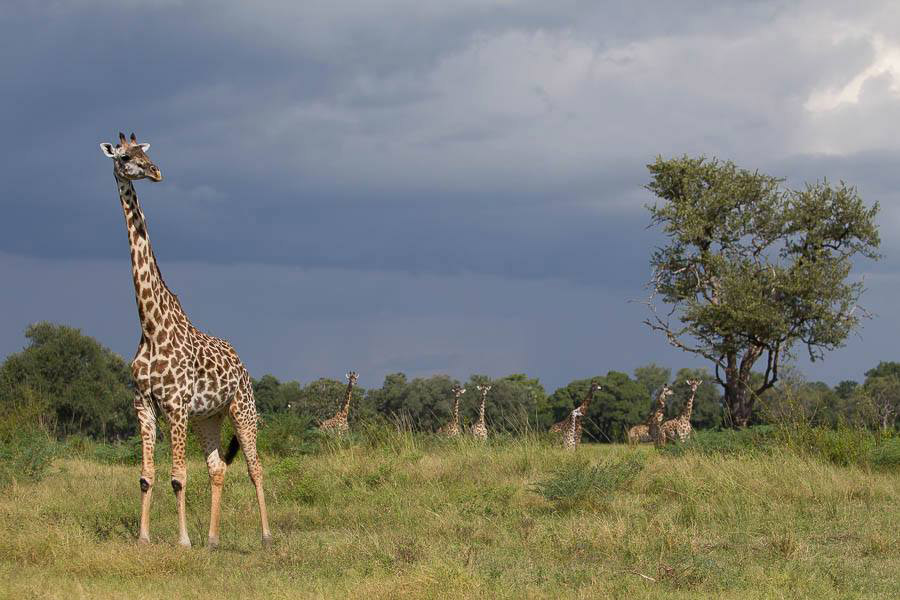 Brunch will be served on your return to Nkonzi Camp, and the early afternoon is then yours to enjoy at your leisure. Once the midday heat has subsided, it will be time to leave Nkonzi Camp on foot to head deep into the wild. As you walk, Gavin Opie will introduce you to the fascinating art of tracking – a skill that involves all five senses and a wealth of experience.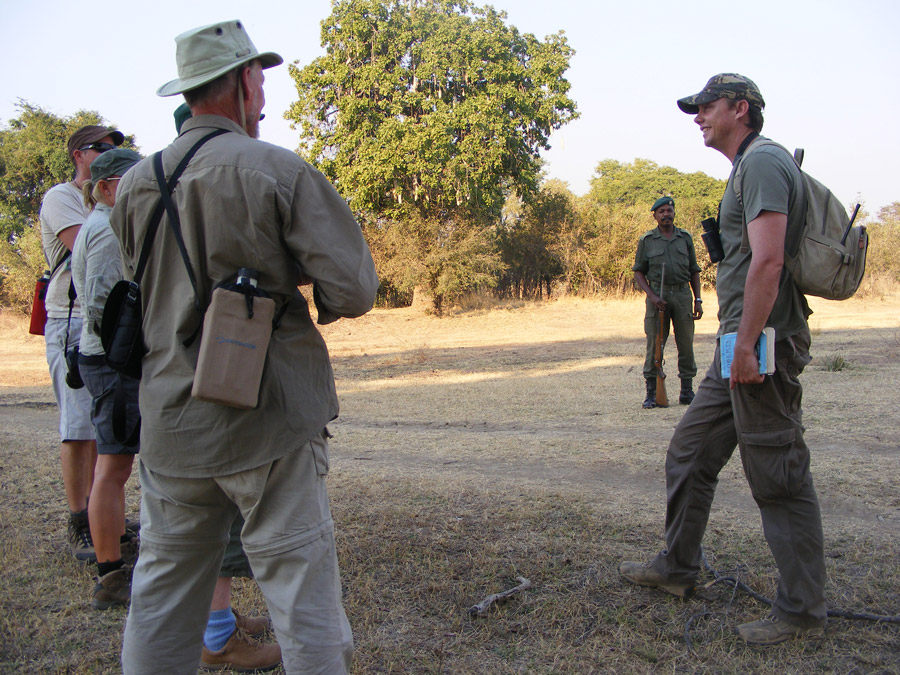 You will walk for between two and three hours in the afternoon, before returning to camp for dinner just as the sun dips below the horizon.
Day 3:
After breakfast you will embark on your second walking safari, during which you will learn more about the unique South Luangwa flora, including some of the traditional and medicinal uses of some plants found in the valley.
Following lunch you will be joined by Dr. Rosie Fletcher, an expert in the archaeology of the Luangwa Valley. Rosie will take you on a journey of discovery, using ancient archaeological artefacts to tell the rich story of human occupation in Zambia. As you walk, you'll discover the ingenious bush craft that prehistoric people used to make fire, build homes, create jewellery and clothing, and, of course, find food. This is set to be an enthralling afternoon, which will give you an exciting new perspective on what it meant to exist as a human in the Luangwa Valley of yesteryear.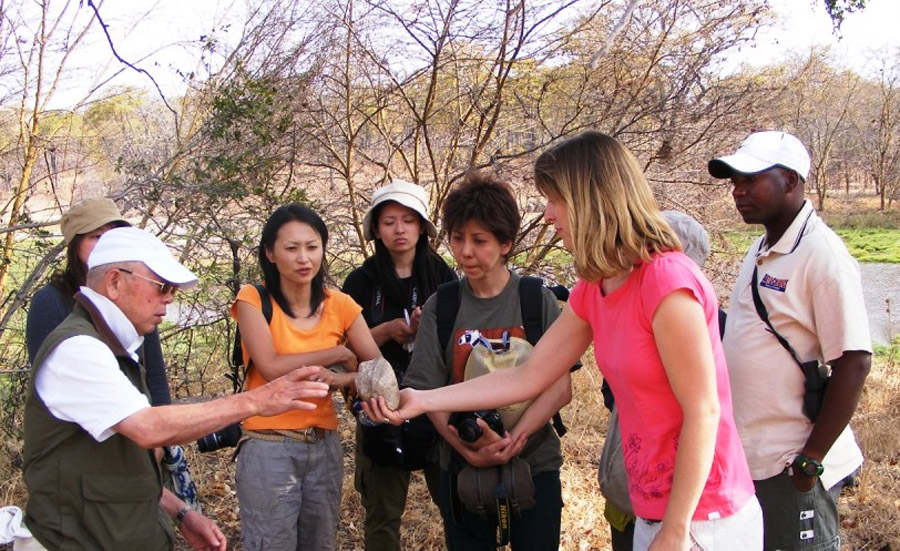 Day 4:
This will be a remarkable day, as you will head deep into the remote northerly sections of South Luangwa National Park on a full-day game drive. As you will be accompanied by a wildlife scout, you will also have the fantastic opportunity to combine a driving and walking safari.
Whether Gavin Opie leads you on foot from the vehicle to take a closer look at a lion kill, or you find yourself walking alongside a group of giraffe or examining a colourful beetle, the freedom that this day allows to explore Luangwa is unrivalled. The journey will also take you through atmospheric ebony groves and lagoons in search of rare game, such as eland and Cookson's wildebeest.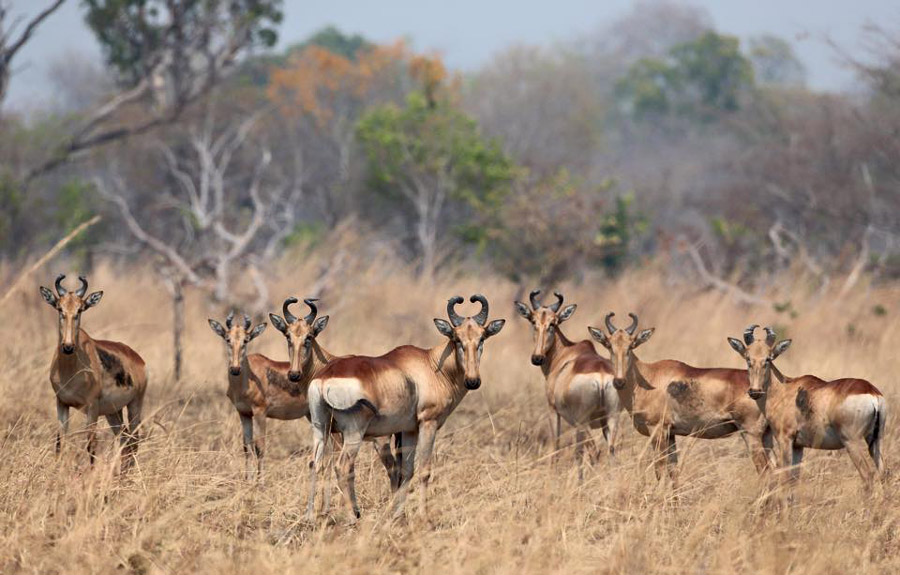 After sunset you will enjoy a night game drive through the velvet darkness, arriving back at Nkonzi Camp for a BBQ dinner under the stars. This will be a long but hugely rewarding day, and you will quite likely fancy an early night after all the excitement!
Day 5:
You can expect your final morning in Luangwa to be a celebratory affair, with a hearty bush breakfast cooked over an open fire. No specific destination or target will be set for this morning, which will offer the marvelous freedom of just driving until we find a great spot or some beautiful wildlife, at which point our chef will rustle up a delicious spread!
Finally it will be back to Nkonzi Camp to prepare for your airport transfer. But before you leave, there will be a bit of time to catch up on your safari journal and bid farewell to Gavin Opie and the Nkonzi Camp team!
End of services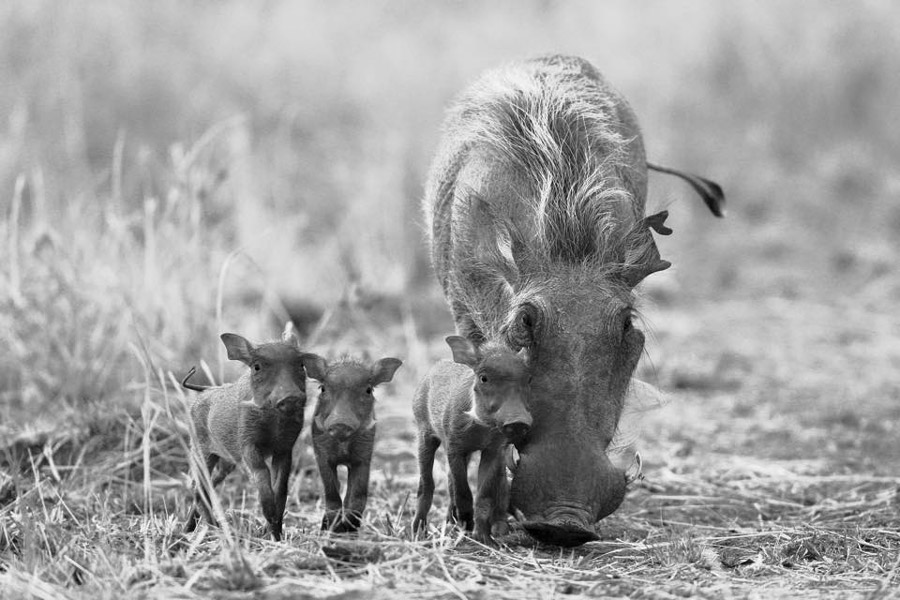 The area
The South Luangwa National Park is Zambia's premier safari destination. Situated in the low-lying Luangwa Valley, the national park encompasses a unique ecosystem that supports one of the highest wildlife densities in Africa. A range of varied and fascinating habitats are found here, and big game species such as elephant, buffalo, giraffe and zebra are often encountered resting in the shelter of a mopane thicket, or journeying across the undulating grasslands.
South Luangwa is renowned for its predators – lions are regularly seen, leopards are found in unusually high numbers, and several African wild dog groups den regularly in the park.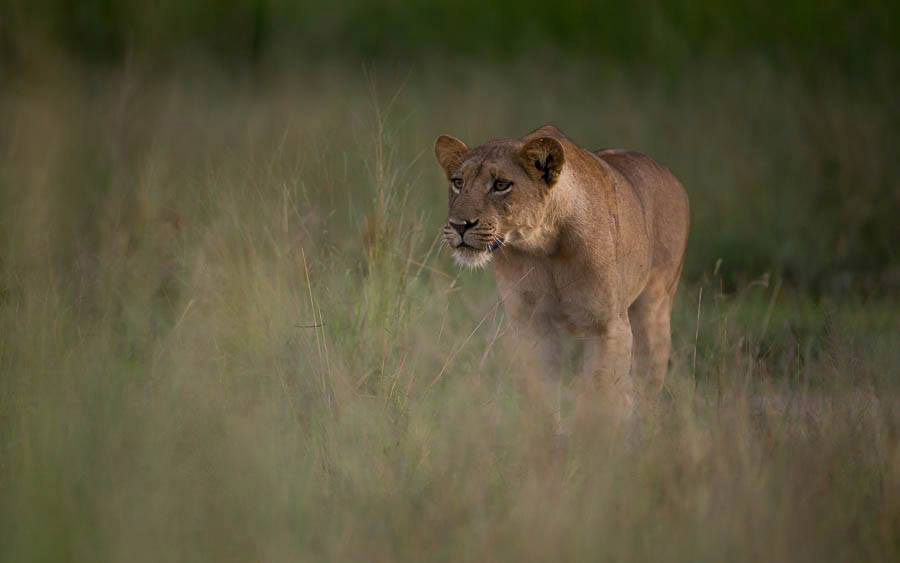 Nkonzi Camp is located in a secluded area of South Luangwa National Park and offers clients the best of both worlds – the romance of a remote safari camp surrounded by pristine bush and wildlife, combined with ready access to the well-established game viewing tracks around the main park entrance.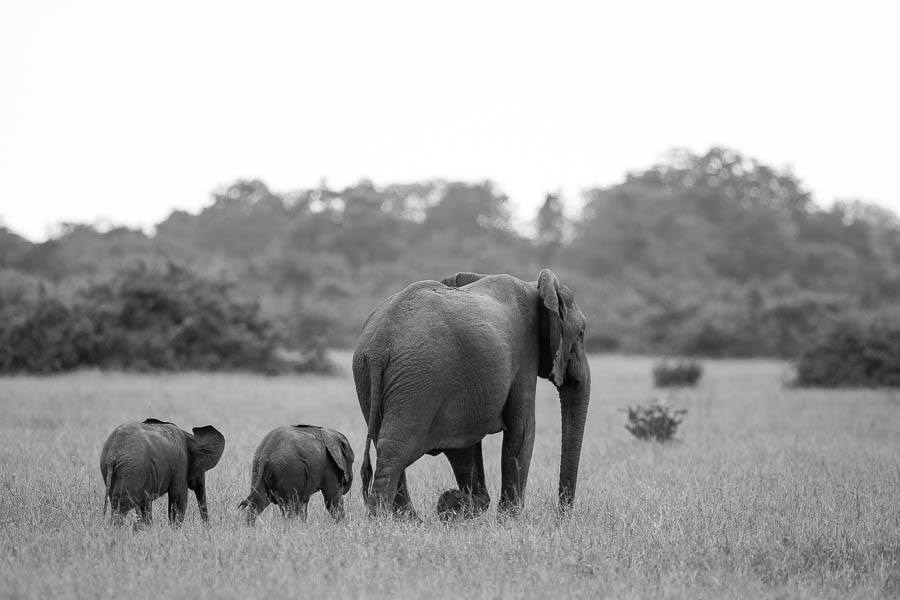 South Luangwa is home to a vast array of bird species, with over 470 recorded in the park. Unusual species such as Pel's fishing owl, the western banded snake-eagle and the black-bellied bustard are seen relatively often, while special seasonal visitors include the beautiful carmine bee-eater and the African skimmer. Vultures, eagles, owls, rollers, hornbills and waterfowl are in abundance, and they will be sure to enrich the safari experience for all guests, even for self-professed non-birders!
Accommodation
Nkonzi Camp is a seasonal bush camp operating from June to October. It is a rustic tented camp run by a small team of dedicated Zambian staff, which offers comfortable accommodation without the 5-star luxury trappings. The camp sits on the banks of a sandy, dry riverbed in a stand of shady mature trees. Across the river, a natural waterhole and extensive grassy plains attract wildlife throughout the year, while a small natural spring down river often hosts rare game such as roan antelope, Lichtenstein's hartebeest and African wild dog.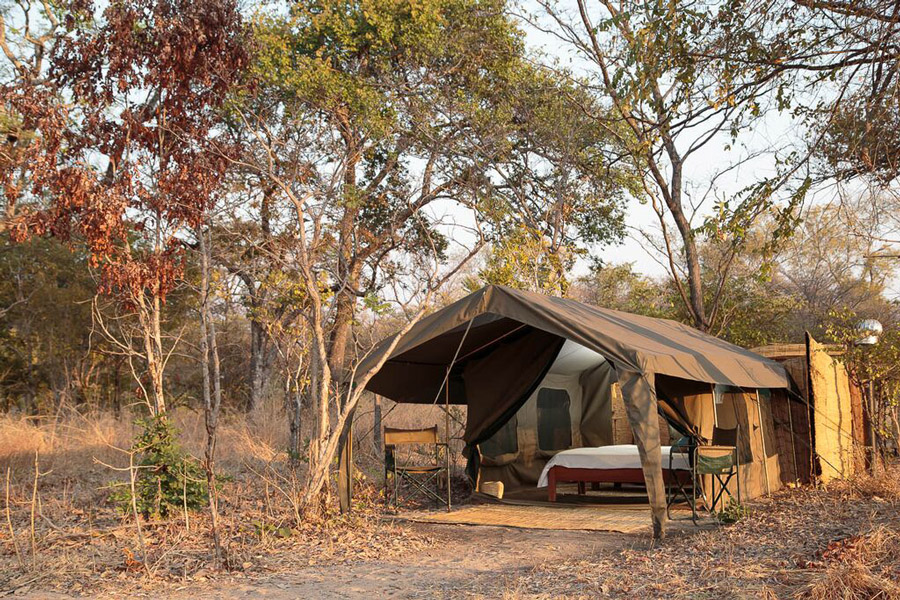 Nkonzi Camp is proudly eco-friendly. Walk-in canvas tents look out across the river, each with a wooden framed bed, white cotton bed linen and a small private seating area. A simple en-suite bush bathroom is attached to each safari tent, providing environmentally friendly toilets and solar heated bucket showers.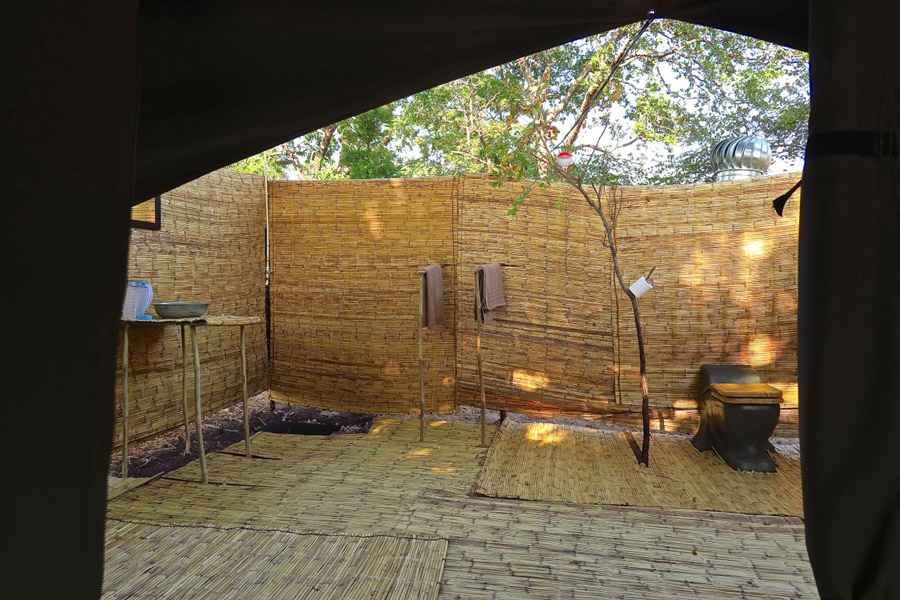 Wholesome home-cooked meals are prepared on site by the friendly chef and are enjoyed as a group at the shared dining table set in the shade of three large ebony trees. A small honesty bar offers soft drinks, spirits and welcoming cold beers after an afternoon spent exploring the Zambian wilderness!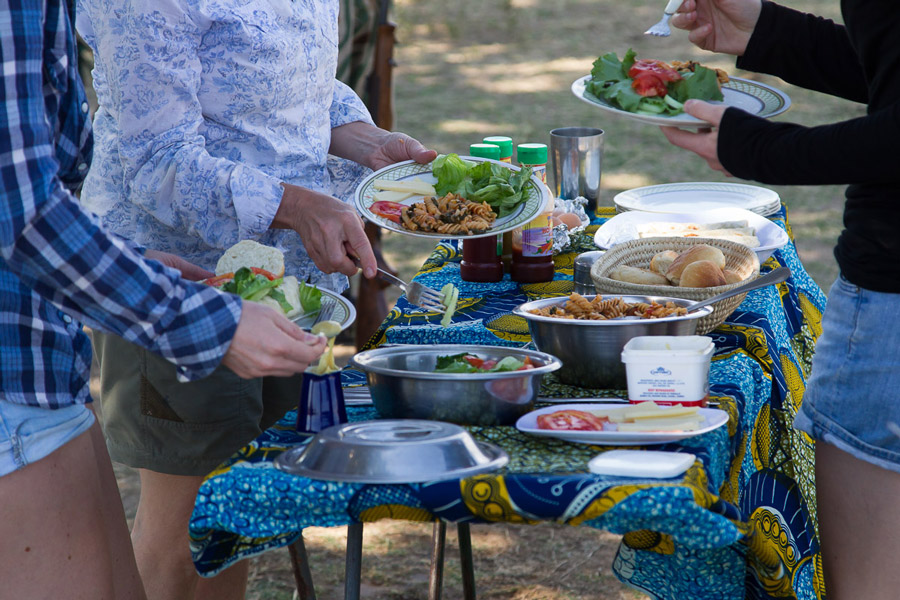 Nkonzi Camp is off-grid, without internet or cell phone access. A small solar charging unit is provided for clients' camera batteries, and a traditional radio system provides basic communication. This is a rare and valuable opportunity to leave the material world behind and revel in the quiet, timeless beauty of South Luangwa National Park.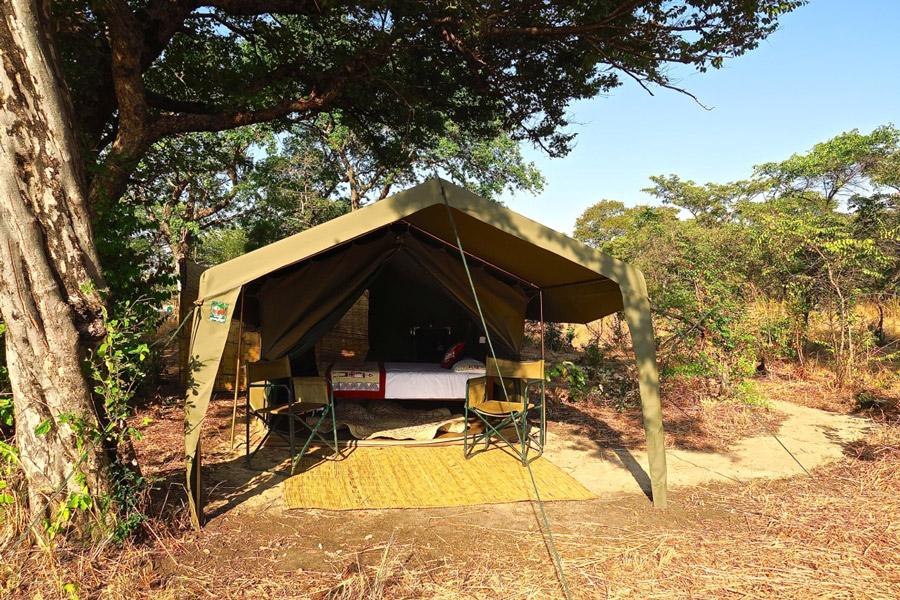 About the Guide
Gavin Opie is a private safari guide and the founder of Nkonzi Camp. Gavin has a deep love for the African bush and has lived in Zambia's remote wildernesses for over 20 years. Whether it's tracking down a lion kill on foot, or sharing Zambian folklore around the campfire, Gavin Opie revels in every opportunity to share his love of Africa's natural history and culture.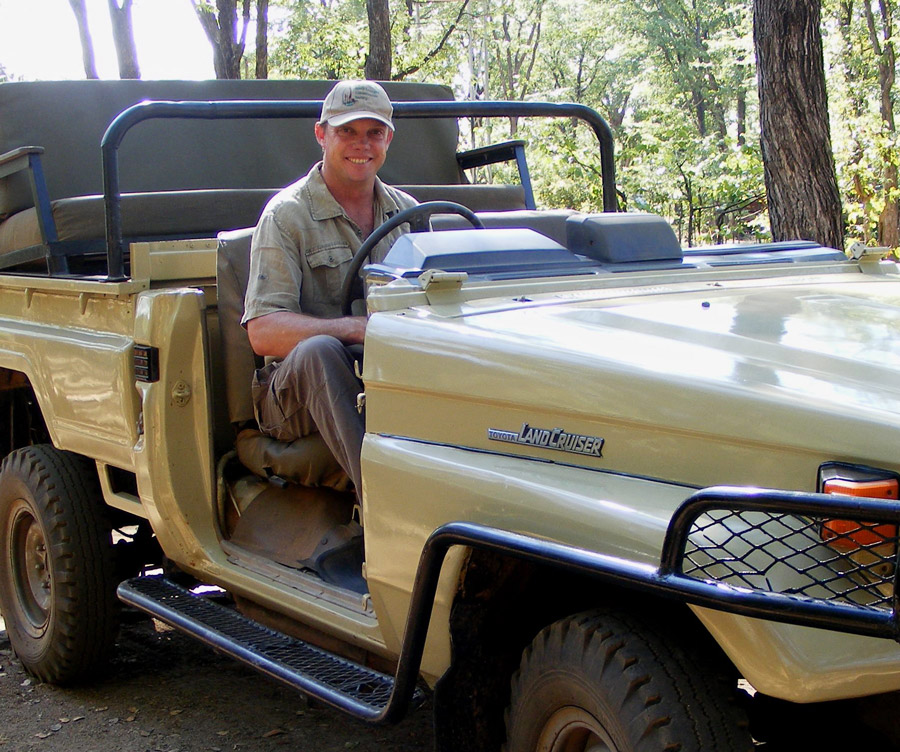 His passion for Zambia, its people, wildlife and landscape, is infectious, while his engaging, down-to-earth approach makes him a favourite with guests. Gavin's dedication to wildlife conservation motivates him to make ethical guiding practices a priority in his company, setting a benchmark for exceptional guiding standards. Gavin Opie is a Grade One certified safari guide, qualifying him to lead both driving and walking safaris in South Luangwa National Park.
Additional Information
Climate: The Luangwa Valley enjoys a short, dry winter season between June and September. Morning temperatures are cool, ranging from 12-18°C, and travelling in open vehicles can feel cold before mid-morning. It is a good idea to bring warm clothing, including a woolly hat, and to wear layers. Afternoons are generally clear and sunny, with average temperatures of 22-28°C. Game viewing during winter is excellent as the bush begins to dry out, which means that animals become easier to spot and track on foot. This time of year sees some species migrate towards the Luangwa River for better access to water, however, more remote areas with diverse habitats, like those surrounding Nkonzi Camp, support wildlife year-round.
Difficulty: This safari combines game drives and walking safaris. Safari drives are generally undemanding and last between three and four hours. A full-day of driving (if that's what you want) is a big adventure, but it can be quite tiring. Wearing loose fitting cotton clothing, sunscreen and a wide brimmed hat is important, while drinking plenty of water will help counter the effects of the midday heat.
Safari walks take place during the cooler morning and afternoon hours. Expect to walk on predominantly flat terrain for an average of four to six kilometres on each morning excursion, and a further three to four kilometres in the afternoon. Occasionally you will venture into the dry riverbed to track game, where the soft sand can make walking more challenging. A basic to average level of fitness and mobility is, therefore, required. If you feel a bit out of shape, we would recommend undertaking aerobic activity for at least a month before you join us.
How to get there: Nkonzi Camp is about a 45-minute drive from South Luangwa's main park gate, and a 90-minute drive from Mfuwe International Airport. Guests can fly to Mfuwe from either Lusaka or Lilongwe with Proflight.
On arrival at Mfuwe Airport, guests will be personally met by Gavin Opie and then driven to Nkonzi Camp. The route passes through Mfuwe Village, and offers ample opportunity to soak up the vibrant sights and sounds of traditional Zambian life. The final leg of the journey winds through the heart of South Luangwa National Park itself, which means that you can enjoy game viewing even on your journey towards camp.
Scheduled flights: We are happy to assist you with the booking of your domestic flight. However, please note that flights are subject to availability at the time of booking, and flight quotes are valid for 24 hours only. Airfares and airport taxes quoted are current and are subject to change without prior warning should the airline impose an increase in rates for any reason. The airfare quoted is based on the lowest class fare available at the time of quoting and is subject to seats being available in that class at the time of booking. Should the class not be available at the time of booking, the next applicable fare will be booked and amended costs advised accordingly. Please note that fares may increase between time of booking, time of payment and the ticket being issued. Airfares are only guaranteed once paid in full.
Africa Geographic Travel cannot be held responsible for any re-routing, delays or cancellations imposed by the airlines. Guests should carry adequate travel insurance to cover such eventualities. Please note that all fares and taxes are subject to increase without prior notice and are at the discretion of the airlines and government.
Price includes: Meet and greet at Mfuwe International Airport, and transfer to Nkonzi Camp. Guests arriving in their own vehicle will be met in Mfuwe Village and escorted to the camp. Four nights of accommodation at Nkonzi Camp. All safari activities including guided safari walks and a full-day game drive. All meals, including lunch on the day of arrival and a signature bush breakfast on departure day. Coffee, tea and cordials, as well as a complimentary glass of wine with dinner. South Luangwa National Park entry fees and bed night levies, all service charges and taxes. Laundry and 24/7 office support.
Price excludes: International and domestic flights (unless requested and quoted at the time of booking), visas, soft drinks and alcoholic beverages (which will be offered at camp but charged additionally), excess baggage charges, travel and medical insurance, gratuities and any items of a personal nature, activities not specified in the itinerary, gate fee for private vehicles.
Booking and payment details: Once you have decided to join one of our safaris, you will need to contact us for a booking form, which will include details relating to the deposit and final payments. Please be advised that as our groups are small, they fill up quickly.